Why AGI Greenpac Share Price is Rising
Sep 23, 2023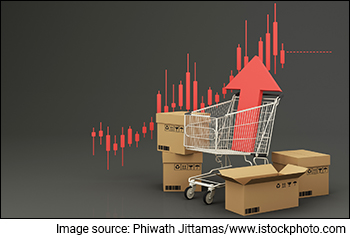 Small-cap stocks have outperformed the broader market in 2023, with over 70 stocks delivering multibagger returns.
The broader markets have been consistently hitting new peaks in September 2023.
By the way, September marks the seventh consecutive month where smallcap indices have outperformed their benchmark counterparts.
One prime example of a smallcap success story is AGI Greenpac, a leading player in the country's packaging products industry.
AGI Greenpac has demonstrated remarkable growth, with its stock surging by an astounding 170% in 2023 alone.
In the past five sessions, AGI Greenpac's shares have continued their impressive run, surging by nearly 29%.
Here's why the stock has been on a roll.
NCLAT's Acquisition Approval
In the latest development, AGI Greenpac has secured the green light from legal authorities for the acquisition of Hindustan National Glass (HNGL).
The approval, granted by the National Company Law Appellate Tribunal (NCLAT), comes after a series of appeals presented to the NCLAT by various parties, including Independent Sugar Corporation and others.
These appeals raised concerns about the procedural fairness and legality of the insolvency resolution process concerning Hindustan National Glass, with AGI Greenpac actively participating in the bid to acquire the company.
AGI Greenpac has expressed its satisfaction with the NCLAT's decision, viewing it as a significant legal triumph and a critical milestone in resolving the Hindustan National Glass insolvency case.
The company underscores that the decision reaffirms the meticulous adherence to due process and consideration of the interests of all stakeholders involved.
Following this update, AGI Greenpac's shares have experienced a notable upswing in market performance.
What Next?
The company has initiated commercial production at its newly established speciality glass facility in Bhongir, Telangana, boasting an impressive daily capacity of 154 tons.
This expansion has elevated the company's overall installed capacity to a substantial 1,754 tons per day.
The company has emphasised that this state-of-the-art plant is well-equipped to cater to the diverse needs of customers spanning various industries, including pharmaceuticals, cosmetics, perfumery and more.
Looking ahead, the global container market is anticipated to have a compound annual growth rate (CAGR) of 3.7% between 2021 and 2028.
This growth is attributed to the increasing global demand for fast-moving consumer goods (FMCG) and alcoholic beverages, as highlighted in the company's FY23 annual report.
According to recent statistics, beer was ranked as the 246th most-traded commodity in the world in 2021, with a total trade value of US$ 16.8 billion (bn).
This bodes well for the glass packing market since beer as a commodity will boost sales.
Furthermore, the fine mist spray bottle segment is an incremental opportunity for the glass packaging industry as it is projected to reach a value of US$ 447.7 m during 2022-32.
The push pump bottle is also expected to dominate the global glass cosmetic bottle market and exhibit a CAGR growth of 5% during the forecasted period.
These factors collectively underline the company's potential for growth in the thriving glass packaging sector.
How AGI Greenpac Shares have Performed Lately
AGI Greenpac shares have gained 23% in the last five days and more than 19% in the month gone by.
So far in 2023, the shares of the company have surged over 170%.
At the current price, AGI Greenpac trades at a PE multiple of 22x and a price to book value multiple of 3.6x.
The company touched its 52-week high of Rs 942.9 on 22 September 2022 and its 52-week low of Rs 280.5 on 22 November 2022.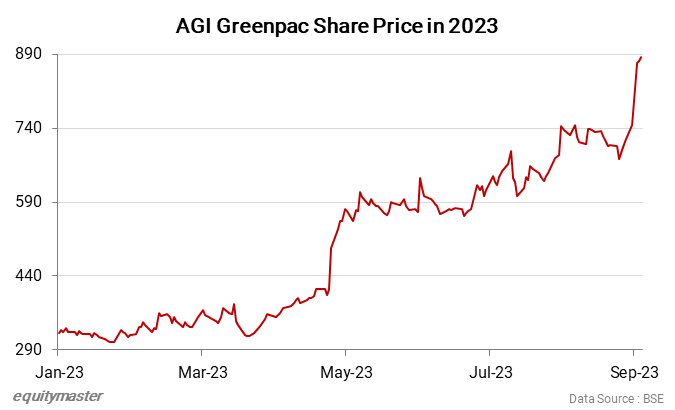 About AGI Greenpac
AGI Greenpac is engaged in the business of manufacturing, selling and trading of building products glass products & plastic packaging products consumer products and retail business.
The company operates into four distinct business divisions namely Building Products Division (BPD), Consumer Products Division (CPD), Retail division (RD) and Packaging Products Division (PPD).
The company is headquartered in Gurgaon with four manufacturing units one located in Bahadurgarh Haryana while the other three are located in Andhra Pradesh.
The company also possesses six regional offices and 18 depots.
For more details, see the AGI Greenpac company fact sheet and quarterly results.
You can also compare AGI Greenpac with its peers.
AGI Greenpac vs Anuroop Packaging
To know what's moving the Indian stock markets today, check out the most recent share market updates here.
Investment in securities market are subject to market risks. Read all the related documents carefully before investing
Want to Grow Your Wealth With Safe Stocks?
If you want a simple, safe, and hassle-free approach to long term wealth building...
Without having to worry about negative news or every little downswing in the market...
And without having to worry whether your investments will actually "deliver"...
You must read our note on Blue Chip Stocks now.
Details of our SEBI Research Analyst registration are mentioned on our website - www.equitymaster.com
Disclaimer: This article is for information purposes only. It is not a stock recommendation and should not be treated as such. Learn more about our recommendation services here...