Jul 4, 2022 - 8 Penny Stocks with Exceptionally High Promoter Holding
8 Penny Stocks with Exceptionally High Promoter Holding
Jul 4, 2022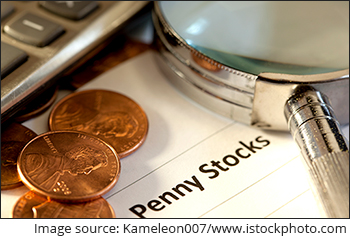 Editor's note: The percentage of a company's shares held by its promoters can tell you many things. After all, promoters are the ultimate insiders, the flag bearers of the company who decide everything.
They know the true picture of the existing business, they're well aware of the corporate governance practices, and they understand the business prospects and headwinds.
Promoters may own a sizable chunk in the firm, and they may also hold the top management role. That is why investors must comprehend promoter holding and its ramifications.
In case of penny stocks, promoter holding becomes even more important. A decent promoter holding is a must.
There have been several instances in the past where a popular stock turned into a penny stock just because the company's promoters sold their stake.
So, the penny stocks that should be on your watchlist should have a decent promoter holding.
Back in September 2021, we wrote to you about the penny stocks with high promoter holding.
Penny Stocks with High Promoter Holding
Company
Promoter Holding (%)
Change (%)
June'21
Sep'21
Dec'21
Mar'22
Den Networks
74.9
74.9
74.9
74.9
-
Udaipur Cement
72.54
72.54
72.54
72.54
-
Andrew Yule
89.25
89.25
89.25
89.25
-
Digispice Technologies
74.09
73.97
73.7
73.37
-0.72
HMT
93.69
93.69
93.69
93.69
-
BMW Industries
73.9
73.9
73.96
73.96
0.06
Music Broadcast
74.05
74.05
74.05
74.05
-
Sadhana Nitro
74.02
74.02
74.02
74.02
-
Source: Equitymaster
The above list is still extremely relevant today as these companies' promoters have not sold any stake even when the stock market is falling (with the exception of one).
Read on to know more...
8 Penny Stocks with Exceptionally High Promoter Holding
The excitement to make big bucks quickly often draws new investors to buy the best penny stocks.
If the promoter of a penny stock company is also holding a significant stake, that gives shareholders more confidence.
This is because promoters usually derive positive demand and attract funds.
And also, when a promoter reduces their holding, it's seen as negative by the shareholders, which isn't true.
What is important to understand here is why the promoters are reducing their stake and what the money will be used for.
But here's the catch with penny stocks.
Penny stock investing is not for all. They are inherently riskier than bluechips or midcap stocks.
Given that they present a huge growth potential, there is a high risk attached. There are times when penny stocks plunge 80-90% when things turn sour.
So is the worrying case in the current bull market where many penny stocks have delivered multibagger returns to the extent of over 2,000% in a short span of time.
In today's article, we look at penny stocks with marketcap less than Rs 25 bn, which have high promoter holding.
We have chosen the marketcap criteria of less than Rs 25 bn as this is the median of marketcap of the BSE small cap universe.
#1 Den Networks (74.90%)
As of June 2021, promoter holding in Den Networks stands at 74.90%.
Earlier in December 2020, promoters held 86.53% stake, but this got reduced as they offloaded stake via offer for sale (OFS).
Mukesh Ambani led Reliance Industries is its promoter. It bought majority stake in Den Networks in October 2018.
Den Networks is a leading Cable TV Distribution company with a wide range of services including Cable TV and Broadband.
Despite being in a bull market, the stock has been a laggard, eroding around 30% of shareholders' money.
Reasons behind the fall can be its June quarter results, wherein the bottomline dropped 29%.
Another factor can be that its promoter has backed out from the decision to merge Hathway, Den Networks, and TV18 Broadcast into Network18. The cancellation plan was announced in April 2021.
To know more, check out Den Networks latest shareholding pattern.
#2 Udaipur Cement Works (72.54%)
Promoter holding in Udaipur Cement has stayed constant at 72.54%.
As of June 2021, financial institutions and FIIs continue to hold a small piece of share in the company.
And they have benefitted well from as shares of the company have rallied more than 1.5x in the past one year alone.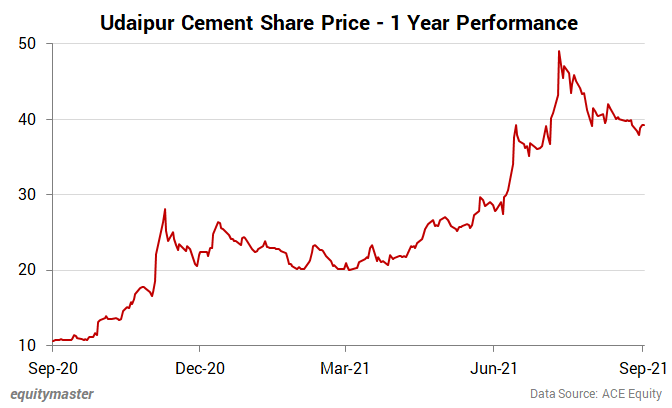 Cement stocks have been outperformers in 2021.
Udaipur Cement Works was incorporated in 1993, and has its registered office at Jaipur, Rajasthan. The company presently is a subsidiary of JK Lakshmi Cement, which is part of the business conglomerate JK Organisation.
The company manufactures cement under the brand name Platinum Heavy Duty Cement.
To know more, check out Udaipur Cement's latest shareholding pattern.
Update: Last month, cement stocks fell as UltraTech Cement, the largest player in the industry, announced a capex plan worth Rs 129 bn.
In times of weak demand and high fuel costs, any significant capacity announcement is a negative. And that's exactly what happened.
Udaipur Cement was no exception and fell 10% in a couple of days.
Because of the capex plan, variable cost of cement stocks in India is likely to increase by 10-15% sequentially in the June 2022 quarter which could impact margins.
How this affects Udaipur Cement remains to be seen.
#3 Andrew Yule & Company (89.25%)
Andrew Yule & Company is engaged in the business of engineering, electricals, and tea.
As of June 2021, promoter holding in the company stands at 89.25%. The government of India is its promoter.
Meanwhile, financial institutions/banks offloaded their entire 2.11% holding in the company in June quarter.
The company was in news recently as demand-supply mismatch sent coffee prices to multi-year highs.
Weather conditions in Brazil, the world's largest coffee producer, on top of strict lockdowns have disrupted the global coffee market and raised prices to four-year highs.
Tea and coffee stocks witnessed buying interest following this news.
There were reports in February 2021 which suggested that the government would consider selling its stake in the company to achieve its divestment target.
Over the past one year, this public sector undertaking (PSU) has delivered almost 100% returns.
To know more, check out Andrew Yule's latest shareholding pattern and financial factsheet.
#4 Spice Mobility (73.37%)
Spice Mobility is engaged in the trading of mobile handsets and through its subsidiaries, in trading of IT products, mobile handsets, and their accessories.
As of June 2021, promoter holding in the company stands at 74.09%, down 0.10% from the March 2021 quarter.
The company has been gaining widespread attention after it entered into an agreement to form a JV with Tarya Fintech Holdings, a part of Israel's leading fintech group, for 'Lending Technology Platform' and other Technology Services.
It's shares are on a rising spree, delivering over 500% gains in one year alone.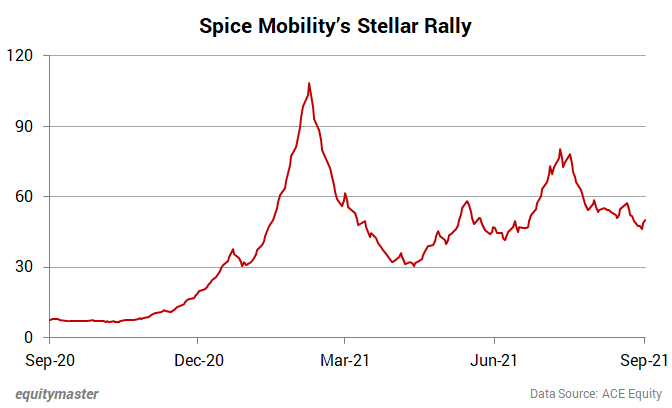 In June this year, the company launched a new age startup, 'Korero Platforms'. This startup offers communication platform-as-a-service (CPaaS) solutions to enterprises. Hence, the name 'Korero', which means conversation.
To know more, check out Spice Mobility's latest shareholding pattern.
You can also check out Spice Mobility company fact sheet and quarterly results.
Update: Spice Mobility has renamed itself to Digispice Technologies.
Over the past 4 quarters, promoters of the company have offloaded 0.72% stake in the company.
The company's share price performance during the time promoters offloaded shares has been abysmal.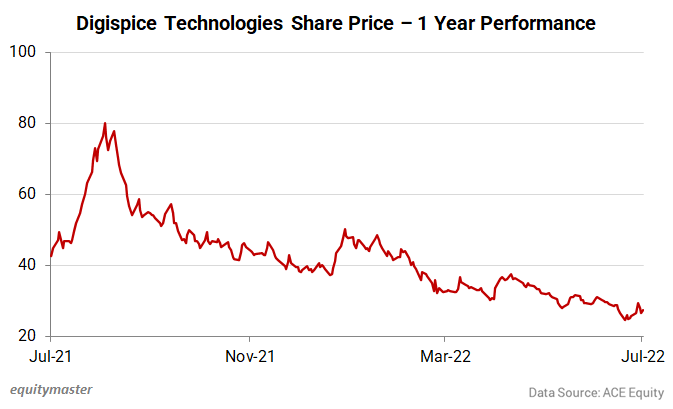 #5 HMT (93.69%)
Promoter holding in HMT stands at 93.69% as of June 2021. This has remained constant over the years.
The Indian government is HMT's promoter.
An interesting data point is that individual shareholders own less 1% stake in the company.
Even though the company has delivered 90% returns in the past year, retail investors have stayed away from this stock.
Well, they have their reasons as the company has posted losses for seven consecutive quarters.
The company was incorporated in 1953 by the government as a machine tool manufacturing company.
Over the years, it diversified into watches, tractors, printing machinery, metal forming presses, dye casting, and plastic processing machinery.
Today, HMT comprises five subsidiaries under the ambit of a holding company, which also manages the tractors business directly.
To know more, check out HMT's latest shareholding pattern.
#6 BMW Industries (73.90%)
BMW Industries is engaged in manufacturing, processing, and selling of steel products.
The company's products and services include structural steel, infrastructure, tower manufacture, rolling mill, steel service center, and cold rolling mill.
Over the past three quarters, promoters of the company have been increasing their stake. Currently, total promoter holding stands at 73.90%.
Meanwhile, retail investors hold a tiny 1.66% stake as of June 2021.
In the past year, shares of the company have rallied 170%.
To know more, check out BMW Industries' latest shareholding pattern.
Update: Promoters of the company increased their stake by 0.06% in the December 2021 quarter.
#7 Music Broadcast (74.05%)
Promoter holding in Music Broadcast stands at 74.05% as of June 2021.
Mutual funds also have a significant 5.47% stake in the company. Mutual fund stake was 7.06% in the previous quarter.
Music Broadcast is a subsidiary of listed company Jagran Prakashan and is the first private FM radio broadcaster in India.
It operates under the brand name Radio City. The company currently has 39 FM radio stations across 12 states.
Well known investor Saurabh Mukherjea continues to hold a stake in the company. Though he did trim part of his stake in May.
Stock of Music Broadcast has delivered 32% gains in the past one year.
To know more, check out Music Broadcast's latest shareholding pattern.
#8 Sadhana Nitro Chem (74.01%)
Sadhana Nitro Chem is a holding company, engaged in the manufacturing of chemical intermediates, heavy organic chemicals, and performance chemicals.
Promoters of the company hold 74.02% stake in the company, and this has remained unchanged for the past two years.
Meanwhile, FIIs increased their stake to 0.21% from 0.05% in the June 2021 quarter.
The stock has been under pressure lately, falling from the highs of Rs 53 touched in July this year to Rs 33. Even after this fall, the stock is up 75% in the past year.
To know more, check out Sadhana Nitro's latest shareholding pattern.
Update: Categorized as a penny stock (stock trading between Rs 0 to Rs 100) back when we wrote the article in September 2021, shares of Sadhana Nitro have since then soared big time and shelved their penny stock status.
Sadhana Nitro deals in high quality intermediate specialty and commodity chemicals.
Lately, the specialty chemicals industry is booming in India and gaining traction from strong domestic demand and export opportunities.
The supply disruptions from China have forced Indian chemical companies to increase their capex plans.
Here's what Richa Agarwal, lead smallcap analyst at Equitymaster, has to say when it comes to chemical stocks:
One should be careful and bet on the players with better pricing power and the ability to gain market share. Investors should avoid the commoditised space as more pain is likely ahead.
Which other penny stocks have more than 70% promoter holding?
Apart from the above, here are other penny stocks which have high promoter holding.
Source: Equitymaster
Why high promoter holding is a big positive
The level of promoters' shareholding is very important, especially in India where many businesses are family owned.
The shareholding level acts as an indicator of the confidence of promoters in the business as well as the strength of leadership control on the company.
A company with a very high promoter shareholding often represents a scenario where the promoters see a bright future for the company and in turn, they plan to benefit from its good growth.
A promoter has all the information about the company. If they are investing, it shows that promoters are confident about the company's prospects.
While promoter holding is an important parameter, it should not be the sole reason for buying a stock.
In rare cases, penny stock promoters can use misleading information about the actual valuation of the company.
Also, promoters pledge their shares to raise funds for either personal or company needs.
High promoter pledging can lead to high volatility in the stock prices and as a result, it can turn out to be a major investment risk.
Share pledging is not an illegal activity. However, you must keep an eye out for such data points especially for companies with questionable managements.
It's always better to check promoter pledging before making investment decisions.
Over leveraged firms with high percentage of pledged shares could very well turn out to be value traps.
Since you're interested in penny stocks, check out the below video where Co-head of Research at Equitymaster Rahul Shah discusses how to find the best penny stocks in this market.
Investment in securities market are subject to market risks. Read all the related documents carefully before investing
Want to Grow Your Wealth With Safe Stocks?
If you want a simple, safe, and hassle-free approach to long term wealth building...
Without having to worry about negative news or every little downswing in the market...
And without having to worry whether your investments will actually "deliver"...
You must read our note on Blue Chip Stocks now.
Details of our SEBI Research Analyst registration are mentioned on our website - www.equitymaster.com
Disclaimer: This article is for information purposes only. It is not a stock recommendation and should not be treated as such. Learn more about our recommendation services here...
Yash Vora is a financial writer with the Microcap Millionaires team at Equitymaster. He has followed the stock markets right from his early college days. So, Yash has a keen eye for the big market movers. His clear and crisp writeups offer sharp insights on market moving stocks, fund flows, economic data and IPOs. When not looking at stocks, Yash loves a game of table tennis or chess.