5 Indian Midcap Stocks Set to Grow Dramatically in 2024. Add them to Your Watchlist
Sep 26, 2023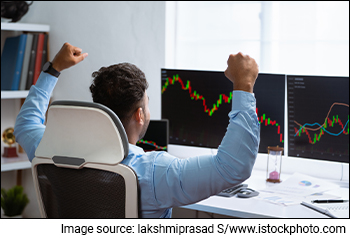 Indian mid-cap stocks have once again proved their potential by outperforming the benchmark indices in 2023 by a huge margin.
Mid-cap stocks have the potential to give high returns in a bullish market phase.
Although individual stock performance is the primary reason behind this rally, another important contributing factor is the performance of the Indian economy and the rising importance of India as a key player in the global supply chain.
With the world considering India as the primary substitute for China and the country pushing manufacturing through key initiatives such as Make in India and the Product Linked Incentive (PLI) schemes, the country's foreign fund inflows have increased.
This is helping several mid-sized companies to expand and grow their business substantially.
Keeping that in mind, we have shortlisted five mid-cap stocks that are set to grow dramatically in 2024.
Take a look...
#1 Trent
First on the list is Trent, one of the leading players in the branded retail industry in India.
A subsidiary of the Tata Group, the company operates retail stores under the brand names Westside, Zudio, Star, and Landmark.
At the end of financial year 2023, the company operates around 680 stores across 250 cities in India.
In the financial year 2024, the company plans to add over 240 stores with an estimated capex of Rs 8 billion (bn).
As India is one of the world's fastest-growing economies and has the largest youth population, Trent plans to capitalise on the growth in the Indian market.
In line with this goal, the company recently launched 'Samoh', a luxury clothing brand and opened its first store in April 2023.
It also plans to open stores of this brand across the country and take the count from one to ten in a year.
Trent also ventured into emerging sectors like beauty and personal care which will help drive topline growth.
Despite strong economic headwinds such as inflation and rising interest rates, the company's revenue grew by 82.7% in the financial year 2023. The net profit zoomed tenfold.
The growth was primarily led by the company's expansion plans .
With strong financial performance, a promising expansion plan, and a favourable position within the retail industry, Trent is well-prepared to capitalise on the recovery of discretionary consumption in the Indian market.
To know more, check out Trent's financial factsheet and latest quarterly results.
#2 Astral Poly Technik
Second on the list is Astral Poly Technik.
The company has been engaged in manufacturing CPVC piping and plumbing systems in India since 1999.
It also ventured into the adhesives business and sells a wide range of products, including epoxy adhesives and putty, silicone sealants, construction chemicals, and tapes.
In FY22, the company forayed into paints, faucets, sanitary ware, uPVC and CPVC valves segments through acquisitions.
Astral aims to gradually scale up its new offerings and increase its share in the revenue by focusing on specific geographies and later establishing a pan-India presence.
It plans to do so by leveraging its vast distribution network of over 2,700 distributors and 1.9 million (m) dealers.
The company's capex spending of over Rs 10 bn done in the last five years in expanding its manufacturing facility by establishing new plants will boost production and drive growth.
In the last five years, the company's revenue has grown at a compound annual growth rate (CAGR) of 15.5%. The net profit also grew at a CAGR of 18%.
High growth in volumes and realisations in the plumbing and paints business aided the earnings.
Going forward, the rise in prices of PVC pipes, a good monsoon, and the company's expansion plans will drive revenue and profit growth in the medium term.
To know more, check out Astral's financial factsheet and latest quarterly results.
#3 Ashok Leyland
Third on the list is Ashok Leyland.
The company is the second-largest manufacturer of commercial vehicles in India, the third-largest manufacturer of buses in the world, and the tenth-largest manufacturer of trucks globally.
It also manufactures bulletproof vehicles and ambulances for the Indian Army.
During the financial year 2023, the company incurred a capex of Rs 4.8 bn for improving its manufacturing capacity, developing and launching new products across all its segments, and for design and software upgrades.
It also added around 153 company outlets in the northern and eastern regions of the country to capitalise on the growing demand for commercial vehicles in the mining segment.
Ashok Leyland plans to increase its market share to 35% in the intermediate, medium, and heavy commercial vehicle segment from 30%.
The company is also planning to develop a range of new energy vehicles such as CNG, LNG, Hydrogen-ICE, and Hydrogen Fuel Cells to help the economy shift towards lower carbon emission technologies.
And just when you thought the list ends here, the company is also planning to drive the expansion of its non-commercial vehicle segments, namely defence, aftermarket and power solutions, to do away with the cyclicality of its commercial vehicles segment.
Coming to its financials, the company's revenue grew by 58.7% year-on-year (YoY) in FY23, primarily due to volume growth. It also reported a net profit of Rs 13.6 bn against a loss of Rs 2.8 bn the previous year.
The company's market share in the domestic truck market also improved from 26.8% to 32.3%.
Going forward, the company will benefit from high government infrastructure spending, strong replacement demand, steady agriculture output, and healthy traction from core industries like steel, cement, and mining.
To know more, check out Ashok Leyland's financial factsheet and latest quarterly results.
#4 Tata Power
Next on the list is Tata Power.
It is engaged in the business of power generation, transmission, and distribution. The company also manufactures solar panels and is setting up electric vehicle (EV) charging stations in India.
Tata Power currently generates electricity through both conventional and renewable resources.
At present, renewable energy is only 30% of its power generation portfolio. The company plans to increase it to 60% by 2027 and announced a massive capex of Rs 750 bn for the same.
Tata Power also plans to increase its EV charging station count to 100,000 by 2026 from the existing 3,700.
For its solar panels business, the company is building its first 4 gigawatt (GW) solar module and 4 GW solar cell facility in India.
With the growing demand for renewable energy solutions and the government's push for adopting cleaner sources of energy, Tata Power is well positioned to grow in the medium term.
Coming to its financials, the company's revenue and net profit grew at a CAGR of 13.3% and 6.9%in the past five years, due to growth across all business verticals.
The company's debt-to-equity also reduced from 1.9x to 1.1x during the same period, primarily due to debt repayment.
To know more, check out Tata Power's financial factsheet and latest quarterly results.
#5 Oil India
Last on the list is Oil India.
Oil India started its journey as an exploration and production (E&P) company and has gradually diversified to increase its presence across the entire hydrocarbon value chain.
Today, it is a fully integrated oil and natural gas company engaged in the exploration, development, production and transporting of crude oil, natural gas, and liquified petroleum gas (LPG).
The company also generates electricity through solar, wind, and green hydrogen sources.
Being the second largest oil and gas company, it has several growth plans in its basket.
During the financial year 2023, Oil India spent Rs 55 bn on capex, the highest ever in its history.
The capex was primarily for setting up a green hydrogen plant and expanding its renewable energy portfolio.
Oil India already set up its first green hydrogen plant in Assam with an installed capacity of 10 kg per day. It plans to expand this to 30 kg per day in the next few years.
For the financial year 2023, it is planning a capex of Rs 140 bn primarily for expansion at Numaligarh Refinery.
The company is installing a 6 million metric tonnes per annum (MMTPA) capacity refinery and crude oil pipeline to support the government's mission of reducing crude imports.
Coming to its financials, the company's revenue has grown at a CAGR of 16.4% in the last five years on account of growth in crude oil price realisations. The net profit also grew at a CAGR of 24.9% during the same period.
Oil India is one of the consistent dividend payers with an average dividend payout and yield of 23% and 6.7%, respectively.
To know more, check out Oil India's financial factsheet and latest quarterly results.
Financial Comparison
Take a look at the table below, which compares the above companies on important metrics.
Comparative Analysis
Company
Trent
Astral
Ashok Leyland
Tata Power
Oil India
ROE (%)
15.2%
17.0%
16.0%
13.2%
25.6%
ROCE (%)
31.1%
23.9%
15.6%
16.5%
24.8%
Latest EPS (Rs)
10.3
18.2
6.5
4.1
73.8
TTM PE (x)
206.7
102.6
28.0
62.4
3.7
TTM Price to book (x)
26.8
17.4
5.77
2.7
0.7
Dividend yield (%)
0.1%
0.2%
1.4%
0.8%
7.2%
Data Source: Equitymaster
Remember that it is important to do your due diligence before investing in any stock.
Happy investing!
Investment in securities market are subject to market risks. Read all the related documents carefully before investing
Want to Grow Your Wealth With Safe Stocks?
If you want a simple, safe, and hassle-free approach to long term wealth building...
Without having to worry about negative news or every little downswing in the market...
And without having to worry whether your investments will actually "deliver"...
You must read our note on Blue Chip Stocks now.
Details of our SEBI Research Analyst registration are mentioned on our website - www.equitymaster.com
Disclaimer: This article is for information purposes only. It is not a stock recommendation and should not be treated as such. Learn more about our recommendation services here...