India's PLI Scheme for IT Hardware Companies: Top 5 Indian Stocks to Watch Out
Sep 26, 2023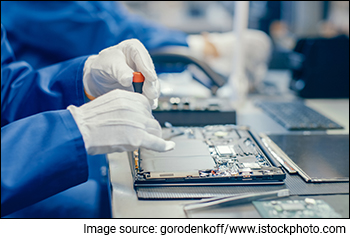 The IT hardware industry stands as a pivotal pillar within India's technology ecosystem, significantly contributing to economic expansion and job creation.
In recent years, the demand for laptops, tablets, and personal computers has surged, primarily driven by the shift towards remote work and digital education.
However, India has been largely dependent on imports to meet this demand, making it imperative to promote domestic manufacturing in this sector.
In response to this challenge, the government has introduced a Production-Linked Incentive (PLI) scheme specifically tailored for the IT hardware sector.
This scheme offers enticing incentives designed to foster the growth of
Domestic manufacturing for laptops, tablets, personal computers, and servers.
With a budget allocation of Rs 170 billion (bn), the scheme has garnered significant attention, drawing numerous domestic applicants.
Here are five of these domestic applicants set to capitalise on the PLI scheme.
#1 Netweb Technologies
Leading the list is Netweb Technologies.
Netweb Technologies designs manufactures, and deploys HCS comprising proprietary middleware solutions, end-user utilities, and precompiled application stack.
It develops homegrown computing and storage technologies and deploys supercomputing infrastructure under India's national supercomputing mission.
Under the previous Production-Linked Incentive (PLI) scheme tailored for IT hardware manufacturing, the company dedicated its efforts to crafting products and solutions aimed at facilitating the seamless implementation of cloud-based private 5G networks for organisations.
Notably, Netweb Technologies emphasises the infrastructure and backend aspects of private 5G, distinguishing itself from the conventional 5G networks radio access technology.
This strategic focus aligns with the company's substantial investments in this domain, driven by its belief in the escalating demand for private 5G networks.
Netweb sees private 5G to be in demand in the hospitality, manufacturing, and shipping industries, where Wi-Fi may not satisfy the connectivity and reliability requirements.
Its performance has been noteworthy during the first year of the PLI scheme. The company achieved double the target revenue in the first year itself.
Going forward, the company is almost doubling its capacities. It is coming up with more motherboard manufacturing to support this scheme.
For more details, see the Netweb Technologies company fact sheet and quarterly results.
#2 Dixon Technologies
Next on the list is Dixon Technologies.
The company is a multinational electronics manufacturing and services company.
It offers design-focused solutions in consumer durables, home appliances, lighting, mobile phones and security devices.
In 2021, Dixon Technologies was one of the companies selected to participate in the Indian government's PLI scheme for IT hardware with a focus on mobile phones.
This endorsement made Dixon Technologies eligible to receive financial incentives based on the incremental sales of IT hardware products manufactured in India.
Building upon its involvement in the PLI scheme for IT hardware in 2023, the company has outlined ambitious plans to invest approximately Rs 2.5 bn over the next two to three years.
These investments are directed towards a new production facility and furthering localisation efforts, reaffirming Dixon Technologies' commitment to bolstering domestic manufacturing capabilities.
It is in talks with IT hardware companies based in the US and China for the production of laptops under the revised PLI programme for the segment.
Talks are at an advanced stage with two clients, likely HP and Lenovo, which could help the electronics manufacturing services player meet incremental production targets under the revised PLI scheme.
For more details, see the Dixon Technologies company fact sheet and quarterly results.
#3 Syrma SGS Technology
Next on the list is Syrma SGS Technologies.
Syrma SGS is among leading electronics manufacturing services (EMS) provider in India.
The company offers services, including product design, engineering, printed circuit board assembly (PCBA), box building, and testing.
In 2021, Syrma SGS was one of the companies selected to participate in the Indian government's PLI scheme for IT hardware.
Under this program, Syrma SGS has committed to investing a substantial sum exceeding Rs 10 bn in the enhancement of its IT hardware manufacturing infrastructure.
The PLI for IT hardware initiative offers eligible companies enticing incentives ranging from 4% to 1-2% on the net incremental sales achieved in comparison to the base year of 2019-20.
The program is set to span four years, covering 2021-22 to 2024-25.
This incentive program is applicable to select product categories, including laptops, tablets, all-in-one personal computers (PCs), and servers, all of which must be produced within India.
With being a part of the PLI scheme for IT hardware for 2023, it plans to increase its production capacity and develop new products.
Going forward, Syrma plans to do a capex of Rs 1.5 bn over FY22-27 expanding its facilities in Manesar, Haryana.
For more details, see the Syrma SGS Technology company fact sheet and quarterly results.
#4 Kaynes Technologies
Next on the list is Kaynes Technologies.
Kaynes Technologies is a leading electronics manufacturer in India. The company offers a wide range of services, including the design, manufacturing, and assembly of electronic products.
In a proactive move, the company has thrown its hat into the ring by submitting a bid for the PLI 2.0 initiative tailored for the IT hardware sector, showcasing its dedication to advancing the sector's growth and capabilities.
Operating within the Industrial Manufacturing Industry, Kaynes Electronics is already amid an ambitious investment venture, channeling Rs 1.5 bn into the construction of a cutting-edge facility located in Chamarajanagar, Karnataka.
The project is well underway, with construction operations in full swing. The PLI scheme is poised to provide added impetus to Kaynes Technologies' endeavours.
Furthermore, Kaynes Technology has forged a significant partnership by entering into a Memorandum of Understanding (MoU) with the Government of Karnataka's Electronics, IT, and BT Department.
This groundbreaking agreement, formalised on 24 August 2023, underscores the company's commitment to advancing cutting-edge infrastructure.
Notably, this landmark collaboration entails a substantial investment commitment of Rs 37.5 bn, poised to usher in a new era of technological excellence in the region.
For more details, see the Kaynes Technology company fact sheet and quarterly result
#5 Optiemus Electronics
Last on the list is Optiemus Electronics.
It is one of the leading electronic manufacturing services (EMS) providers.
Distinguished for its wide-ranging portfolio, Optiemus Electronics engages in the production of various IT hardware products, including networking equipment, storage devices, wearable technology, laptops, and more.
Notably, Optiemus Electronics has been actively looking to participate in the Indian government's PLI scheme for IT hardware, a testament to its commitment to fostering growth and innovation in the electronics manufacturing sector.
In a recent strategic move, Optiemus Electronics entered into a noteworthy partnership with Wistron Corporation's Indian subsidiary, Wistron Infocomm Manufacturing (India).
This collaboration positions Optiemus Electronics to expand its production capacity in response to the surging demand in the market.
Furthermore, Optiemus Electronics is intensifying its focus on IT hardware and telecom equipment, signaling its readiness to explore opportunities in the burgeoning electric vehicle (EV) sector.
For more details, see the Optiemus Infracom company fact sheet and quarterly results
To conclude
PLI 2.0 scheme is poised to provide a significant boost to domestic IT hardware manufacturing in India.
By offering financial incentives to companies to produce their goods within the country, this initiative is expected to result in expanded production capacities, cost reduction, and heightened innovation within the Indian IT hardware sector.
Consequently, companies participating in the scheme stand to strengthen their positions in the market.
However, with advantages comes risks.
PLI schemes are government-backed programs, making them susceptible to potential changes in government policies.
As a result, companies investing in PLI schemes may face the risk of having their incentives reduced or entirely withdrawn.
Moreover, with an upcoming election in 2024, there is an added layer of uncertainty and potential policy shifts that could impact the stability and benefits of these schemes.
Hence, it is imperative to conduct thorough research before making any investments.
Investment in securities market are subject to market risks. Read all the related documents carefully before investing
Safe Stocks to Ride India's Lithium Megatrend
Lithium is the new oil. It is the key component of electric batteries.
There is a huge demand for electric batteries coming from the EV industry, large data centres, telecom companies, railways, power grid companies, and many other places.
So, in the coming years and decades, we could possibly see a sharp rally in the stocks of electric battery making companies.
If you're an investor, then you simply cannot ignore this opportunity.
Details of our SEBI Research Analyst registration are mentioned on our website - www.equitymaster.com
Disclaimer: This article is for information purposes only. It is not a stock recommendation and should not be treated as such. Learn more about our recommendation services here...