What Fuelled the Sudden Surge in PVR and Inox Shares Today
Sep 27, 2021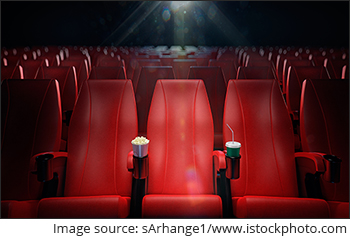 Shares of Inox Leisure and PVR surged almost 18% on BSE to hit all-time highs in intraday trade today.
This after the Maharashtra government announced the reopening of cinema halls and theatres in the state from 22 October, ahead of Diwali.Theatres and movie halls across India have been closed since April this year.
The decision to allow reopening of the movie halls comes nearly two weeks after the Multiplex Association of India (MAI), along with leading cinema chains, PVR and INOX, urged the Maharashtra government to reopen theatres.
It stated that the industry has lost approximately Rs 48 bn since March 2020 and need theatres to reopen to save jobs.
--- Advertisement ---
Automobile Sector's Colossal Disruption Could Make You a Fortune

During any major disruption in a sector, fortunes are created.

And now, we are at the cusp of a major disruption that the automotive sector will experience.

It is the electric vehicles gold rush.

At Equitymaster, we have unearthed a hidden way to ride the 15x EV opportunity so that you could take home potentially life-changing gains in the long run.

You can get all details of the hidden way in our upcoming special online event.

YES, Register Me for FREE
------------------------------
In a statement to the exchanges, it said.
Due to state-wide lockdowns, the cinema exhibition industry has run into an extremely adverse and hostile situation; it was the first sector to shut down and will be the last sector to reopen.

Given the dire economic impact of the epidemic on our sector and the resultant loss of jobs, we sincerely urge the government of Maharashtra to allow reopening of cinemas on an urgent basis and facilitate an early vaccination of people employed in the cinemas.
Maharashtra which is one of the biggest markets for a Hindi films. It contributes 25-30% in terms of overall box office business while Hindi content delivers 60-70% of total multiplex revenues.
Post Maharashtra, it's expected that other states would lift capacity restrictions in the absence of a third wave of Covid-19.
Many have already permitted resumption of operations in cinema halls from 30 July. The Indian film exhibition sector is on the road to a strong recovery as Hindi film producers are ready to release fresh content.
Disney in early September 2021 announced that all new movie releases in 2021 would go to the theatres first and then to other distribution platforms after a window of 30-45 days or more.
--- Advertisement ---
The Rebirth of India

India's leading research analyst, Tanushree Banerjee, will show our readers how an upcoming mega shift would drastically change the state of the Indian economy...

And how investing in three high-potential stocks at the heart of this rebirth...

...could potentially hand them 100%, 300%, 500%, even 1,000% or more in the long run.

Since you are one of our valued readers, we sincerely urge you to head over here for more details
------------------------------
Revenue, Profit, and Footfalls Impacted Due to Prolonged Closure of Theatres
Multiplex chain operators Inox Leisure and PVR reported a consolidated loss for the June 2021 quarter as they witnessed a severe impact of the second wave of Covid-19.
This was due to the prolonged closure of cinemas, adversely impacting revenue, profit, and footfalls.
In a statement, PVR had said,
Covid-19 continued to adversely impact the operations and financial performance of the company in the first quarter.

The second wave of Covid-19 surprised everyone with its rapid spread of infection, which led to localised lockdowns and curfews announcements by various state governments. Our entire cinema network was shut down, in a staggered manner, in April 2021 and continues to remain shut till date.
To strengthen the liquidity position of the company, PVR had availed additional borrowings of Rs 2 bn under the government's ECLGS (Emergency Credit Line Guarantee Scheme) scheme.
Consequent to the spurt of second wave, it also initiated discussion with its landlords for complete waiver of rental and common area maintenance (CAM) charges during the lockdown period as announced by various governments.
Pending settlement with landlords, the PVR group has accounted for CAM charges amounting to Rs 324 m in its profit and loss statement for the quarter ended June.
Join Today: Equitymaster is on Telegram. Join FREE Today for Exclusive market Updates
How the stocks of Inox and PVR reacted to the news...
PVR shares rose 10% to hit a fresh 52 week high of Rs 1,662 against previous close of Rs 1,511 on BSE.
The midcap stock has gained after 2 days of consecutive declines. It's trading higher than its 5-day, 20-day, 50-day, 100-day, and 200-day moving averages.
The share has gained 45% in one year and risen 21% since the beginning of this year.
Shares of Inox Leisure also soared 17.8% to hit a high of Rs 412.2 on BSE. The scrip has risen 38.4% in the last year.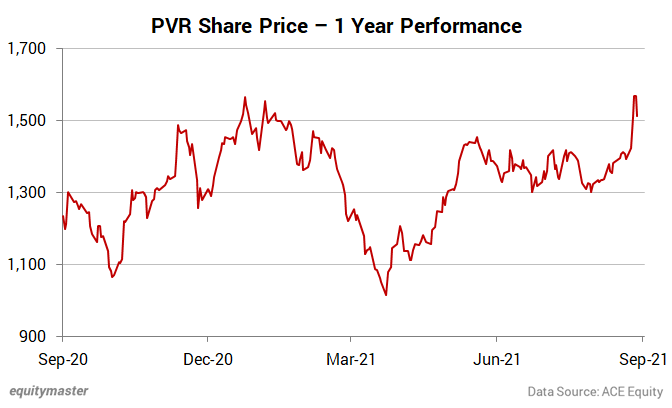 For an overview on the media sector, you can check out our media sector report.
To know what's moving the Indian stock markets today, check out the most recent share market updates here.
Disclaimer: This article is for information purposes only. It is not a stock recommendation and should not be treated as such. Learn more about our recommendation services here...
Ayesha Shetty is a financial writer with the StockSelect team at Equitymaster. An engineer by qualification, she uses her analytical skills to decode the latest developments in financial markets. This reflects in her well-researched and insightful articles. When she is not busy separating financial fact from fiction, she can be found reading about new trends in technology and international politics.