Why MTNL Share Price is Rising
Sep 27, 2023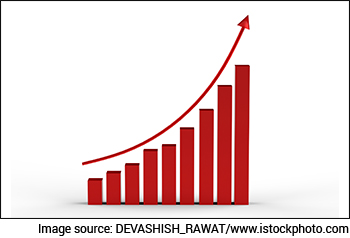 The domestic markets faced a second consecutive session of negative and largely flat closure on Tuesday, with a glimmer of hope provided by domestic buying amid the relentless selling pressure from foreign funds.
Over the past week, key market benchmarks, the Sensex and Nifty have witnessed a notable 2.5% decline.
This downward trajectory was instigated by the recent signal from the US Federal Reserve, indicating a continued upward trajectory in interest rates.
This bearish sentiment is in line with the overall weakness observed in Asian markets and the ongoing FII outflow.
Amid this challenging market sentiment, one standout performer has been the telecom company MTNL, with its share price soaring by an impressive 17% over the past five days.
Here's why shares of the company have been on a roll.
#1 Debt restructuring plan
MTNL has disclosed its intention to seek approval from shareholders to raise Rs 31.3 bn through government-guaranteed bonds, as revealed in a regulatory filing made on Monday.
This move comes after the cabinet approved a comprehensive revival package in 2022, amounting to Rs 1.64 trillion (tn), aimed at revitalising both BSNL and MTNL.
The package included measures to support rural landlines, settle AGR dues, and merge BBNL with BSNL, among other things.
Once the approval is secured, MTNL will move forward with inviting subscriptions for these bonds.
It's important to note that as of January, MTNL's total debt stood at Rs 285.8 bn, and the company's budget projection for the fiscal year 2023-24 anticipates a net loss of Rs 28.1 bn.
Last month, on 24 August, the company issued 1,05,500 new debt securities on private placement having a face value of Rs 100,000 each with a coupon rate of 7.6%.
Following this update, the company's shares experienced an upward trajectory today, reflecting positive investor sentiment and confidence in MTNL's strategic financial moves.
#2 MTNL-BSNL Telecom Partnership
Recently, MTNL signed a memorandum of understanding (MoU) with Bharat Sanchar Nigam Limited (BSNL) to expand their telecom services across India.
This MoU signifies a significant step towards streamlining the operations of these two public sector entities, with plans originally aimed at merging MTNL and BSNL.
However, the merger process faced delays primarily due to MTNL's existing debt obligations.
Notably, BSNL had already assumed control and management responsibilities for MTNL's mobile networks in Delhi and Mumbai, indicative of their shared objectives for business consolidation.
In light of these developments, the government also explored the possibility of shutting down MTNL and incorporating its operations into BSNL rather than proceeding with a formal merger.
What Next?
Going forward, MTNL is embarking on substantial investments in the realm of 4G and 5G services.
Having already introduced 4G services in specific urban areas, the telecom company has its sights set on the launch of 5G services.
For this, the Department of Telecom allocated the spectrum for 5G field trails to MTNL with C-DoT as its technology partner.
In addition to technological advancements, MTNL is diligently working towards expanding its network footprint.
This entails the installation of new towers and the enhancement of its existing infrastructure, all aimed at delivering superior services to its clientele.
In response to evolving consumer demands, MTNL is proactively introducing fresh products and services into the market.
Furthermore, a central focus for MTNL is the enhancement of its customer service.
The organisation has initiated a series of measures designed to streamline customer interactions and expedite issue resolution, thereby ensuring a more seamless experience for its customers.
These strategic endeavours are poised to fortify the company's long-term performance.
How MTNL Shares have Performed
MTNL shares have gained 17% in the last five days and more than 34% in the month gone by.
So far in 2023, the shares of the company have surged over 21%.
The company touched its 52-week high of Rs 33.6 on 25 September 2023 and its 52-week low of Rs 16.6 on 28 March 2023.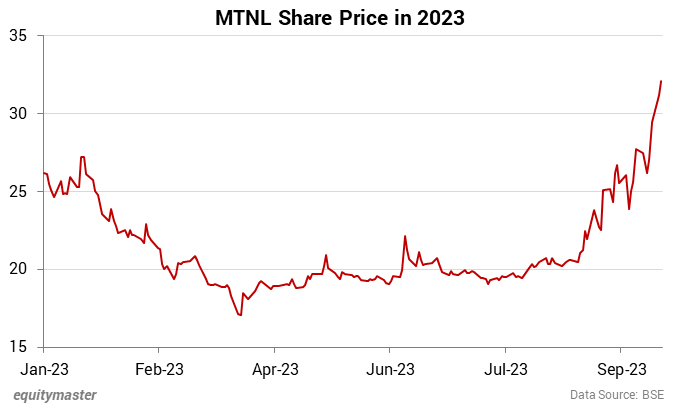 About MTNL
MTNL, a public sector enterprise, was established by the government of India in April 1986.
Its purpose was to improve the quality of telecom services, expand the telecom network, introduce new services, and generate revenue for telecom development needs for Delhi and Mumbai.
The company has also been at the forefront of technology induction by converting 100% of its telephone exchange network into state-of-the-art digital mode.
The company is presently engaged in providing telecom services in the geographical areas of Mumbai and Delhi.
It also provides various types of telecommunication services, including telephone telex, wireless data communication, telematics and internet services.
For more details, see the MTNL company fact sheet and quarterly results.
Investment in securities market are subject to market risks. Read all the related documents carefully before investing
Want to Grow Your Wealth With Safe Stocks?
If you want a simple, safe, and hassle-free approach to long term wealth building...
Without having to worry about negative news or every little downswing in the market...
And without having to worry whether your investments will actually "deliver"...
You must read our note on Blue Chip Stocks now.
Details of our SEBI Research Analyst registration are mentioned on our website - www.equitymaster.com
Disclaimer: This article is for information purposes only. It is not a stock recommendation and should not be treated as such. Learn more about our recommendation services here...