Ashish Kacholia's New Bet is this Multibagger Engineering Stock
Sep 27, 2023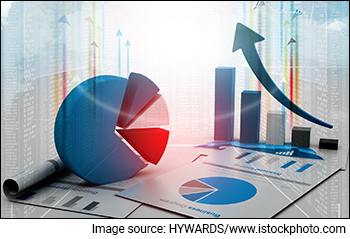 In the small and medium enterprises (SME) space, where uncertainty often looms large, select renowned investors have defied convention by turning the risky land into a goldmine.
Data shows that well-known investors, including Vijay Kedia and Ashish Kacholia, have made remarkable gains through investing in the SME space.
Their exceptional insight has made them popular figures among investors eager to replicate their success.
For those actively tracking such developments, this article has the latest insights - Ashish Kacholia has recently added an engineering stock into his portfolio.
Who is Ashish Kacholia?
When we talk about successful investors in India, it's impossible not to mention Ashish Kacholia.
Kacholia is known for identifying the best multibagger stocks. He is known as the 'Big Whale' of the Indian stock market.
Over the years, he has picked the best multibagger stocks by looking at the fastest-growing companies from the midcap and smallcap space.
He started his career with Prime Securities in 1993. In 2003, he started Hungama Digital Entertainment Company along with Rakesh Jhunjhunwala. He is also the proprietor of Lucky Securities.
Why did Ashish Kacholia buy this Multibagger stock?
The stock in question is BEW Engineering.
On 25 September 2023, Lucky Investment Managers Private acquired 15,500 shares of BEW Engineering Ltd at an average price of Rs 1,450 per share. Further, Dars Business Finance purchased 34,500 equity shares for Rs 1,449.48 apiece.
However, the intrigue deepens when we delve into the identity behind this private, incorporated entities.
The director of Lucky Investment Managers Private and Dars Business Finance is none other than Ashish Kacholia.
Meanwhile, Virtuous Capital has divested 49,500 equity shares at Rs 1,450 each. Notably, according to exchange data of June 2023, Virtuous Capital held a 7.41% stake in the company.
While we do not know the exact reason why the investing guru decided to buy the counter, there are some explanations.
#1 Good Financial Performance
BBEW Engineering demonstrated a robust financial performance, achieving a 7.1% YoY growth in revenue from operations, totaling Rs 1.1 billion (bn) for the fiscal year 2023 compared to Rs 990 million (m) in the corresponding quarter of the previous year.
The company's bottom line also saw substantial growth, surging by 30% YoY to reach Rs 73 m, up from Rs 56 m in the same quarter last year. This remarkable growth was driven by an increase in orders and higher realisation of revenues.
BEW Engineering has consistently showcased progressive financial performance over the years.
The company has maintained a strong compound annual growth rate (CAGR) of 21% in revenue over three years, with the net profit also exhibiting an impressive CAGR of 44%.
This exceptional growth can be attributed to the company's successful sales expansion efforts.
Financial Snapshot (2021-23)
| Particulars | 21-Mar | 22-Mar | 23-Mar |
| --- | --- | --- | --- |
| Revenue (Rs m) | 590 | 990 | 1060 |
| Revenue Growth (%) | - | 67.4 | 6.2 |
| Net profit (Rs m) | 23.6 | 56.4 | 73.2 |
| Net Profit Margin (%) | 4 | 5.7 | 6.9 |
Data Source: NSE
Looking ahead, BEW Engineering has ambitious plans to expand into specialised markets with limited competition and higher profit margins.
#2 Strong Order Book
According to media reports, BEW Engineering has a robust order book and has been growing rapidly due to India's chemical and pharmaceutical industries' significant capital investments. The company recently delivered an order for a Continuous Fluid Bed Dryer worth Rs 40 m.
It expects a revenue boost of 40-50% this year, backed by Rs 2.9 m worth of pending orders. The company's trade receivables are zero, as it has received Rs 285 m from new export clients.
To support its growth, the company has secured borrowings of Rs 2.1 bn, including Rs 781 mv through the government's Emergency Credit Line Guarantee Scheme (ECLGS) scheme. These funds have been strategically used to secure inventory for timely order fulfilment and future planning.
BEW Engineering has also successfully raised funds through preferential allotments, raising Rs 150 million in August 2023 and Rs 270 m in June 2023. These funds are expected to enhance the company's working capital cycle and reduce its debt burden.
The company has its sights set on unexplored export markets, which are poised to play a pivotal role in its future expansion endeavors.
How Shares of BEW Engineering have Performed Recently
Over the last one year, the share price of BEW Engineering has gained 93.3%. In 2023 so far, the stock is trading higher by 142%.
Over the month, the stock has gained over 12.9%.
The company touched its 52-week high of Rs 1,625 on 27 September 2023 and its 52-week low of Rs 560 on 24 February 2023.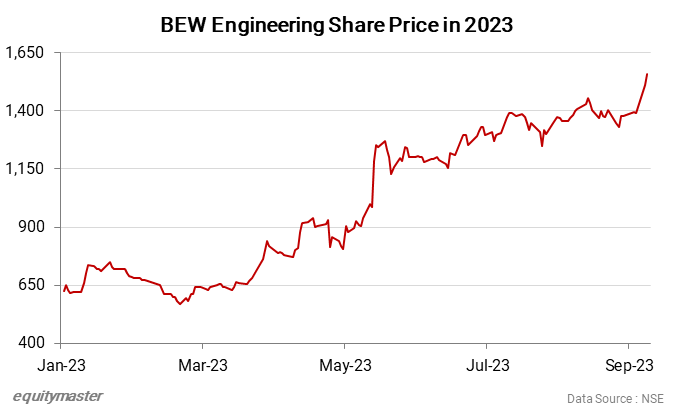 About BEW Engineering
BEW Engineering is a private limited company that designs and manufactures a special range of filtration mixing and drying equipment.
These are specifically used in pharmaceuticals sterile applications, intermediate compounds fine chemicals, agro chemicals, pesticides, insecticides, dyes etc.
BEW Engineering was established in 2011 and has quickly become a leading provider of filtration, mixing, and drying equipment to the pharmaceutical and chemical industries.
For more details, see the BEW Engineering company fact sheet and quarterly results.
For a sector overview, read our engineering sector report.
You can also compare BEW Engineering with its peers:
BEW Engineering vs Aaron Industries
BEW Engineering vs Debock Sales
Investment in securities market are subject to market risks. Read all the related documents carefully before investing
Safe Stocks to Ride India's Lithium Megatrend
Lithium is the new oil. It is the key component of electric batteries.
There is a huge demand for electric batteries coming from the EV industry, large data centres, telecom companies, railways, power grid companies, and many other places.
So, in the coming years and decades, we could possibly see a sharp rally in the stocks of electric battery making companies.
If you're an investor, then you simply cannot ignore this opportunity.
Details of our SEBI Research Analyst registration are mentioned on our website - www.equitymaster.com
Disclaimer: This article is for information purposes only. It is not a stock recommendation and should not be treated as such. Learn more about our recommendation services here...
FAQs
Which are the best value investing stocks in India right now?
As per Equitymaster's Stock Screener, here is a list of the best value investing stocks in India right now...
These companies have been ranked as per their PE (Price to Earnings) ratio and PB (Price to Book Value) ratio. The lower the ratios, the more undervalued the stock is.
They also have low debt and high return on equity.
Note that, there are various other parameters you should take into account before investing in any company such as promoter holding etc. Sustained research must not be compromised despite the positive odds.
Can value investing make you rich?
Yes. However, note that value investing is not a get-rich-quick scheme, it's a buy-and-hold strategy.
Once you manage to find a fundamentally strong company that is priced lower than its actual value, you must buy and hold for a long term.
This will help you ride out the volatility in stock prices and avoid the pitfalls that come with trying to time the market.
How does Warren Buffet value stocks?