7 Indian Companies that Swear by Buffett's No-Split Rule
Sep 28, 2021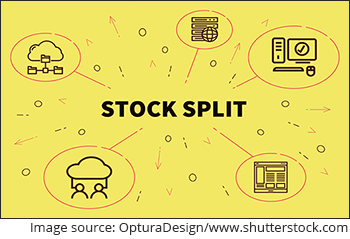 Suppose you are a newbie, looking to invest in the stock market. You glance through different stocks and after careful consideration, decide to invest in shares of MRF.
Then you notice that the current price of MRF is very high at Rs 80,000 and is not affordable.
In the second attempt, you choose another stock - Infosys - which has a current price of around 1,700. Now this looks affordable.
Do you think MRF's share price is so costly because it's better than Infosys? This is a clear misunderstanding and investors often get confused about this.
MRF trades at an eye-popping price because the company has not split its shares for a long time.
But why has the company decided to stay away from dilution till date?
Before we delve into the impact of stock splits, let's take a look at Indian companies which have not split shares till date.
#1 MRF
MRF has a total of 4.2 m shares outstanding as on June 2021.
In 1970 and 1975, MRF offered a share split in the ratio of 1:2 and 3:10. But since then, there have been no share splits.
MRF is India's leading tyre manufacturer and is the most highly priced stock.
The stock of the company was trading at a price of Rs 10,000 in November 2012 and hit an all-time high Rs 98,575 in February 2021.
It currently trades at around Rs 80,000 per share.
You might wonder that why has MRF not diluted its shares? Buying a share so costly at Rs 80,000 is not viable for most of retail investors.
Well, MRF seems to be doing well without the share split. For example, back in 2012 when it was trading at Rs 10,000, you still might have thought that was costly.
Also, without the share dilution, MRF has kept speculators and volatility away. Investors trade in huge volumes if the company's stock price is within their range, which in turn increases volatility.
Given MRF has strong fundamentals and has consistently increased wealth over the years, there's no reason for it to do anything which would come as a shock to the market.
#2 Honeywell Automation
As of June 2021, Honeywell Automation has 8.84 m shares outstanding out of which 75% are held by its promoters.
The company has not split its shares till date. It usually trades with low volumes, thus avoiding volatility.
This stock is also a favourite of mutual funds as they continuously keep holding more than 10% of the total equity over the past few years.
From trading at Rs 2,000 at the start of 2010, it current trades at Rs 44,000 levels and is the second highly priced share to own in India.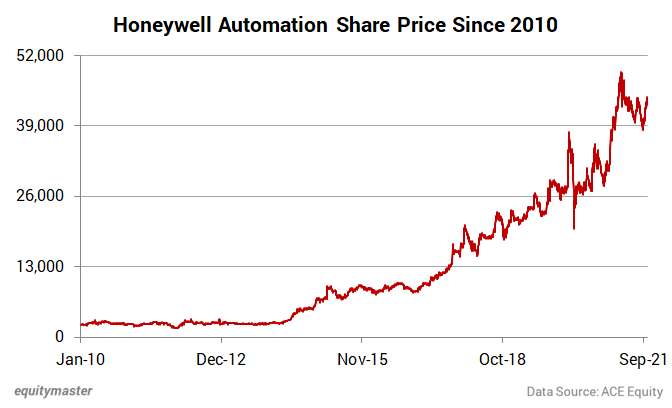 Over the past one year, shares of the company have gained 40%.
To know more, check out Honeywell Automation company fact sheet and quarterly results.
#3 Page Industries
Page Industries has always had an edge over its peers. It has shown consistency in financial performance.
Due to the company's strong distribution network and increasing market share, the stock market has rewarded its shareholders handsomely.
The maker of Jockey International garments till 2040, has 11.15 m shares outstanding as of June 2021.
Page Industries has not split its face value till date since its listing back in March 2007. The company not splitting its shares is also a reason behind its rally.
However, company's promoter holding continues to dilute and currently stands at 47.91%. This is because Jockey International has removed the requirement of a minimum 50% stake for promoters in the company.
Since its listing in 2007, the stock has given returns of 118 times at the current market price and 122 times when compared with its 52-week high.
Page Industries also has a consistent track record for huge dividend payouts.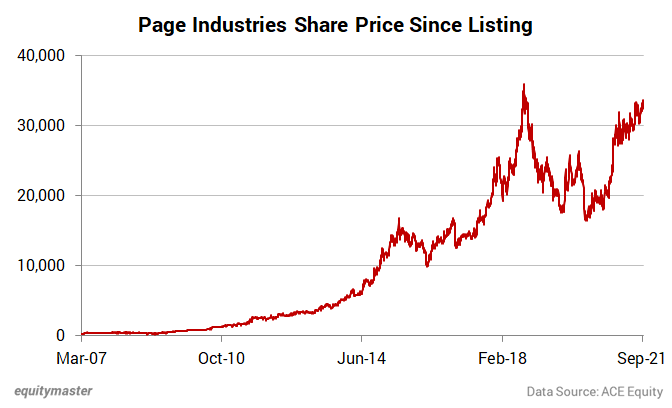 With only 9.8% of the total equity shares freely tradeable, less supply for the same amount of demand also contributes to the high price.
To know more, check out Page Industries latest shareholding pattern.
#4 Abbott India
As of June 2021, Abbott India has 21.2 m shares outstanding with high promoter holding of 74.99%.
The company is engaged in the business of manufacturing, selling, distribution, and marketing of pharmaceuticals.
It has not split its stock since listing.
Its stock performance over the years gone by has been muted compared to peers but a 30% gain is still decent.
Since Abbott India is a high-priced stock, there's not much volume on the bourses. For example, less than 3,000 shares were traded today on both the exchanges combined.
#5 Goodyear India
Goodyear India is engaged in the business of manufacturing and trading of tyres, tubes, and flaps. It is a leading player in the Indian farm tyre market.
Till date, the company has not split its shares. The company had 23.1 total shares outstanding in 2000 and the number of shares still remain the same.
The stock performance of the company has been muted in the past year even as the benchmark indices continue to scale fresh peaks. Goodyear India shares are up 17% in the year gone by.
But investors of Goodyear India would not complain as the company has paid a hefty dividend for March 2021.
It declared a dividend of Rs 98 per share which at its current price, results to a dividend yield of whopping 9.44%!
To know more, check out Goodyear India dividend payout history.
#6 Procter & Gamble Health
This is another pharma company which, like Abbott India, has stayed away from dilution.
P&G Health has a total of 16.6 m equity shares as of June 2021.
What type of shareholders make up P&G Health's share registry? Well, individual investors own 24.5% stake in the company as of June 2021.
Meanwhile, mutual funds, banks/financial institutions, and FIIs all hold a notable 5-6% stake in the company.
Just like Abbott India's share price performance, P&G Health's performance is also nothing to write home about.
Shares of the company are up a mere 7% in the past twelve months.
#7 Gillette India
As a leader in the grooming space, Gillette India is always considered as a safe bet for investors.
With its top-class leading brands like Gillette, and Oral-B, the company has many things to take home including its continuing product innovations.
It's also debt free, having no debt since last 5 years.
As of June 2021, the company has 32.58 total shares outstanding out of which promoters hold a 75% stake.
Data available with the BSE shows that the company has not split its shares since inception and total number of shares have stayed the same.
To know more, check out Gillette India company fact sheet and quarterly results.
Apart from the above, big companies like Nestle India, Shree Cement, Maruti Suzuki, 3M India, and UltraTech Cement among others have not split their face value so far.
Why these companies don't split shares
Every few years, companies issue bonus shares or do a stock split since highly priced stocks like MRF may not be affordable to small investors.
Most recent examples of this can be corporate action splits by IRCTC, Alkyl Amines & Chemicals, and Tide Water Oil.
There can be several reasons behind the split, depending on the company.
The primary reason is that after a stock split, the share price reduces which means that with less price per share, more retail investors can participate. This increases volatility.
To avoid volatility and keep speculators away, companies often do not split shares.
Another reason is to get security against hostile takeovers. If the share price is high, there are only few shareholders and majority of the stake is with promoters.
There's also prestige. Believe it or not, people think a stock worth Rs 5,000 or Rs 10,000 per share is more valuable and has a unique status, even though its marketcap is low.
This is why legendary investor Warren Buffett hates stock splits. His multinational conglomerate company Berkshire Hathaway has never undergone a stock split.
Here's Buffett:
Were we to split the stock or take other actions focusing on stock price rather than business value, we would attract an entering class of buyers inferior to the exiting class of sellers. Would a potential one-share purchaser be better off if we split 100 for 1 so he could buy 100 shares? Those who think so and who would buy the stock because of the split or in anticipation of one would definitely downgrade the quality of our present shareholder group.
Berkshire Hathaway is among the largest publicly traded companies by marketcap. It operates as a holding company. It currently trades at US$418,101. In rupee terms, that's Rs 3.07 crore for one share!
Buffett made his first purchase of Berkshire Hathaway shares in 1962 at US$7.50 per share.
Buffett prefers to treat the company's shareholders as partners and not like traders.
Whenever stocks are split, an important thing that gets impacted is the earnings per share (EPS) of the company. Since profit is divided by the increased number of shares, the EPS decreases accordingly.
However, one must note that the price to earnings remains the same since both the share price and EPS decrease.
Many often look at stock splits from a positive perspective as the demand is now increased.
A stock split also provides signal to the market that the company's share price has been increasing and investors assume this growth will continue in the future.
If you go by the general trend, it suggests that you must exit partly, immediately after the stock split becomes effective.
But, if you are a long-term investor (which is the preferred investment strategy), you should not concern yourself with a movement that results largely from such factors.
What should matter is the fundamental strengths of the business. That is the only thing that will matter over the long term.
To know what's moving the Indian stock markets today, check out the most recent share market updates here.
Disclaimer: This article is for information purposes only. It is not a stock recommendation and should not be treated as such. Learn more about our recommendation services here...