Why Did Shares of Raymond Rally Today?
Sep 28, 2021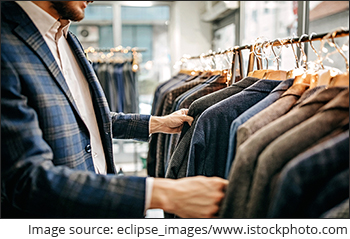 Raymond share price gained over 5% today after the board approved the consolidation of tools & hardware and auto components businesses into an engineering business.
Apparel and textile company Raymond said its directors have approved plans to consolidate the tools and hardware and auto components businesses into engineering business for improving synergies and exploring monetisation options for deleveraging the company.
In an official statement, the firm said the objective behind the move is to create value for shareholders.
The engineering business has achieved scale and improved market share in both domestic and global markets.
These businesses have demonstrated growth in earnings before interest, taxes, depreciation, and amortisation (EBITDA) margins, generated free cash flows, and are debt-free.
Gautam Hari Singhania, Chairman & Managing Director, said,
Raymond believes in nurturing and growing each of its businesses. I am happy to share that our Engineering business comprising of Tools & Hardware and Auto Components has demonstrated good performance and it is poised for future growth.

We are consolidating the business to explore all options available to us for monetisation, which will enable deleveraging leading to value creation.
As part of the scheme, the tools and hardware and the auto components businesses will be merged into JK Files, a wholly-owned subsidiary of the company.
Raymond Realty to become a wholly-owned subsidiary
To achieve high growth momentum in the real estate business, the board also gave in-principle approval for subsidiarisation of the real estate business division through a wholly-owned subsidiary.
Launched in 2019 with the development of land in Thane, Raymond said its real estate business is now poised for growth with a focus on delivering a value-based offering.
'The real estate division is a sustainable profitable business led by experienced professional team with a clear long-term strategy in place,' the company said, adding the vertical now plans to capitalise on its strengths by extending beyond Thane.
It will deliver around 3 million sq ft of residential projects and has already achieved sales of over 70% of launched inventory of around 2 million sq ft.
Stating that the realty business has showcased performance since its launch, Singhania said,
In order to realise its full potential, it will now be a wholly-owned subsidiary of Raymond.
Demerger of the lifestyle business withdrawn
The company had in November 2019 announced the demerger of its apparel business held under the wholly-owned company Raymond Apparel.
The demerger scheme has been withdrawn and the lifestyle business will now be transferred to parent Raymond to streamline the group's B2C businesses.
This move will strengthen efficiencies, streamline, and simplify processes and bring in synergy benefits in terms of design and innovation, sourcing, and retail network.
The firm said in order to execute these decisions, it withdrew the de-merger scheme of lifestyle business announced in November 2019.
Company financials
Raymond reported a consolidated net loss of Rs 1.6 bn for the quarter ended June 2021. The company had posted a net loss of Rs 2.5 bn during the April-June quarter of the previous fiscal.
However, its revenue from operation rose over four-fold to Rs 8.3 bn against Rs 1.6 bn in the same period of the previous fiscal.
Consumer sentiments were seen to be positive during the month of June with higher number of wedding dates.
Raymond was also able to maintain strong profitable momentum in the engineering business as it focused on exports as the domestic market was impacted due to lockdown.
In the June quarter, the company increased its promoter holding to 49.12% from 48.84%.
To know more, check out Raymond's latest shareholding pattern.
How the stock markets reacted to Raymond
Shares of Raymond opened the day at Rs 459 on the BSE and Rs 460.9 on the NSE.
Its share price closed at Rs 455.2 (up 1.7%) on the BSE and Rs 454.5 (up 1.5%) on the NSE.
The share touched its 52-week high of Rs 473.9 and 52-week low of Rs 262.9 on 19 July 2021 and 4 November 2020, respectively.
Over the last 30 days, the Raymond share price is up 13%. Over the last one year, the company's share price is up 80.4%.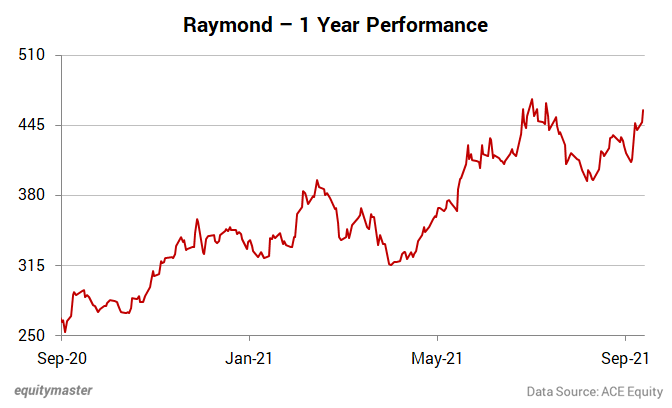 About Raymond
Raymond Group is an Indian branded fabric and fashion retailer, incorporated in 1925. It produces suiting fabric, with a capacity of producing 31 million meters of wool and wool-blended fabrics.
The group owns apparel brands like Raymond, Raymond Premium Apparel, Raymond Made to Measure, Ethnix, Park Avenue, Park Avenue Woman ColorPlus, Kamasutra & Parx.
All the brands are retailed through 'The Raymond Shop' (TRS), with a network of over 700 retail shops spread across India and overseas, in over 200 cities.
In addition, the group also has business interests in readymade garments, designer wear, cosmetics & toiletries, engineering files and tools, prophylactics and air charter operations.
In 2019, Raymond announced its venture into real estate business under Raymond Realty.
For more details about the company, you can have a look at Raymond's factsheet and quarterly results on our website.
To know what's moving the Indian stock markets today, check out the most recent share market updates here.
Disclaimer: This article is for information purposes only. It is not a stock recommendation and should not be treated as such. Learn more about our recommendation services here...