Tata Motors is up 60% in 2023. Does This Stock have Room to Rise?
Sep 28, 2023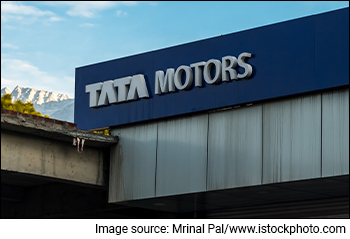 Among the most popular stocks in the market right now is Tata Motors.
It's not only up 60% since the start of the year, but also an incredible 150% since the rally began towards the end of March.
And if you go back to the bottom of the covid crash, the stock has been a ten bagger.
Traders who wanted short term gains are very happy. Long term investors too are probably sitting on decent profits right now.
But what happens next? Can the stock go higher?
Let's try to answer that...
Why Tata Motors Stock is Rising
There are a three main reasons for the bullish market sentiment surrounding this stock.
All there reasons are good enough on their own to paint a positive picture. When considered together, it's easy to see why both investors and traders are reluctant to sell the stock.
Let's consider them one at a time...
#1 India's EV Leader
Tata Motors is the dominant force in the Indian electric vehicle (EV) market. This dominance will likely continue for at least a few more years, perhaps longer.
And every potential car buyer in India is acutely aware of it.
The situation with the company is akin to a brand name being associated with a technology. Like how Xerox was associated with photocopying. In the case of Tata Motors, it's EVs in the Indian auto market.
If you're in the market for an EV, you will think of Tata Motors first, probably the Nexon. And many people won't even think of another brand at all.
This situation won't change until the company faces serious competition from other EV makers. That will eventually happen of course. But it's not the case today.
In fact, we believe it's now safe to say that Tata Motors is slowly but surely changing how the world looks at India when it comes to technology.
If someone asked you to name the first thing that comes to your mind about German or Japanese technology, it would likely be their cars. BMW and Volkswagen are symbols of German engineering. Honda and Toyota are symbols of Japanese engineering.
As the world transitions from conventional vehicles to EVs, Tata Motors will make a name for itself globally, just as it has already done in India.
Auto analysts have projected India's total EV market, not just cars, to grow exponentially and reach a size of about US$ 150 billion (bn) by 2030.
Even if the Indian EV market doesn't get to that lofty target, we believe getting to a size of US$ 100 bn by 2030 should be achievable. This is based on current growth rates, the ambitious expansion plans of India's auto makers, and the government's support.
In comparison, the marketcap of Tata Motors - the entire company including the commercial vehicles business and JLR - is under US$ 25 bn today.
The company has a clear plan to transition to a mostly EV company by 2030 and has backed the plan with billions in funding, leadership support, and technology partnerships.
The most recent example of the company's EV push is the expansion of their Sanand plant in Gujarat.
The Sanand plant is Tata Motors' largest manufacturing facility in India. It currently produces a wide range of vehicles which includes the Tiago, Nexon, and Altroz.
The expansion of the Sanand plant will see the addition of a new lithium-ion battery production facility, expected to be operational by as early as 2025.
The Tata Group's investment in lithium-ion batteries is part of its broader strategy to transition to electric vehicles. The company is also working on developing its own electric vehicle charging infrastructure.
So it's not surprising the market is bullish on the stock for the long term. We may even go as far as to say it would be foolish not to be bullish.
#2 Improving Fundamentals
The market would not be as bullish as it is if the company wasn't doing well financially. After all, one bad quarterly result is enough for the stock market to turn negative on a hot stock.
One look at the long term chart of Tata Motors will tell you how the market has oscillated between optimism and pessimism. Tata Motors' shareholders are not strangers to this kind of market behaviour.
Tata Motors 10-Year Share Price Chart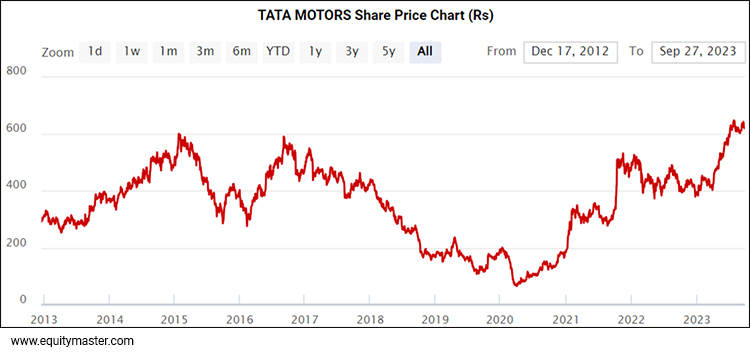 You can't help but notice that the stock isn't any higher than where it was back in early 2015. That's about eight and a half years of zero returns.
Some long term investors, who were unlucky with their timing, would be painfully aware of this.
But things have changed for the better in the company. A large part of the improvement happened under the leadership of the current Tata group Chairman, Natarajan Chandrasekaran.
The senior management has focused on putting its house in order. The company become profitable again in FY23 after posting what seemed like never ending losses.
The sales growth has been solid over the last few years. It's operating margins have also been improving steadily. This steady margin improvement is what has led to the positive bottomline.
The business is doing quite well. This is evident from the cash flow from operations, which is close to double the number it was just four years ago.
The only concern is debt. The company's debt to equity is 2. But that won't be a problem as long as the cash keeps flowing in.
#3 Tata Technologies IPO
This is perhaps the most anticipated IPO of the year. Tata Technologies is a subsidiary of Tata Motors.
It's one of the leading players in automotive ER&D services globally. It offers end-to-end solutions for EV development, manufacturing, and after-sales services.
Tata Technologies' global clientele comprises 35 traditional OEM and tier-I suppliers, and 12 EV companies.
On 9 March 2023, Tata Motors filed a statement with the stock exchanges saying that its subsidiary Tata Technologies has filed a draft red herring prospectus with the market regulator.
According to the exchange filing, the IPO comprises an offer for sale (OFS) of up to 950 million (m) shares, representing approximately 23.6% of its paid-up share capital.
The offer is being made through the book-building process, in which not less than 15% of the offer must be made available to non-institutional investors and not less than 35% of the offer must be made available to retail individual investors. Not more than 50% of the offer may be allocated to qualified institutional buyers.
As per the DRHP, the company's revenue from operations for the nine-month period ended 31 December 2022 was Rs 30,117.9 m, registering a growth of 15.5%.
Tata Technologies: Financials of the Last 5 Years

The market regulator gave its approval for the IPO in June 2023. Since then there has been rampant speculation in the market about the launch date.
Everything from the price band, to the GMP, to the marketcap, has been discussed extensively in the media. The IPO could hit the market at any time.
This is a big trigger for the stock of Tata Motors.
Conclusion
There are strong reasons driving the stock of Tata Motors. These reasons are both short term and long term in nature.
These reasons could see the stock go higher or maybe prevent a significant correction.
However investors should not jump in to the stock just because it makes sense to be bullish due to these reasons.
Every investor and hence every investment, is unique. Do your own due diligence before considering an investment in any stock, even Tata Motors.
Also keep in mind that investing in any stock based on the anticipation of an IPO, in the hope of making quick profits, is nothing but risky speculation. This is true even in the case of a reputed stock like Tata Motors. It's completely possible to lose money in such endeavours.
Having said that, the future of the company and the stock looks bright.
Happy Investing!
Investment in securities market are subject to market risks. Read all the related documents carefully before investing
Want to Grow Your Wealth With Safe Stocks?
If you want a simple, safe, and hassle-free approach to long term wealth building...
Without having to worry about negative news or every little downswing in the market...
And without having to worry whether your investments will actually "deliver"...
You must read our note on Blue Chip Stocks now.
Details of our SEBI Research Analyst registration are mentioned on our website - www.equitymaster.com
Disclaimer: This article is for information purposes only. It is not a stock recommendation and should not be treated as such. Learn more about our recommendation services here...