Why Tata Investment Share Price is Rising
Nov 21, 2023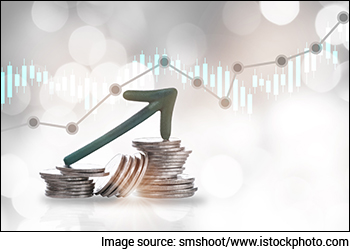 Editor's note: Share price of Tata Investment has shot up over 30% in the past five trading sessions.
Back in September 2023, the stock was experiencing a similar trend.
What explains these sharp moves by some companies like Tata Investment that rally so hard in 2-3 sessions that make up for an entire year's gains when compared to the index?
Continue reading to find out...
Why Tata Investment Share is Rising
In recent years, Tata group stocks have delivered exceptional returns to their shareholders, with frequent rallies in these companies on almost every alternate trading session.
One such Tata group stock that has recently demonstrated outstanding performance is Tata Investment Corporation.
This Tata Group NBFC is up over 100% so far for in the year 2023, which is its best annual performance since 2009, during which the stock had gained over 120%. It has also delivered positive returns in seven out of the last eight years.
Shares of Tata Investment Corporation gained as much as 7% in early trade today (21 November 2023) to hit a record high of Rs 4,735.
Here are a few possible explanations for the upward momentum.
#1 Robust Financials
One significant driver behind the rise in Tata Investment's share price is its robust financial performance.
In the June 2023 quarter, the company reported substantial growth with a 52.9% increase in revenue, reaching Rs 1.7 billion (bn), and a remarkable 63.2% surge in net profit, totaling Rs 1.5 bn, on the back of higher sales.
The company's Q1 net profit margin increased by 6.8% year-on-year, reaching an impressive 88.5%.
In FY23, Tata Investment Corporation continued to impress, recording a revenue of Rs 2.8 bn, marking a solid 9% growth compared to FY22.
The net profit for the year also exhibited substantial growth, jumping by 17% to Rs 2.5 bn.
The company's diversified sources of revenue, including dividend income (Rs 1.7 bn), interest income (Rs 380 m), and net gains on fair value changes (Rs 660 m), contributed significantly to its total operating revenue in the recent fiscal year.
As an investment company, Tata Investment maintains high profit margins, evident from its remarkable PAT margin of 91% for FY23.
Over the past three financial years, Tata Investment Corporation has consistently demonstrated strong financial growth, with a compound annual growth rate (CAGR) of 20.5% in income and 16% in net profit.
Financial Snapshot (2021-23)
| Particulars | 21-Mar | 22-Mar | 23-Mar |
| --- | --- | --- | --- |
| Operating Revenue (Rs bn) | 1.6 | 2.5 | 2.8 |
| Revenue Growth (%) | - | 56 | 12 |
| Net profit (Rs bn) | 1.6 | 2.1 | 2.5 |
| Net Profit Margin (%) | 95 | 85 | 91 |
Data Source: BSE
Tata Investment is also a debt-free stock. The management has maintained a nil debt-to-equity ratio for a long time. It mainly funds its purchases of securities from internal accruals and reserves.
These strong fundamentals underscore the company's financial stability and performance, which have been key factors driving its share price higher.
Update: In the second quarter of financial year 2024, Tata Investment yet again posted superb numbers which added to the bullish sentiment.
In the September 2023 quarter, the company posted a profit of Rs 1.2 bn as compared to Rs 1.1 bn in the same period a year ago.
Revenues shot up to Rs 1.2 bn compared to Rs 1 bn in September 2022.
#2 Steady Dividend Income
Tata Investment Corporation's solid financial performance is bolstered by its status as a holding company with significant investments in various Tata group entities.
The company holds substantial stakes in key Tata group companies such as Tata Sons, Tata Consultancy Services (TCS), and Tata Motors.
One of the primary reasons for Tata Investment's robust fundamentals is its regular receipt of dividends from these investments.
These dividends constitute a major source of income for the company. In the last financial year, Tata Investment received dividends totaling over Rs 1.7 bn.
This consistent stream of dividends provides income stability for Tata Investment Corporation. It ensures a reliable source of revenue, reducing the impact of market volatility on the company's financial health.
#3 Tata Technologies IPO Effect
The recent rally that came in November 2023 is due to the effect of Tata Technologies launching its most awaited IPO.
Investors are buoyed by prospects of value unlocking that will happen once shares of Tata Technologies are listed on the exchanges.
Tata Technologies is a subsidiary of Tata Motors and Tata Investment Corporation is a promoter group entity of the auto major.
Earlier this year, the market regulator had issued guidelines suggesting a separate delisting mechanism for holding companies.
So experts now believe that one of the triggers could be the market releasing the new norms for delisting in the December meeting.
There are several more companies in the Tata group that are yet to get listed. Tata Investment has stakes in many of them. So it could be in focus once again when the norms get finalized in December this year.
Positive Sectoral Outlook
Over the past three years, financial markets globally and in India have witnessed significant fluctuations.
The financial sector is poised to reap the benefits of robust economic growth, increasing incomes, enhanced financial inclusion, and ongoing digital transformation.
Looking ahead, Tata Investment Corporation's management maintains a positive outlook, anticipating double-digit growth in Indian market indices.
This optimistic projection is not only promising for Indian investors but also bodes well for investment companies like Tata Investment Corp.
How Tata Investment Shares have Performed
Tata Investment shares have gained over 30% in the last five days and more than 43% in the month gone by.
So far in 2023, the shares of the company have surged over 100%.
The company touched its 52-week high of Rs 4,735 on 21 November 2023 and its 52-week low of Rs 1,730 on 31 March 2023.
Despite the rally, the company trades at a P/BV multiple of 0.97x. Its 5-year average P/BV multiple comes to 0.5x.
About Tata Investment
Tata Investment Corporation is one of the few oldest publicly listed investment companies in India. It was established by the Tata Group in 1937.
Over the years its business changed from funding new business activities to operating as an investment company owning a portfolio of securities.
As of the present date, TICL is a non-deposit taking non-banking finance company (NBFC) engaged in the business of investing in equity and equity-related securities for long-term value creation.
The promoter Tata group holds a majority of 73.4% stake in the investment company making it a subsidiary of the salt-to-software conglomerate.
For more details, see the Tata Investment company fact sheet and quarterly results.
For a sector overview, read our finance sector report.
You can also compare Tata Investment with its peers:
Tata Investment vs Bajaj Finance
Investment in securities market are subject to market risks. Read all the related documents carefully before investing
Safe Stocks to Ride India's Lithium Megatrend
Lithium is the new oil. It is the key component of electric batteries.
There is a huge demand for electric batteries coming from the EV industry, large data centres, telecom companies, railways, power grid companies, and many other places.
So, in the coming years and decades, we could possibly see a sharp rally in the stocks of electric battery making companies.
If you're an investor, then you simply cannot ignore this opportunity.
Details of our SEBI Research Analyst registration are mentioned on our website - www.equitymaster.com
Disclaimer: This article is for information purposes only. It is not a stock recommendation and should not be treated as such. Learn more about our recommendation services here...