Why Navin Fluorine Share Price is Falling
Sep 29, 2023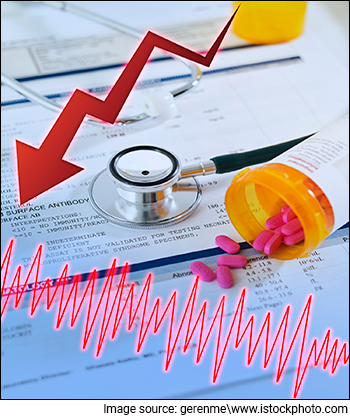 In recent years, the Indian chemicals sector has impressively outperformed not only the broader equity market but also the majority of its upstream and downstream industries, consistently exceeding shareholders' expectations.
But with several headwinds like high energy costs, rising freight expenses, and skyrocketing raw material prices, the sector faced challenges, pressuring margins of even the best chemical stocks in India.
However, with easing cost pressure many stocks are gradually rebounding. Amid this recovery, share price of Navin Fluorine crashed 13% today following a surprising move.
Here's why.
MD's Resignation
The commodity chemicals maker's stock reached its lowest since February 2023 today after the company's Managing Director, Radhesh R. Welling, resigned from the post.
According to official exchange filings, Radhesh R. Welling cited personal reasons for his resignation as the Managing Director. This resignation was accepted during a meeting held on Thursday, 28 September. Welling's departure from the company is scheduled for 15 December 2023.
To fortify the board, Sudhir R. Deo has been appointed as an additional director. However, investors are expressing concerns about the recent series of high-profile departures from the company.
In August 2022, Ravi Venkataramanan stepped down as the Chief Executive Officer, subsequently leading to the promotion of Rajendra Sahu.
Adding to the list of exits, Basant Kumar Bansal resigned as the Chief Financial Officer within one year of his appointment in August 2022, and earlier, in October 2021, Ketan Sablok also resigned from the CFO position.
What Next?
Navin Fluorine enjoys a strong revenue outlook in its contract development and manufacturing organisation (CDMO) and specialty chemical segments.
This is underpinned by effective capital expenditure management, a proven track record of securing international orders, and strategic partnerships.
The company's future growth prospects are further bolstered by expected improvements in margins within its traditional portfolio, a reputation for exceptional execution, and a prudent approach to capital expenditure.
Looking ahead the outlook remains promising, especially with lucrative opportunities emerging in the pharmaceutical sector in conjunction with an improved performance in the US market.
Companies in the industry have reported a positive shift from double-digit price declines to mid-single-digit reductions in the US market, which bodes well for Navin Fluorine and its peers.
Additionally, there is potential for companies to benefit from the current five-year high in drug shortages in the US.
In the domestic market, growth momentum persists, with Q1 results showing growth rates ranging from 6-15%. The market anticipates a growth range of 8-10% for FY24.
An important development to watch for is the possibility of the National Pharmaceutical Pricing Authority (NPPA) introducing an amnesty scheme to address pending cases of overpricing, which could impact market dynamics.
How Shares of Navin Fluorine have Performed Recently
Navin Fluorine shares have declined by more than 18% in the last one month.
And in 2023 so far, the shares have eroded over 8%. While in past one year stock is down 15.7%.
Navin Fluorine touched its 52-week high of Rs 4,950 on 15 May 2023 and its 52-week low of Rs 3,726.7 on 29 September 2023.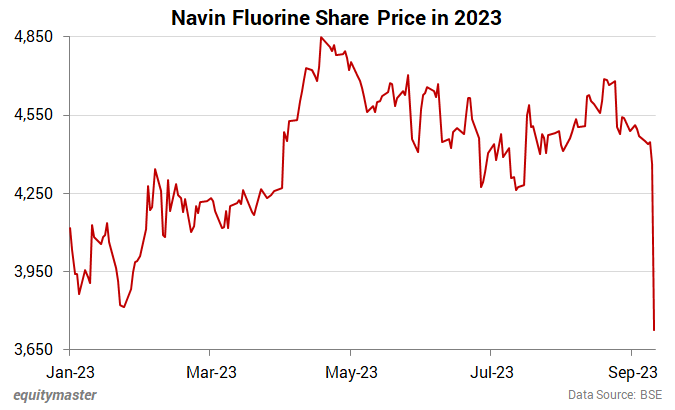 About Navin Fluorine
Navin Fluorine is engaged in producing refrigeration gases, inorganic fluorides, specialty organofluorines, and also offers contract research and manufacturing services.
The company has been engaged in the specialty chemicals business for more than two decades. This division produces niche fluorine-based molecules that have downstream applications in crop science, pharma key starting materials, and industrial chemicals.
The company ventured into contract research and manufacturing services for global clients in 2010. It provides its services to key downstream clients in innovative pharma and life sciences and agrochemicals space.
To learn more about the company check out, Navin Fluorine financial factsheet and quarterly results.
You can also compare Navin Fluorine with its peers on our website:
Navin Fluorine vs Deepak Nitrite
Navin Fluorine vs Vinati Organics
To know what's moving the Indian stock markets today, check out the most recent share market updates here.
Investment in securities market are subject to market risks. Read all the related documents carefully before investing
Safe Stocks to Ride India's Lithium Megatrend
Lithium is the new oil. It is the key component of electric batteries.
There is a huge demand for electric batteries coming from the EV industry, large data centres, telecom companies, railways, power grid companies, and many other places.
So, in the coming years and decades, we could possibly see a sharp rally in the stocks of electric battery making companies.
If you're an investor, then you simply cannot ignore this opportunity.
Details of our SEBI Research Analyst registration are mentioned on our website - www.equitymaster.com
Disclaimer: This article is for information purposes only. It is not a stock recommendation and should not be treated as such. Learn more about our recommendation services here...