Why IEX Share Price is Falling
Jan 24, 2023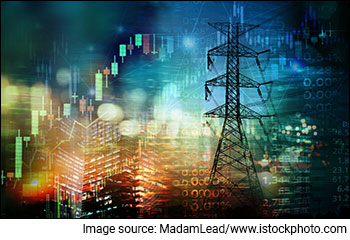 Editor's note: It is human tendency to keep in mind all the bad things and forget good ones. The impact of this tendency can be seen on IEX share price.
In December 2022, Indian Energy Exchange (IEX) announced to set up a wholly-owned subsidiary, International Carbon Exchange (ICX), to explore business opportunities in the voluntary carbon market.
As per industry estimates, the annual demand for voluntary carbon credit globally is expected to reach around 1.5 giga tonne, with India contributing around 200 million (m) tonnes by 2030.
This initiative was yet another effort by IEX to harness technology and innovation to facilitate the nation's energy transition towards carbon neutrality.
IEX became India's first carbon-neutral power exchange in December last year, using market based tradable instruments to offset its carbon emissions.
Following these developments, IEX share price rose for a brief period. But the excitement was short lived and IEX share price once again started to underperform.
In 2022, IEX lost over 45% while so far in 2023, shares are trading in a range.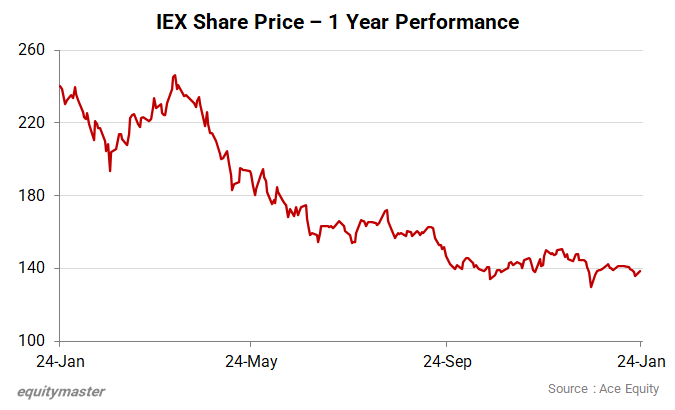 Back in October 2022, shares of the company were experiencing similar movement and we wrote to you about why IEX share price was falling.
Continue reading to find out more and what lies ahead for the company.
Why IEX Share Price is Falling
Yesterday, I visited a friend's house. She recently gave birth to a baby girl. The little one is absolutely adorable. Her elder brother kept watching her with a mixed feeling of adoration and wariness.
So when the two of us were alone, I asked him if he was excited to have a younger sibling. He said he was but he was also concerned that his parents will give his little sister more preference than him.
This happens to all elder siblings, doesn't it? An elder sibling feels the most threatened when a younger sibling is born.
Later on, they might turn out to be best of friends but initially, they feel threatened.
This is exactly what is happening with Indian Energy Exchange (IEX).
After delivering multibagger returns, IEX share price has bitten the dust as if its monopoly has threatened.
IEX share price reached its 52-week high price on 19 October 2021 and ever since then the share price has seen a sharp fall. On a YTD basis, IEX's share price has fallen by 45%.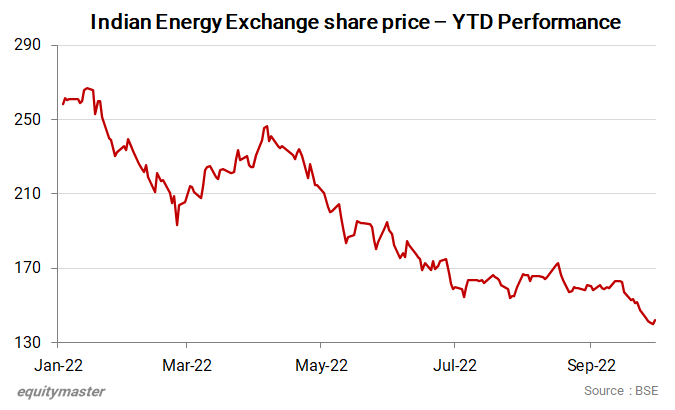 Let us first understand what IEX does.
About IEX
The IEX is an Indian electronic system-based power trading exchange regulated by the Central Electricity Regulatory Commission(CERC). IEX started its operations on 27 June 2008.
It pioneered the development of power trading in India and provides an electronic platform to the various participants in the power market, comprising state electricity boards, power producers, power traders and open access consumers (both industrial and commercial).
Ever since its incorporation, it has held an influential market share, more than 90%. IEX operates a day-ahead market based on closed auctions with double-sided bidding and uniform pricing; it has over 3,800 registered clients, over 300 private generators and more than 3,300 industrial electricity consumers.
Out of the power exchange market open to power exchange companies, IEX had a 95% share in the market. It's a classic monopoly stock but this position was threatened recently, which caused IEX's share price to fall.
IEX to lose monopoly?
Only two companies - IEX and Power Exchange India (PXIL) were operating in the power exchange sector. Hence, IEX had a monopoly.
CERC was concerned about this. Hence it was expected that very soon another power exchange may come into existence to rob IEX of its monopoly status.
Around four years ago, Hindustan Power Exchange (HPX) was incorporated to be the third power exchange company. After 3 years of approval and all the procedures, HPX finally started its operation on 6 June 2022.
HPX is promoted by PTC India Ltd, Bombay Stock Exchange, and ICICI Bank.
Backed by three reputed companies HPX may threaten the market share of IEX. This has caused the share price to take a share fall.
Poor quarterly results
To add insult to the injury, IEX reported poor quarterly results.
For the quarter that ended 30 June 2022, IEX reported a total income of Rs 1,134 m. It is 12% lower as compared to last quarter. It reported a net profit of Rs 686 m which is 21% lower quarter on quarter (basis).
This hurt the market sentiment, and the fears that HPX will rub off on the financials of IEX turned out to be true.
Hence fuelled by the fire of IEX losing its standing in the market, share price has come crashing down.
To know more about IEX, check out its quarterly financial results.
Update: For the quarter ended 31 December 2022, IEX reported dull numbers. IEX reported a 4% YoY decline in its December quarter consolidated net profit to Rs 772.1 m.
On a consolidated basis, revenue for the quarter increased by 3.1% sequentially.
Trading volumes were impacted largely due to supply-side constraints, led by high prices of e-auction coal.
With volumes declining for consecutive quarters, IEX's near-term future is uncertain because its margins have come under pressure and the entry of HPX has added concerns.
FII Selling
Interest rates are rising in developed markets like the USA. This makes the emerging markets less attractive for FIIs because the risk-free rate of return reduces.
Hence FIIs sell their holdings in companies operating in emerging markets like India to return to the safety of dollars. The same has happened with IEX.
FIIs have been divesting their stake in IEX since September 2021. FII's stake stood at 37.7% in the quarter ending December 2020.
The stake was reduced to 20.8% by the end of June 2022 quarter. This stake sale by FIIs added insult to the injury.
For more, check out IEX's latest shareholding pattern.
Update: FIIs continue to remain bearish on the stock. Take a look at the table below to see what percentage of their stake they have sold over the past few quarters:
| Quarter ending | Mar-21 | Jun-21 | Sep-21 | Dec-21 | Mar-22 | Jun-22 | Sep-22 | Dec-22 |
| --- | --- | --- | --- | --- | --- | --- | --- | --- |
| FII Holding (%) | 29.62 | 36.81 | 36.66 | 37.74 | 31.01 | 27.07 | 20.77 | 15.79 |
Source: Equitymaster
IEX Buyback
In November 2022, IEX announced a buyback worth Rs 980 million (m) representing approximately 14.95% and 14.92% of the aggregate of the fully paid up equity share capital and free reserves based on the audited financial statements as on 31 March 2022.
Total size of the buyback is up to 490,000 m shares or 0.55% of total number of fully paid up equity shares on a proportionate basis.
The price for tendering shares would not exceed Rs 200 per share. At the current price, the buyback price is at a 40% premium.
Since buybacks interest you, check out our editorial on 5 companies that could announce big buybacks.
Final Words
Competition isn't always bad. Healthy competition is one of the secrets of success.
For instance, big corporate houses Tata, Ambani and Adani are competing hand in hand, just to make India a superpower in various aspects.
Hence, the entry of HPX will boost the performance of IEX, because while HPX may threaten to take away the market of IEX, the power exchange market is expanding.
Out of the total power exchange market, only 7.6% market consists of temporary power purchase agreements (PPA) rest of the market was owned by permanent PPA. Power exchange companies were only allowed to sell 11 days' contact i.e. temporary PPA.
However, recently the CERC approved the introduction of additional term-ahead and green term-ahead contracts beyond T+11 days (T indicates zero days of trading).
Hence, currently, power exchange companies only have 7.6% market open to them. But slowly gates to the bigger markets are also opening to them.
Also, in the past five years, IEX's annual financial performance has improved. Its sales and operating profits have grown at a CAGR of 28% and 15% respectively. Take a look at the chart below.
Financial snapshot
| Particulars (Rs in m) | FY18 | FY19 | FY20 | FY21 | FY22 |
| --- | --- | --- | --- | --- | --- |
| Total Income | 2560 | 2941 | 2971 | 3573 | 4778 |
| Growth | 10.00% | 14.90% | 1.00% | 20.30% | 33.70% |
| Operating profit | 2105 | 2429 | 2445 | 2997 | 4179 |
| Operating profit margin | 82.20% | 82.60% | 82.30% | 83.90% | 87.50% |
| Net profit | 1316 | 1650 | 1779 | 2134 | 3025 |
| Net profit margin | 51.40% | 56.10% | 59.90% | 59.70% | 63.30% |
Data Source: Ace Equity
Hence IEX may be losing small but, it can win big in the long haul. It has a lot of growth potential and capability.
However, its short-term future may be uncertain because its margin may initially be under pressure because of the entry of HPX.
Happy Investing!
Disclaimer: This article is for information purposes only. It is not a stock recommendation and should not be treated as such. Learn more about our recommendation services here...