India's New Drone Scheme: Watch Out for these Stocks
Oct 1, 2021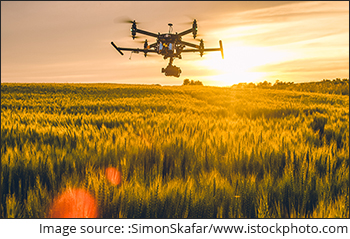 The foundation of growth for drone technology was laid down by new Drone Rules 2021 announced in August 2021.
This policy aimed at giving the drone industry a much needed boost.
Then came the production-linked incentive (PLI) scheme for making drones which further improved sentiment.
The government approved a PLI scheme for drones and drone components with an allocation of Rs 1.2 bn spread over three financial years.
This will trigger Rs 50 bn in investment, yield output of Rs 15 bn and create approximately 10,000 new jobs.
The investment plans have already started. President and CEO of Qualcomm, Cristiano E Amon recently discussed opportunities and expressed enthusiasm to work with India.
Amon said that Qualcomm could take part in new opportunities in India's drone market.
The PLI scheme, which was announced earlier this month, will not only boost drone and component manufacturing but also bring in new use cases and applications spread across various sectors.
Although the drone technology is new, it has a wide scope and looks quite promising. Imagine the use cases of drones in sectors apart from transportation, agriculture, law enforcement, surveillance, and defence.
Think package delivery, aerial imaging, and a host of other applications in everyday life and businesses.
The new drone rules combined with the PLI scheme are just the start of a new era. As regulations ease and drones are allowed to fly out of operators sight, they will have a much bigger impact.
In our previous article on drones, we discussed 4 Indian companies which were chasing the exploding drone market.
After the announcement of the PLI scheme for drones, a couple of these companies have seen a sharp run-up in their shares.
Let's look at their latest developments and what all is brewing.
RattanIndia Enterprises
There's a new player in the drone business - RattanIndia Enterprises.
Before the new drone rules were announced, RattanIndia Enterprises made an investment in US-based Matternet, the world's most extensive urban drone logistics platform.
Back then, it had announced the formation of an Indian subsidiary to kickstart the drone business in India.
Well, the Indian subsidiary is here. RattanIndia Enterprises last week announced the launch of its drone business with its wholly-owned subsidiary NeoSky India.
NeoSky India will develop a cutting edge drone system platform, focusing on industry applications in India. The company appointed Peeyush Kumar, a former CEO of Pixella - an India-based drone company, as the head of its drone business.
Apart from drones, the company has also forayed into electric mobility space through Revolt Motors to democratise clean commute using next-gen mobility solutions.
As the company is foraying into new-age technologies, the market has factored in the news and RattanIndia Enterprises shares have seen a sharp run in the past year.
They are up a whopping 640%!
From trading at less than Rs 5 back in September 2020, RattanIndia shares current trade at Rs 44, having touched a high of Rs 71 in July 2021.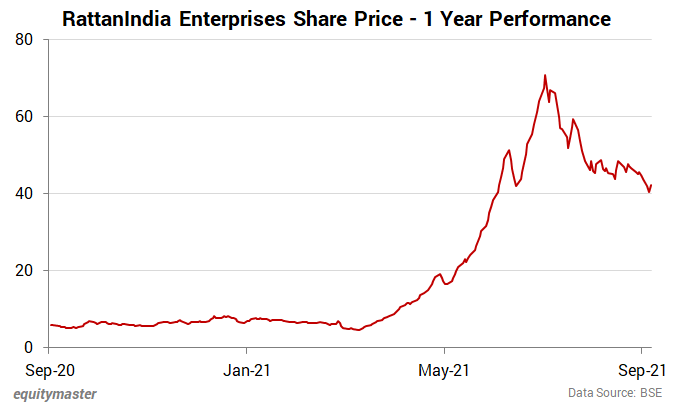 To know more, check out the RattanIndia Enterprises company fact sheet and quarterly results.
Zen Technologies
Zen Technologies is a drone tech company and a leading provider defence training solutions, headquartered in Hyderabad with offices in India and USA.
It has applied for over 90 patents and shipped more than 1,000 training systems around the world.
Zen Technologies designs, develops, and manufactures state-of-the-art combat training solutions for the training of defence and security forces worldwide.
This stock has been in the news.
And why wouldn't it be? Its shares have more than doubled in just a month's time!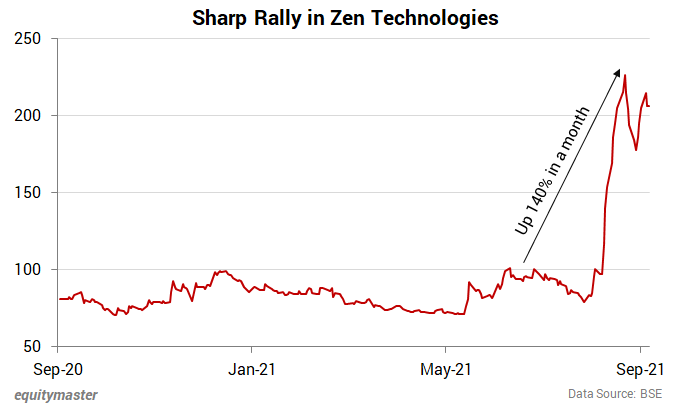 What's the reason behind this rally?
The company's order book has witnessed a significant surge to Rs 4,026 m as on 1 September 2021, compared with an order book of Rs 1,916 m on 30 June 2021.
It secured an order of Rs 1,550 m from the Indian Air Force for the supply of Counter Unmanned Aircraft Systems over 12 months.
On top of the strong order book, the new drone rules and PLI scheme gave yet another boost to the stock.
The defence ministry has allowed increased use of simulators by the army, air force, navy and coast guard, which is another positive.
Market experts are suggesting more gains as Zen Technologies is the only listed drone maker company.
Paras Defence and Space Technologies
Zen Technologies' 'only listed drone maker' tag will change soon as and when Paras Defence and Space Technologies gets listed.
Paras Defence is also into drone manufacturing.
Despite the company's weak financials, the issue received huge response and broke all records of subscription. The offer was subscribed nearly 304.3 times.
Before this, Salasar Techno with subscription of 273.05 times was the most subscribed IPO.
Overall, investors have bet over Rs 380 bn on this Rs 1.7 bn issue.
While grey market trends hint at a listing gain of over 100%, history suggests other issues with over 150 times subscription, like Paras Defence, never really disappointed investors on listing.
To all those who have received allotment, keep your fingers crossed.
Reliance Industries and Adani Group
Jio Platforms-owned Asteria Aerospace and Adani Defence and Aerospace have shown interest in scaling up the manufacture or assembly of drones.
Jio Platforms, which owns Asteria Aerospace, is a subsidiary of Reliance Industries while Adani Defence and Aerospace is part of the Adani group.
Adani group is a new entrant into the defence sector and has made several acquisitions in the past year.
Back in 2016, Adani Enterprises had formed a joint venture (JV) with an Israeli firm Elbit Systems for manufacturing drones.
Adani Enterprises holds 51% stake in the JV.
Now, according to Adani Enterprises' latest annual report, this JV received two additional orders in fiscal 2021 for Thor and Skylark drones. The order for Thor Mini-Drones is likely to be the largest executed by any Indian company.
Making things easier for MSMEs and startups...
The new drone policy and PLI scheme is a huge confidence booster for startups and MSMEs (micro, small, and medium enterprises).
India has more than 190 defence tech startups building innovative tech solutions and many of them are involved in the drone technology.
To urge startups and MSMEs, the government has kept the eligibility norm of annual sales turnover at a low level of Rs 20 m for drones and Rs 0.5 m for drone components.
For others, the annual sales turnover cap has been set at Rs 40 m for drones and Rs 10 m for drone components.
The eligibility norm for startups and MSMEs is quite low, which in turn could attract companies in the drone ecosystem.
Now that the foundation is set, thanks to the new drone rules and PLI scheme, the drone revolution can happen at a quicker and even larger scale now.
Co-head of Research at Equitymaster, Tanushree Banerjee keeps a close watch on stocks from this space.
Infact, as per Tanushree, India's drone revolution is a 4x profit opportunity. She has identified a little known drone company with immense potential.
Back in July 2021, she also recorded a video about India's best drone stocks.
Disclaimer: This article is for information purposes only. It is not a stock recommendation and should not be treated as such. Learn more about our recommendation services here...