Big Move! NTPC all Set to Float IPOs of 3 Units. Govt's Divestment Plan Right on Track
Oct 4, 2021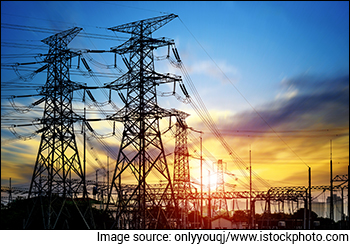 As part of the government's asset monetisation drive, India's coal power giant NTPC expects to raise Rs 150 bn (US$2 bn) through initial public offerings (IPOs).
State-owned thermal power behemoth NTPC would list its three subsidiary companies on the exchanges, to meet the government's stipulated target.
The three companies are NTPC Vidyut Vyapar Nigam (NVVN), North Eastern Electric Power Corporation (NEEPCO), and the one-year-old NTPC-Renewable Energy (NREL).
It's also looking to sell its stake in NTPC-SAIL Power Company. This is a joint venture with Steel Authority of India (SAIL) for supplying electricity to its mills and townships.
According to a senior company official, NTPC is planning to sell shares in NTPC Renewable Energy within a year. Meanwhile, it's planning IPOs of NEEPCO and NTPC NVVN by March 2024.
--- Advertisement ---
3 "Super Smallcaps" You Didn't Know About

You may not have heard of these 3 "super smallcaps" ever before...

The mainstream press doesn't cover them... Most brokers don't know about them either...

Stocks like these 3 "super smallcaps" only come to your notice when they have rallied by hundreds or even thousands of percent... and are all over the news!

Richa revealed it all during her Super Smallcaps Summit

If you missed this event for some reason, then you can watch the special replay of this event.

Click Here to Watch the Replay...
------------------------------
Let's take a look at NTPC'S three units which are all set for divestment via public offers.
#1 NTPC Vidyut Vyapar Nigam (NVVN)
NTPC Vidyut Vyapar Nigam was established as the power trading arm of the company.
Over the years, it has morphed into the environment arm for NTPC with projects in fly ash trading and usage, renewable energy, electric and hydrogen mobility, and waste to energy.
NVVN is also planning projects procuring green, agro-based fuels for blending at thermal units. Recently, NVVN floated a tender to procure 20 m tonne of bio-pellets made from farm stubble.
Senior executives said NVVN is being redesigned to become the 'energy transition' company for NTPC.
It will take up projects that can add to NTPC's ESG (environment, social and governance) targets. Upon listing, NVVN would be a standalone example of technology development for energy transition in the country.
NVVN traded over 18 billion units (BUs) of power in 2020-21. This was the highest volume since its inception, said the annual report of NTPC.
It also started plying 40 e-buses in Port Blair and won tender for supplying and operating 90 e-buses for Bengaluru Metropolitan Transport Corporation (BMTC). It has installed 1,000 electric vehicle EV charging stations in eight cities, so far.
NVVN is also at various stages of implementation of ground-mounted/roof-top solar projects, along with charging infrastructure development at various airports and public buildings. It paid a dividend of Rs 300 m during 2020-21.
Equitymaster's Stock Screener: Identifying High-Potential Stocks Has Never Been this Easy
#2 North Eastern Electric Power Corporation (NEEPCO)
NTPC had acquired 100% equity stake in NEEPCO, which is primarily engaged in generating and supplying electricity in the northeastern region, from the government of India in March 2020.
It operates seven hydro (1,525), three gas-based (527 MW) and one solar (5 MW) power stations, including the 600 megawatt (MW) Kameng hydro project.
Recently, the Union power ministry has advised NEEPCO to reduce its manpower/megawatt strength from current high levels. It has also been directed to diversify operations into renewable energy and expand business across the country.
Subsequently, NEEPCO signed a memorandum of understanding (MoU) with state-run Indian Renewable Energy Development Agency for developing a five-year action plan for building and acquiring renewable energy projects.
#3 NTPC-Renewable Energy (NREL)
NTPC had incorporated NTPC-Renewable Energy to focus on its green energy business in October 2020.
Its IPO could unlock significant value given the market performance of other renewable energy companies which have much lower capacity addition targets.
The company aims to attain 60,000 MW of green capacity by 2032 from the current level of around 1,400 MW.
It and wants to have 8,000 MW of installed renewable energy base by the financial year 2023. It also looks to add 7-8 GW renewable energy every year.
Apart from solar and wind power projects, NTPC is looking at investing in green hydrogen and green methanol - cleaner fuels that are manufactured at units powered by renewable energy.
Sources said the company would start a pilot of producing green hydrogen at its Vindhaychal thermal power unit in Madhya Pradesh.
--- Advertisement ---
REVEALED: Multibagger Stock Ideas for The Next 10 Years...

Electric vehicles...

Renewable energy...

E-commerce...

From where will the biggest winners of the next decade come from?

The Answer Will Surprise You
------------------------------
Green energy usage
NTPC, India's largest electricity producer, has pivoted toward green energy as pressure mounts to reduce coal usage because of the fuel's role in global warming and its harmful impact on environment and human health.
Rising climate change concerns have restricted funding to fossil fuel projects and funneled investments into green energy.
India's fossil fuel tycoons including Mukesh Ambani, Gautam Adani, and Sajjan Jindal have acknowledged the shift and announced plans for a record expansion in green energy.
NTPC is looking at raising its green energy usage to reduce its dependence on coal. The company has enhanced its target of renewable energy projects to 60 GW by 2032.
On the issue of coal supply, the official said that an inter-ministerial sub-group led by the Coal Ministry has been keeping tabs over the stock situation twice a week.
Indian power sector is undergoing a significant change. This has redefined the industry outlook. Sustained economic growth continues to drive electricity demand in India.
The power exchanged in India is about 4.5% of the overall power production, as can be seen in the chart below.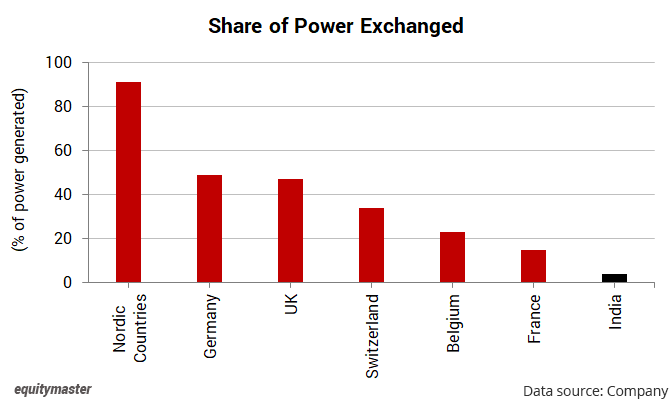 As per Tanushree Banerjee, Co-Head of Research at Equitymaster, India's power sector is currently in transition. It's driven by increasing reliance on short-term contracts and electricity spot markets.
This transition to the short-term market is happening due to quickly evolving industry dynamics.
Tanushree believes the Indian power sector will see a surge in spot power volumes due to certain factors.
Government's monetisation plan
The asset monetisation is part of the government's plan of garnering Rs 700 bn through the sale of the assets of state-owned companies including Power Grid, NTPC, and Rural Electrification Corporation (REC).
Government think-tank NITI Aayog has identified assets worth Rs 398.3 bn for the purpose of monetisation by 2025 in its recently released national monetisation plan (NMP) document.
The assets considered for monetisation in power sector aggregate to 6 GW, of which 3.5 GW is from hydel and 2.5 GW from solar and wind.
As per the NMP document, the entities in the power sector considered for monetisation are NHPC, NTPC, NLC (Coal Ministry), and SJVN.
How the stock markets reacted to NTPC
Shares of NTPC opened the day at Rs 143.7 on the BSE and Rs 143.5 on the NSE.
Its share price closed at Rs 145.5 (up 4.1%) on the BSE and the NSE.
At its current price, it is trading at a P/E of 10.8.
The share touched its 52-week high of Rs 149.4 and 52-week low of Rs 78.1 on 4 October 2021 and 15 October 2020, respectively.
Over the last 30 days, the NTPC share price is up 24.4%. Over the last one year, the company's share price is up 68%.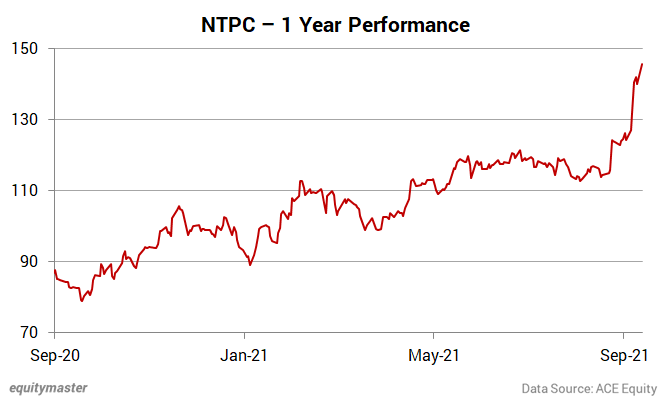 About NTPC
NTPC, formerly known as National Thermal Power Corporation, is an Indian government electricity board engaged in the business of generation of electricity and allied activities.
It's a company incorporated under the companies Act 1956 and is under the ownership of ministry of power, government of India.
The headquarters of the company is situated at New Delhi.
NTPC's core business is the generation and sale of electricity to state-owned power distribution companies and state electricity boards in India.
The company also undertakes consultancy and turnkey project contracts that involve engineering, project management, construction management, and operation and management of power plants.
It has also ventured into oil and gas exploration and coal mining activities.
It's the largest power company in India with an electric power generating capacity of 62,086 megawatts (MW).
NTPC currently operates 55 power stations (24 coal, 7 combined cycle gas/liquid fuel, 2 hydro, 1 wind, and 11 solar projects).
For more details about the company, you can have a look at NTPC's factsheet and quarterly results on our website.
You can also compare NTPC with its peers.
NTPC vs Gujarat Industries Power
To know what's moving the Indian stock markets today, check out the most recent share market updates here.
Disclaimer: This article is for information purposes only. It is not a stock recommendation and should not be treated as such. Learn more about our recommendation services here...