Top 5 'Digital India' Stocks
Jun 29, 2022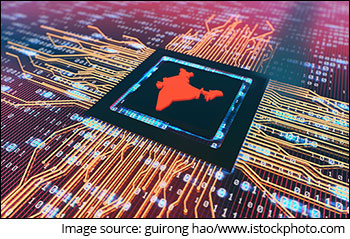 Its been seven years since the Government of India announced the 'Digital India' initiative in 2015. Since then, and all the more due to the pandemic, India has accelerated its use of everything digital.
Here's a quick update on how the initiative has grown since its inception -
Optical fibre has been laid in 183,000 panchayats under Bharat Net to provide high-speed broadband to all the villages
The number of Common Service Centres (CSCs) has grown from 80,000 in 2014 to 400,000 in 2022. The centres provide assisted delivery of digital services to common citizens.
Innovative digital payment products such as UPI (United Payment Interface) and Aadhaar-Enabled Payment Systems (AEPS) made the cashless transfer of money possible, especially during the pandemic.
As per the Economic Survey 2022, nearly 14,000 start-ups got recognized during 2021-22. 555 districts of India had at least one new start-up.
Nearly 44 start-ups achieved unicorn status in 2021 and in the first four months of 2022, 14 start-ups have become unicorns.
The value of electronics manufacturing in India touched US$ 75 bn in 2020-21 from US$ 29 bn in 2014. There were only two mobile phone manufacturing units in 2014.
Indian companies developed their own 4G and 5G technologies.
While this progress is commendable, this wave of digitisation is only going to grow bigger with the arrival of 5G.
In October 2021, we wrote to you about the top digital India stocks. These stocks are still leading the digitisation trend in India.
Top 5 'Digital India' Stocks
India's internet economy has witnessed a sharp rise in the last 5 years, with the rise in affordable smartphones and data consumption.
Everything that could have gone online, has gone online.
Riding this trend is 'Digital India'. It's an initiative launched by the Government of India in 2015 with a vision to transform the country into a digital society.
The government will do this by improving the online infrastructure currently available and by increasing internet connectivity across the country.
The initiative also includes plans to connect rural areas with high-speed internet networks.
Here are 5 stocks that will benefit the most from this initiative.
#1 ITI
ITI, earlier known as Indian Telephone Industries, is a government-owned telecom equipment manufacturing company in India.
The company plans to manufacture equipment for the E and V band spectrum which are essential for 4G and 5G technologies.
It's also in talks with other Indian companies to provide end-to-end solutions for 4G and 5G networks across the country.
It has partnered with Tech Mahindra and Tata Consultancy Services (TCS) for the same.
Moreover, the company plans to manufacture enterprise grade routers, a segment dominated by foreign companies, for secure data transfer in the defence space as well as for the networks of telecom service providers.
For this, ITI has already signed a technology collaboration agreement with a Bangalore-based leading start-up.
Recently, the Defence Ministry awarded ITI a Rs 78 bn ASCON project to set up a strategic and secured communication network for the army.
ITI will manufacture and supply 11,000 kilometres of optical fibre cables as per the order.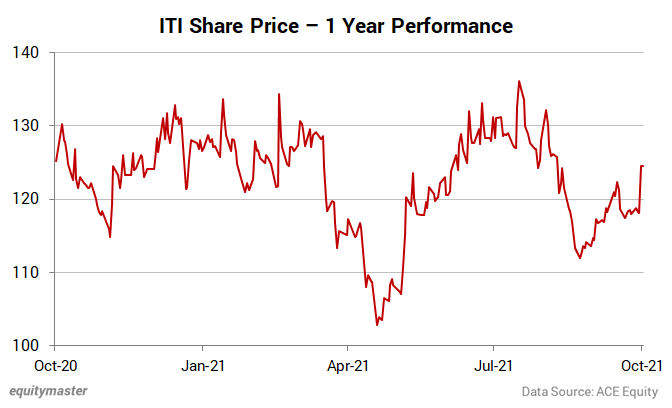 #2 Sterlite Technologies
Next on the list is Sterlite Technologies (formerly Sterlite Tech), an Indian multinational technology company, headquartered in Mumbai.
The company is an industry leader in the optical fibre & optical fibre cables market with a market share of 45%.
Though the company is traditionally a maker of fixed-line equipment it began focusing on wireless solutions to capitalise on the 5G opportunity.
The company recently announced the launch of Accellus, its flagship solution for 5G-ready, open and programmable networks.
As demand for data rises and advanced use cases of technology emerge, digital networks will be needed to deliver ultra-high bandwidth and low latency.
Sterlite said that its open RAN (radio access network) enables this massive evolution cost-effectively.
Sterlite has also won orders worth US$100 m in West Asia and Africa to build the network and infrastructure for 5G in the two regions.
As a result, Sterlite's order book now stands at about Rs 113 bn.
Update - Sterlite Technologies is building open-RAN, or O-RAN, solutions, to help telecom service providers deploy 5G networks. Cellular equipment based on O-RAN standards relies more on software and can be interoperable.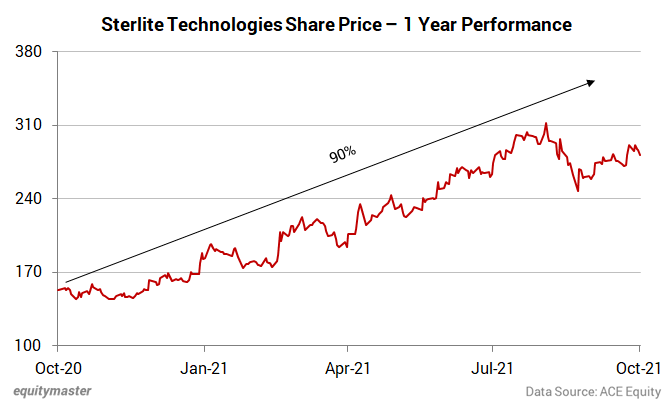 #3 Tech Mahindra
Tech Mahindra is the software arm of the Mahindra & Mahindra Group.
The company is a key partner for the communication service provider (CSP) industry. It designs, builds, transforms and operates 5G networks.
It has also invested in NetOps.ai, a platform for 5G cloud services and other 5G integration services.
In the financial year 2021, Tech Mahindra's 5G business witnessed progress especially in the network services space where it signed a few deals, including a large deal for the 5G roll-out for a European customer.
It designed, built, tested and operated the world's first 5G end-to-end for a Tier 1 carrier in Japan.
It also launched new services relate to 5G through its partnerships with Hyperscalers such as AWS, Google and Microsoft.
Tech Mahindra clocked over US$1 bn in deal wins in the March 2021 quarter and around US$2.2 in 2021.
As carriers and enterprises phase out their legacy networks and develop new 5G use-cases, Tech Mahindra stands to gain through its services and platforms.
Update - Tech Mahindra said that it will work with both telecom operators and enterprises directly to help set 5G private networks in the country.
Tech Mahindra's revenue from 5G solutions grew from US$ 125 m in the financial year 2021 to over US$ 600 m in the financial year 2022, a jump of nearly five times. It has invested more than US$ 300 m in developing its 5G capabilities over the last two years.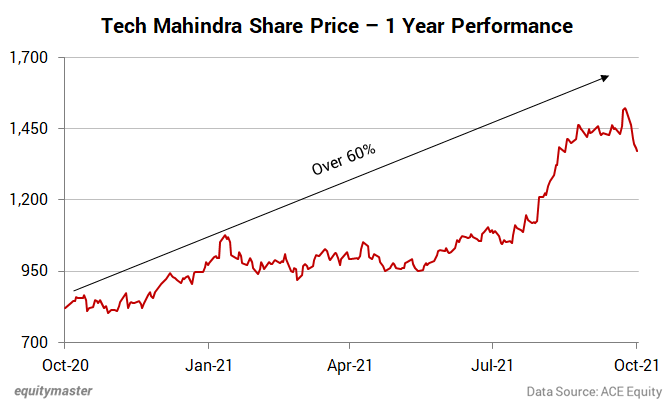 #4 RailTel
RailTel Corporation of India is one of the largest telecom infrastructure providers in the country.
The company is owned by the Government of India under the Ministry of Railways (MoR).
This gives it the privilege of owning the exclusive right to lay optical fibre cables and provide telecom-related services along the 60,000-route km of the Indian Railways' network.
Through this setup, it offers a telecom infrastructure that can host other telecom players at railway stations.
Besides, it offers diversified services that include telecom networks, data centre, and hosting services, and project execution.
With an experience of over 2 decades and strategic relation with Railways, RailTel has been selected to implement government projects including rolling out the National Knowledge Network (NKN), Bharat Net and USOF (Universal Service Obligation funded) optical fibre-based connectivity project in North East (NE) India.
The company has signed a memorandum of understanding (MoU) with the Indian Railways for the installation of an IP-based video surveillance system at 6,049 railway stations across the country.
The proposed plan is part of the government's flagship 'Digital India' initiative, which looks to upgrade technology initiatives at key government departments.
The company's current order book is around Rs 43 bn out of which around Rs 11-12 bn will be executed this year.
Update - RailTel currently has a healthy order book of around Rs 58 bn and has been winning multi-million orders consistently through competitive biddings as well.
It is aiming for a 20% growth in revenue for the financial year 2023.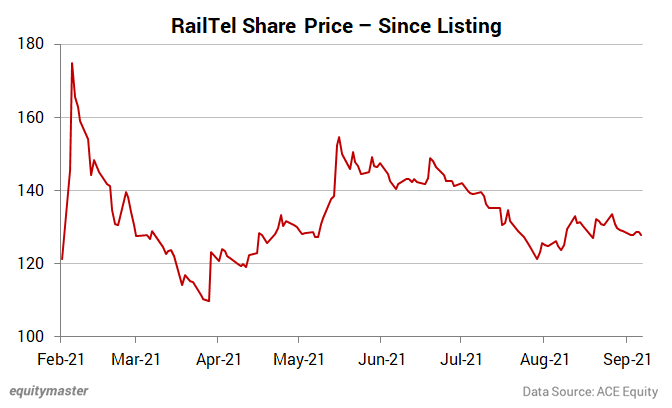 #5 Nelco
Nelco is a small-cap company from the Tata Group that operates in the network communications and connectivity space.
The company has signed an agreement with Canada-based global satellite company, Telesat.
Telesat is launching low earth orbit (LEO) satellites which can revolutionise mobile connectivity in remote locations and rural areas.
The potential for this technology in Indian villages is huge and Nelco's user base will get a massive boost through this partnership.
Both companies are likely to kickstart commercial satellite communications (Satcom) services together by 2024 with a focus on offering affordable tariffs to B2B (business-to-business) customers.
In remote locations, having a satellite network is a better solution compared to fibre networks.
The terrain, as well as the geographic location, would make it difficult for telecoms to reach these areas and lay down cable networks.
However, prices have not been fixed as yet with continued discussions happening around it.
The company was also recently approved by the Department of Telecommunications for the transfer of its internet service provider licence and VSAT licence from Tatanet Services.
Update - Nelco has announced a strategic cooperation agreement with Omnispace to enable and distribute 5G non-terrestrial network (NTN), direct-to-device satellite services, using the world's first global 5G NTN network.
Nelco Share Price - 1 Year Performance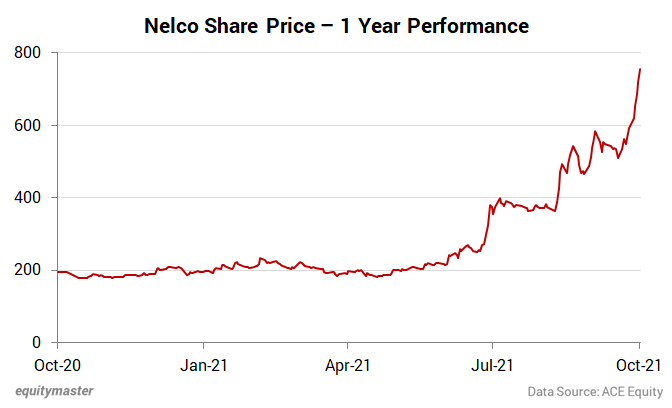 Digital India will be here sooner than you think...
The government of India has decided to give a boost to the Digital India Corporation (DIC), the organisation that is leading the 'Digital India' initiative.
It plans to double the existing manpower strength and add projects to its existing plan.
DIC currently has around 468 team members on its projects and annual projects worth around Rs 2.5 bn.
With the new projects assigned to DIC, the annual turnover is likely to exceed Rs 5 bn with an estimated team size of 1,000.
The government plans to add projects in the fields of artificial intelligence (AI) and emerging technologies (ET) such as the National Language Technology mission, and Poshan tracker for the Ministry of WCD (Women and Child Development) to the DIC mandate.
How this pans out remains to be seen. Meanwhile, stay tuned for more updates from this space.
To know what's moving the Indian stock markets today, check out the most recent share market updates here.
Disclaimer: This article is for information purposes only. It is not a stock recommendation and should not be treated as such. Learn more about our recommendation services here...