Demerger of Financial & Pharma Businesses puts Piramal Enterprises in Limelight
Oct 8, 2021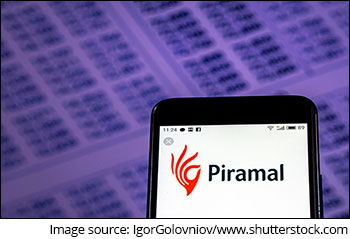 Piramal Enterprises share price fell over 5.5% on the BSE today after the company announced the demerger of its pharmaceuticals business.
A decade after selling its branded formulations business to US-major Abbott Laboratories for US$3.7 bn, the Ajay Piramal group has announced it would demerge its pharmaceutical and financial services arms into separate listed entities.
The pharmaceuticals business will get vertically demerged from Piramal Enterprises and consolidated under Piramal Pharma, the company said in a regulatory filing.
Following the demerger, Piramal Pharma will become one of the large pharma companies listed on NSE and BSE.
In a statement the company said,
The board of directors of Piramal Enterprises on 7 October, approved a composite scheme of arrangement providing for the demerger of the pharmaceuticals business from Piramal Enterprises and simplification of the corporate structure to create two industry-focused listed entities in financial services and pharmaceuticals.
Shareholders of Piramal Enterprises (PEL) will get 4 shares of Piramal Pharma for every 1 share in PEL, in addition to their existing holding in PEL.
--- Advertisement ---
Automobile Sector's Colossal Disruption Could Make You a Fortune

During any major disruption in a sector, fortunes are created.

And now, we are at the cusp of a major disruption that the automotive sector will experience.

It is the electric vehicles gold rush.

At Equitymaster, we have unearthed a hidden way to ride the 15x EV opportunity so that you could take home potentially life-changing gains in the long run.

You can get all details of the hidden way in our upcoming special online event.

YES, Register Me for FREE
------------------------------
All you need to know about Piramal Pharma
Piramal Pharma will become a large India-listed pharma company with proven capabilities in contract development and manufacturing, global distribution of complex hospital generics, and a large footprint in the consumer market in India.
Piramal Pharma's contract development and manufacturing (CDMO) business is one of the top three in India and the 13th largest globally.
Its complex hospital generics and India consumer healthcare businesses are well positioned with differentiated products and business models.
CDMO business contributes 62% of the pharma revenues. 29% comes from the hospital generics segment. About 9% comes from India consumer health care.
Last October, when US-based private equity major Carlyle picked up 20% in Piramal Pharma for US$490 m, Nandini Piramal, executive director of Piramal Enterprises (who will now also head the pharma division), said besides paring debt, the fresh equity infusion would be used to create a war-chest for the next phase of growth.
Piramal Pharma carried out three acquisitions in recent months - API maker Hemmo Pharma for Rs 7.8 bn in March, an oral solids dosage facility in Sellersville, Pennsylvania, for about US$17.5 m, and the remaining 49% stake in Convergence Chemicals for Rs 650 m.
Nandini Piramal pointed out the pharma business would continue to grow organically both overseas and in India.
Over the past 10 years, the pharma business has clocked a 14% compound annual growth rate (CAGR) in revenues and 28% CAGR in earnings before interest, tax, depreciation, and amortisation (EBITDA).
Implications of demerger on Piramal Enterprises
Piramal Enterprises is transforming itself from a multi-sector conglomerate structure into two separate sector focused listed entities in financial services and pharmaceuticals.
The demerger is expected to unlock value for PEL shareholders. Both entities will have a leadership positions in their respective sectors.
Currently, PEL owns the financial services business through four investments verticals - housing, finance, lending, alternatives and investment.
FREE Event: Discover Your First Stock for a Potential Rs 7 Crore in Long-term Wealth
Post restructuring, PEL's shareholders will directly own Piramal pharma which will absorb the two subsidiaries, the joint-venture with Allergan, and the overseas subsidiaries.
PEL will absorb the non-banking financial company (NBFC) lending business, the housing finance company, the alternatives business, and investments.
The financial services business contributes Rs 70 bn or 55% of the group's revenues with Pharma contributing the balance 45% (Rs 57.8 bn). The financial services business post-consolidation will have a Rs 650 bn loan book.
Revival phase
The consolidation follows the group's acquisition of Dewan Housing Finance Corporation (DHFL).
Piramal Enterprises will transform into a large listed NBFC with PHL Fininvest Private merging with the parent.
The merged housing finance company, after the DHFL acquisition, will remain a wholly owned subsidiary of Piramal Enterprises.
After a long-drawn battle, Piramal Enterprise completed its acquisition of DHFL by paying Rs 342.5 bn to the lenders. The acquisition will help Piramal diversify its loan book and especially scale up its retail lending book.
Piramal Enterprises has grown multifold with diverse businesses under one listed holding company structure over the years.
The creation of two independent listed entities will empower both to be future-ready and enable them to pursue their own growth strategies with a sharper focus and identity.
How the stock markets reacted to Piramal Enterprises
Shares of Piramal Enterprises opened the day at Rs 2,957.3 on the BSE and Rs 2,931 on the NSE.
Its share price closed at Rs 2,736 (down 5.2%) on the BSE and the NSE.
At its current price, it's trading at a P/E of 63.
The share touched its 52-week high of Rs 3,015 and 52-week low of Rs 1,199 on 5 October 2021 and 29 October 2020, respectively.
Over the last 30 days, the Piramal Enterprises share price is up 4.3%. Over the last one year, the company's share price is up 104%.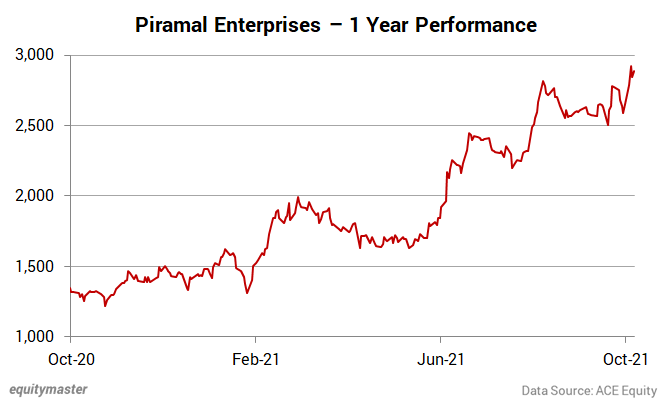 About Piramal Enterprises
Piramal Enterprises formerly known as Piramal Healthcare, is the largest company of the Piramal Group.
It's active in business verticals including healthcare, life sciences, information management, and financial services.
Fortune 500 ranked Piramal Healthcare in the top-50 largest corporations across India.
The UN Conference on Trade and Development's World Investment Report 2011 ranked the group among the top 5 pharmaceutical contract manufacturers in the world.
For more details about the company, you can have a look at Piramal Enterprises' factsheet and quarterly results on our website.
To know what's moving the Indian stock markets today, check out the most recent share market updates here.
Disclaimer: This article is for information purposes only. It is not a stock recommendation and should not be treated as such. Learn more about our recommendation services here...