Why Tata Motors Share Price is Falling
Mar 14, 2023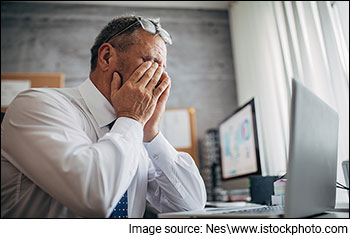 Editor's note: Indian share markets have experienced a significant downturn recently, with volatility in Adani group stocks and concerns about future rate hikes being the prime reasons behind the decline.
What added to pressure was failures of Silicon Valley Bank (SVB) and Signature Bank in the US. These failures are notable as they are the largest banking failures since the global financial crisis in 2008.
Amid all this, Tata group company Tata Motors has once again started its downward movement. This could be due to a couple of reasons...
Whenever there's uncertainty in China or Europe, Tata Motors gets majorly affected. This is because Tata Motors has big exposure to Chinese markets.
Jaguar Land Rover (JLR) constitutes close to 90% of Tata Motors' consolidated revenue. The company's demand is met usually from the US, Europe and China.
Hence, China is a key market for JLR.
Reports state that a recovery remains unlikely anytime soon as China grapples with unabating Covid cases.
Apart from this, there are other reasons too why the stock is falling.
The most recent ones being price cuts taken by Tata Motors for its Tata Nexon and entry of a new competitor.
Also, Mumbai's civic transport body recently removed 400 Tata CNG buses from the roads following three incidents of Tata vehicles catching fire.
In October 2022, we discussed those reasons in our editorial when Tata Motors was experiencing similar downtrend.
Continue reading this updated article to know more...
Why Tata Motors Share is Falling
Let's be honest. We all have trusted one friend more than he/she deserved.
It's a whole new process. We meet this new friend, with whom we vibe too much. The more we get to know them, the more we like them. We see red flags in the friendship, but we often ignore them like we ignore a barking stray dog.
Some people even warn us, but we still end up trusting them.
What happens sometimes is they stay true to the red flags and end up back stabbing us.
This often happens in stock markets too. The stock that you trusted the most ends up generating losses for you.
People were hyped about investing in Tata Motors because of its aggressive EV plans. They were sure of its bright future in the EV sector.
However, they ignored the red flags. It is due those red flags the share price has tumbled down by 20% on a YTD basis.
Tata Motors share price has remained volatile for the past couple of weeks. The share price has been moving in tandem with the market. It has witnessed quite a lot of ups and downs in 2022.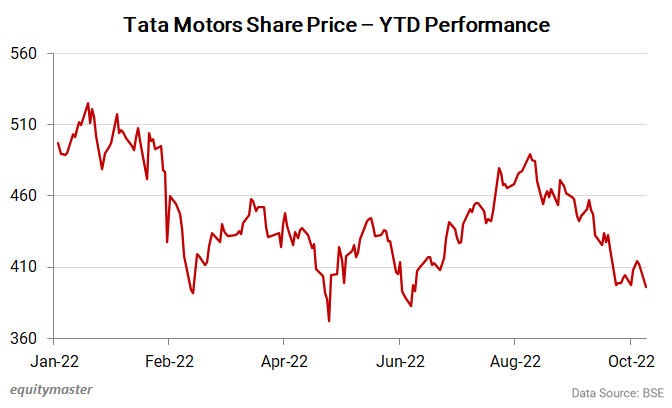 The entire world knows that Tata Motors had been in a fast lane when it comes to electric vehicles (EVs). The Tata group is leading India's EV revolution and Tata Motors has remained at the forefront.
People were excited for the launch of Tata Tiago EV - the next big affordable electric car. In fact, Tata Motors got more than 10,000 booking in less than 24 hours.
Despite all the bright prospects in the EV sector, why is Tata Motors share price falling?
Let's find out...
#1 Geopolitical tensions
Over the past few years, Jaguar Land Rover (JLR) has accounted for 70-80% of Tata Motors' topline. JLR has been part of the Tata Motors since 2008 when Ratan Tata was still going global.
Tata Motors' largest business segment JLR has a significant presence in the European markets. This exposure should have boosted the sales of Tata Motors but that did not happen.
European economy was already struggling with after effect of Covid-19. It was struggling to get back on its own feet.
A big blow was dealt by the Russia Ukraine war, which was like a gut punch to the already weak economy. Due to the war and resultant sanctions, the price of commodities have gone through the roof.
Rising prices, supply disruptions, among other things have shaken European companies. Hence, having a large exposure in Europe has brought bad news for Tata Motors.
Also, the lockdowns in China have impacted the business of Tata Motors. JLR has a joint venture in China. Hence strict lockdown on the Chinese borders is another thing that will affect the company's share price.
That brings us to the next reason.
#2 Reduced JLR sales puts pressure on Tata Motors
For the quarter ended 30 September 2022, JLR reported total sales of 88,121 units. This is 4.9% lower on a year on year (YoY) basis.
The sales have seen a sharp decline because of the above mentioned reasons.
On a sequential basis however, sales have improved by 11.8%.
In a press release, the company said improvement was lower than planned, primarily due to a lower than expected supply of specialised chips from one supplier which could not be readily re-sourced in the quarter.
Update: For the quarter ended 31 December 2022, JLR reported retail sales of 84,827 units. This is 5.9% higher on a YoY basis.
However sequentially, the sales were down 3.7%.
#3 Semiconductor shortage
Any electrical component in a car, beginning from crucial components like battery to small parts like seat belt tensioners, they all need a semiconductor chip.
This has proved to be another challenge for the entire automobile industry and Tata Motors.
The pandemic aftermath, geopolitical tensions, and slow manufacturing of chips have cumulatively caused the semiconductor chip shortage. Auto manufacturers have to queue up for chips and hence their production has slowed down.
No wonder semiconductor stocks in India are booming and are the talk of the town.
So, Tata Motors is in troublesome waters for the time being because of global shortage of semiconductor chips.
The silver lining is Tata Motors is getting into new agreements with semiconductor suppliers and it is expected that sales will improve in the latter half of this financial year.
That apart, the Tata group is also in talks for semiconductor foray. So in the future, the company won't have to bicker about semiconductor shortage issues.
Update: Semiconductor shortages continue to dampen JLR's growth prospects. Its worldwide deliveries between January 2022 to September 2022 fell more than twice.
This also marked JLR's second steepest fall in over a decade.
To overcome such issues, JLR is engaging directly with the chip suppliers and entering into partnership agreements to improve visibility of supply in the near term.
Further, the Tata Group has taken its next big leap in the semiconductor space by announcing to set up an assembly unit.
#4 FII Selling
Interest rates are rising in developed markets like the USA. This makes the emerging markets less attractive for FIIs because the risk-free rate of return reduces.
Hence FIIs sell their holdings in companies operating in emerging markets like India to return to the safety of dollars. The same has happened with Tata Motors.
FIIs have been divesting their stake in Tata Motors since December 2021. FII's stake stood at 14.6% in the quarter ending December 2021.
The stake was reduced to 13.7% by the end of June 2022 quarter. This stake sale by FIIs added insult to injury.
For more, check out Tata Motors' latest shareholding pattern.
Update: In the September 2022 quarter, FIIs upped their stake to 14.13%. On the flip side, Indian mutual funds lowered their stake to 6.54%.
#5 Price cuts for Tata Nexon
On 18 January 2023, Tata Motors repositioned its Nexon EV portfolio. It announced price cuts and an enhanced range of Nexon EVs.
Nexon EV Prime XM has now been repositioned at Rs 14.49 lakh, which was originally Rs 14.99 lakh. The price range for all Tata Nexon variants is now between the range of Rs 14.49 lakh to Rs 18.99 lakh. Earlier the price range was between Rs 14.99 lakh to Rs 19.84 lakh.
A price cut could work both ways...it could mean lower revenues due to the cuts taken or increased sales as investors get lured by the offers.
#6 Entry of a new competitor
The above price cuts and range enhancement comes after the entry of new competition.
Recently, Mahindra and Mahindra (M&M) launched a new electric SUV - Mahindra XUV400 EV. The all-electric XUV400 will be available for bookings starting 26 January 2023 and the deliveries will begin in March 2023.
Owing to strong competition from a seasoned competitor, Tata Motors' share price is facing pressure.
We recently wrote about how the Mahindra group is making big leaps towards the electric vehicle segment.
New Big Development
Tata Motors' subsidiary Tata Technologies filed draft papers with the market regulator on 10 March 2023 to raise funds through an initial public offering (IPO).
Tata Motors will offload about 20% stake in this IPO. It has a 74.42% stake in Tata Technologies, according to the company's 2022 annual report.
To conclude
Before setting off for a journey, it's important to look at all the things that could go wrong and practise Howard Marks' second order thinking. One cannot simply set out on a journey because 'the destination is good'.
Similarly, when investing in stocks, an investor has to look at all the aspects of the company, and not simply focus on the bright prospects.
Tata twins - Tata Motors and Tata Power - have been in the news constantly because of their increased focused in the EV sector.
There's Tata Chemicals too which is involved in the EV battery space and Tata Elxsi which has gained 10x in less than three years. Many companies from the group are contributing in some way.
Right from setting up charging stations to manufacturing EVs, Tata group has been leading the EV revolution in India. Owing to this, investors were hyped to buy these stocks.
However, the other business segments of Tata Motors, JLR in particular, has let down investors. Europe has a long way to go in becoming a stable economy again. Hence there are some headwinds ahead for Tata Motors.
Whenever JLR has done well on the profits front, Tata Motors' overall profits have looked really good. And the years that JLR has done badly, the company's bottomline has also suffered.
Besides, there is no guarantee the company's market share in India is certain to go up going forward.
Yes, Tata Motors has an ambitious product launch plan. But its rivals like Maruti and Hyundai aren't going to take this lying down.
Although they don't have an aggressive approach like Tata Motors does when it comes to EVs, all this can change in a couple of years.
That is why, investing in Tata Motors solely based on its aggressive EV plans isn't the most sensible thing to do.
For capital intensive industries like auto, one has to compare price to book value ratio (P/B ratio) to know whether an auto stock is overpriced. The current Tata Motors is P/B ratio is 3.3 which is slightly higher than the industry average.
In the below video, Co-head of Research at Equitymaster Rahul Shah explains, why this high PB ratio can be a cause of concern for investors in Tata Motors.
Happy Investing!
Investment in securities market are subject to market risks. Read all the related documents carefully before investing
Want to Grow Your Wealth With Safe Stocks?
If you want a simple, safe, and hassle-free approach to long term wealth building...
Without having to worry about negative news or every little downswing in the market...
And without having to worry whether your investments will actually "deliver"...
You must read our note on Blue Chip Stocks now.
Details of our SEBI Research Analyst registration are mentioned on our website - www.equitymaster.com
Disclaimer: This article is for information purposes only. It is not a stock recommendation and should not be treated as such. Learn more about our recommendation services here...