IPO Market Feels the Heat of the Market Crash
Oct 12, 2018
A robust IPO market needs two things: favorable stock market conditions and companies that want to sell shares.
Both are absent in the current market conditions.
The sentiment has deteriorated rapidly in the secondary market in the last couple of weeks.
The BSE Sensex is already off its record high levels, and given the global trade war, sharp drop in the rupee, deterioration of the current account deficit, and the uncertainty of the upcoming state elections and general election, volatility has been on a rise.
It all started with the liquidity fears from mid-September and the consequent downturn in the benchmark indices. This has made market participants extremely cautious, leading to Initial Public Offerings (IPOs) receiving a muted response in the primary market.
We could see in the latest offerings this month. The IPO of Dinesh Engineers was withdrawn after it received muted response on the first day of bidding.
--- Advertisement ---


The No. 1 Book on Investing That May Never Be Printed Again…

Equitymaster's Secrets is the No. 1 book on investing you'll find anywhere – if you ask us.

Not only does it contain investing wisdom and secrets no one else will ever tell you…

…it also reveals the exact strategies behind our most successful stock picks!

This is a book no serious investor can do without!

If you want a copy for yourself, just let us know, and we'll have a hardbound copy sent over wherever you like (as long as it is within India) – virtually for free.

Click here for details.

We have very few copies of this book left, however – and we have no plans of printing any more. Please claim your copy ASAP if you don't want to miss out.
------------------------------
The IPO of Garden Reach Shipbuilders & Engineers also drew a weak response. The company was forced to extend its IPO by three days and also cut the price band to Rs 114-Rs 118 against the original price band of Rs 115-Rs 118 per share.
Also, if you look at the S&P BSE IPO Index, it has fallen nearly 18% this year as compared to the Sensex, which is flat for the year.
How has IPO Benchmark Performed So Far?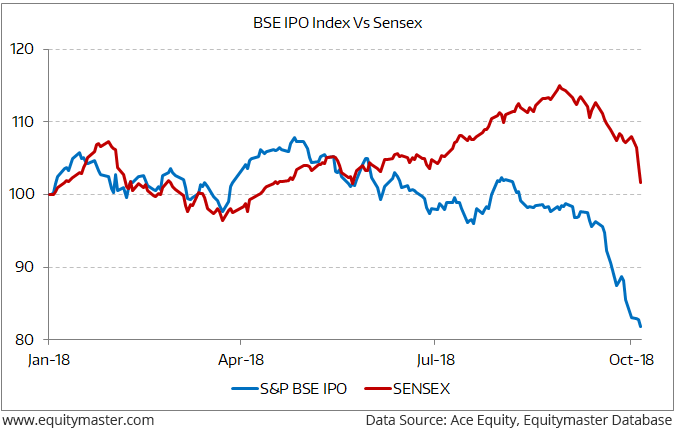 Among the IPOs listed so far, 14 are trading below their issue price. The market crash has taken a toll on their share prices.
Apollo Microsystems, ICICI Securities, and Indostar Capital Finance are down by over 50% since its listing. While, CreditAccess Grameen, Hindustan Aeronautics, and Bharat Dynamics are trading 30% below their listing prices.
IPOs/Public Offering: Performance snapshot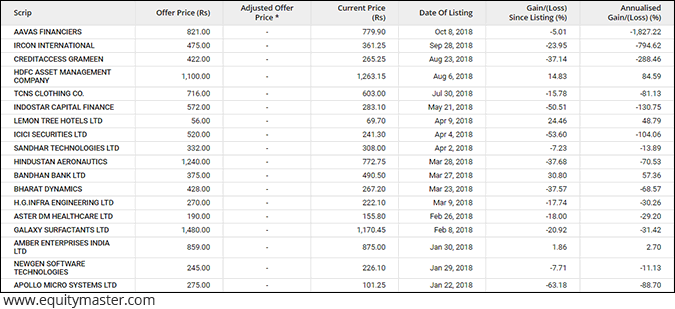 Moreover, those that had enjoyed high listing premiums have now seen huge price erosion. The worst hit includes HDFC Asset Management Company. It is down from Rs 1,970, its all-time high price, to Rs 1,268, after touching a 52-week low of Rs 1,248.
The HDFC AMC public offer was allotted at Rs 1,100 per share and had listed at 58% premium to the issue price.
Similarly, Bandhan Bank which had hit an all-time high of Rs 742, is down to Rs 485, below its listing price of Rs 499. Bandhan Bank had listed at a huge premium of 33% over its issue price of Rs 375.
The chart below indicates the top 5 gainers and 5 losers during the year so far. Fine organics stands as the best performer among all the listed IPOs in 2018. While, Apollo Microsystems leads the pack of losers, falling over 61% since its listing.
Top IPO Overperformers & Underperformers in the Market Crash
The lull in the IPO market would also hinder the government's disinvestment target and upset its fiscal math. The government has set its FY19 disinvestment target at Rs 800 billion. The ongoing volatility in the domestic equity market may force the government to postpone its planned stake sales and of some the IPOs.
While the recent market crash and the macro uncertainty is a big cause of worry for investors, it must be recalled that Indian stocks were driven to unsustainably expensive valuations on the back of a flood of domestic liquidity.
Ankit Shah, editor of Equitymaster Insider, believes the ongoing market crash has brought valuations down to reasonable levels. This may be a good time to scoop up great long-term investing opportunities.
Yes, that's right.
Here's a snippet of what he wrote in The 5 Minute WrapUp recently:
"Of course, this doesn't mean that stocks couldn't crash further if things get worse.

The correction could last longer.

But looking at the history of equity returns, I can tell you that this would be just a passing correction phase.

Despite all the volatility and periodic crashes, equities are still one of the most rewarding and safe asset classes over the long run."
Here's the bottom-line: The short-term performance of the secondary market and the second quarter earnings season would largely decide the course for the primary market.
Can the subdued IPO space offer investors an opportunity to acquire shares at reasonable valuations in the remaining part of the year? That will be something to watch out for.
Honestly, it is hard to decide whether to apply for an IPO or ignore it when the masses are thronging to buy them.
How can you decide which IPO is the right one? We have good news.
To help you approach IPOs in the right way, we have prepared a special report on IPO Investing.
To know how to safely profit from the ongoing IPO rush, download this FREE report now and discover... How to Get Rich with IPOs.
Moreover, at Equitymaster, we also release detailed notes on the upcoming IPOs. Keep an eye out for them.
Until next time...
Best Regards,
Rini Mehta
Rini Mehta is a keen follower of the stock markets and economy. At Equitymaster, she covers daily stock market moves and broader market trends across Indian and global markets.