Massive Surge in the Shares of Tata Motors Today. Key Factors Favouring the Rally
Oct 13, 2021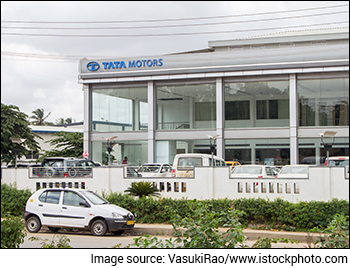 Tata Motors' stock soared 10% in early morning trade on Wednesday, then spiked another 5% shortly after, causing two temporary trading halts.
In the previous five days, the stock has advanced 55%. Today's intraday change in the stock was around 23%.
Shares of the automobile maker have increased 173% so far in 2021, whereas the Nifty Auto index has only risen 28%.
But what's the reason behind the rally?
In a boost to its electric vehicle (EV) push, Tata Motors on Tuesday closed a deal to raise Rs 75 bn from TPG Rise Climate and Abu Dhabi's ADQ.
This is the first major fundraising by an Indian carmaker to push clean mobility.
The board of directors of the auto maker at its meeting on 12 October 2021 have given the approval to incorporate a wholly-owned subsidiary to undertake the automaker's passenger electric mobility business.
In a press release, Tata Motors said,
The new subsidiary shall leverage all existing investments and capabilities of Tata Motors.

It will channelise the future investments into electric vehicles, dedicated BEV platforms, advanced automotive technologies and catalyse investments in charging infrastructure and battery technologies.
The group is the leading player in the EV business with more than a 70% market share.
--- Advertisement ---
The Hidden Opportunity in EV Stocks No One Knows About

With today's fast-changing technology and concern about the environment, the popularity of electric vehicles (EVs) has been on the rise.

Most investors go the usual route of investing in large companies and waiting to rake in profits.

We believe that's not the best approach.

In fact, our research has uncovered a hidden way to make potentially windfall gains from this EV opportunity.

Interested to know more? You can get all details by clicking the link below:

Equitymaster's Latest Research Project - Details
------------------------------
TPG Capital's new climate-focused financial fund, TPG Rise Climate, along with co-investors shall invest Rs 75 bn in compulsory convertible instruments to secure between 11 to 15% stake in this company translating to an equity valuation of up to US$9.1 bn.
Chief Financial Officer P B Balaji said the company would invest more than Rs 160 bn over next five years.
The company said the first round of capital infusion would be completed by March 2022 and all the money will come by the end of 2022.
How Tata Power will benefit from this deal?
Shares of Tata Power gained 19% to Rs 232.4 in Wednesday's trade.
Over the next five years, Tata Motors will help create a portfolio of 10 EVs. In association with Tata Power, it will catalyse the creation of widespread charging infrastructure.
Tata Power has partnered with Tata Motors, Morris Garages India, and JLR for developing EV charging infrastructure for their customers and dealers, including those for e-buses used by multiple state transport utilities.
Speaking of charging stations for EVs, after the government announced the extension of the FAME II scheme, several states like Maharashtra, Gujarat, Rajasthan, and Delhi have announced their own policies for the faster adoption of EVs.
Under the FAME II scheme, 350 new EV charging stations have been installed across the country.
Here's a summary of stations that have been installed in each city.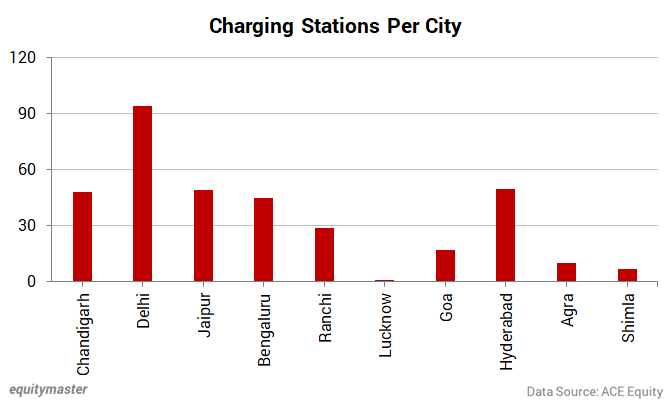 The government is actively formulating guidelines such as setting EV charging infrastructure by the Ministry of Power, amendment in model building bye-laws (MBBL-2016) for EV charging infrastructure by Ministry of Housing and Urban Affairs, etc.
Tata Motors global wholesales rise 24%
Tata said its global wholesales in quarter two of the financial year, including Jaguar Land Rover, grew 24% year on year (YoY).
Tata Motors' global wholesales came in at 251,689 in the second quarter of the financial year.
FREE Event: Discover Your First Stock for a Potential Rs 7 Crore in Long-term Wealth
Global wholesales of all Tata Motors' commercial vehicles and Tata Daewoo range in second quarter were at 89,055, up 57% from the same period last financial year.
Global wholesales of all passenger vehicles in quarter two were at 1.6 lakh higher by 11% compared to the same period last year.
Meanwhile, Jaguar Land Rover's global wholesales stood at 78,251 vehicles. Jaguar wholesales for the quarter were 13,944 vehicles, while Land Rover wholesales for the quarter were 64,307 vehicles, Tata Motors said.
Earlier this week, Tata Motors said retail sales of JLR continued to be constrained by the impact of the global semiconductor shortage on production.
But highlighted that the underlying demand for JLR products remains strong with order books at record levels.
Huge gains witnessed by Jhunjhunwala
Those who have invested in Tata Motors have received windfall gains in the last few sessions.
Among them is billionaire Rakesh Jhunjhunwala, whose net worth grew by nearly Rs 6.4 bn in just nine trade sessions riding on the auto stock.
In the last 9 trade sessions, this stock has surged from Rs 333.4 (closing price on 30 September 2021) to Rs 502.9, rising Rs 169.6 in this period.
Jhunjhunwala, also known as the 'big bull', cut down his stake in the company in April to June 2021 quarter. He held 42,750,000 Tata Motors shares or 1.29% stake in the company in March.
--- Advertisement ---
What CNBC Won't Tell You...


The next 10 years would be a golden period for Indian investors...

The "Big Bull" Rakesh Jhunjhunwala claims it could be one of the largest stock market bull runs in India ever...

And veteran investor Raamdeo Agarwal says the S&P BSE Sensex could even reach 200,000 points in the next 10 years... All thanks to these...

Highly Powerful Wealth-Building Mega-Trends
------------------------------
Big Bull had cut down his shareholding in Tata Motors by bringing down his shares from 1.29% in March 2021 quarter to 1.14% in June 2021 quarter.
Electric race
The electric vehicle industry is booming, thanks to the government's quest for greener fuels.
Mahindra & Mahindra stated in April that it will invest Rs 30 bn in its EV vertical over the next three years. The company, which has invested Rs 17 bn, is targeting 5 lakh EVs by 2025.
Hyundai and Kia have announced that by 2024, they would release six new electric vehicles, including the Kona EV, which was the first major automaker to offer an electric vehicle in India.
Both companies will also release a low-cost electric vehicle, priced at Rs 15 lakh, to compete with Tata's Nexon EV.
On the other hand, Maruti Suzuki has decided to remain out of the electric vehicle competition until more information about its viability becomes available.
At the company's annual general meeting in August, chairman RC Bhargava stated that they will focus on electric two-wheelers for the time being and wait for sales volumes to increase before moving into the four-wheeler market.
Equitymaster on Tata Motors
Given that Tata Motors has an ambitious product launch plan in the coming years, should one invest in the company now?
Co-head of Research at Equitymaster, Rahul Shah, did a detailed analysis on this topic, in his Microcap Millionaires Special Report.
Here's what he said...
As far as I am concerned, I don't think one should plunge headlong into a company's stock just because it has great plans for the future.

One should be able to do at least a broad calculation on what this implies for the company's revenues as well as bottomline before arriving at any conclusion.
You can read the entire report here: Tata Motors Goes Big on EVs. Time to Buy the Stock? (requires subscription).
How the stock markets reacted to Tata Motors
Shares of Tata Motors opened the day at Rs 462.9 on the BSE and the NSE.
Its share price closed at Rs 506.8 (up 20.4%) on the BSE and Rs 506.9 (up 20.5%) on the NSE.
The share touched its 52-week high of Rs 520 and 52-week low of Rs 126 on 13 October 2021 and 16 October 2020, respectively.
Over the last 30 days, the Tata Motors share price is up 65%. Over the last one year, the company's share price is up 267%.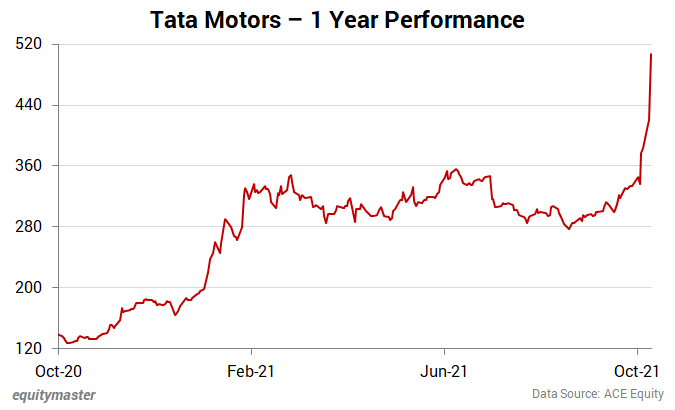 About Tata Motors
Incorporated in 1945, Tata Motors is one of the leading automotive manufacturers in India.
Essentially a CV manufacturer, Tata Motors forayed into manufacturing of passenger vehicles across all product segments viz compact, mid-size and utility in 1998-99, broadening the business horizon of the company.
It forayed into the premium luxury car segment through acquisition of JLR in June 2008, which has a presence across various geographies such as Europe, US, China, Russia, and Brazil.
Through its subsidiaries and associates, Tata Motors also has a presence in Thailand, South Africa, South Korea, and Indonesia.
Its manufacturing base in India is spread across Jamshedpur (Jharkhand), Pune (Maharashtra), Lucknow (Uttar Pradesh), Pantnagar (Uttarakhand), Sanand (Gujarat), and Dharwad (Karnataka).
In addition, JLR has four manufacturing units and two product development centers in the UK, manufacturing unit in Slovakia and China and a contract manufacturing facility in Austria.
For more details about the company, you can have a look at Tata Motors' factsheet and quarterly results on our website.
For a sector overview, read our automobiles sector report.
You can also compare Tata Motors with its peers.
To know what's moving the Indian stock markets today, check out the most recent share market updates here.
Disclaimer: This article is for information purposes only. It is not a stock recommendation and should not be treated as such. Learn more about our recommendation services here...