5 Green Energy Stocks to Watch as India Readies for a Revolution
Jul 6, 2022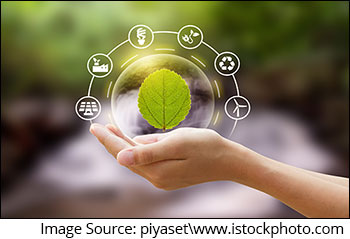 Editor's note: Rising environmental consciousness combined with earnest policy initiatives undertaken by the Indian government has made the green energy sector an attractive investment avenue.
We can safely say that the future will be green, all thanks to India's top renewable energy companies.
For starters, India aims to become self-sufficient in the energy segment. The power and energy sector, which up until now faced a lot of headwinds and was considered boring, enjoys tailwinds these days and has big Indian corporates like Adani and Reliance competing in the space.
Developments are happening at a rapid pace, and it is only a matter of time before we see the real effect of the transition.
Last year in October 2021, we wrote to you about the five green energy stocks and how there are preparing for a revolution.
The below list of renewable energy stocks in India is extremely relevant today and they have taken several initiatives since we last wrote about them.
A few companies are leading the green hydrogen revolution for instance.
Continue reading to know more...
5 Green Energy Stocks to Watch Out for
The green energy space is getting a lot of traction these days.
Simply put, green energy is any form of energy that is generated from natural resources like sun, wind, and water.
A lot of hype is seen in the green energy space as big corporate groups like Adani, Tata, and now Reliance have entered the fray.
Mukesh Ambani has also forayed into the space with major investments. Reliance made its first move through two acquisition - 100% stake in REC Group for US$771 m and by acquiring a 40% stake in Sterling and Wilson Solar for Rs 36.3 bn.
Earlier, while talking about green energy, the one stock which came to mind was Adani Green Energy.
Today, there are many more in this sunrise industry that have a few things going for them.
Let's take a look at five companies involved in the green energy space.
#1 Websol Energy Systems
Websol Energy System manufactures solar cells and modules.
The company is one of the largest manufacturers of solar cells and modules in India. It's the only pure-play listed solar cell manufacturer, servicing India's growing needs of renewable energy revolution.
During fiscal 2021, the company installed a solar power plant to generate energy of 110,089 KW per annum.
The company has also invested in cutting-edge developments to manufacture world-class photovoltaic cells and solar modules at its state-of-the-art facility in Falta, SEZ. The facility comprises a production capacity of 250 MW cells and 250 MW modules.
Further, it has invested in an R&D (research and development) team focused on maximising equipment utilisation and quality standards with the objective of product customisation.
For the first quarter ended June 2021, the company took advantage of the PLI scheme and posted impressive numbers.
Shares of the company have been on a tear this year.
So far in 2021, they have gained 80% and if compared in the past one year, Websol Energy shares are up an impressive 346%.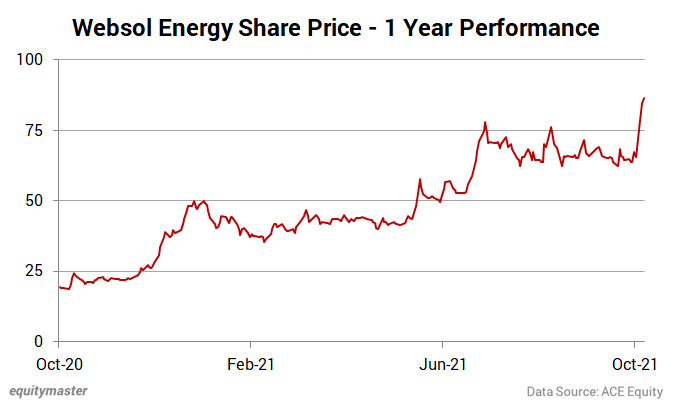 Interestingly, FIIs reduced a massive chunk of their stake in the company during the March-June 2021 quarter.
To know more, check out the latest shareholding pattern of Websol Energy.
Update: Recently, Websol Energy announced it will build a new solar cell and module manufacturing plant with a capacity of up to 1.8 GW.
Solar project developers are already interested in buying solar modules which will be built from the new factory.
The solar sector is already hot in India and the competition intensified when Reliance entered the fray.
#2 Borosil Renewables
Borosil Renewables is engaged in the manufacturing of low iron solar glass for application in photovoltaic panels. It's the first and the only producer of solar glasses in India.
The company's thinner fully tempered solar glass offer a niche product for glass modules.
On a daily basis, India's solar glass requirement is met through imports from China and Malaysia. Borosil Renewables, being the only solar glass manufacturing company, captures a huge chunk of this demand.
The company is riding massive unmet demand and is expanding capacity.
The company is set to ride the green energy them with government's ambitious target of installing 100 GW of solar capacity by 2022.
Stock of the company has made record gains in the past year and is showing no signs of stopping. It's up over 34% in the past one month.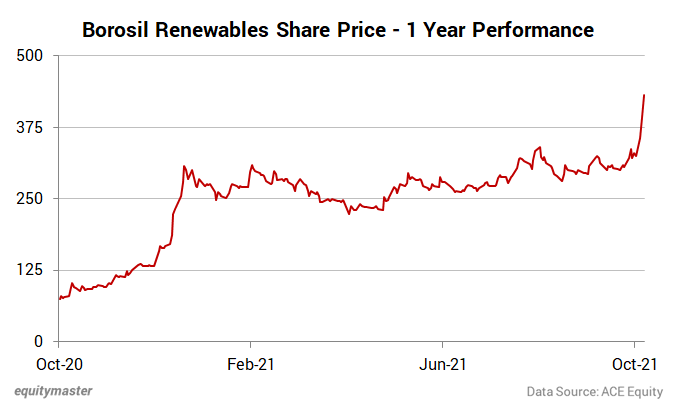 The company enjoys a unique position as its business is protected from an anti-dumping duty on its imports. Thus not having any price setting power.
Apart from the green energy theme, another factor which is supporting the stock is the energy crisis.
Power stocks like Borosil Renewables are in focus amid the increasing demand which has picked up in the second half of this fiscal.
Update: Borosil Renewables is in a sweet spot as India imports majority of the solar glass (around 65%) at present. This leaves more than 30% for Borosil Renewables.
To secure India's needs, Borosil Renewables has planned to increase 5 times more production from the current levels as India goes on a shift to renewables.
The company's management recently told that due to improving government policies and incentives such as the PLI scheme, the shift will be faster than imagined.
#3 Tata Power
Tata Power is involved in the green energy space through its subsidiaries - Tata Power Renewable Energy and TP Saurya.
From EV charging infrastructure to renewable energy, Tata Power is transforming itself into a force to reckon with.
The stock is all hype these days and for good reason.
It has laid out an ambitious target to increase share of clean energy to 80% from the current 31% by fiscal 2030.
The management is hoping to increase this share to at least 40% by 2025.
Tata Power has also decided to stop building new coal-based capacity in a push towards clean energy. This just shows the company's transition into the green segment is underway.
The latest developments suggest that Tata Power is looking to raise about Rs 55 bn for its green business, six months after pulling out of negotiations with Malaysia's Petronas for up to US$2 bn investment.
Over the past one year, shares of Tata Power have surged a massive 318% with the majority of gains coming in the past one month alone.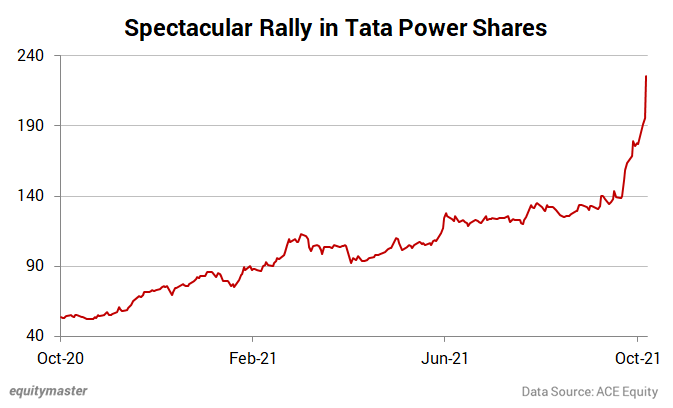 At the current price of Rs 226, Tata Power commands a marketcap of Rs 722.1 bn.
Earlier this week, co-head of Research at Equitymaster, Rahul Shah analysed the stock of Tata Power and whether it is time to switch to another stock after Tata Power's huge run up.
You can read the entire editorial here: Is it Time to Switch from Tata Power to NTPC?
To know more, check out Tata Power's latest shareholding pattern.
#4 Inox Wind
Inox Wind is one of the largest manufacturers of wind turbine generators (WTGs) in India. It manufactures wind turbines to produce green energy without creating pollution or global warming.
Wind Energy is critical to India's green and clean transition. Inox Wind, being a dominating player in the wind energy business, is set to benefit.
Wind Energy can help produce highly affordable green hydrogen and green ammonia which are touted as future fuels.
Inox Wind provides blades, tubular towers, hubs, and nacelles created in its state-of-the-art facilities in Gujarat and Himachal Pradesh.
But one must note that the Inox group has had corporate governance issues in the past.
Back in 2018, we wrote about how Inox Wind's auditors resigned just because they were busy with other assignments!
That's not the only thing. Inox Wind's financials are also questionable.
Revenues keep declining and losses keep on rising.
So don't get carried away by the 'green energy' theme.
Update: In an interview, the company's executive director told that Inox Wind is aiming for a 20-25% market share in the wind energy space over next two years.
In another interesting development, the company's subsidiary Inox Green Energy has files draft papers for its Rs 7.4 bn IPO.
Note that the IPO market is dead at present due to the volatility among other reasons. But Inox Green Energy could be one of the companies to soon hit the primary market as it looks to take advantage of the market's profound love for renewable energy.
#5 Suzlon Energy
Like Inox Wind, Suzlon Energy is primarily engaged in the business of manufacturing of WTGs and related components.
Wind energy is a serious renewable energy candidate. If combined with other renewable sources, it will be the key in producing enough green electricity to power India's green revolution.
But Indian companies involved in this space have raise doubts.
Just like Inox Wind, Suzlon Energy does not give us anything to write home about.
It was a global frontrunner (the company operated in a niche segment) and currently is struggling for survival.
Suzlon has had corporate governance issues and regular regulatory probes over the years.
Financial performance is even worse although the company was able to turnaround its fortunes and post a profit in the financial year 2021.
To know more, check out Suzlon Energy's factsheet and quarterly results.
India's Green Energy Revolution
The question on many investors' mind these days is what to expect from India's top renewable energy companies?
Consider this example...
The industrial revolution took around 100 years. The digital revolution, two decades.
Next in line is the green energy revolution, which has already begun.
The excitement around green energy stocks has opened up a huge contrarian opportunity in the traditional energy space.
Being the world's third-largest energy consumer after the US and China, India has already taken various steps to achieve the targets of climate action.
But there's no question that India is a laggard in the green energy space as it still gets more than half of its power from domestic coal.
Currently, solar and wind are contributing less.
But with Indian companies laying out ambitious 'achievable' targets and government also taking steps to help the industry, the stage is set.
Investors hoping to benefit from the green energy theme should look into the financials, management, business strategy, and all other fundamental factors of the companies before investing in them.
To know what's moving the Indian stock markets today, check out the most recent share market updates here.
Disclaimer: This article is for information purposes only. It is not a stock recommendation and should not be treated as such. Learn more about our recommendation services here...