Infosys had an Exceptional Quarter Buoyed by Huge Deal Wins. Revenue Guidance Boosts Stock
Oct 14, 2021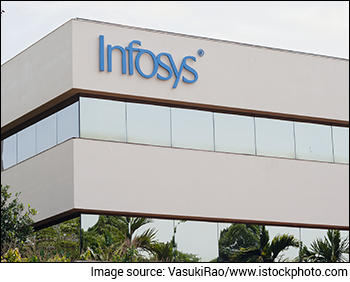 Exactly three months ago, when Infosys reported its June quarter results, we wrote to you about how Infosys reported fastest revenue growth in a decade.
At that time, shares of the company were trading at record high levels of Rs 1,500.
Skip forward to present, Infosys has yet again reported good set of numbers and the markets have cheered.
Stock of the company neared 52-week high today after posting stellar numbers. The company's American Depository Receipts Infosys ADR also ended higher in overnight trade.
While India's largest IT company - TCS - failed to meet street expectations on the quarterly results front, the second largest IT company - Infosys - did not disappoint.
Infosys continued to outperform TCS for the fourth straight quarter.
In terms of sequential revenue growth, TCS' dollar revenues were up 4% versus Infosys which increased by 6.3% on a constant currency basis.
--- Advertisement ---
Automobile Sector's Colossal Disruption Could Make You a Fortune

During any major disruption in a sector, fortunes are created.

And now, we are at the cusp of a major disruption that the automotive sector will experience.

It is the electric vehicles gold rush.

At Equitymaster, we have unearthed a hidden way to ride the 15x EV opportunity so that you could take home potentially life-changing gains in the long run.

You can get all details of the hidden way in our upcoming special online event.

YES, Register Me for FREE
------------------------------
Key financials
Infosys reported a net profit of Rs 54.3 bn for the quarter ended September 2021. This was up 11.7% on a year-on-year (YoY) basis and up 4.3% sequentially.
The profit came on the back of strong revenue contribution from Daimler deal, higher adoption of digital transformation by clients, broad-based growth across verticals and geographies, and strong seasonality.
Daimler and Infosys had announced a long-term strategic partnership for a tech-driven IT infrastructure transformation in December 2020. The total deal amount was about US$3.2 bn.
Revenue for the quarter came in 20% higher at Rs 296 bn. Both, topline and bottomline numbers came in above street expectations.
This was yet another exceptional quarter for Infosys with broad-based growth across segments as the company continued to grab market share.
Infosys' total contract value (TCV) for the quarter was US$2.15 bn. The figure looked softer when compared to US$2.6 bn it reported last quarter.
Here's what MD and CEO Salil Parekh said about the performance:
Our stellar performance and robust growth outlook continue to demonstrate our strategic focus and the strength of our digital offerings, as we witness a strong market opportunity with global enterprises rapidly accelerating their digital journeys.
Here's a table comparing financials on key parameters.
Financial Snapshot
| (Rs m) | Sep-21 | Jun-21 | Sep-20 | YoY (%) | QoQ (%) |
| --- | --- | --- | --- | --- | --- |
| Revenue | 296,020 | 278,960 | 245,700 | 20.5% | 6.1% |
| Total Operating Expenses | 28,240 | 27,870 | 25,710 | 9.8% | 1.3% |
| Operating Profit | 69,720 | 66,030 | 62,280 | 11.9% | 5.6% |
| Profit after tax | 54,210 | 51,950 | 48,450 | 11.9% | 4.4% |
| Free Cash Flow | 52,720 | 63,630 | 49,890 | 5.7% | -17.1% |
| Cash and Investments | 328,010 | 377,270 | 336,010 | -2.4% | -13.1% |
Data Source: Press Release
Infosys also announced interim dividend of Rs 15 per share for fiscal 2022. Record date for the same is 27 October and payment date 10 November.
The company also clarified its progress of bringing the income-tax (IT) portal to full functionality. Parekh said that the portal is seeing steady progress with 19 m returns being filed so far.
FREE Event: Discover Your First Stock for a Potential Rs 7 Crore in Long-term Wealth
Segmental performance
Broad-based growth was visible across geographies and segments with is largest geography, North America, growing at 23.1% and the largest segment, financial services, growing at 20.5% YoY in constant currency.
Revenue from digital business contributed 56.1% to total revenues and was up 42.4% on a YoY basis.
All sectors reported double-digit growth. Manufacturing grew by 42.5% while retail by 17.2%. Its life science sector witnessed 26.1% growth.
Attrition remains a concern
Attrition is a concern for Infosys.
The attrition rate touched 20.1%, which was significantly higher than 13.9% is the previous quarter.
This comes after the company gave one of the highest number of promotions in the industry.
Infosys will ramp up campus hiring to 45,000 this year in a reflection of the ongoing talent crunch. The earlier target was of 35,000.
Infosys had a headcount of 279,617 employees at the end of September quarter.
Revenue guidance
The key highlight of this quarter was that Infosys raised its revenue guidance on the back of strong demand-led digital transformation.
Infosys raised its revenue growth guidance for fiscal 2022 to 16.5-17.5% from the earlier 14-16%.
Market experts were expecting guidance of 15-17%. Infosys narrowed the guidance band as Parekh said past deal wins, and future deal pipeline lent confidence to raise the guidance.
It maintained its margin forecast for fiscal 2022 at 22-24%.
CFO Nilanjan Roy suggested that there will be aggressive cost focus despite investments in talents and wage hikes.
--- Advertisement ---
3 "Super Smallcaps" You Didn't Know About

You may not have heard of these 3 "super smallcaps" ever before...

The mainstream press doesn't cover them... Most brokers don't know about them either...

Stocks like these 3 "super smallcaps" only come to your notice when they have rallied by hundreds or even thousands of percent... and are all over the news!

Richa revealed it all during her Super Smallcaps Summit

If you missed this event for some reason, then you can watch the special replay of this event.

Click Here to Watch the Replay...
------------------------------
How the stock markets reacted to Infosys' quarterly numbers
Infosys share price opened the day up by 2% at Rs 1,744 against its previous close of Rs 1,708.75.
It went on to touch a high of Rs 1,784.05, rallying more than 3% in early trade.
Overall, IT stocks are driving gains today with the Nifty IT index rising over 3%, on track for its best session in three months.
Apart from Infosys, Wipro and Mindtree also reported good results.
Infosys has a 52-week high quote of Rs 1,787.50 touched last month on 24 September. It has a 52-week low quote of Rs 1,051 touched on 2 November 2020.
Over the last one year, shares of the company have gained 53%.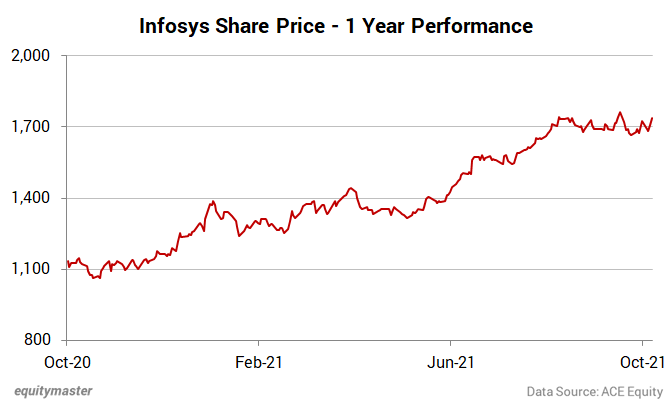 Most of the brokerage houses have raise their targets after Infosys beat expectations.
At the current price of Rs 1,737, the company commands a marketcap of Rs 7,369.8 bn.
To know more, check out the latest shareholding pattern of Infosys.
About Infosys
Infosys is a large Indian IT services company, offering a range of digital and traditional IT services.
From humble beginnings in 1981, the company now counts itself among the largest and most respected global software firms. It's known around the world for its visionary management, work ethics, and corporate governance standards.
The company caters to industry verticals such as financial services, retail, communication, manufacturing, hi-tech, life sciences, energy, utilities, resources, and services.
Infosys has always had visionary management to guide the company through good times and bad.
Over time, Infosys' management has earned a reputation for being ahead of the curve in terms of human resource management policies and investor relations.
For more details about the company, you can have a look at Infosys company factsheet and quarterly results on our website.
You can also compare Infosys with its peers.
To know what's moving the Indian stock markets today, check out the most recent share market updates here.
Disclaimer: This article is for information purposes only. It is not a stock recommendation and should not be treated as such. Learn more about our recommendation services here...