Here's Everything to Know About the Upcoming Fino Payments Bank IPO
Oct 27, 2021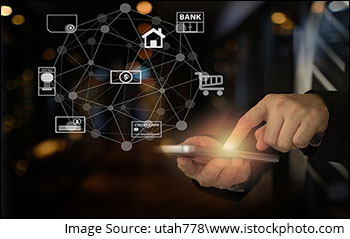 Fino Payments Bank's initial public offering (IPO) will hit the primary market on 29 October 2021 and close on 2 November 2021. The company has set a price band for the offer at Rs 560 - 577 apiece.
This will be the second issue to open for subscription this week after Nykaa's Rs 53.5 bn public offer.
The offer comprises a fresh issue of Rs 3 bn and an offer for sale (OFS) of 15.6 m equity shares by promoter Fino Paytech, which has 100% shareholding in the company.
The company intends to raise roughly Rs 12 bn at the upper end of the price band.
Fino Payments Bank is a growing fintech company offering a diverse range of financial products and services that are primarily digital and have payments focus.
Axis Capital, CLSA Capital, ICICI Securities, and Nomura Financial advisory and Securities are the book running lead managers to the issue.
Fino Payments Bank IPO Details
| | |
| --- | --- |
| Issue Type | Book Built Issue IPO |
| Face Value | Rs 10 per equity share |
| IPO Price | Rs 560 to Rs 577 per equity share |
| Market Lot | 1 lot - 25 shares |
| Issue Size | Rs 12 bn |
| Fresh Issue | Rs 3 bn |
| Offer for Sale | Rs 9 bn |
| Basis of Allotment Date | Tuesday, November 9, 2021 |
| IPO Listing Date | Friday, November 12, 2021 |
Data Source: Company's Red Herring Prospectus (RHP)
Category-wise reserved portion
As far as investor portions go, the IPO has given qualified institutional buyers (QIBs) a reservation of 75%.
The non-institutional investors (NIIs) have a reservation of 15%. Retail investors will have 10% of the issue size ear-marked for them.
Also, Fino Paytech is the only promoter of the lender. The offer includes a reservation of Rs 30 m worth of shares for the company's eligible employees.
--- Advertisement ---
STOP Trading and Become a Lazy Millionaire...

There's an incredible way to get extremely rich without losing any sleep whatsoever.

The most amazing thing is that you can accelerate your wealth creation journey with very little effort...and without any unnecessary risk.

Rahul Shah, our Co-Head of Research, is about to reveal his ultimate master key to SUPERFAST riches which he has successfully mastered over the last 15 years.

In fact, on 24th January at 5pm, he's going to reveal everything about the most controversial project of his career - Lazy Millionaire.

If you want to sleepwalk your way to extreme riches, you've got to tune in to this special summit.
------------------------------
Use of IPO funds
Fino Payments Bank plans to use the proceeds from its fresh issue for augmenting its Tier-I capital base to meet future capital requirements.
The bank in its RHP said it would require additional Tier-I capital for penetration of business and services in uncovered or sparsely covered areas, modernisation to technology (banking) platform, activities to generate awareness of bank's products and services, as well as keeping sufficient capital for meeting the regulatory and compliance requirements to operate as a payments bank.
This future need for capital will be met through internal accruals as well as proceeds of the Offer.
About Fino Payments Bank
Fino Payments, founded in 2017, is a fast-growing fintech firm in India that offers a diverse range of digital financial goods and services.
The firm has a pan-India distribution network and its main products and services include - current accounts and savings accounts (CASA), issuance of debit card and related transactions, facilitating domestic remittances, open banking functionality (through their application programming interface), withdrawing and depositing cash (via micro-ATM or Aadhaar enabled payment system (AePS), and cash management services (CMS).
The company's merchants facilitate cross-selling their other financial products and services such as third-party gold loans, insurance, bill payments, and recharges.
Fino Payments also manages a large business correspondents (BC) network on behalf of other banks.
In 2020, the Ministry of Electronics & IT ranked Fino payments third among banks in facilitating digital transactions in India.
According to CRISIL, the company also has the largest network of micro-ATMs and the third-highest deposit growth rate in the financial year 2021.
FREE REPLAY: Catch the Details of Potential Crorepati-Making Stocks Right Now...
Major competitive advantages
The firm is customer-focused and has innovative business model. Fino Payments is managed by a team with a lot of expertise.
Fino Payment Bank is backed by marquee investors like Blackstone, ICICI Group, Bharat Petroleum and International Finance Corporation (IFC), among others.
It has unique distribution, technology, partnership (DTP) network which helps in better customer servicing. It focuses on technology development and has in-house technological expertise.
It targets a population of India which has low levels of financial literacy and technology use who typically do not have access to even basic banking services.
For the time being, Fino Payments Bank does not have any listed comparable peer in the payments bank category.
Financial snapshot of the company
The bank turned profitable in the fourth quarter of the financial year 2020 and since then it has been profitable in subsequent quarterly periods.
For the financial year 2021, the company reported net profit of Rs 0.2 bn.
The fintech firm incurred a net loss of Rs 0.6 bn and Rs 0.3 bn in financial years 2019 and 2020, respectively.
Total income for the financial years 2019, 2020, and 2021 stood at Rs 3.7 bn, Rs 6.9 bn and Rs 7.9 bn, respectively at a compound annual growth rate (CAGR) of 28.7%.
Key Parameters
| (Rs m) | FY19 | FY20 | FY21 |
| --- | --- | --- | --- |
| Revenues | 3.7 | 6.9 | 7.9 |
| Revenue Growth (%) | | 86% | 14% |
| Expenses | 4.3 | 7.2 | 7.7 |
| Net Profit | -0.6 | -0.3 | 0.2 |
Data Source: Company's RHP
For revenue generation, the company relies on fees and commissions from their merchant network and strategic commercial relationships.
For more details, check out Fino Payments Bank's Red Herring Prospectus.
--- Advertisement ---
[Alert] Sell These 3 Stocks Immediately

These 3 stocks are ticking time bombs in your portfolio.

It is very likely that you could be owning these 3 overvalued...

fundamentally weak... ready to crash stocks... in your portfolio today.

Because many stock brokers have painted rosy pictures of these stocks. But the reality is starkly different.

If the market crashes, then these stocks could wipe out your wealth.

You should get rid of these stocks as soon as possible.

Click her for full details of these 3 landmines
------------------------------
Steep surge in transaction volumes
On the strength of digitalisation and the expansion of its banking locations, the bank has seen a significant increase in transaction volumes over the previous few years.
The payments bank's platform has facilitated more than 434 m transactions with a gross transaction value of Rs 1.3 tn in financial year 2020-21, as per the draft papers.
Also, during the lockdown, it saw a surge in banking transactions as a result of government relief disbursements.
It recorded high levels of transactions through micro-ATM and AePS networks which consequently led to an increase in its fee or commission income derived from offering such products and also facilitated the opening of CASA accounts as more of the population wanted to gain access to the Indian government's relief allowance.
The company has a strong leadership position in the fintech industry having the largest network of micro ATMs as of March 2021 with a market share of 55%, a robust merchant network of 6.4 lakh, and 25.7 lakh bank accounts.
During the quarter ended September 2020, it opened 3 lakh new CASA accounts, which was a 20% increase over new CASA accounts opened during the quarter ended 31 March 2020. Deposits for the financial year grew 106.6% to Rs 2.4 bn.
Watching out for competitors
The company operate in a highly competitive environment, and faces competition across all of their product and service segments from other payments banks, certain fintech companies, micro finance institutions, small finance banks, as well as from scheduled commercial banks, public sector banks, private sector banks, non-banking financial companies, and foreign banks with branches in the country.
Most direct competitors are currently other Payments Banks, being India Post Payments Bank, Airtel Payments Bank, Paytm Payments Bank, Jio Payments Bank, and NSDL Payments Bank.
They also compete closely across product and service types with a wide range of entities.
For instance, the firm competes closely with other BC operators in domestic remittance, micro-ATM and AePS offerings as BC operators are the 'last mile' service providers operating on behalf of other banks.
What's the ideal IPO strategy to follow?
In the past few months, a large number of corporate houses have submitted proposals for floating IPO. A number of IPOs are also expected to hit the market soon.
As companies line up to raise funds from the market amid high valuations, investors need to consider numerous factors before investing their money in an IPO.
If you are investing in an IPO, weigh in all the positive and negative factors affecting the company.
Take a close look at the company's financials and valuations. It would give you a clear picture of what's brewing.
Happy Investing!
Disclaimer: This article is for information purposes only. It is not a stock recommendation and should not be treated as such. Learn more here...