5 Penny Stocks that Went on to Become Largecaps
Oct 29, 2021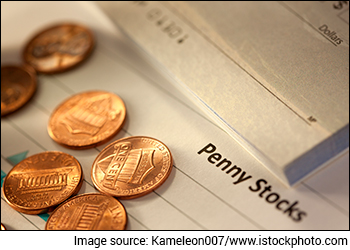 In order to make big profits in the market, you must be willing to take certain risks. One of them is penny stock investing.
Penny stocks, as the name implies, are stocks that trade at very low prices, have low market capitalisation, and are mostly illiquid.
These stocks are typically priced below Rs 50, making them highly appealing to investors, but they also carry a significant level of risk.
Investors usually are attracted to invest in penny stocks as their stock prices are low and can be bought in huge quantities.
But there are many red flags because such companies have minimal information about their fundamentals. So studying and analysing them is challenging.
However, there have been instances where penny stocks have evolved into multibaggers. Not only that, but several of those penny stocks have now become largecaps.
You might not realise it, but several well-known names were formerly penny stocks.
Here's a list of largecaps that used to be penny stocks but have since grown to be quite large and well-known in the Indian stock market.
#1 Bharti Airtel
Bharti Airtel is one of the world's leading providers of telecommunication services and since its inception, has been at the forefront of telecom technology.
It has steered the course of the telecom sector in the country with its world class products and services. Among the private service providers, Airtel has 29.82% market share followed by its biggest competitor in India, Reliance Jio.
In November 2002, the company's shares were available at Rs 11 apiece. Today, it's trading around Rs 700 per share.
An amount of Rs 1 lakh invested in Bharti Airtel would have turned into Rs 63.6 lakh today.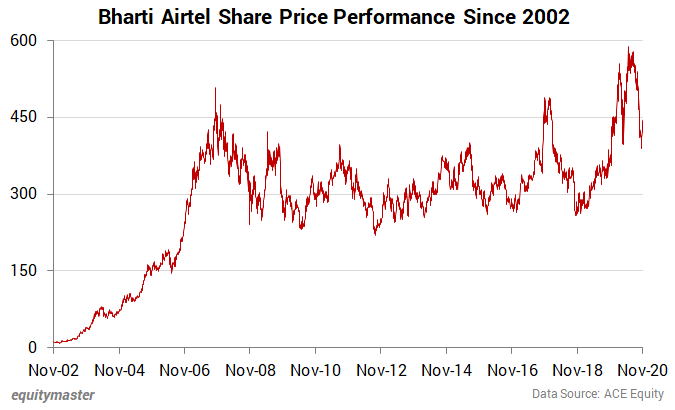 #2 Eicher Motors
It all began in 2004, when Eicher Motors was struggling with overcoming mediocrity in each of its 14 businesses.
This firm rose to prominence largely as a result of its Royal Enfield motorbike brand.
Eicher has become one of India's most popular multibagger stories in recent years due to Siddharth Lal's efforts. The story of Eicher Motors' comeback is one of the best examples of the power of good leadership.
During the year 2000, shares of Eicher Motors were trading at around Rs 3-4. Currently, it is trading at Rs 2,520 per share.
Prior to the stock split in 2020, the Eicher Motors share price exceeded Rs 22,000, making it one of the most high-valued stocks in absolute terms and placing it in the company of shares such as MRF.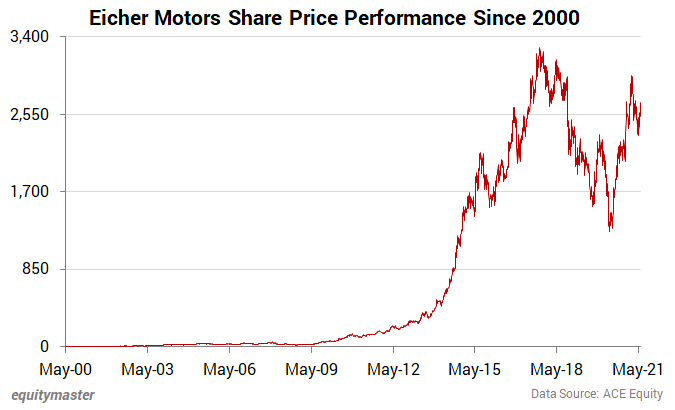 #3 Titan
Titan Company which started as 'Tata Watch projects' then became 'Titan Watches' and finally became the Titan Company as we know it today is currently the biggest watch manufacturer in India.
The company has expanded its market share by not only offering watches but also jewelry, eyewear, and perfume through brands like Fastrack, Sonata, Skinn by Titan, and more.
Titan is renowned for its brands, but its jewelry section, Tanishq, accounts for more than half of the company's overall income, making it the company's most profitable segment.
Over the past 21 years, Titan's shares have grown around 34% compound annual growth rate (CAGR).
Between 2002-2003, well known investor Rakesh Jhunjhunwala bought Rs 80 m shares of Titan when it was priced at Rs 3 apiece.
Currently, shares of the company are trading at Rs 2,400 per share. An investment of Rs 1 lakh in this stock in 2002 would now have turned to Rs 8 crore.
Even a tiny investment of Rs 1,000 per month in the stock of Titan, since 2002, would have led to mouth-watering returns.
Take a look at how the power of compounding has gone wild here...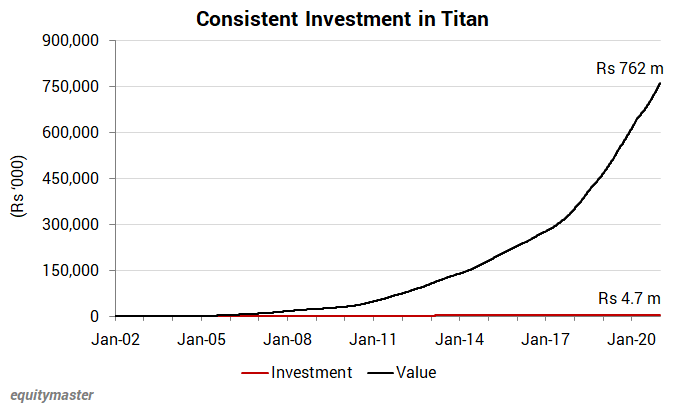 #4 Bajaj Finance
Bajaj Finance a subsidiary of Bajaj Finserv, is an Indian non-banking financial company (NBFC). The company deals in consumer finance, small and medium-sized enterprises (SME) and commercial lending, and wealth management.
Bajaj Finserv holds around 52.65% stake in the company. Bajaj Finance focuses primarily on two and three wheeler loans.
It's difficult to think this multibagger stock was once a penny stock with a share price of Rs 2.4 in 2001. Presently, the company's shares are trading at Rs 7,450 per share.
That means, if an investment of Rs 1 lakh made in 2001 would be worth Rs 31 crore after two decades.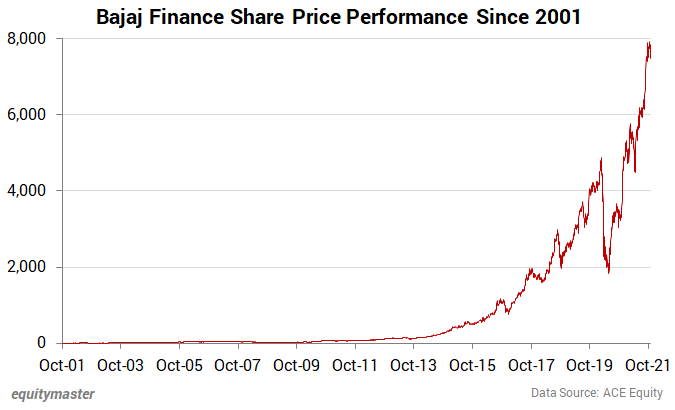 #5 JSW Steel
JSW Steel is considered as India's fastest growing and largest private sector steel company.
It houses India's largest blast furnace and the widest hot strip mill. It's among the first in the world to successfully utilise corex technology to produce 'green steel'.
The steel producer is a subsidiary of JSW Group and is present in over 140 countries.
Over the last 20 years, JSW Steel has successfully managed to make their investors millionaires. The share price of the company has moved up from Rs 2 in December 2001 to Rs 680 apiece, registering a gain of around 33,900%.
Imagine, if you had invested Rs 1 lakh then, it would be worth around Rs 3.4 crore today.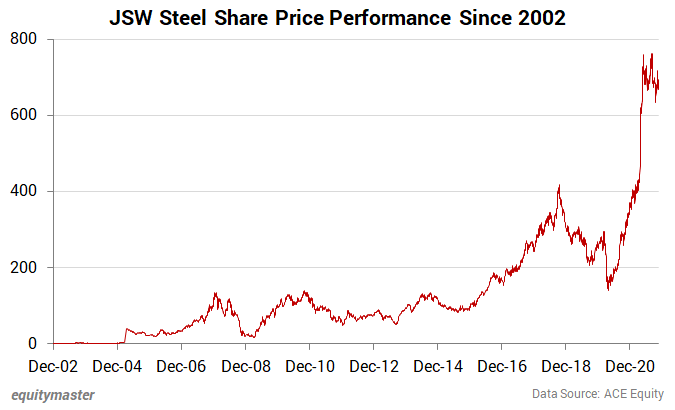 Should you invest in penny stocks?
Penny stocks might appear tempting and appealing owing to their incredibly cheap stock pricing.
While penny stocks can be profitable sometimes, it is also very important to know the risks of penny stocks because the potential for loss is high with these kinds of investments.
As a result, penny stocks are not suggested for individuals with a low risk tolerance.
The corpus that one sets aside for penny stocks should not be more than 5%-7% of the total money allocated towards equities.
Investors should conduct thorough due diligence before taking chances on any penny stock.
Also, you need a very strong framework to separate the men from the boys in the penny stock universe. A framework that not only enables you to zero in on the right penny stock at the right price but also helps you avoid those big losers.
Back in July 2020, Co-head of Research at Equitymaster, Rahul Shah shared a very effective technique that zeroes in on the right penny stocks.
Since you are interested in penny stocks, check out our ultimate guide to penny stock investing.
Happy Investing!
Here are Links to Some Very Insightful Equitymaster Articles and Videos on Penny Stocks:
Disclaimer: This article is for information purposes only. It is not a stock recommendation and should not be treated as such. Learn more about our recommendation services here...