Why Bandhan Bank Share Price is Falling
Nov 1, 2022
The stock market is buzzing with a lot of action these days as the quarterly results season is back.
Share price of companies are fluctuating 15-20% as a result of the impact of results declared.
For instance, Intellect Design share price fell 15% yesterday after posting quarterly results. While Laurus Labs share price is also under intense pressure post quarterly results declaration.
Among the best bank stocks, IndusInd Bank, HDFC Bank, and Axis Bank were soaring high after posting stellar quarterly results.
All these banks had posted good quarterly numbers on account of reduction in provisions. However, there are some banking companies which became an exception.
Bandhan Bank's share price saw a steep fall after it posted its quarterly results. In the past five trading sessions, the stock has declined over 10%. Yesterday, it plunged 10% to hit a new low.
In fact, its share price has been falling for the past six months.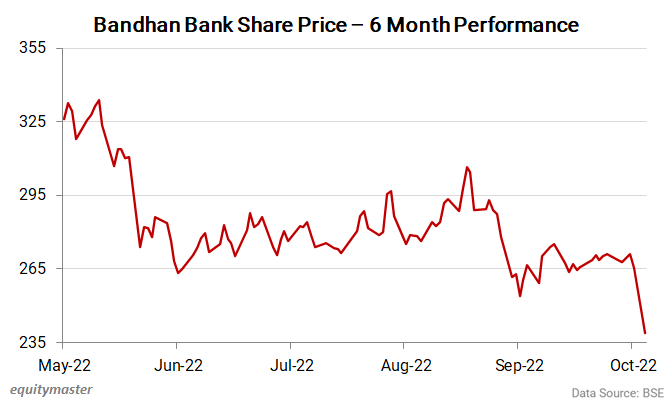 In June this year, Bandhan Bank share price was falling and we covered an editorial explaining why.
This time around, the reasons are different as to why Bandhan Bank is under pressure. Let's find out.
Poor quarterly results
Bandhan Bank on Friday last week reported a net profit of Rs 2.1 bn for the quarter ended September 2022 as against a Rs 30.1 bn loss in the year-ago period, owing to a sharp fall in provisions and a rise in net interest income.
The total revenue for the quarter that ended September 2022 stood at Rs 42.4 bn, which is 3% lower than the previous quarter's revenue of Rs 43.6 bn. However, on a YoY basis, there has been an increase in income.
The bank made Rs 12.8 bn provisions in the September quarter against Rs 56.1 bn in the year-ago period. Net interest income rose 13.3% to Rs 21.9 bn.
The latest quarter's provisions were, however, double than what was set aside in the preceding quarter, which led to a 76.4% fall in net profit sequentially.
The bank's net interest margin fell to 7% against 7.6% in the comparable quarter last year, due to Rs 2.9 bn of interest rate reversal on the restructured accounts, which slipped into sticky loans.
The bank's slippages stood at an all-time high and it resorted to huge write-off of assets during the quarter gone by.
Also, the current quarter was expected to be good for banking stocks and it was indeed good. The Bank Nifty index is trading close to all-time high levels.
But as Bandhan Bank missed street estimates, brokerage houses downgraded the stock which added to worries.
Investment Takeaway
If you take a close look at the quarterly results of Bandhan Bank, you'll notice that historically, the September quarter has not been very good.
In months during July and August, Brahmaputra and Barak rivers were flooded in Assam due to heavy and incessant rainfalls.
This had a major impact on Bandhan Bank's financials as 6% of Bandhan Bank's loans come from Assam. 9% of emerging entrepreneurs' business (EEB) loans also come from Assam.
These figures are significant for a bank, especially when it has high NPAs and decreasing provisioning.
However, it should be noted that the quarter has been better compared to the year-ago period. Revenue, gross profit, net profit, and margins, all have improved compared to September 2021.
In fact, despite the heavy floods, the asset quality of the bank has improved. For the quarter that ended September 2022, gross NPA and net NPA ratio declined by 6 bps each on QoQ basis to 7.2% and 1.9%, respectively.
About Bandhan Bank
Bandhan Bank is a banking and financial services company, headquartered in Kolkata.
Bandhan Bank is present in 34 out of 36 states and union territories of India, with 5,646 banking outlets and more than 2.77 crore customers.
Having received the universal banking licence from the Reserve Bank of India, Bandhan Bank started operations on August 23, 2015, with 501 branches, 50 ATMs and 2,022 Banking Units (BUs).
For more details, see the Bandhan Bank company fact sheet and quarterly results.
You can also compare Bandhan Bank with its peers:
Bandhan Bank vs AU Small Finance Bank
Now Before You Go, This is Something You Need to Know...
Equitymaster's co-head of research, Tanushree Banerjee, believes that one of the fastest growing sectors this decade will be defence.
In fact, within defence there are segments with 33x growth potential by 2030. Yes, it's a massive opportunity.
Tanushree has already identified 3 next-generation defence stocks to ride this mega opportunity.
Now, these are not ordinary defence stocks.
Very few people know about the real potential of these companies.
Because these companies are working silently on developing next-generation warfare technologies.
Our research says that these 3 defence stocks could potentially provide you some of the biggest gains of your lifetime.
* 2 out of these 3 stocks have already run up. Act fast or you might completely miss out on this big opportunity.
Disclaimer: This article is for information purposes only. It is not a stock recommendation and should not be treated as such. Learn more about our recommendation services here...