5 Indian Companies that are Leading the Green Hydrogen Revolution
May 2, 2023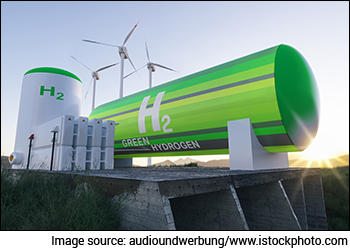 As they say, 'it's better late than never'.
It may have taken long, but India's green hydrogen sector seems to be finally taking off. The industry is gaining momentum with heavy investments from the public as well as the private sector.
Establishing itself as a green hydrogen manufacturing hub would bring numerous potential benefits that should not be overlooked. However, it's important to note that the shift to green hydrogen won't happen overnight as energy transitions take time.
India has the opportunity to lead the change towards a new renewable source.
Big corporates including the Reliance group, the Adani Group, and L&T, have committed significant resources and expertise to developing green hydrogen capabilities.
These companies' investments in green hydrogen space signify a shift towards sustainable and clean energy, which is critical for India's long-term energy security and carbon reduction goals.
Let's take a look at the top green hydrogen companies in India and what progress they're making in the green hydrogen space.
#1 L&T
First on the list of green hydrogen stocks is Larsen & Toubro (L&T).
The company has set forward a Rs 100 billion (bn) grand plan for its foray into the green hydrogen space. In the financial year 2021-22, L&T studied the feasibility of venturing in green hydrogen business and made pilot investments.
L&T's 2021-22 annual report mentions the board approving their entry into the green energy business through green hydrogen & derivates and advanced chemistry cells batteries. The annual report also says the company was planning to achieve water and carbon neutrality by 2035 and 2040, respectively.
L&T's huge commitment towards the green energy sector is proof it is leading the race in India. In January 2022, the company signed a pact with Norway-based HydrogenPro AS to set up a manufacturing unit in India. The aim is to tap opportunities in the green hydrogen space.
Skip forward to present and the green hydrogen plant has been set up at Hazira in Gujarat. The plant will produce 45 kg of green hydrogen daily. This will be used for captive consumption in L&T's Hazira manufacturing complex.
Another agreement L&T has is with IOC separately to manufacture and sell electrolysers used in the production of green hydrogen. Apart from all these JVs and partnerships, L&T is in talks with refineries, steel and cement manufacturers to set up green hydrogen facilities for them.
In March 2023, the company announced that it entered an electrolyser manufacturing binding agreement with McPhy Energy, to explore the opportunities in the green hydrogen market.
McPhy will grant an exclusive license for its pressurised alkaline electrolyser technology. L&T then plans to set up a Gigawatt-scale manufacturing facility for electrolysers based on McPhy technology in India.
This agreement gives L&T a chance to be both - the manufacturer and developer of green hydrogen gas.
At present, the company's green energy portfolio including solar, water, green hydrogen, and some other renewable segments constitutes nearly 30% of the total revenue.
The market has surely rewarded investors in L&T. Up, up, and away has been the story of L&T share price as the company continues to ride the momentum on the back of a huge order book.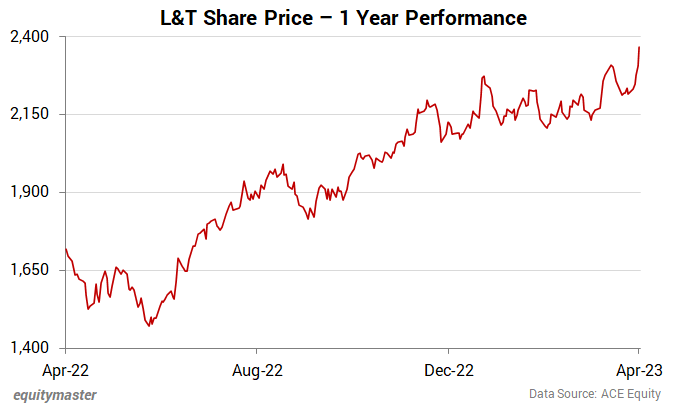 For more details, check out L&T's factsheet and its quarterly results.
#2 Adani Enterprises
Next on this list is the flagship firm of the Adani group - Adani Enterprises.
Adani New Industries, a subsidiary of Adani Enterprises, plans to invest over US$50 bn over the next 10 years in green hydrogen and its associated ecosystem. The company has plans to develop green hydrogen production capacity of 1 million (m) tons per annum before 2030.
In one of the investor presentations, the company elaborated in length how the Mundra SEZ is set to become the green hydrogen hub with port infrastructure and various industry clusters. For the green hydrogen push, the Adani group has partnered with French energy giant TotalEnergies.
In Adani Enterprises' annual general meeting (AGM), Gautam Adani said that his group was working towards making green hydrogen the "fuel for future". Note that Adani group has made the largest commitment when it comes to India's green energy push.
It has planned investments for electrolyser manufacturing, backward integrations for component manufacturing to secure the supply chain for the solar and wind generation businesses, and AI-based utility and industrial cloud platforms.
The mega investment will lay the foundation for Adani to become one of the largest green hydrogen producers in the world. It will make India the cheapest hydrogen producer in the world.
While all this sounds exciting, it should be noted that the group has a lot of debt. Some reports state that most of Adani group's expansion plans are debt funded across existing and new businesses. And you already know the extent of damage a single report can have on a company.
In early 2023, Adani group companies witnessed a sharp selloff following a detailed report by US based short seller Hindenburg Research. This forced the Adani group to bring down its capex push towards green hydrogen.
According to reports, Adani Enterprises had planned around Rs 680 bn worth capex in Adani New Industries between 2023-25 for setting up of manufacturing facilities for green hydrogen in strategic alliance with Total Energies.
Total had entered into a binding agreement to acquire a 1/4th stake in Adani New Industries. But now, this strategic partnership has been put on hold and the company management has decided to defer the large sized capex plan in green hydrogen till the market uncertainties subside.
In the past one year, shares of Adani Enterprises have fallen by 20%.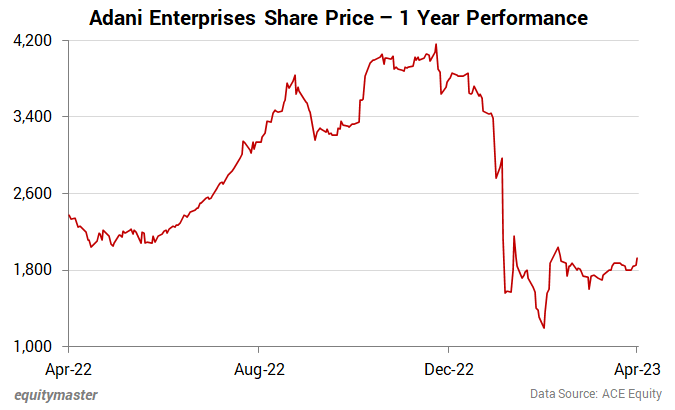 #3 NTPC
Third on this list is NTPC.
Among the top power companies in India by growth, NTPC is a state-owned enterprise that generates and sells bulk power to power utilities. The company is currently setting up a Rs 1 trillion green hydrogen hub in Andhra Pradesh.
For this, NTPC has set aside a massive area spread over 1,200 acres, which is divided into two areas of 600 acres each for an industrial and a hydrogen hub. The first phase of this project is expected to be completed by 2026 and the second phase by 2030.
It also has these initiatives going on with respect to green hydrogen:
1) Filling charging station and 10 fuel charged electric vehicles (FCEVs) at Ladakh and Delhi.
In July 2021, the company's arm NTPC Renewable Energy called a domestic tender to set this green hydrogen fueling station in Leh, which was also India's first.
2) Green hydrogen-based energy storage at its Simhadri facility, to deploy electrolyser and fuel cells.
This will also be India's first green hydrogen-based energy storage project. The hydrogen will be produced using the advanced 240 KW solid oxide electrolyser by taking input power from the nearby floating solar project.
3) Green hydrogen blending in natural gas.
NTPC's Kawas Gas blending project will blend hydrogen with piped natural gas (PNG) for domestic usage.
This is also first of its kind project in India, where 5% hydrogen of the total gas supply will be blended initially. It will gradually increase to 20%.
4) Green hydrogen for the Indian army.
In March 2023, NTPC Renewable Energy signed a memorandum of understanding (MoU) with the Indian Army for setting up green hydrogen projects to supply carbon-free electricity at various army bases.
NTPC has been aggressively pushing the greening of its portfolio. The green hydrogen project is another step towards achieving a low carbon footprint.
In order to fulfil its green energy goals, NTPC was looking to raise funds through a strategic investor or an IPO. Last year, NTPC proposed to raise Rs 20 bn equity through a private placement that would be followed by an initial public offering by its green energy arm.
In an interview, the company's management said that India currently does not have the benefit of cost so the initial outlay that government has set aside may go towards setting low price for green hydrogen.
In the past one year, shares of the company have gained 11%.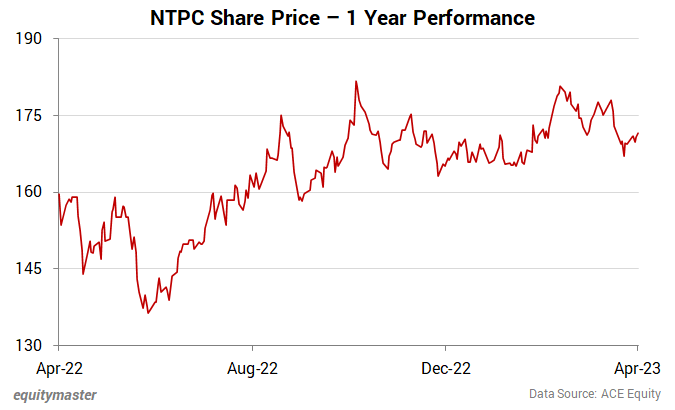 #4 Reliance
Fourth on this list is Reliance Industries.
Remember how Ambani brought in a disruption in the telecom industry when Reliance Jio entered the markets? The group plans to do a similar thing with green hydrogen, more or less...
Here's what the 2021-2022 annual report of Reliance says:
Just as India has the world's most affordable wireless broadband today, we will have the world's most affordable Green Energy within this decade.

And these solutions will then be exported to other countries, helping them contain carbon emissions.
It all started when Mukesh Ambani announced to invest Rs 750 bn in renewable infrastructure back in January 2022.
Since then, Reliance has partnered Danish company Stiesdal A/S to develop and manufacture hydrogen electrolysers. For this, a manufacturing unit is set up which will manufacture modular electrolysers for the production of green hydrogen for domestic use as well as for international sales.
While this will be expensive (the cost of green hydrogen is around US$ 3.6-5.8/kg), Mukesh Ambani plans to produce hydrogen at "under US$ 1 per 1 kg within a decade."
The company is also aiming to become the largest producer of blue hydrogen globally by using petroleum coke.
Latest developments also suggest that Reliance is planning massive investments in Australia. It could possibly set up a green hydrogen/ammonia plant.
In 2023, the company also showcased a truck that runs on hydrogen, further suggesting its pivot to the green energy path.
In the past one year, shares of the company have fallen around 15%.
#5 GAIL (India)
Fifth on this list is GAIL (India).
In line with the government's 'National Hydrogen Energy Mission', GAIL is setting up a green hydrogen production unit with a capacity of 4.3 tonnes per day at Guna in Madhya Pradesh.
This unit will produce green hydrogen using polymer electrolyte membrane (PEM) technology based on water electrolysis. This unit is expected to commence November 2023 onwards.
Apart from this, the state-run PSU is also setting up a 10 Megawatt (MW) PEM electrolyser for producing green hydrogen. It has also entered into MoU with Gujarat Alkalies and Chemicals. For this, it will set up a 500 kilo liters per day (KLPD) bioethanol plant in Gujarat.
In January 2022, GAIL commenced India's first-of-its-kind project of mixing hydrogen into the natural gas system. Hydrogen blended natural gas is being supplied to GAIL's joint venture company with HPCL - Avantika Gas (AGL), which is a city gas distribution (CGD) company operating in Indore.
In latest developments, power firm Cummins India would provide technology to build the electrolyser for GAIL in Madhya Pradesh in collaboration with EPC player Tecnimont, the Indian subsidiary of Maire Tecnimont Group.
This project is expected to produce 4.3 tonnes of green hydrogen per day. This was the largest green hydrogen plant in the country with a capacity of 10 MW.
To achieve all these requirements and more, GAIL's board has decided and approved to raise Rs 250 bn. While the company has laid out big plans for green hydrogen, the stock performance may not reflect it for the time being as it remains in focus owing to volatility in crude oil prices.
#6 Thermax
Last on this list is Thermax.
Thermax is a new addition to this list as the power and electric equipment major recently forayed into the green hydrogen space.
In March 2023, Thermax partnered Australia-based green energy and technology company Fortescue Future Industries (FFI) to explore green hydrogen projects in India. In the coming years, these two companies will develop fully integrated green hydrogen projects Indian customers.
Thermax is looking to make hay while the sun is still shining. As there is a need for local manufacturing of electrolysers, this move could bode well for Thermax in getting ahead of its peers. The company banks on the government's PLI scheme for green hydrogen so it could set up a new manufacturing facility.
Thermax is also looking to enter the hybrid solar wind energy space.
In the past one year, Thermax share price has gained 8%.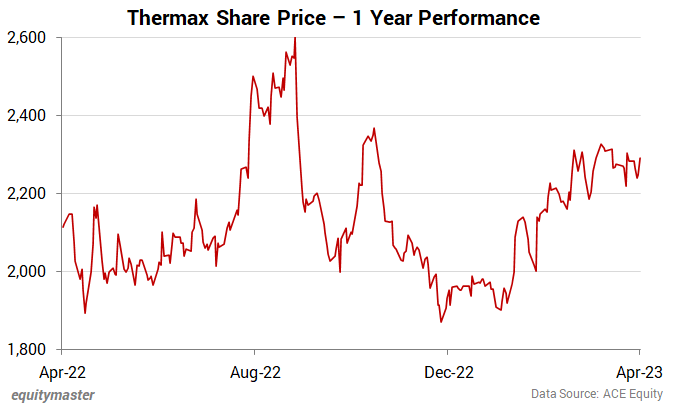 How you could get a piece of the potential profits
Green hydrogen stocks can offer multibagger returns to investors over the long term.
India's burgeoning energy import bill in tandem with the continued coal and oil dependency is forcing the government to shake things up. This makes clean energy sources such as green hydrogen more of a necessity than a choice in the near future.
However, hydrogen is still far from being a commercially viable fuel source. These laudable developments are still below what is needed to get on track with the net zero emissions by 2050 scenario.
The industry needs to reduce costs to match up with fossil fuels and other emerging technologies like battery storage. It also needs to act fast on creating demand for low-emission hydrogen.
So, while hydrogen could become a key element of 100% renewable energy systems, it needs the right policy and regulatory framework to stimulate private investment in hydrogen production in the first place.
If you're considering investing in green hydrogen stocks, do check out the three factors highlighted in this editorial. It should help you get started...
Happy Investing!
Also check out the below list of green hydrogen stocks, which we highlighted in early 2022.
5 Indian Companies that are Leading the Green Hydrogen Revolution (as of 2022)
India's leading green hydrogen companies are once again in focus and buzzing with a lot of activity.
The Narendra Modi government today approved an initial outlay of Rs 197.4 billion (bn) for the National Hydrogen Mission. The mission was launched by the Prime Minister in the Independence day speech in 2021.
According to estimates, the demand for hydrogen is expected to see a five-fold jump by 2050. The initial outlay should help in a big way for India to capture most of the demand.
It also bodes well for companies investing heavily in the green hydrogen technology.
Continue reading to know more about the National Green Hydrogen mission. You can find the key points discussed towards the end of this article.
5 Stocks that are Leading the Green Hydrogen Revolution
If you thought the hype around green hydrogen was over, think again.
NITI Aayog, the Indian government's think tank recently released a report titled 'Harnessing Green Hydrogen-Opportunities for Deep Carbonisation in India'.
The report has a detailed plan on how the entire green hydrogen value chain could function.
Sounds promising, doesn't it? Especially for green energy and green hydrogen stocks.
The report has the following suggestions -
Three hydrogen corridors should be developed across the country based on state grand challenges.
State government should provide grants and loans to start-ups and projects, support entrepreneurs through incubators and investor networks, and put in place regulations that manage first-mover risks.
The government must use public procurement and purchase incentives (for green hydrogen) to create demand in niche markets and attract private investment, while promoting export of green hydrogen and green hydrogen-embedded products through a global hydrogen alliance.
Besides these, it also pushed for the need to facilitate investment through demand aggregation and dollar-based bidding for green hydrogen.
With these suggestions out there, it is only a matter of time before the government will roll out more incentives and policy changes to support the transition to green hydrogen.
Earlier in November 2021, we wrote to you about the top Indian companies leading the green hydrogen revolution. These companies still have the first mover advantage.
Take a look.
5 Indian Companies that are Leading the Green Hydrogen Revolution
Move over EVs, green hydrogen is here.
The environment-friendly gas has recently caught the fancy of the largest conglomerates and governments around the world as they try to pivot to a more sustainable source of energy.
Over 30 countries have released hydrogen roadmaps, 200+ hydrogen projects, and ambitious investment plans.
The Indian government is not far behind.
As green power takes precedence in the global scheme of things, the Indian government has already kick-started its green hydrogen journey.
On Independence Day this year, Prime Minister Narendra Modi, flagged the launch of a National Hydrogen Mission and announced his decision to transform India into a global hub for green hydrogen production and export.
But wait, what is green hydrogen?
Green hydrogen is hydrogen that is produced with the help of electrolysis through electricity generated from renewable sources of energy such as solar and wind.
In electrolysis, an electric current splits water into hydrogen and oxygen.
At present, the country's entire production of hydrogen comes from fossil fuels. However, by 2050, three-fourth of all hydrogen is projected to be green.
The government is also looking at a proposal to make it mandatory for fertilizer plants, oil refineries and steel plants to use green hydrogen.
It plans to make it mandatory for select industries to use green hydrogen to meet 15% of their total hydrogen requirements by 2024.
Companies in India have already started making the switch.
Here are 5 companies that are leading the green hydrogen revolution.
#1 Reliance
Reliance, one of the largest generators of grey hydrogen, the impure kind, plans to go green.
The company recently announced its plans to become a net carbon-zero firm by 2035. It aims to replace transportation fuels with clean electricity and hydrogen.
The conglomerate said that will invest Rs 750 bn over the next three years in renewable energy, including a 5,000-acre, green energy integrated complex called Dhirubhai Ambani Green Energy Giga Complex in Jamnagar, Gujarat.
The complex will include manufacturing units for solar cells and modules, a battery unit for energy storage, a fuel cell-making factory and an electrolyser plant to produce green hydrogen.
The company is also seeking partners to bring new and advanced technology to India.
Reliance (RIL) recently partnered with Danish company Stiesdal A/S through its subsidiary Reliance New Energy Solar (RNESL) to develop and manufacture hydrogen electrolysers.
Through this agreement, RNESL and Stiesdal will combine their strengths and capabilities and collaborate to further advance the technology development of hydrogen electrolysers.
Analysts have estimated that RIL will build a 2.5-gigawatt (GW) electrolyser manufacturing unit.
The electrolyser gigafactory will manufacture modular electrolysers for the production of green hydrogen for domestic use as well as for international sales.
While this will be expensive (the cost of green hydrogen is around US$ 3.6-5.8/kg), the company's chairman, Mukesh Ambani, plans to produce hydrogen at "under US$ 1 per 1 kilogram within a decade."
Update: Reliance has said that it plans to bid for any production-linked incentives the government may offer to encourage the technology,
#2 GAIL
State-owned GAIL(India) also has ambitious plans with respect to green hydrogen.
The company plans to build India's largest green hydrogen plant as it looks to supplement ?its natural gas business with carbon-free fuel.
At a recent event, GAIL chairman and managing director Manoj Jain said that the company has floated a global tender to procure an electrolyser.
He added that the company has finalised 2-3 sites for the unit including one at Vijaipur in Madhya Pradesh. It will take 12-14 months to set up the plant.
The plant planned will have a capacity of 10 MW (megawatts), the largest announced so far in the country.
GAIL has already started mixing hydrogen in natural gas in one of the cities, on a pilot basis. The company is testing the mix percentage before it scales it up.
The hydrogen that GAIL plans to produce can be sold to fertiliser units which as per government mandate are required to use hydrogen as fuel.
Update: GAIL has awarded the contract to set up the PEM-based project in Madhya Pradesh. The project has been designed to produce around 4.3 metric tonnes of hydrogen per day with a purity of about 99.9%.
#3 NTPC
Just like GAIL, NTPC plans to produce green hydrogen on a commercial scale.
The company plans to do that from its upcoming 4,750 MW renewable energy park at the Rann of Kutch. The capacity of the plant will be 5 MW (megawatts).
Currently, NTPC is running a pilot project in its Vindhyanchal unit, where the cost of hydrogen is estimated to be around US$ 2.8-3/kg.
This is expected to fall going forward through economies of scale.
NTPC also plans to set up its first green hydrogen fuelling station in Leh, Ladakh. It will ply 5 hydrogen buses, to start with.
This will put Leh as the first city in the country to implement a green hydrogen-based mobility project.
NTPC has been aggressively pushing for greening its portfolio and the green hydrogen project is another step towards achieving a low carbon footprint.
NTPC has also been promoting the usage of green hydrogen-based solutions in sectors like mobility, energy, chemical, fertilizer, steel etc.
The company has recently revised its target of achieving 60 GW renewables capacity by 2032, almost doubling the earlier target.
Update: NTPC has awarded the green hydrogen fuelling station project in Leh, Ladakh to Amara Raja Power Systems.
#4 Indian Oil
Another PSU that plans to tap into the green hydrogen opportunity is Indian Oil.
The nation's largest fossil fuel retailer, recently announced its plans to build a green hydrogen plant at its Mathura refinery in Uttar Pradesh. The unit is likely to have a capacity of around 160,000 barrels per day.
It will wheel the power from its wind power project in Rajasthan to its Mathura refinery to produce absolutely green hydrogen through electrolysis.
It also plans to come up with a stand-alone green hydrogen manufacturing unit in Kochi that will draw energy from the solar power facility of the Kochi International Airport.
Kochi is the world's first fully solar-powered airport with a total capacity of 40 MW. The idea is to run hydrogen buses from Cochin airport to Thiruvananthapuram.
Indian Oil has set a target of converting at least 10% of its hydrogen consumption at refineries to green hydrogen soon.
As a first step towards this, 10% of the usage in the Mathura refinery will be converted to green sources by 2024.
Update: Indian Oil, Larsen & Toubro (L&T), and ReNew Power have formed a JV to focus on developing green hydrogen projects in a time-bound manner to supply green hydrogen at an industrial scale.
Additionally, Indian Oil and L&T have formed a JV to manufacture and sell electrolyzers used in the production of green hydrogen.
#5 Larsen and Toubro (L&T)
Engineering major, L&T, also plans to foray into the green hydrogen space.
The company has announced that it will set up a green hydrogen plant at its Hazira complex, which is slated to be completed this financial year.
It also plans to put up a few more green hydrogen plants in its other manufacturing units.
Apart from this, it is currently evaluating the possibility of manufacturing electrolysers.
At the latest press conference, L&T's Director and Senior Executive Vice President (Energy), Subramanian Sarma said that it was very much on the cards and that an announcement could come as soon as this financial year.
In its latest annual report, L&T said that it aims to be net-zero emissions by 2040.
90% of this would come from switching over to initiatives such as renewable energy, green hydrogen and biodiesel while the other 10% would be offset by creating carbon sinks.
The company plans to spend between Rs 10-50 bn on its green initiatives, spread over a number of years.
What are the challenges ahead for the adoption of green hydrogen?
While policy and power market regulations released by the government are expected to boost green hydrogen development in the country, the truth is that the industry has a number of challenges to overcome.
You see, hydrogen research in the country, in general, is underfunded.
In the NDA's 2020-21 budget, only Rs 250 m was allocated to the Ministry of New and Renewable Energy for hydrogen-related R&D.
In comparison, 700 million euros were offered by the German government to firms working on green hydrogen alone.
To add to this, producing green hydrogen is an expensive undertaking with the biggest cost being the electrolyser. The membrane-electrode unit accounts for 60% to 70% of its cost while precious metals account for the rest.
Manufacturing at a greater scale could reduce these costs but since demand is limited, production capacities are yet low.
Hydrogen is also an expensive fuel to move. The gas needs to be cooled to -252℃ before transportation. While it can be stored as ammonia, a more stable form, reconversion is expensive.
Should you include green hydrogen stocks in your portfolio?
Here are a few reasons why green hydrogen stocks offer a good opportunity to investors.
India's current energy import bill is over US$160 bn (Rs 12 tn) a year. The continued coal and oil dependency will increase this amount by 2-3 times.
To cut down expenses and reduce this dependency, sustainable sources of energy like green hydrogen will become more of a necessity than a choice in the near future. The government's nudge is another area that is creating an opportunity for the sector.
It recently announced a draft policy mandating that green hydrogen account for 10% of the overall hydrogen needs of refiners by 2023-24. For the fertiliser sector, the requirement is around 15%.
It also plans to increase its non-fossil energy capacity to 500 GW by 2030 and meet 50% of its energy requirements from renewable energy by 2030.
While the above-mentioned reasons are compelling, one must view green hydrogen energy stocks with the same amount of caution as one would view other stocks. Sustained research must not be compromised despite the positive odds.
India's Green Hydrogen Mission 2023
India has taken its first steps towards making green hydrogen a reality. The Union Cabinet has formally approved the Green Hydrogen Mission, which is aimed at making India a global hub for the environment friendly fuel.
Here are five things you should know about the mission -
The total outlay for the mission is Rs 197.4 billion (bn), out of which the government has allocated Rs 174.9 bn for the SIGHT programme, Rs 14.6 bn for the upcoming pilot projects, Rs 4 bn for R&D, and Rs 3.8 bn towards other mission components.
The mission will facilitate demand creation, production, utilisation and export of green hydrogen. Under the Strategic Interventions for Green Hydrogen Transition Programme (SIGHT), two distinct financial incentive mechanisms - targeting domestic manufacturing of electrolysers and production of green hydrogen - will be provided under the mission.
The mission has targeted a green hydrogen production capacity of at least 5 MMT (Million Metric Tonnes) per annum and an associated renewable energy capacity addition of about 125 GW by 2030.
It envisages an investment of over Rs 8 trillion (tn) and creation of over 600,000 jobs by 2030.
The Ministry of New and Renewable Energy will be responsible for the overall coordination and implementation of the mission
How this pans out remains to be seen. Meanwhile stay tuned for more updates from this space.
To know what's moving the Indian stock markets today, check out the most recent share market updates here.
Disclaimer: This article is for information purposes only. It is not a stock recommendation and should not be treated as such. Learn more about our recommendation services here...