Nov 3, 2021 - Diwali to Diwali: Top Performing Penny Stocks of 2021
Diwali to Diwali: Top Performing Penny Stocks of 2021
Nov 3, 2021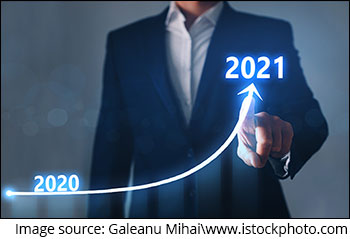 Samvat 2077 was an amazing year for investors.
Indian stock markets haven't looked back since the fall we witnessed in March 2020. It has been a one-way momentum to new highs.
Sure, there were a couple of hiccups but India has emerged as one of the best-performing equity markets.
This year, we saw a sharp upsurge in midcaps, small caps, and notably penny stocks. Several penny stocks delivered eye popping gains this year.
Let's take a look at the best performing penny stocks that gained the most since last Diwali.
Please note, we have considered penny stocks with marketcap above Rs 5 bn.
#1 XPRO India
XPRO India is engaged in the manufacturing of BOPP films, dielectric capacitor films, cast films, coextruded plastic sheets, refrigerator sheets, liners and cabinets.
Presently, the company runs three manufacturing facilities located at Barjora (West Bengal), Greater Noida (UP) & Ranjangaon (Maharashtra).
From trading at less that Rs 25 a year back, XPRO India currently trades at Rs 658.
Multibagger returns of 30x in just one year!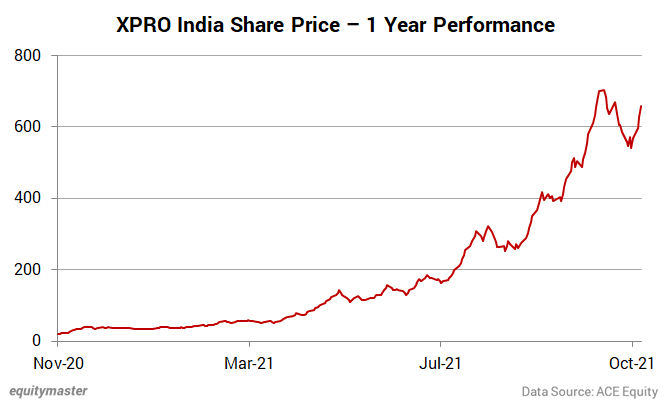 What has led to such a massive surge in XPRO India shares?
Well, one reason could be its financial performance.
The company reported a 1,987% rise in its net profit for the fiscal 2021. Its bottomline rose to Rs 83.5 m against Rs 4 m for the March 2020 fiscal.
Another reason behind the rally can be limited competition. XPRO India is the only firm to make packaging material for capacitors in India. There is no competitor as the business is capital-intensive.
As of September 2021, marquee smallcap investor Ashish Kacholia held 297,216 equity shares, or 2.52% stake in the company.
#2 JITF Infralogistics
JITF Infralogistics is engaged in municipal solid waste management & waste to energy business.
It's also involved in rail freight wagon, urban infrastructure, and trading businesses.
It's an OP Jindal Group company and has delivered a whopping 2,638% returns in the past one year.
The company's shares were locked in the upper circuit band for more than 35 sessions - from Rs 29.90 in August 2021 to Rs 320.45 in October 2021.
This was until last month when shares started falling.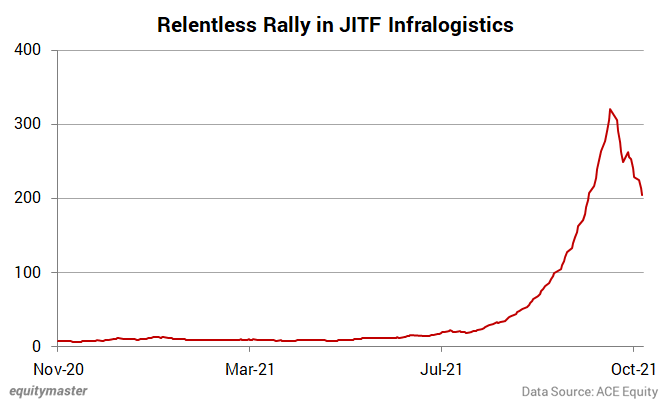 So what's fueling the sharp rally in shares of JITF Infralogistics?
Well, despite the company posting consistent losses, market has rewarded its shareholders. In the most recent June quarter, the company posted a consolidated loss of Rs 410 m on revenues of Rs 2.1 bn.
In the same quarter a year ago, the company had posted a loss of 430 m on revenues of Rs 810 m.
Even for fiscal 2021, the company has posted losses to the tune of Rs 1.5 bn.
It has a total of 18 subsidiaries, out of which 14 have declared losses in the period. Out of nine joint ventures, six were in the red for the financial year.
The main reason behind the sharp rally can be the low liquidity in this stock. Data shows that shares worth only Rs 6.7 m have been traded in the past one year.
On most days, the trading volume in this counter remains very low, in the range of hundreds to a few thousand shares per day.
The company's latest September quarter shareholding data shows FPIs hold 4.91% stake in the company.
Apart from this, Cresta Fund, Albula Investment Fund, and APMS Investment Fund are the top three non-promoter shareholders in the company.
One must note that these institutional investors were under a cloud recently due to their investment in Adani group firms.
#3 ANG Lifesciences India
ANG Lifesciences India is promoted by Mr Rajesh Gupta and family. The company was incorporated in 2006 and manufactures antibiotic, antiulcerant, glucocorticoid, and anti-inflammatory, anti-malarial, and anaesthetic injectables.
In August this year, the company executed an asset purchase deal with Ind-Swift for acquisition of two formulation manufacturing facilities for Rs 600 m. Since then, the stock has been on a tear.
The company plans to become a complete healthcare solution provider for several pharma products.
Another reason for the rally is that the company recently declared bonus shares in the proportion of 1:1.
Investors often load up on shares after the company announces record date for bonus and dividend.
Back in April this year, the company had acquired Mansa Print & Publishers as a strategic backward integration move to expand at a fast pace in the pharma segment.
Over the past one year, shares of the company have gained a whopping 2,640%.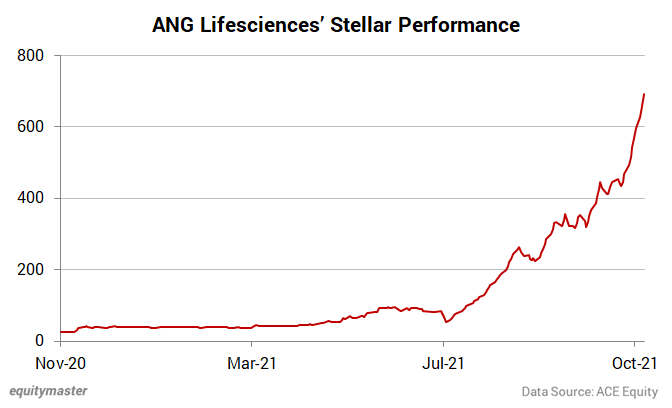 To know more, check out ANG Lifesciences' latest shareholding pattern.
#4 Orchid Pharma
Orchid Pharma was talk of the town a couple of months back when it had zoomed 7,700% in just seven months.
The stock, which was relisted on this day last year at Rs 18 scaled a high of Rs 2,680 on 5 April 2021, delivering 14,789% returns during the period.
Even though the company is yet to post a profit, shares of the company have seen a stellar run at the bourses. Orchid Pharma has been clocking losses each year since financial year 2013 barring a year in between.
The factor behind the spectacular rise was the limited number of shares. Its promoter, Dhanuka Laboratories hold 90% stake in the company.
Despite falling from the highs of April 2021, the stock is still up 2,139% in the past one year.
#5 Brightcom Group
Brightcom Group, erstwhile Lycos Internet, is engaged in providing digital marketing services, and development of computer software and services.
The company's client list includes some of the biggest names, i.e. Airtel, British Airways, Coca Cola, Hyundai Motors, ICICI Bank, ITC, ING, Lenovo, LIC, Maruti Suzuki, MTV, P&G, Qatar Airways, Samsung, Viacom, Sony, Star India, Vodafone, Titan, and Unilever.
In the past one year, shares of the company have gained over 1,700%.
This year, there have been multiple developments that have happened in the Brightcom Group, which could be the reason supporting the company's stock.
An important development includes paying off all bank loans and becoming a debt-free company.
Another factor can be the company issuing bonus shares in the ratio of 1:4.
As of September 2021, promoters of the company held 22.4% stake in the company. To know more, check out Brightcom Group's latest shareholding pattern.
#6 3i Infotech
Shares of 3i Infotech are in huge demand of late after they got relisted on 22 October following its debt restructuring scheme, which entailed reduction in capital base by a tenth.
Following the restructuring, 3i's capital base was reduced from 1,660 m to 166 m. Among the key shareholders of 3i are Canara Bank, HDFC Bank, and Bank of India.
Since its relisting, the company's stock has continuously hit upper circuits and is expected to rise even more as restrictive trading rules prolong the fair price discovery process.
The company temporarily delisted its stock amid capital re-structuring in August this year.
In December 2020, the company sold one of its subsidiaries and has now become debt-free. It sold its global software products business for Rs 10 bn.
The company has also installed a new management team, headed by Thompson Gnanam.
The company is targeting revenues of US$1 bn by the year 2030.
Over the year gone by, shares of the company have gained 1,468%.
#7 Authum Investment
Authum Investment & Infrastructure is a registered NBFC, carrying on the business of investment in shares & securities and also, financing activities.
The stock is in news recently as the company emerged as a successful bidder regarding the acquisition of Reliance Commercial Finance (RCF) and Reliance Home Finance.
Authum will pay around Rs 22 bn for RCF and close to Rs 29 bn for Reliance Home Finance.
In the past one year, shares of the company have gained over 1,100%.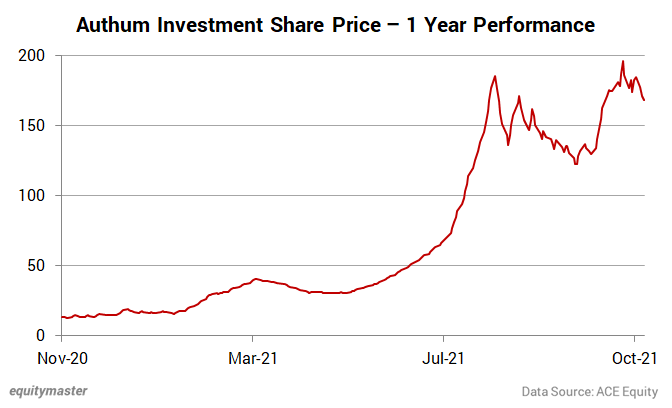 As of September 2021, foreign investors hold 6.74% stake in the company.
Other penny stocks that went on to deliver stellar gains
Apart from the above, here are few other penny stocks which rallied as much as 1,000% from last Diwali to this Diwali.
| Company | Date | Price | Date | Price | Marketcap (Rs m) | Change (%) |
| --- | --- | --- | --- | --- | --- | --- |
| Nahar Spinning Mills | 03-Nov-2020 | 40.00 | 03-Nov-2021 | 568.70 | 20510.00 | 1322% |
| Systamatix | 03-Nov-2020 | 34.65 | 03-Nov-2021 | 409.00 | 5308.00 | 1080% |
| DCM Nouvelle | 03-Nov-2020 | 26.45 | 03-Nov-2021 | 289.00 | 5398.00 | 993% |
| Globus Construction | 03-Nov-2020 | 5.19 | 03-Nov-2021 | 56.50 | 5590.60 | 989% |
| JTL Infra | 03-Nov-2020 | 24.00 | 03-Nov-2021 | 224.75 | 11920.00 | 836% |
| Jayaswal Neco | 03-Nov-2020 | 3.20 | 03-Nov-2021 | 29.00 | 28158.00 | 806% |
| Lloyds Metals | 03-Nov-2020 | 10.20 | 03-Nov-2021 | 89.90 | 33147.00 | 781% |
| Arihant Superstructures | 03-Nov-2020 | 21.00 | 03-Nov-2021 | 182.20 | 7499.00 | 768% |
| Lloyds Steels Industries | 03-Nov-2020 | 0.69 | 03-Nov-2021 | 5.92 | 5320.00 | 758% |
Data Source: Ace Equity
What lies ahead in Samvat 2078?
Samvat 2077 was a roller coaster ride for Indian share markets.
Benchmark indices BSE Sensex and NSE Nifty surpassed important milestones of 60,000 and 18,000, respectively on the back of strong liquidity with rising participation by retail investors.
Both indices rallied around 45% since last Diwali, while the performance of broader indices BSE Midcap and Smallcap was much better.
Strong earnings and economic recovery were the major triggers that aided the bullish sentiment.
Going forward in Samvat 2078, it would all depend on the corporate earnings and foreign flows. Also, any change in policy stance of major central banks, especially the US Fed, would have serious impact.
As per Brijesh Bhatia, ace chartist at Equitymaster, we might see midcaps and small caps outperform benchmark indices in Samvat 2078.
In his latest video, Brijesh has shared his top two trading ideas for Samvat 2078. Do watch it if you haven't already.
To know what's moving the Indian stock markets today, check out the most recent share market updates here.
Investment in securities market are subject to market risks. Read all the related documents carefully before investing
Want to Grow Your Wealth With Safe Stocks?
If you want a simple, safe, and hassle-free approach to long term wealth building...
Without having to worry about negative news or every little downswing in the market...
And without having to worry whether your investments will actually "deliver"...
You must read our note on Blue Chip Stocks now.
Details of our SEBI Research Analyst registration are mentioned on our website - www.equitymaster.com
Here are Links to Some Very Insightful Equitymaster Articles and Videos on Penny Stocks:
Disclaimer: This article is for information purposes only. It is not a stock recommendation and should not be treated as such. Learn more about our recommendation services here...
Yash Vora is a financial writer with the Microcap Millionaires team at Equitymaster. He has followed the stock markets right from his early college days. So, Yash has a keen eye for the big market movers. His clear and crisp writeups offer sharp insights on market moving stocks, fund flows, economic data and IPOs. When not looking at stocks, Yash loves a game of table tennis or chess.