Feb 15, 2023 - Why Indigo Paints Share Price is Falling
Why Indigo Paints Share Price is Falling
Feb 15, 2023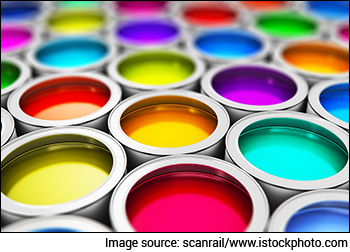 Editor's note: Back to back dismal quarterly results by Indigo Paints is turning out to be a major cause of concern for the paint company's investors.
After falling 40% in 2022, the stock has declined another 18% in 2023 so far.
Investors were of the view that since Indigo Paints has invested aggressively in building its brand, and is expanding into tier 1 and 2 cities, these factors will drive the company's growth.
But that's not happening, at least not for now.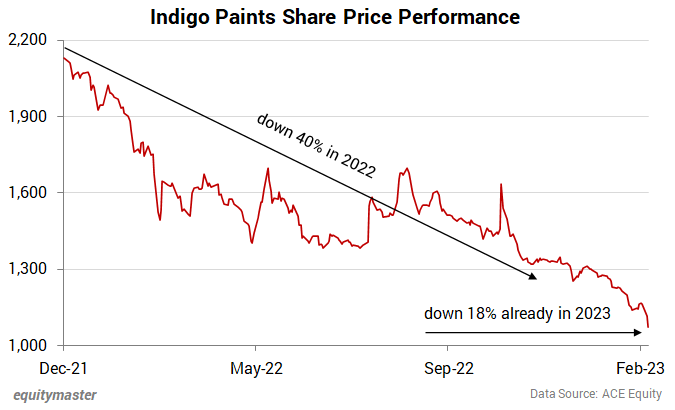 In November 2022, we explained in detail why Indigo Paints share price was falling and what lies ahead for the fast growing company.
A lot has happened since then and there are new developments that can affect the company's growth plans.
Continue reading to know more.
Why Indigo Paints Share is Falling
Yesterday, we wrote to you about Asian Paints and why it's share price was falling.
Last week, we highlighted reasons behind Berger Paints downfall.
Asian Paints is down 9% in 2022 so far. After seeing a decent recovery in the months between June-August 2022, the stock has come under pressure in recent sessions.
It's rare for a fundamentally strong company and a market leader like Asian Paints to witness heavy selling.
But such is the case this year.
Last year money was literally being printed and sloshed around, and it seemed like a party with no end.
But the time of easy money has changed quickly. Bluechip IT stocks are down as much as 40-50% in 2022.
With all the gloom and uncertainty on the macro front - possibility of a recession in the US, the slowdown in China and Europe, the valuations of Indian stocks have corrected...and the fall is bigger for the most expensive ones.
Adding to the list of paint companies which are falling, Indigo Paints joined the party and crashed 10% in intraday trade today.
Today's fall is not the only concern. The stock has followed a downward trend throughout 2022.
Let's find out why...
#1 Large block deal
The 10% fall in Indigo Paints share price in November 2022, can be attributed to a large block deal.
Around 2.1 m shares representing 4.4% equity of Indigo Paints changed hands at Rs 1,384 per share on 9 November 2022. The trade was worth Rs 2.8 bn.
It was announced that venture capital firm Sequoia Capital will sell 3.3% equity stake in Indigo Paints through a block deal on 9 November.
The floor price for the deal is Rs 1,315 per share. A lockup period of 90 days will come into effect following the deal.
As of September 2022, Sequoia Capital held a total of 13.73% stake in IndiGo Paints, which has now come down.
#2 Grasim's foray
Another reason why most paint stocks have shown underperformance this year is because of competition in the industry.
A few months ago, Grasim announced an aggressive capex plan. It increased planned capex from Rs 50 bn to Rs 100 bn. The capacity it's aiming for is 1.33 bn liters. This is very close to Asian Paints.
It's not hard to imagine what this might do to existing players. Increased supplies are likely to increase competition and pricing pressure.
No wonder then major incumbents, including behemoths like Asian Paints and Berger Paints, witnessed a sharp sell off.
Grasim has advanced the implementation of a 1.33 bn litre paint capacity. The plant's commissioning will begin in stages in the fourth quarter of 2023-24.
The project cost has been increased to Rs 100 bn by 2024-25 from the previously stated Rs 50 bn by 2023-24.
#3 Cost inflation pressures
For the past 2-3 quarters now, paint companies have been battling cost inflation pressures. They have taken an aggressive approach by going on a price hiking spree to protect margins.
Meanwhile, rising crude oil prices are dampening sentiment. In August 2022, crude prices cooled off which resulted in decent gains for paint companies.
For Indigo Paints, advertisement and sale promotion expenditure has remained a concern as it's a major cost for the company. This is expected to remain high.
Meanwhile, valuations can be another concern why Indigo Paints fell. We had highlighted Indigo Paints in the list of most expensive smallcap stocks.
Update: Recently, Indigo Paints' CMD said that the company should do well in the coming quarter as Covid fears have receded and it won't take any price correction.
The paint industry's recent performance could be attributed to price hikes taken by companies.
September quarter results
In its Q2 results, the company's profit more than doubled.
Net profit jumped 174% to Rs 371 m as price hikes helped offset increasing costs of raw materials.
Post declaring results, the stock surged over 10%.
While declaring results, the company's management said it expects a much sharper increase in profitability parameters in future quarters with comfortable margins. This is due to stabilising raw material prices and aggressive growth focus.
The company said it would continue to increase dealer count and tinting machine population in larger towns. The upcoming plant in Tamil Nadu was in the final stage of completion and could be commissioned in Q4FY23.
Note that at a time when biggies like Asian Paints and Kansai are reporting below estimate results, Indigo Paints has stood out.
The paint sector sees intense competition from organised and unorganised players but Indigo Paints, by investing in capacities has made sure it withstands competition from established players.
Take a look at the company's financial performance for the past five years.
Financial Snapshot
| Rs m, standalone | FY18 | FY19 | FY20 | FY21 | FY22 |
| --- | --- | --- | --- | --- | --- |
| Revenues | 4,111 | 5,356 | 6,248 | 7,233 | 9,060 |
| Growth (%) | 42% | 30% | 17% | 16% | 25% |
| Operating Profit | 244 | 557 | 926 | 1,261 | 1,469 |
| OPM (%) | 6% | 10% | 15% | 17% | 16% |
| Net Profit | 26 | 269 | 478 | 709 | 840 |
| NPM (%) | 1% | 5% | 8% | 10% | 9% |
| Total Debt | 358 | 601 | 501 | 0 | - |
| Debt to Equity (x) | 0.3 | 0.4 | 0.3 | 0.0 | 0.0 |
Data Source: Ace Equity
Update: In February 2023, Indigo Paints reported a dismal set of quarterly results for the quarter ended December 2022.
This was due to delayed withdrawal of monsoons and early onset of the festive season.
Net profit saw an 8% growth while revenues rose 6% to Rs 2.8 bn.
In its investor presentation, the company said that it has been more aggressive in offering trade discounts due to declining raw material prices.
The last quarter has usually been the strongest quarter for Indigo Paints in terms of sales and profits.
Going forward, the company is planning to launch a complete range of water proofing and construction chemicals in the retail space.
How Indigo Paints has performed recently
In 2022 so far, Indigo Paints share price has shed 33%.
Today, the stock opened deep in the red at Rs 1,351 against its previous close of Rs 1,496.
Indigo Paints has a 52-week high of Rs 2,398 touched on 8 November 2021 and a 52-week low of Rs 1,343 touched today.
About Indigo Paints
Indigo Paints is engaged in the business of manufacturing and distribution of decorative paint in India.
It has a pan India presence with a diversified product portfolio of decorative paints, including enamels, emulsions, wood coatings, primers, and putties.
To know more, check out Indigo Paints financial factsheet and its latest quarterly results.
You can also compare Indigo Paints with its peers:
Indigo Paints vs Berger Paints
Investment in securities market are subject to market risks. Read all the related documents carefully before investing
Want to Grow Your Wealth With Safe Stocks?
If you want a simple, safe, and hassle-free approach to long term wealth building...
Without having to worry about negative news or every little downswing in the market...
And without having to worry whether your investments will actually "deliver"...
You must read our note on Blue Chip Stocks now.
Details of our SEBI Research Analyst registration are mentioned on our website - www.equitymaster.com
Disclaimer: This article is for information purposes only. It is not a stock recommendation and should not be treated as such. Learn more about our recommendation services here...
Yash Vora is a financial writer with the Microcap Millionaires team at Equitymaster. He has followed the stock markets right from his early college days. So, Yash has a keen eye for the big market movers. His clear and crisp writeups offer sharp insights on market moving stocks, fund flows, economic data and IPOs. When not looking at stocks, Yash loves a game of table tennis or chess.