Can HDFC Bank Spoil the Party in the Bank Nifty?
Nov 9, 2022
The Bank Nifty index has hit a new all-time high of 41,949 today. The index has rallied over 17% in 2022 so far and is likely to head higher.
But the main question is who will lead the rally?
Among the constituents of Bank Nifty, in 2022, Bank of Baroda and Federal Bank lead the charts in terms of performance with gains of 95% and 66%, respectively.
If they continue to rally another 50%, will they be able to lead Bank Nifty?
First, let's look at the constituents and their weights in Bank Nifty.
Bank Nifty Constituents and Weightage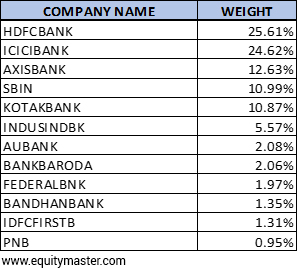 Bank of Baroda and Federal Bank weigh merely 2% each in the index.
With heavyweights like HDFC Bank, ICICI Bank, Axis Bank, State Bank of India (SBI), and Kotak Bank leading the table, their performance matters if the index is to go higher from here on.
The PSU Bank index is coming out of the woods with stupendous back-to-back 44% gains in both 2021 and 2022.
Bank Nifty is led by Private Banks with a weight of 86% while the PSU Banks weigh 14%. The needle will change with the performance of the private banks over PSUs.
The top 5 stocks contribute over 80% to the index and their performance matters a lot.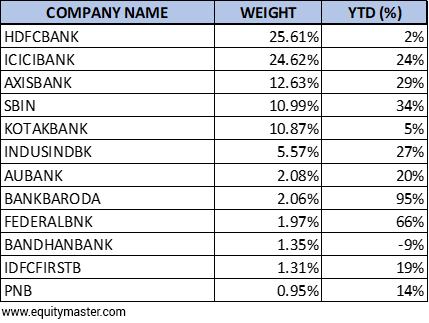 With a 25% weightage, HDFC Bank has gained 2% for the year. The rally from 35,000 to 42,000 was led by the performance of ICICI Bank, Axis Bank, and SBI.
To play the devil's advocate here, just imagine if HDFC Bank doesn't perform and if ICICI Bank, Axis Bank, and SBI were to witness profit booking. The selling may be brutal.
Can HDFC Bank lead Bank Nifty?
I analysed the ratio chart of HDFC Bank / Bank Nifty to identify the trend of relative outperformance or underperformance.
HDFC Bank / Bank Nifty Ratio Chart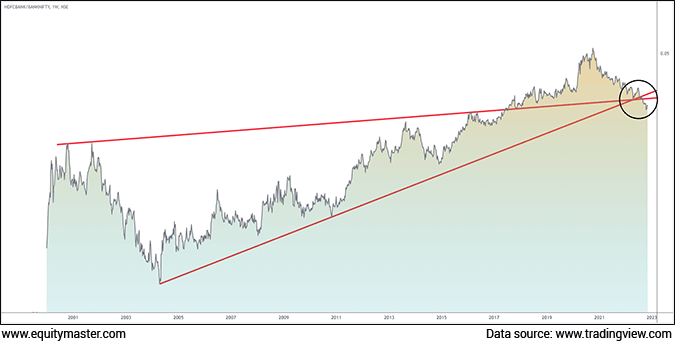 The ratio chart above highlights an end to the outperformance of HDFC Bank against the Bank Nifty.
It has been 18 years and HDFC Bank is outperforming the Bank Nifty and taking the index to new highs.
But something all beginnings have an end and it seems to be an end to this trend.
On the ratio chart, the slope is trending southwards and has broken the 18 years rising trendline.
The break of the rising trendline is a sign of reversal from bullish to bearish and the bearish chart means an end to the outperformance of HDFC Bank against Bank Nifty.
This may now act as a sign of the end of the ongoing bullish trend.
If HDFC Bank heads northwards with a faster rally to catch up with ICICI Bank, Axis Bank, and SBI, the failure of the breakdown on the ratio chart can be confirmed. Until then, it's a sign of caution for Bank Nifty traders.
Banking stocks like ICICI Bank, Axis Bank, and SBI will have to contribute for the Bank Nifty to continue its bullish trend.
Interestingly, the higher high - higher low structure on the long-term chart of the Bank Nifty indicates the bulls are still roaring on D-street.
If you're interested in being part of my charting journey as I share how to create wealth from the profitable trade setups, join my telegram channel - Fast Profits Daily. You'll get access to the best trading ideas in the stock market.
Meanwhile, you can also check out the below video I recorded recently discussing whether HDFC twins will take Nifty 50 to an all-time high.
Now Before You Go, This is Something You Need to Know...
Equitymaster's co-head of research, Tanushree Banerjee, believes that one of the fastest growing sectors this decade will be defence.
In fact, within defence there are segments with 33x growth potential by 2030. Yes, it's a massive opportunity.
Tanushree has already identified 3 next-generation defence stocks to ride this mega opportunity.
Now, these are not ordinary defence stocks.
Very few people know about the real potential of these companies.
Because these companies are working silently on developing next-generation warfare technologies.
Our research says that these 3 defence stocks could potentially provide you some of the biggest gains of your lifetime.
* 2 out of these 3 stocks have already run up. Act fast or you might completely miss out on this big opportunity.
Disclaimer: This article is for information purposes only. It is not a stock recommendation and should not be treated as such. Learn more about our recommendation services here...
Brijesh Bhatia Research Analyst and expert chartist, is the editor of Alpha Wave Profits. Fully committed to his craft, Brijesh has mastered the art of making money by trading using technical analysis. Brijesh has an MBA from ICFAI and 16 years of experience in India's financial markets. He began his career on Dalal Street as commodities dealer and it wasn't long before he developed his own unique trading system. Brijesh worked on his trading system until it could be expected to deliver 5 units of return for every unit of risk.