These Stocks Have Rallied Over 300% In the Last 12 Months. Is the Rally Justified?
Nov 12, 2021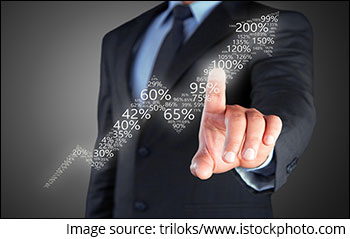 The year gone by was an amazing one for investors.
Indian stock markets haven't looked back since the fall we witnessed in March 2020. It has been one-way momentum to new highs.
Sure, there were a couple of hiccups but India has emerged as one of the best-performing equity markets in the world.
As many as 150 stocks from the BSE 500 index have delivered multibagger returns in the past one year.
Let's take a look at the ones that have gained the most in the year gone by.
#1 Adani group stocks
Not one, but three Adani group stocks form part of this list.
The rally in these stocks is justified, given the group is constantly foraying into different spaces. This excites investors and traders alike.
--- Advertisement ---
Rahul Shah's Lazy Millionaire Summit Is Now LIVE...

Discover the Master Key to Turning Every Market Crash to Your Advantage

Hurry up! Join in now...

Click Here to Join the Lazy Millionaire Summit
------------------------------
Take the most recent example where Gautam Adani said it will invest US$70 bn over the next decade to become the world's largest renewable energy company and produce the cheapest hydrogen on Earth.
Following this news, shares of Adani Total Gas and Adani Transmission hit their respective record highs. The flagship company, Adani Enterprises, also traded close to its all-time high.
Over the past years, the Adani group has focused on turning all the businesses, be it electricity, ports and logistics, airport and transport, and data-centers green.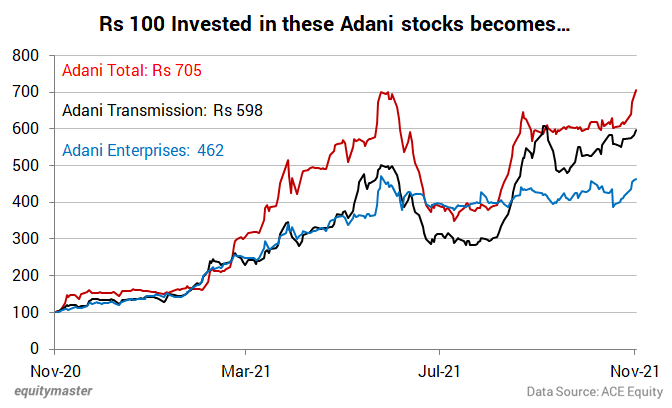 #2 JSW Energy (449%)
Over the past one year, shares of JSW Energy have gained 449%.
The sharp rally in the energy company's stock price can be attributed to its increased focus on green energy business.
JSW Energy plans to raise about US$500 m through a strategic stake sale in its green energy business as it catches up with peers such as Tata Power and Adani group companies that have stepped up investments into non-conventional energy.
Equitymaster's Stock Screener: Identifying High-Potential Stocks Has Never Been this Easy
JSW Energy has placed orders for solar modules and wind turbines for its various under-construction RE projects. It has already started receiving the solar modules and installation work is underway.
The company is aggressively tying up resources, particularly land, and signed an MoU with the Government of Maharashtra for resources for 5GW wind and 1.5GW hydro pumped storage projects.
For the most recent quarter ended September 2021, JSW Energy reported a bottomline of Rs 3.4 bn, which was 5.5% lower than what it reported last year.
Shares of the company are under pressure today after the company was removed from the MSCI India Domestic Small Cap Index.
To know more, check out JSW Energy's 2020-21 annual report analysis.
#3 Trident (439%)
Shares of Trident have seen a sharp up-move since August end this year.
Not just Trident, several textile stocks have hit all-time highs in recent days as investors are becoming more optimistic on the sector.
The reason? Textile sector was an underperformer for the last three years as it struggled with cheap imports, a consumption slowdown, over capacity and several other issues.
Countries like China, Bangladesh, and Vietnam were flooding the global markets with cheap products making it difficult for Indian textile companies.
However, with global consumption rising and buyers also choosing India apart from China, to lower the dependence, textile stocks have rallied.
Also, the US has banned textile products from China's Xinjiang after it came to light that several companies practiced forced labour in the area.
Another factor in favour of Trident is the production linked incentive (PLI) scheme, that was introduced to incentivise production of man-made fibers (MMF).
Over the past one year, shares of Trident have multiplied investors wealth by over 4 times.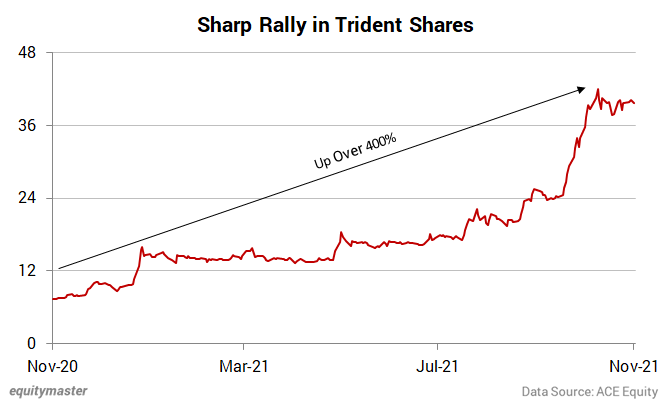 During the September 2021 quarter, institutional holding in Trident increased by 0.54% and stood at 3.07%.
To know more, check out Trident's latest shareholding pattern.
--- Advertisement ---
There is a new paradigm shift currently unfolding across the global economic landscape...

And at the heart of this massive SHIFT is...

INDIA!

India is on the verge of a multi-trillion-dollar rebirth that could potentially mint countless new millionaires...

If you are on the right side of this mega shift, then it could be your biggest opportunity to build potentially massive wealth over the long term.

Click here to find all the details...
------------------------------
#4 Tata Elxsi (343%)
The more than 300% gains in Tata Elxsi shares over the past year can be justified as the company continues to deliver strong quarterly performance, one quarter after the other.
For the September 2021 quarter, Tata Elxsi reported Rs 6 bn in revenues, a growth of 38.4% year-on-year (YoY).
Net profit stood at Rs 1.3 bn, reporting a growth of 10.5% sequentially and 58.9% YoY.
The rally is not just because of the results, but the company offering opportunities to ride the wave in artificial intelligence and Internet of Things (IoT).
The post pandemic scenario has just made this opportunity bigger. As Tata Elxsi focuses on high-growth sectors and emerging technology areas, its growth story remains intact.
What's more, Tata Elxsi does not have any debt on its books and is a strong dividend payer.
Have a look at the chart below to see its dividend history over the years.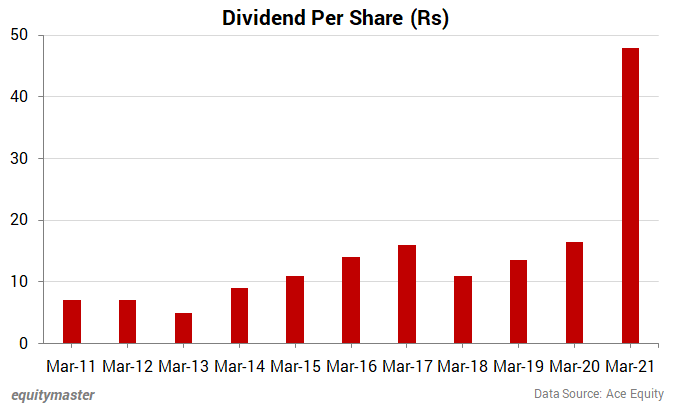 To know more, check out Tata Elxsi company fact sheet and quarterly results.
#5 HFCL (336%)
Himachal Futuristic Communication (HFCL) is one of the largest telecom project service providers for Reliance Jio and is currently engaged in the rolling out of 4G optical fiber cables (OFC) network services across Northern India.
Apart from deploying networks in Punjab and Jharkhand, HFCL also supplies fibre optic cables in Maharashtra, Telangana, and Chhattisgarh under Bharat Net projects.
5G technology is the next big upgrade for telecommunication networks and HFCL is gearing up to offer various products, solutions and services for this segment.
Over the past one year, shares of the company are up 336%.
This sharp rally comes on the back of surge in demand of broadband equipment as businesses shift to remote working amid Covid-19 pandemic.
Recently, three foreign institutional investors (FIIs) Vanguard, Quant Mutual Fund and Norges collectively acquired 2.64% stake in HFCL.
Shares of the company are trading higher today after it was added to the MSCI India Domestic Small Cap Index.
Which Other Stocks Have Gained the Most in the Past 1 Year?
Apart from the above, here are few other stocks from the BSE 500 index that have gained more than 200% in the past one year.
Source: Equitymaster
How these stocks perform in the coming months remains to be seen. Stay tuned for more updates from this space.
Recommended Readings on Multibagger Stocks
Here are links to some very insightful Equitymaster articles and videos on multibagger stocks.
To know what's moving the Indian stock markets today, check out the most recent share market updates here.
Disclaimer: This article is for information purposes only. It is not a stock recommendation and should not be treated as such. Learn more about our recommendation services here...