Why the Realty Sector's Recovery Has Been Delayed
Nov 15, 2018
What happens when you throw a pebble in a pond? The impact of the stone breaking the equilibrium of the surface of the water causes ripples to spread outwards.
Think of it in this way... stock markets are like the pond and Infrastructure Leasing and Financial Services (IL&FS) represents the pebble.
You may have been hearing about it frequently these days, 'IL&FS crisis is at the heart of the problems in the economy and stock markets.'
I suppose, lot of you are even feeling the pinch of it. But, what exactly happened? How did this IL&FS crisis start? What triggered the crisis in last few months?
What began as a singular event with IL&FS, failing to repay its dues has blown up into a liquidity crisis for the entire non-banking financial companies (NBFC) sector. As an immediate aftermath, NBFC stocks witnessed a free fall.
To put it simply, IL&FS defaulted on a few payments and failed to service its commercial papers (CP) on due date, which means the company started facing a liquidity crunch.
The company piled up too much debt to be paid back in the short-term while revenues from its assets were skewed towards the longer term.
IL&FS has a huge outstanding debt of Rs 910 billion out of which Rs 570 billion is due to Public Sector Banks.
Further, in July this year, IL&FS' subsidiary IL&FS Transport delayed Rs 4.5 billion of repayment to SIDBI. This is when the IL&FS crisis started.
Owing to the several payment defaults, ICRA and CARE started downgrading the company's ratings. As Tanushree Banerjee, co-head of Research at Equitymaster, rightly pointed out in The 5 Minute WrapUp, that rating agencies were late to ring the alarm bells this time as well.
Rising NPAs and Debt - Early Indicators of IL&FS' Liquidity Crisis
Here's what Tanushree wrote:
IL&FS was a designated systemically important NBFC which borrowed money from the banks, public at large and other NBFCs. With its problems out in the open, the element of trust stands shaken.
The current NBFC crisis has had a cascading effect on the real estate sector.
Post the banking system's freeze on real estate funding due to rising NPAs, The NBFCs & housing finance companies were a major source of funds for developers.
Now, the NBFCs themselves are struggling and their loan disbursals to the real estate developers have slowed down significantly.
Two years ago, demonetisation caused upheaval in many sectors and the real estate sector also had to bear the brunt.
Coupled with slow pace in home sales, the roll-out of goods and services tax (GST), and the introduction of new real estate regulations (RERA), had severely impacted new launches and expansion plans of several developers.
When it seemed that the pain reduced with these measures being in place and real estate prices getting rationalised, the recent NBFC crisis caused a stir in the residential markets.
Consequently, realty stocks have been hurt the most among sectoral indices, since the correction in the Indian stock market started in late August.
The change of stance on interest rates and liquidity concerns for NBFCs hit the sector, which had just started seeing a recovery.
BSE Realty Index has Fallen 18% Since August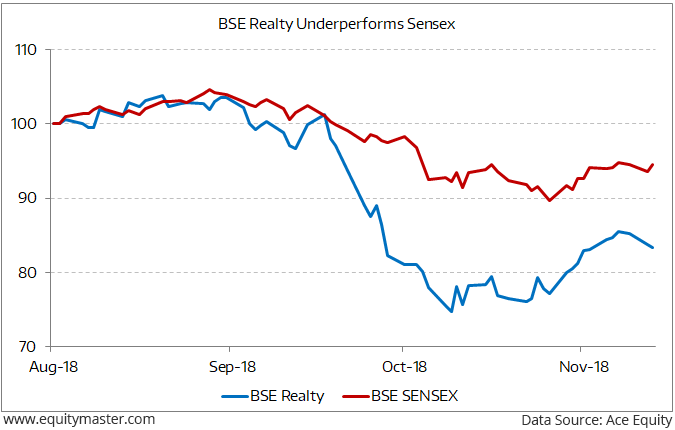 While the BSE Sensex dropped 6% since 1 August 2018, the BSE Realty Index eroded 18% of its value. In fact, all the 10 components of the BSE Realty Index have lost value since then.
Indiabulls Real Estate fell the most, declining 39%. Sunteck Realty, Prestige Estate, and Mahindra Lifespace fell 21%, 30% & 24% respectively during the same period.
All BSE Realty Stocks Under Pressure Since August 2018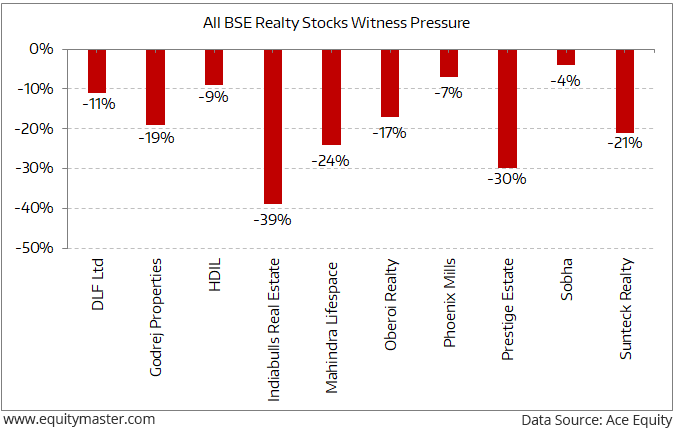 In the recent development, the home buyers and realty developers are facing severe cash crisis despite Reserve Bank of India's (RBI) increasing bank credit to NBFCs and HFCs.
The scale of problem is so huge that the even the sanctioned home loans are not being disbursed. The cash crunch has also pushed up home loan interest rates.
So, what can we make of this scenario? What lies ahead?
A source of broad-spectrum disappointment and despair, the NBFC crisis needs to be resolved as soon as possible or the real estate sector's much-anticipated recovery will be postponed further.
Further, the real estate sector is going through a consolidation i.e. weaker people (with bad ethics practise) are going out of business after RERA.
Now with this liquidity crunch, companies with weaker balance sheets will be under pressure and hence will result in further consolidation.
In the long run, companies with strong balance sheets and ethical managements, with long track records, will win and do well with much less competition.
Happy Investing!
Best Regards,
Rini Mehta
Rini Mehta is a keen follower of the stock markets and economy. At Equitymaster, she covers daily stock market moves and broader market trends across Indian and global markets.