Why Network18 Share Price is Rising
Nov 17, 2023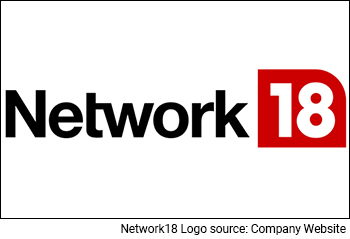 Friday's trading session marked a negative start for benchmark equity indices, with the NSE Nifty 50 experiencing a dip of 90.5 points (0.5%) to settle at 19,674.8 and the BSE Sensex sliding by 193.7 points (0.3%) to reach 65,788.8.
Despite the prevailing bearish market conditions, the Nifty Media index emerged as a standout performer, recording a gain of over 1% intra-day trade on Friday.
Such has been a performance of media stocks recently. This can be attributed to a mega-merger involving a unit of Japan's Sony Group and the resurgence of Bollywood movie blockbusters.
Amid this strong performance, Network 18 Media particularly stood out with an impressive rally of 40.6% in the past three months.
Here's why the stocks have been on the rally.
#1 World Cup Wave
The surge in stock can be attributed to the ongoing ICC Men's Cricket World Cup hosted in India, creating a global wave of enthusiasm and a substantial uptick in advertising expenditure.
Companies with robust broadcasting rights, particularly in the media sector, have witnessed a notable escalation in their share prices.
The heightened interest in the Cricket World Cup has spurred a significant boost in advertising revenue across diverse categories, driven by advertisers keen to connect with the extensive cricket-viewing audience.
The surge in viewership for television channels broadcasting the matches has resulted in escalated advertising rates for these channels, contributing to the upward trajectory of media stocks.
Network 18 Media Investments, being the largest shareholder in BookMyShow, the official ticketing partner for ICC World Cup 2023, adds dimension to the positive outlook for media stocks, further influencing the rise in share prices.
#2 Q2 Revenue Growth
Despite the prevailing challenges in the advertising landscape, Network 18 Media and Investments witnessed robust growth in the September quarter. The company's consolidated revenue from operations surged by 20.4%, reaching Rs 18.7 billion (bn) in the second quarter of the current fiscal, compared to Rs 15.5 bn in the corresponding period last year.
However, despite the positive revenue growth, Network18 Media & Investments reported a consolidated net loss of Rs 11.1 bn for the same period. This loss was attributed to the company's strategic investments in new growth verticals, specifically sports and digital platforms.
In contrast, the company had posted a loss of Rs 288.4 million (m) during the July-September period in the preceding year.
Network18 Media explained in its earnings statement that the decline in EBITDA (Earnings Before Interest, Taxes, Depreciation, and Amortisation) was a result of intentional investments made in the growth verticals of sports and digital.
Nevertheless, the company's total income for the September quarter reached Rs 20.5 bn, marking a significant increase of 32.3% compared to the same period in the previous year.
During the quarter, Viacom 18, a part of Network18, secured TV and digital rights for international and domestic matches organised by BCCI for the next five years.
The digital transformation initiatives undertaken by Network18 Media in its news business over the past year are also gaining traction, contributing to the positive momentum in its stock.
What Next?
With a keen eye on the digital landscape, Network 18 is swiftly broadening its online presence, propelled by the escalating trend in online and mobile content consumption.
The company is boasting escalating digital audience and is actively investing in novel digital platforms and products.
Strategically venturing into burgeoning sectors, Network18 is making notable investments in key growth areas, particularly in sports and digital platforms.
Positioned adeptly to meet the surging demand for digital content, Network 18 is fortifying its success with astute and strategic investments. These strategic initiatives are poised to be pivotal contributors to the company's forthcoming expansion.
The company's proactive approach ensures it remains well-placed for sustained growth in India's dynamic digital landscape.
How Shares of Network18 have Performed Recently
Network18 share price is up 18% in five days, while over the month, the shares are trading higher by 9%.
Over the year, shares of the company have gained 36%.
The company touched its 52-week high of Rs 88.3 on 17 November 2023 and its 52-week low of Rs 45 on 20 March 2023.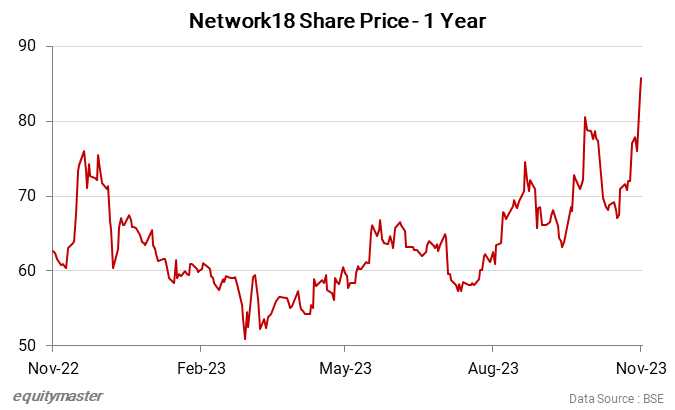 About Network 18
Network18 is one of India's most diversified media and entertainment conglomerates.
It has interests across television, print, Internet, digital content, filmed entertainment, e-commerce mobile content, magazines, and allied businesses.
TV18 Broadcast is a subsidiary of Network18 Media & Investments and manages its primary business of broadcasting.
Through its holding in Television Eighteen India Ltd (TV18), TV18 runs the largest business news network in India. The group's marquee properties include CNBC-TV18 in Business News and CNN-News18 in English News.
Through its JV Viacom18 it also operates a portfolio of entertainment channels across genres, including leading premium local and global brands like Colors, Nickelodeon, and MTV.
For more details, you can have a look at the NETWORK18 MEDIA company fact sheet and quarterly results.
For a sector overview, read our media sector report.
You can also compare Network18 with its peers
Network18 vs Zee Entertainment
To know what's moving the Indian stock markets today, check out the most recent share market updates here.
Investment in securities market are subject to market risks. Read all the related documents carefully before investing
Safe Stocks to Ride India's Lithium Megatrend
Lithium is the new oil. It is the key component of electric batteries.
There is a huge demand for electric batteries coming from the EV industry, large data centres, telecom companies, railways, power grid companies, and many other places.
So, in the coming years and decades, we could possibly see a sharp rally in the stocks of electric battery making companies.
If you're an investor, then you simply cannot ignore this opportunity.
Details of our SEBI Research Analyst registration are mentioned on our website - www.equitymaster.com
Disclaimer: This article is for information purposes only. It is not a stock recommendation and should not be treated as such. Learn more about our recommendation services here...