Tesla is Coming to India. Should You Worry About Your Auto Stocks?
Nov 17, 2023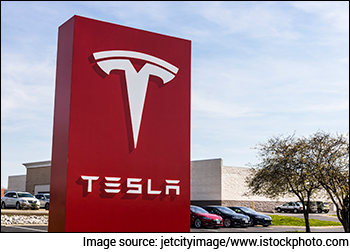 Tesla is in the news again...and for good reason.
Rumours are flying around the media that, after a long delay, Tesla will finally set up a manufacturing plant in the country.
These rumours are not new but this time around, they might be true. There are hopeful signs that the EV maker and the Indian government have sorted out their differences. As per the latest news reports, Tesla and the government have come to an agreement over customs duty on imported cars in India as well as certain tax concessions for building an EV plant.
Now, we would like to state that there has been no official word from both parties in this regard but the signs are certainly positive. India's Union Minister, Piyush Goyal, who is on a visit to the US, even visited a Tesla factory in California.
When the big announcement is finally made, it will be a game changing moment in India's auto market. It will signal the rise of India's auto sector on the global stage and will put India's EV market into the spotlight.
When Tesla rolls out its first EV from an Indian factory, the whole world will have to acknowledge India's rise as a manufacturing power. It will also give a boost to the economy. Thousands of jobs will be created across India's EV ecosystem.
Tesla on its part is already doing more to integrate itself with India's EV ecosystem. It has begun sourcing more components from Indian vendors.
As per news reports, Tesla had sourced about US$ 1 billion (bn) worth of EV components from India last year. It's looking to double that amount. This year, it's aiming to source between US$ 1.7 bn and US$ 1.9 bn worth of auto components from India.
These are all positive signs. Tesla's entry into India would not only give a big boost to India's EV market but also help India compete with China's global dominance of the industry.
The plant once set up would likely manufacture the most affordable Tesla car in the world and could be priced around US$ 24,000. It will be sold domestically and be exported from India.
The company will be able to price its car competitively in India not only because it would be manufacturing it here but also because of the government's production linked incentive (PLI) scheme for EVs.
Maruti Suzuki, Hero MotoCorp, and Bajaj Auto have already filed applications under the same.
The government has also revised the GST (goods and services tax) to 5% for electric vehicles (EV) compared to the 29-50% range for ICE (internal combustion engine) vehicles.
The attention will now turn to the amount of disruption that Tesla's entry will cause in India's auto market, especially in the EV segment. Last year, both Tata Motors and M&M had voiced concerns over Telsa's tax demands.
In September 2021, Shailesh Chandra, President of Tata Motor's passenger vehicles unit said the reduction in import duties is contrary to the government's FAME program which incentivises local production and affordability.
Mahindra & Mahindra (M&M) too stated that an import duty cut would be unfair when the government's priority is Make in India.
Tata Motors accounts for 90% of the passenger EV market in India while Mahindra & Mahindra (M&M) dominates the commercial EV space in the country.
However, Tesla is the largest profitable EV company in the world. Therefore, it's no surprise that both companies would prefer to avoid competing with it.
But we don't think there is any need to over hype the situation. Yes, there will be disruption but there won't be a long-term threat to the business models of Indian auto firms, as long a they adapt to the new reality.
In any industry, whenever an aggressive new player makes an entry, the incumbents will have to make changes in the way they do business to compete against the newcomer.
Those that manage this transition well are likely to emerge stronger than before the entry on the new firm. Those that don't manage the transition well, are likely to be relegated to tier-2 status within the industry.
We've already seen this play out in India's telecom industry after the entry of Jio. Bharti Airtel handled the challenge well but Vodafone and Idea did not.
However, the industry's ecosystem and the Indian consumer both benefited from the Jio's entry.
Thus, when Tesla comes to India, it's a certainty that some auto firms will do better than others. It's just a question of which ones will respond better than the others.
There will no doubt be a huge response to Tesla's cars in India. Pre-bookings of Tesla's first 'Made in India' car will likely to break records. The disruption will be significant and India's auto firms will do well to be fully prepared for it.
Indian auto firms can take comfort from the fact that Tesla while having a huge first mover advantage has actually lost market share over the years to many competitors, even in the US.
Over time, as India's EV market matures, Tesla's appeal will not be as strong as it is now. However, for this to happen, Indian EV makers will have to pull up their socks. They will have to invest time, money, and a significant amount of talent, to prepare themselves for the new reality of competing with 'Made in India' Telsa cars.
If they don't, there is a real chance that the market will change before they do. The rug could be pulled from under their feet.
Of course, India's auto firms are well aware of the threat posed by Tesla. They have time on their hands to prepare.
Investors' responsibility is to identify which companies are planning ahead, are backing their words with action, and are willing to adapt... and which ones are not.
That should be a big factor in making a buy/sell decision in India's EV stocks.
Do check out India's best EV stocks.
Happy investing.
Investment in securities market are subject to market risks. Read all the related documents carefully before investing
Safe Stocks to Ride India's Lithium Megatrend
Lithium is the new oil. It is the key component of electric batteries.
There is a huge demand for electric batteries coming from the EV industry, large data centres, telecom companies, railways, power grid companies, and many other places.
So, in the coming years and decades, we could possibly see a sharp rally in the stocks of electric battery making companies.
If you're an investor, then you simply cannot ignore this opportunity.
Details of our SEBI Research Analyst registration are mentioned on our website - www.equitymaster.com
Disclaimer: This article is for information purposes only. It is not a stock recommendation and should not be treated as such. Learn more about our recommendation services here...