Paytm Disappoints Investors. Stock Lists at 9% Discount
Nov 18, 2021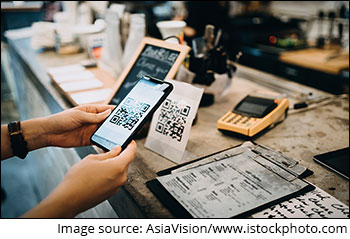 Paytm operator One 97 Communications made an underwhelming start on the Dalal Street today as the initial public offering (IPO) listed on the stock exchanges.
After the weak listing, the scrip hit a low of Rs 1,586.3, eroding more than one-fourth of investors wealth just in a few minutes of listing. This valued the Ant Group-backed digital payments firm at around Rs 1.11 tn.
The stock opened at Rs 1,950 on the NSE and the listing price on the BSE was Rs 1,955, against the issue price of Rs 2,150 per share.
Along with Paytm, the KFC and Pizza Hut operator, Sapphire Foods, also made its debut today. The company listed at Rs 1,350, a premium of 14% over its price of Rs 1,180.
The mega share sale of Paytm was the largest ever initial stake sale by any domestic company via the primary route. The company raised as much as Rs 183 bn through its IPO.
One 97 Communications received tepid response from investors
The IPO was subscribed less than two times.
Net qualified institutional investors supported the issue during 8-10 November 2021, subscribing for shares 2.79 times the portion set aside for them.
Retail investors also aided the offer to some extent by bidding for shares 1.66 times the reserved portion.
But non-institutional investors had put in bids for only 24% of the reserved portion.
Motive behind the public offer
Rs 43 bn towards growing and strengthening Paytm ecosystem
Rs 20 bn towards investing in new business initiatives, acquisitions, and strategic partnerships
General corporate purposes
Company financials
Paytm has been a loss-making company. That is because of its high-cost base.
However, the company has meaningfully reduced its costs over the years. A major part of this cost reduction is on the back of lower cashback and incentives.
The company's chief executive and founder Vijay Shekhar Sharma had told that Paytm may turn profitable this year due to an increase in the use of its payment platforms during the pandemic.
For the first three months of this fiscal year, Paytm's revenues were up 46% to Rs 9.5 bn as against Rs 6.5 bn in the same quarter last fiscal.
Paytm's losses stood at Rs 3.8 bn for the three months ended June 2021.
Key Financial Parameters
Year Ended
3 Months Ended
(Rs m)
19-Mar
20-Mar
21-Mar
20-Jun
21-Jun
Revenues
35,797
35,407
31,868
6,494
9,480
Revenue Growth (%)
-
-1.10%
-10.00%
-
46.00%
Expenses
77,439
61,382
47,830
9,333
13,123
Net Loss
-42,309
-29,424
-17,010
-2,844
-3,819
Data Source: RHP
Paytm's bet on financial services has passed with flying colours as it contributed almost 80% of the revenues.
The key driver of Paytm's revenue is the gross merchant volume (GMV) that is processed in its platforms and the average commission it earns on the same.
It defines GMV as total payments made to merchants using Paytm products. It does not include any consumer-to-consumer money transfers.
Paytm has scaled down its marketing expenses over the last two years. These spends refer to cashback/incentives given to users to maintain a higher market share.
Digital payments industry in India
Digital payments have been growing steadily over time. However, India continues to be a cash-driven economy.
In the financial year 2021, the digital payments market size by value stood at approximately US$20 tn with 43 bn transactions during the year. Digital payments are expected to more than double from US$20 tn in 2021 to US$40-50 tn by 2026.
Money transfer between consumers and merchants using wallets or UPI is becoming highly ubiquitous in India and has led to a surge in mobile payments over the last few years.
Mobile payments increased approximately 16 times from 1.6 bn in 2017 to 26 bn in 2021. Mobile payments are expected to reach around US$3.1 tn by value by 2026.
Paytm has been around for a long time in the digital payment segment. And that gives this company an advantage in this space.
Also Paytm has been able to attract some marquee clients in its investor portfolio, which has given a leg up to its business expansion in the recent years.
The company is backed by Softbank, Ant Financial, AGH Holdings, SAIF Partners, Berkshire Hathaway, T Rowe Price, and Discovery Capital.
Intense competition
Paytm competes with a diverse range of businesses due to its large portfolio.
It has spent billions into spreading itself into a variety of business segments including insurance sales, wealth management, digital gold, travel, and movie ticketing, fantasy sports, e-commerce, etc.
From payments banks, payment system operators, UPI apps and wealth management platforms, the company goes up against the likes of Airtel, Reliance Jio, WhatsApp, MobiKwik, BillDesk, Google, PhonePe, and many others.
Paytm has specifically noted that some of its competitors may get licenses that may hinder Paytm's ability to offer certain services going ahead.
Speaking of Paytm IPO, here's what Richa Agarwal, lead small cap analyst at Equitymaster, wrote in an edition of Profit Hunter...
I'm a big admirer of these companies as a consumer.

However, looking at them through an investor's lens, I'm sceptical. These successful disruptors aren't anti-fragile themselves.

In a world of cheap money and deep pocketed private investors willing to burn cash on promising ideas, they are facing brutal competition.

Their only chance of survival is their ability to raise more money. Hence the IPOs.
About One 97 Communications
Incorporated in 2000, Paytm's parent One 97 Communications is India's leading digital ecosystem for consumers as well as merchants.
As of March 2021, the company had more than 333 m client base and around 21 m registered merchants to whom it offers payment services, financial services, and commerce and cloud services.
The company's name 'Paytm' has become for payments what 'Google' is to internet search.
Paytm is available across the country with 'Paytm karo' evolving into a verb for hundreds of millions of Indian consumers, shopkeepers, merchants, and small businesses.
Paytm is the only payments company in India that, together with their affiliates, owns each layer of the payment stack. It offers services such as Paytm Wallet, Paytm QR, Paytm Soundbox, Gold investments and Fixed Deposit, Paytm Postpaid, Merchant Cash Advance, and FASTag.
To know what's moving the Indian stock markets today, check out the most recent share market updates here.
Disclaimer: This article is for information purposes only. It is not a stock recommendation and should not be treated as such. Learn more here...