Why Reliance Power Share Price is Rising
Nov 20, 2023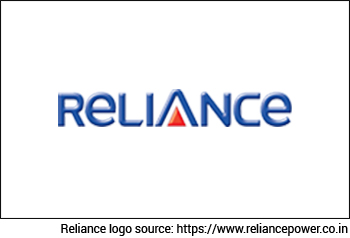 In recent months, the power sector has experienced a significant boost in its fortunes, thanks to a surge in power consumption and the initiation of renewable energy initiatives.
This positive trend is reflected in the performance of stocks in the power sector, where several companies have witnessed impressive gains.
The overall power sector is shining, with the Nifty Energy Index leading the way. This index has delivered a return of 5.2% in the past one month, outpacing the benchmark Nifty, which has offered a modest 1% return.
One power stock that has made a strong comeback is Reliance Power. In just five trading sessions, its share price has gone up by 9.1%.
Looking at the bigger picture, Reliance Power has surged 22.7% in a month and 96.5% over the past six months.
Let's find out what's driving the rally.
#1 Improved Financials
Reliance Power share price is on a positive trajectory, as reflected in its financial results for the September 2023 quarter.
The consolidated net loss has narrowed, decreasing from Rs 3.4 billion (bn) in the same period last year to Rs 2.4 bn this quarter. This shift is attributed to higher revenues.
Moreover, the trend of reducing net loss persists on a quarter-on-quarter (QoQ) basis as well, with the figure falling from Rs 3 bn.
In terms of overall income, Reliance Power has marked growth, with total income reaching Rs 21.3 bn during the quarter, compared to Rs 19.5 bn in the corresponding period last year.
This upward trajectory in total income indicates the positive strides the company is making in enhancing its financial outlook.
#2 Capital Infusion from Reliance Commercial Finance
Reliance Commercial Finance, a wholly-owned subsidiary of Authum Investment & Infrastructure, has put forward a significant investment proposal of Rs 10.4 bn in two companies within the Anil Ambani group.
The first investment amounts to Rs 8.9 bn in Reliance Infrastructure, while the second is Rs 1.5 bn in Reliance Power.
But, why is Reliance Commercial infusing capital into these two companies?
Let's look at the backstory.
Before 2020, Reliance Infrastructure and Reliance Power guaranteed loans for Reliance Commercial Finance. When Authum took over Reliance Commercial Finance, they asked for the guaranteed money.
To resolve this, Reliance Infra and Reliance Power proposed converting the owed money into company shares instead of paying in cash.
Authum agreed to this arrangement, becoming a shareholder in Reliance Infra and Reliance Power. This helps settle the debt issue, and Reliance Power benefits from the capital infusion received through the shares.
So, the board of Reliance Infrastructure has given the green light to a plan that involves issuing 44.3 million (m) preferential shares at Rs 201 per share. Similarly, the board of Reliance Power has approved the issuance of 75.9 m preferential shares at Rs 20 per share.
#3 Stake Increase by Institutional Investors
Domestic institutional investors (DIIs) have boosted their stake in Reliance Power by 2%, reaching 5.16% from 3.17% in the June 2023 quarter. This signals a growing confidence in the stock.
Likewise, foreign institutional investors (FIIs) have also demonstrated a positive trend, displaying a 0.3% uptick in stake. Their stake now stands at 7.66%, compared to 7.34% in the previous quarter.
Click here to check out the latest shareholding pattern of Reliance Power.
What's Next?
As we know, India's growing population and increased per capita income are fueling a surge in electricity demand.
Reliance Power, recognising the need for a diverse energy approach, stands out with its product portfolio. From coal and natural gas to wind, solar, and hydroelectric projects. Reliance Power covers the entire spectrum of power generation sources.
In line with the government's push for renewable energy, Reliance Power has made significant strides in this direction. A recent highlight is their memorandum of understanding (MOU) with the Government of Rajasthan to develop 6,000 megawatt (MW) of solar power projects in the state over the next decade.
One positive for the power sector is that companies typically have a secure position due to high entry barriers, creating a space where established players can thrive.
However, there are strong competitors in the sector which Reliance Power has to compete with.
And the company does not have a long history of reporting consistent profit and regular sales.
So, we'll have to wait and see how Reliance Power is able to make the most of this electricity demand and leverage on the growing needs of the power sector.
How Shares of Reliance Power have Performed Recently
Over the past one month, Reliance Power share price has surged by 20.6%. In 2023 so far, the shares have rallied over 51%.
The company touched its 52-week high of Rs 23.74 on 17 November 2023 and its 52-week low of Rs 9.05 on 28 March 2023.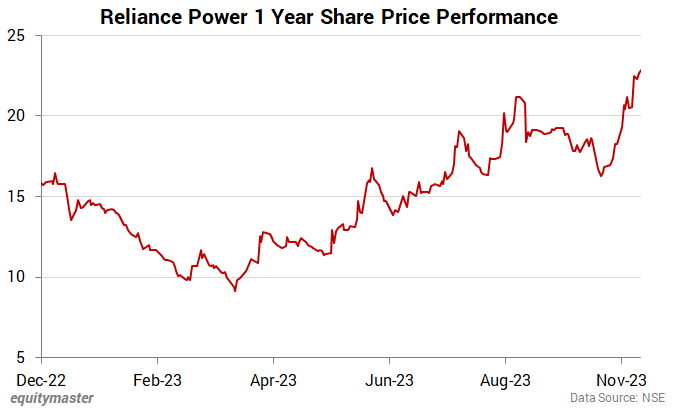 About Reliance Power
Reliance Power is a key player in the construction and operation of power projects, both within India and on the international stage.
The company claims to have the largest portfolio of power projects in the private sector, including both thermal and renewable energy sources.
With nearly 6,000 MW of operational power generation assets, Reliance Power's strength lies in the strategic placement of each project. These projects are located near readily available fuel supplies or load centres, optimising efficiency and accessibility.
In July 2023, the company took a strong step to expand its global reach.
Reliance Power entered into a MOU with the Government of Bangladesh to develop a gas-based project with a capacity of 3,000 MW in a phased manner.
This international collaboration underscores Reliance Power's commitment to expanding its footprint and contributing to power generation beyond national borders.
For more details about the company, you can have a look at the Reliance Power fact sheet and quarterly results on our website.
You can also compare Reliance power with its peers:
To know what's moving the Indian stock markets today, check out the most recent share market updates here.
Investment in securities market are subject to market risks. Read all the related documents carefully before investing
Want to Grow Your Wealth With Safe Stocks?
If you want a simple, safe, and hassle-free approach to long term wealth building...
Without having to worry about negative news or every little downswing in the market...
And without having to worry whether your investments will actually "deliver"...
You must read our note on Blue Chip Stocks now.
Details of our SEBI Research Analyst registration are mentioned on our website - www.equitymaster.com
Disclaimer: This article is for information purposes only. It is not a stock recommendation and should not be treated as such. Learn more about our recommendation services here...