Multibagger Smallcap Stock Plans Rs 1,400 Crore Fundraise for its Semiconductor Business
Nov 20, 2023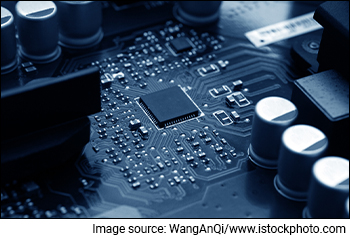 In the first half of FY24, Indian companies are turning to Qualified Institutional Placement (QIP) for fundraising, with about 20 firms raising Rs 14 billion (bn).
This marks a fourfold increase from the same period last year, solidifying QIPs as one of the top choices for capital infusion.
QIP is a straightforward way for listed companies to quickly raise funds from institutional investors without the complexities of IPOs or FPOs. It's a streamlined process that allows companies to meet their financial needs efficiently.
In continuation of this trend, last week, we discussed the travel tech firm RateGain Travel Technologies launching its QIP.
Adding to the enthusiasm surrounding QIPs, Kaynes Technology has revealed its intentions to raise capital through the same avenue.
Kaynes Technologies plans to raise the amount not exceeding Rs 14 bn through a QIP.
There are speculations that the company might use these funds on its semiconductor facility.
Semiconductor Hub Expansion
Kaynes Technology is in the process of establishing a semiconductor OSAT (outsourced semiconductor assembly and test) manufacturing and compound semiconductor facility in Telangana.
With an investment of Rs 28 bn, the facility is set to occupy a 40-acre plot in the Ranga Reddy district of Telangana.
This facility is designed to be a world-class plant, incorporating state-of-the-art technology and machinery.
The OSAT will be established under the umbrella of Kaynes Semicon, a subsidiary specifically created by Kaynes Technology to spearhead its entry into the OSAT/ATMP (assembly, testing, marking, and packaging) services.
Additionally, Kaynes Semicon will collaborate with IIT Bombay to establish an R&D centre focused on package research.
In pursuit of its foray into OSAT/ATMP services, Kaynes Technology, through Kaynes Semicon, aims to provide global support to customers, particularly in QFN, SOT, TO, BGA, and FC BGA package types over the initial three years, with a specific emphasis on power devices.
Strategic PLI Positioning
In a proactive move, the company has thrown its hat into the ring by submitting a bid for the PLI 2.0 initiative, tailored specially for the IT hardware sector.
Operating within the industrial manufacturing industry, Kaynes Electronics is already in an exciting line of business, and now looks to channel Rs 1.5 bn into the construction of a cutting-edge facility located in Chamarajanagar, Karnataka. The project is well underway, with construction operations in full swing.
PLI 2.0 scheme is poised to provide a significant boost to domestic IT hardware manufacturing in India.
By offering financial incentives to companies to produce their goods within the country, this initiative is expected to result in expanded production capacities, cost reduction, and heightened innovation within the Indian IT hardware sector.
In recent developments, Kaynes has been selected in the list of approved applicants under this PLI for IT hardware.
What Next?
Looking beyond the semiconductor domain, Kaynes Technology India is poised for substantial growth by reinforcing its footprint in the aerospace industry.
With a determined plan to elevate the aerospace segment's contribution to its overall revenue, the company targets a notable 10% share by the first half of FY25.
Currently, the aerospace segment plays a pivotal role in Kaynes Technology's operations, and the company's goal is to achieve a 10% revenue contribution in the initial half of FY25.
While orders are already in place, the focus is on converting them through the first article inspection and obtaining customer approvals, a process expected to conclude within the next two quarters.
Kaynes Technology's robust market position is evident in its substantial order book, valued at Rs 30 bn. These orders, slated for execution over the next 18-20 months, indicate a promising revenue trajectory for the company in the short to medium term.
How Shares of Kaynes Technology have Performed Recently
Kaynes Technology share price is up 89% in past six months, while over the year, shares of the company have gained over 250%.
The company touched its 52-week high of Rs 2,965.6 on 12 October 2023 and its 52-week low of Rs 666.8 on 22 November 2022.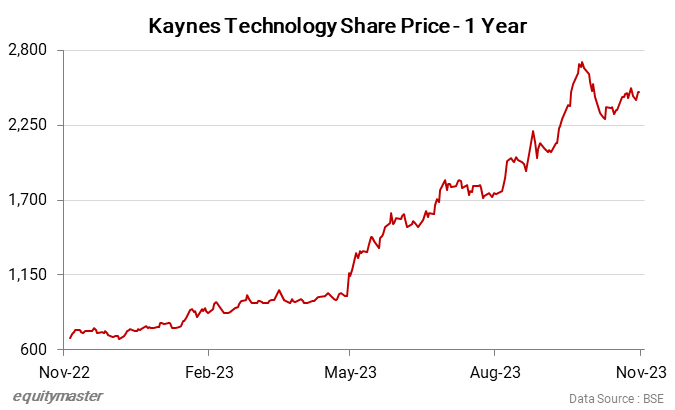 About Kaynes Technology
Kaynes Technology is a leading end-to-end and IoT solutions-enabled integrated electronics manufacturer in India.
The company has garnered over three decades of expertise in providing comprehensive Electronic System Design and Manufacturing (ESDM) services.
With a team of highly skilled engineers and technicians, KTIL caters to a diverse range of industries, including automotive, industrial, aerospace and defence, Internet of Things (IoT), Information Technology (IT), and more.
The company specialises in the assembly of complex PCBs, ensuring high-quality and precision.
For more details, you can have a look at the Kaynes Technology company fact sheet and quarterly results.
You can also compare Kaynes Technology with its peers:
Kaynes Technology vs Apollo Micro Systems
To know what's moving the Indian stock markets today, check out the most recent share market updates here.
Investment in securities market are subject to market risks. Read all the related documents carefully before investing
Safe Stocks to Ride India's Lithium Megatrend
Lithium is the new oil. It is the key component of electric batteries.
There is a huge demand for electric batteries coming from the EV industry, large data centres, telecom companies, railways, power grid companies, and many other places.
So, in the coming years and decades, we could possibly see a sharp rally in the stocks of electric battery making companies.
If you're an investor, then you simply cannot ignore this opportunity.
Details of our SEBI Research Analyst registration are mentioned on our website - www.equitymaster.com
Disclaimer: This article is for information purposes only. It is not a stock recommendation and should not be treated as such. Learn more about our recommendation services here...