Why Adani Green Energy Share is Falling
Nov 22, 2022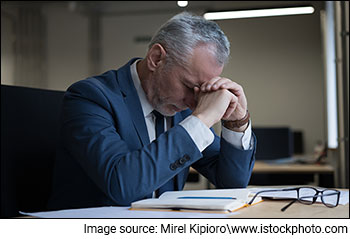 After witnessing a massive rally in the past two years, the fastest growing stock of 2022 - Adani Green Energy has slowed down.
Shares of the green energy company have remained rangebound in latter part of 2022.
Since August 2022, shares have fallen from Rs 2,500 to Rs 2,000 at present.
Let's find out why...
Why Adani Green shares are under pressure
#1 Possible stake sale by TotalEnergies
In September this year, it was reported that TotalEnergies could sell a small part of its 20% stake in Adani Green Energy.
TotalEnergies is a French-based energy company, which bought 20% of Adani Green in 2021 for US$2 billion (Rs 163.4 bn).
The stake was worth about US$10 bn at the end of August 2022, according to TotalEnergies. Total is looking to cash in on the sharp rally.
Prior to this acquisition, Total had acquired 50% stake in a joint venture with Adani Green that had a portfolio of 2.35 gigawatts (gw) of solar power assets.
In June this year, Total also agreed to buy a 25% stake in Adani New Industries for an undisclosed sum. Adani New Industries is owned by Adani group's flagship firm Adani Enterprises.
The details of when the stake sale will take place or how much Total will sell are not confirmed yet.
The stake sale by TotalEnergies could be one possible reason why Adani Green shares have underperformed.
Interestingly, foreign investors are continuously selling stake in the firm. The latest shareholding pattern of Adani Green shows that FIIs have sold for eight consecutive quarters now.
FIIs on a Selling Spree
| Qtr. Ending | 20-Dec | 21-Mar | 21-Jun | 21-Sep | 21-Dec | 22-Mar | 22-Jun | 22-Sep |
| --- | --- | --- | --- | --- | --- | --- | --- | --- |
| FII (%) | 22.78 | 21.47 | 20.32 | 17.83 | 16.59 | 16.53 | 15.91 | 15.25 |
Source: Equitymaster
#2 Profit booking post quarterly results
Investors often book profit even after the company reports good results because they are worried the stock may fall in the future. If they can sell their shares at a high price, they might make more profit than if they had held on for some time.
A week ago, Adani Green reported its Q2 results where revenues rose 13% and profit after tax saw a growth of 46% on a year-on-year (YoY) basis.
This is a typical example of stock price falling after reporting good quarterly results, because investors may feel the company's performance is unsustainable or that its earnings will drop in future quarters.
Other reasons why Adani Green is falling
In May 2022, Adani Green was showing similar downtrend in its share price.
This was owing to different reasons. Back then, all Adani group stocks were falling, and Adani Green was no exception.
Among other reasons were valuation concerns and interest rate concerns.
You can read our detailed editorial about these reasons here: Why Adani Green Share Price is Falling.
How Adani Green has performed in 2022 so far
In 2022 so far, Adani Green shares have gained 51%.
The downtrend is seen in the past five days where it has fallen over 8% and over a 3-month period where it shows 21% losses.
Adani Green has a 52-week high of Rs 3,048 touched on 19 April 2022 and a 52-week low of Rs 1,242 touched on 1 December 2021.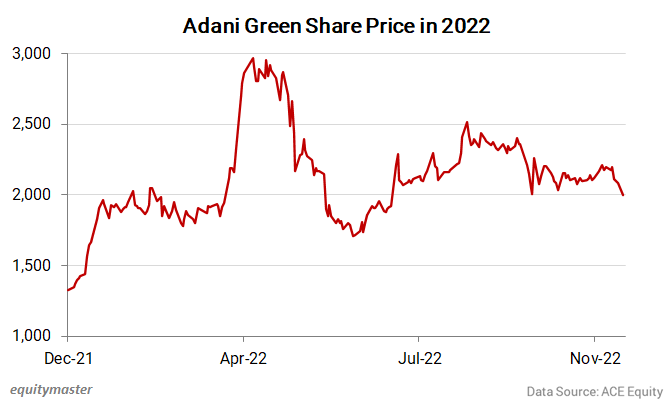 Take a look at the table below which shows the comparative analysis of Adani Green with its peers.
Comparative Analysis
Company
Adani Green
CESC
Inox Wind
JSW Energy
Tata Power
ROE (%)
47.6
13.9
-22.8
10.9
3.2
ROCE (%)
7.8
12.9
-8.0
12.2
7.3
Latest EPS (Rs)
3.4
10.1
-150.8
13.5
8.0
TTM PE (x)
595.1
7.1
0.0
22.6
27.8
TTM Price to book (x)
46.9
0.9
0.9
2.8
2.8
Dividend yield (%)
0.0
6.2
0.0
0.7
0.8
Industry PE (x)
24.9
Industry PB (x)
3.1
Data Source: Equitymaster, Ace Equity
For a detailed comparison, check out the best power stocks in India.
About Adani Green
Incorporated on 23 January 2015, Adani Green Energy currently has a project portfolio of 20,284 MW, and it's one of India's largest renewable energy enterprises.
The firm administers 5,290 megawatts of wind energy and solar power facilities in 11 Indian states, including Uttar Pradesh, Rajasthan, Punjab, Maharashtra, Gujarat, Madhya Pradesh, Chhattisgarh, Andhra Pradesh, Karnataka, Tamil Nadu, and Telangana.
For more details about the company, you can have a look at the Adani Green factsheet and its latest quarterly results on our website.
You can also compare Adani Green with its peers.
Adani Green vs Inox Wind Energy
Should You Invest in Smallcaps Now?
Before you make that decision, here's something you should know...

Richa Agarwal, our top small cap analyst, has just published her report on smallcaps.

It's called Top 3 Stocks for 2023.

If you want to grab a copy of this report, all you need to do is join Richa's upcoming mega event.

It's Free.

Full Details Here

Disclaimer: This article is for information purposes only. It is not a stock recommendation and should not be treated as such. Learn more about our recommendation services here...