5 Indian Companies Embracing Blockchain Technology
Nov 23, 2021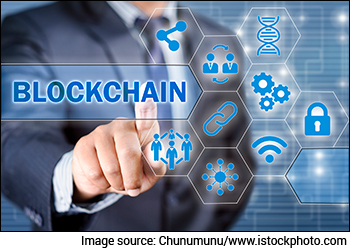 Be it cryptos, NFTs, or loss making internet businesses, hot themes are taking off these days.
While cryptos have drawn a lot of polarising opinions, their underlying technology - the blockchain - seems to have found favor.
And why wouldn't it given its multiple uses across different industries.
Blockchain is basically a distributed ledger, whose applications could revolutionise many industries.
No data stored on the blockchain can be modified or erased without all of the participants agreeing to the change. That means it protects against fraud.
What's more, the data stored on the blockchain is distributed among all participants, which takes away a single point of failure for the system.
The tamper proof and transparent nature of the blockchain technology makes it an interesting prospect for all kinds of industries.
Let's take a look at Indian companies which are embracing the blockchain technology.
Do note that companies are picked based on them having blockchain based products/services, investment in blockchain startups, and companies involved in blockchain transactions.
#1 TCS
India's largest IT services provider by revenue, Tata Consultancy Services (TCS) is betting on blockchain technology and betting big!
Over the years, you may have seen these headlines in business dailies:
TCS launches new Blockchain-based solution for financial institutions.

TCS partners with LACChain to develop blockchain ecosystem across Latin America.

TCS deploys blockchain-based system to speed up Covid-19 diagnostic test-kit production.
The company is eyeing a significant opportunity from developing and implementing blockchain-based solutions in financial services and other sectors globally.
It has won six large deals in the last seven months for projects that are built atop blockchain technology. This includes the recent deal in which TCS and Newgen have partnered to build a bank guarantee program for a leading Israeli bank.
Within the company, TCS has developed a startup TCS Quartz which offer blockchain-based solutions to customers.
A month ago while declaring results, TCS said that it's seeing healthy deal wins from new areas in its platform business such as cryptocurrency exchanges.
#2 Tata Motors
Another Tata group company which is embracing blockchain technology is Tata Motors.
The auto major has invested in blockchain technology firm Circulor. This investment by InMotion, Jaguar Land Rover's (JLR's) venture capital and mobility services arm, enables JLR to source premium materials with greater transparency.
There's also a program titled TACNet 2.0 (Tata Motors AutoMobility Collaboration Network 2.0) by Tata Motors. Here, it collaborates with startups for innovative solutions.
Tata Motors has been at the forefront of being innovative, as evidenced by the partnerships it has fostered with startups.
#3 Reliance Industries
Mukesh Ambani made his statement back in 2019 in Reliance's annual general meeting (AGM) that it has grand plans to leverage blockchain technology.
From a blockchain perspective, in August 2019, Reliance Jio had announced to have installed one of India's largest blockchain networks with tens of thousands of nodes.
At the time, Ambani had said usage of blockchain technology will deliver unprecedented security, trust, automation, and efficiency to almost any type of transaction.
Jio has been granted around 371 patents across multiple jurisdictions. In fiscal 2021 alone, the company filed for 38 patents and was granted 40. A key technology area covered by the patents was Quantum Blockchain Network Technology.
Reliance Industries also has an equity stake of 5.56% in UK-based blockchain startup Vakt Holdings Ltd for US$5 m.
#4 Infosys
IT companies are known for their technological adoptions and the solutions they offer. So Infosys could not stay away from the blockchain technology.
Infosys has a digital banking solution under its sleeve - Finacle. Finacle is a part of EdgeVerve Systems, which is a wholly-owned product subsidiary of Infosys.
In 2016, EdgeVerve Systems launched its first blockchain solution. Then in 2018, it launched Finacle Trade Connect, another blockchain-based solution.
Finacle helps Infosys in winning large deals in the banking, financial services and insurance (BFSI) sector, which is undergoing massive digital transformation in the wake of the coronavirus pandemic.
How you may ask?
Finacle helps large banks modernise their outdated IT systems.
Back in 2019, Infosys launched three blockchain-powered distributed applications for government services, insurance, and supply chain management.
In July this year, a subsidiary of Infosys finished the pilot of a blockchain solution designed to improve the efficiency, access, and security of vital recordkeeping in California.
#5 Tata Steel
Tata Steel is a part of this list as it was involved in blockchain transactions.
In April this year, Tata Steel, along with HSBC, executed a blockchain-enabled paperless trade transaction.
The steel major used a blockchain platform pioneered by HSBC to complete a trade finance transaction with a UAE-based company.
Blockchain-based platform Contour has enabled end-to-end digitisation of the letter-of-credit transaction, including the e-presentation of trade documents. It also enables the parties involved to transfer, manage and present electronic bills of lading and other supporting documents within its platform.
This transaction validates the commercial and operational viability of blockchain as an alternative to conventional exchanges for paper-based documentation.
With this, Tata Steel also signaled its intent to explore similar opportunities in other geographies.
That's not all. Tata Steel believes blockchain can trace carbon emissions for mining and metal companies.
Which other companies are embracing blockchain technology?
Apart from the above, there are a few Indian IT companies which have invested in blockchain technology.
For instance, HCL Technologies in collaboration with R3, a leading enterprise blockchain software firm, launched BUILDINGBLOCK last year. This is a blockchain platform to streamline business property insurance for multinational companies.
It has also joined with blockchain in transportation alliance (BiTA), an organisation dedicated to determining best practices and standards for blockchain in the transportation industry.
HCL's products - HCL Supply Chain Solutions, HCL VDA, and HCL BFSI Solutions all use and enable blockchain and machine learning to improve in their fields.
Coming to Wipro, in 2019, the IT major developed a blockchain-based solution prototype, in partnership with enterprise software firm R3.
In August last year, it implemented a blockchain-based small-scale liquefied natural gas (ssLNG) trading platform for Uniper Global Commodities SE, the energy and power commodity trading arm of Germany-based Uniper.
Then there's Tech Mahindra, which has huge plans in this segment. The company plans to launch 'Stablecoin-as-a-Service' Blockchain Solution with Quantoz for global BFSI customers.
In fact, it has completed several successful blockchain implementations especially across the BFSI, manufacturing, retail, and telecom verticals in fiscal 2021.
Tech Mahindra was recognised amongst the top 50 global blockchain companies by Forbes for 2021.
Apart from this, several Indian banks have already partnered with blockchain-based companies which provides solutions for cross-border transactions and remittances.
If themes like blockchain interest you, check out Equitymaster's powerful stock screener.
From best digitisation stocks to best fintech stocks, it covers all the themes that can turn out to be a megatrend in India.
Blockchain can profoundly change how the world works...
Earlier, blockchain adoption in India was slow. Now, the technology is being well received in India. Companies are trying to explore the technology by incorporating it in their daily business processes.
But here's the crux.
This technology is yet to be understood in many industries. There's lack of knowledge and understanding which is the primary challenge stopping the adoption of blockchain technology.
Then there are also misconceptions that blockchain will be replacing the current systems, which may or may not be true.
Either way, blockchain's extensive applicability shows us that it will sustain and it's here to stay.
In 2018, Prime Minister Narendra Modi advocated the use of blockchain in agriculture.
There are businesses which have already adopted to this technology and the trend is only going to continue.
Disclaimer: This article is for information purposes only. It is not a stock recommendation and should not be treated as such. Learn more about our recommendation services here...