Why Olectra Greentech Share Price is Falling
Nov 23, 2022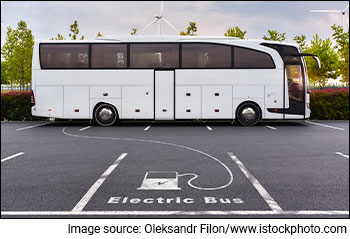 There is a sudden change in market sentiment.
Investors are still optimistic as US corporate earnings remain strong and US Fed officials have indicated they're open to slowing the pace of rate hikes.
Yet, shares of some companies continue to fall. One of them is Olectra Greentech. The company is one of the electric vehicle stocks in India.
The multibagger stock of recent past has fallen more than 18% in the last month. (In 2023 so far, Olectra Greentech shares have fallen 18% already.)
So, what is the reason behind the decline? And what is the near-term outlook for the stock?
Let's find out...
Sequential drop in revenue worries investors
Olectra Greentech's shares have been in a downtrend in the last month. This was despite the fact that the company reported robust numbers for the September 2022 quarter.
The company's revenue for the September 2022 quarter jumped 152% YoY to Rs 1.8 bn from Rs 728 m in the year-ago quarter. Net profit for the period also doubled to Rs 74 m from Rs 36 m a year ago.
However, shares of the company are trading lower as the company's financials have taken a hit on a sequential basis. Compared to the June 2022 quarter, revenue is down over 30% while net profit has more than halved.
The company has also lost the Rs 700 m order it received from the Gujarat State Road Transport Corporation (GSRTC) to supply an additional 50 buses.
The company had initially bagged an order from GSRTC for 50 electric buses, which were supplied. However, the two entities could not agree on certain critical commercial aspects that were considered for arriving at the cost of the project.
This includes advertisement rights on the buses and the minimum assured KMs to be offered.
Robust Order Book to Drive Revenue
Even though Olectra has lost the GSRTC order, the company's order book continues to be strong.
It has been consistently bagging larger orders for electric buses.
Recently, Olectra won an order to supply 300 electric buses worth Rs 5 bn to Telangana State Road Transport Corporation (TSRTC).
According to the statement, Evey Trans will procure these buses from Olectra Greentech Ltd, which will be delivered over a period of 20 months.
Besides this, in May 2022, Olectra Greentech won an order worth Rs 36.8 bn to supply 2,100 electric buses to Brihanmumbai Electric Supply & Transport (BEST). The BEST is Mumbai's public transport service and electricity provider. This is India's largest electric mobility order ever.
Olectra Greentech is also planning to raise up to Rs 8 bn through the issuance of securities. The company is looking to raise the amount through issuance of equity shares and /or through sale of securities convertible into equity shares.
These could include issuance of warrants through one or more private offerings, it said in a statement. However, Olectra Greentech did not specify the purpose for raising the funds.
How Olectra Greentech shares have performed lately
Olectra Greentech shares have declined by more than 11.4% in the last five days and more than 18% in the month gone by.
The stock is also down over 40% in 2022. However, since the March 2020 crash, the stock is up more than 900%. This has been on the back of various large orders.
At the current price, Olectra Greentech trades at a PE multiple of 69.75 and a price to book value multiple of 5.17.
The stock's promoter holding stands strong at 50% of the company. FIIs have steadily increased their exposure to the stock. FII ownership stood at 3.13% in June 2021. As of September 2022, FIIs hold a 10.41% stake.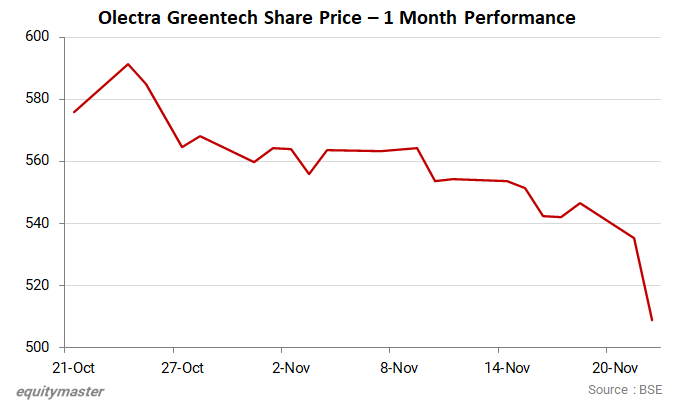 About Olectra Greentech
Olectra Greentech (Olectra) is India's largest pure electric bus manufacturer. The company's manufacturing facilities are in Hyderabad, India.
After leading in the commercial run of electric buses, the company is expanding its product line in the e-mobility segment for 3-wheeler electric autos and electric trucks.
OGL is also an ISO-9001:2008 certified company. Its research & development (R&D) Centre is recognized by the Department of Scientific and Industrial Research, Govt. of India
To learn more about the company check out, Olectra Greentech's financial factsheet and quarterly results.
Now Before You Go, This is Something You Need to Know...
Equitymaster's co-head of research, Tanushree Banerjee, believes that one of the fastest growing sectors this decade will be defence.
In fact, within defence there are segments with 33x growth potential by 2030. Yes, it's a massive opportunity.
Tanushree has already identified 3 next-generation defence stocks to ride this mega opportunity.
Now, these are not ordinary defence stocks.
Very few people know about the real potential of these companies.
Because these companies are working silently on developing next-generation warfare technologies.
Our research says that these 3 defence stocks could potentially provide you some of the biggest gains of your lifetime.
* 2 out of these 3 stocks have already run up. Act fast or you might completely miss out on this big opportunity.
Disclaimer: This article is for information purposes only. It is not a stock recommendation and should not be treated as such. Learn more about our recommendation services here...
Ayesha Shetty is a financial writer with the StockSelect team at Equitymaster. An engineer by qualification, she uses her analytical skills to decode the latest developments in financial markets. This reflects in her well-researched and insightful articles. When she is not busy separating financial fact from fiction, she can be found reading about new trends in technology and international politics.