This Multibagger Stock Zooms 20% After Dolly Khanna Buys Stake
Nov 24, 2021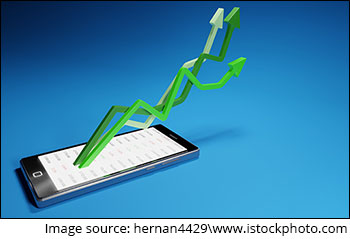 Since 18 November last week, shares of Ajanta Soya are on a tear. From trading at Rs 139.55, they have skyrocketed to Rs 218 today.
That's a 57% gain in just three trading sessions!
But what has triggered such a sharp rally in the stock of this edible oil company?
It has something to do with Dolly Khanna that's for sure.
Dolly Khanna bought 1.4 lakh equity shares in Ajanta Soya, or 0.86% stake at Rs 147.72 per share on the BSE, the bulk deals data showed on 22 November.
Following this news, the very next day, shares of Ajanta Soya was locked in 20% upper circuit.
--- Advertisement ---
Rahul Shah's Lazy Millionaire Summit Is Now LIVE...

Discover the Master Key to Turning Every Market Crash to Your Advantage

Hurry up! Join in now...

Click Here to Join the Lazy Millionaire Summit
------------------------------
Whenever renowned investors pick up stake in a company, the stock jumps the very next day once the details are disclosed. This is true more often than not.
For instance, just last week, we saw how Sunil Singhania bought stake in TV Today Network and shares spiked the very next day.
Who is Dolly Khanna?
Dolly Khanna is a Chennai based large investor, who is known for picking lesser-known midcaps and smallcaps.
She has been investing in stocks since 1996. Dolly Khanna's portfolio, which is managed by her husband Rajiv Khanna, is usually inclined towards more conventional stocks in manufacturing, textile, chemical, and sugar stocks.
Why did Dolly Khanna Invest in Ajanta Soya?
As of September 2021, Dolly Khanna had no holding in Ajanta Soya, shareholding pattern data showed.
Despite the sharp rally seen this year, why did Dolly Khanna bet on this edible oil company?
Shares of the company have already delivered multibagger returns of over 350% in the past year. On a year to date (YTD) basis, they have surged around 250%.
While we don't know why she made a fresh entry in Ajanta Soya, there are some reasons that we can guess...
One reason could be that edible oil prices in the major retail markets across the country have declined recently by Rs 5-20 per kg after various measures, including an import duty cut, by the government. So the branded oil makers have revised the rates for new stock.
Also, domestic edible oil prices have soared in line with global rates which shot up due to reduced availability of edible oils for food use following diversion for biofuel in Indonesia, Brazil, and other countries.
Then there's reasons such as increasing incomes, urbanisation, changing food habits, and higher consumption of processed foods.
Equitymaster's Stock Screener: Identifying High-Potential Stocks Has Never Been this Easy
In its annual report, the company's management said the continued growth of the Indian food market presents an enormous opportunity for a steady growth in revenues and profits.
Here's an excerpt from the annual report:
With the rural India being revisited by marketers through the modern retail (haat) philosophy, the opportunity is huge.
All these reasons combined tend to be positive for Ajanta Soya and will be the key drivers of future consumption growth of edible oil.
Which other companies did Dolly Khanna increase stake in?
During the September quarter, Dolly Khanna bought fresh stake of 1.1% in New Delhi Television (NDTV).
Apart from this, the investor raised holdings in six companies. These were Nitin Spinners, Rama Phosphates, Asahi Songwon Colors, RSWM, NCL Industries, and Rain Industries. Meanwhile, she kept her holding in Polyplex Corporation unchanged.
Data Source: Ace Equity
On the other hand, she exited Shemaroo Entertainment and trimmed her stake in scrips like Aries Agro, KCP, Nucleus Software Exports, Mangalore Chemicals & Fertilizers, Butterfly Gandhimathi, Talbros Automotive, and Deepak Spinners.
Data Source: Ace Equity
How the stock of Ajanta Soya has performed
Ajanta Soya share price opened the day 10% higher at Rs 203 against its previous close of Rs 183.75.
The stock extended gains as the session progressed and rallied 20% to Rs 219.70, also its all-time high.
--- Advertisement ---
There is a new paradigm shift currently unfolding across the global economic landscape...

And at the heart of this massive SHIFT is...

INDIA!

India is on the verge of a multi-trillion-dollar rebirth that could potentially mint countless new millionaires...

If you are on the right side of this mega shift, then it could be your biggest opportunity to build potentially massive wealth over the long term.

Click here to find all the details...
------------------------------
Over the past one year, shares of the company have surged a massive 370%. On a YTD basis too, they are up over 250%.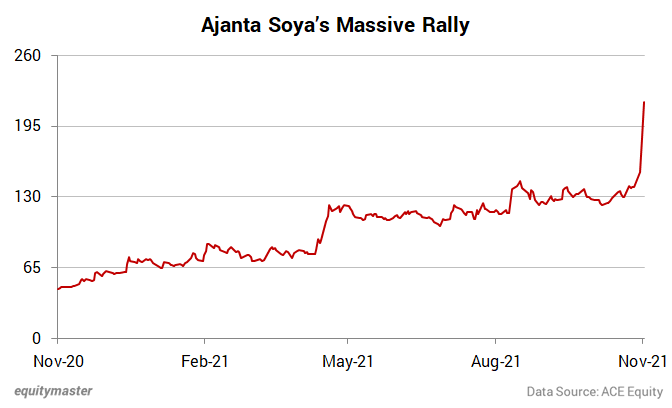 To know more, check out Ajanta Soya's latest shareholding pattern.
About the company
Incorporated on 13 January 1992, Ajanta Soya is engaged in the business of manufacturing of Vanaspati and various kinds of cooking oil with applications products for bakery like biscuits, puffs, pastries, and other applications.
In fiscal, Vanaspati & refined cooking oils accounted for 98% of revenues and other by-products and bakery applications accounted for the rest.
The company has a strong portfolio of brands viz. Dhruv, Anchal, and Parv. The brands have a reputable market share particularly in Northern Indian market.
The company's clients include Cremica, Godrej, Britannia, Bikano, Anmol, United Biscuits, Sungold, Harvest Gold, Parle, PriyaGold, PepsiCo, ITC, Haldirams, and others.
To know more about the company, check out Ajanta Soya's financial factsheet and quarterly results.
You can also compare Ajanta Soya with its peers:
And to know what's moving the Indian stock markets today, check out the most recent share market updates here.
Disclaimer: This article is for information purposes only. It is not a stock recommendation and should not be treated as such. Learn more about our recommendation services here...