Jan 25, 2023 - Why Adani Transmission Share Price is Falling
Why Adani Transmission Share Price is Falling
Jan 25, 2023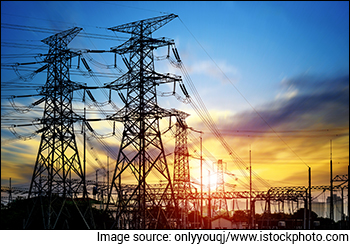 Editor's note: Adani group stocks are the biggest movers in the stock market today. Most Adani group stocks have witnessed a steep selloff.
The selloff comes after Bloomberg reported a US activist firm Hindenburg Research LLC taking a short position on the group stocks.
Reportedly, Hindenburg has accused Adani group of market manipulation and accounting fraud. At the time of posting this, the Adani Group had yet to respond to these allegations.
Note that this selloff comes at a time when the group's flagship firm Adani Enterprises has planned India's biggest every follow-on public offer (FPO).
What's more, the group has big IPOs coming up in the next few years. Adani Group's Chief Financial Officer recently stated that five of its subsidiaries will make market debuts between 2026 and 2028.
Shares of Adani Transmission are down around 5% following these allegations. Interesting to note that the allegations are not the only reasons dragging Adani Transmission shares lower. There are other reasons too.
In November 2022, we wrote about those reasons and explained in detail why Adani Transmission was falling.
Continue reading...
Why Transmission Share Price is Falling
In the past, we wrote about a true multibagger stock and a market darling - Adani Green Energy.
We discussed why Adani Green share price was falling and what lies ahead.
Joining the ranks of recent losers, another Adani group stock has come under pressure in recent months.
We're talking about the conglomerate's power transmission and distribution company - Adani Transmission. From its high of Rs 4,000 touched in September 2022, the stock has corrected around 30% and that too in quick time.
Let's find out why.
Why Adani Transmission Share is Falling
#1 Quarterly result impact amid adverse forex movement
The recent decline in share price of Adani Transmission is due to its Q2 results.
Earlier this month, Adani Transmission reported a 32% fall in its consolidated net profit at Rs 1.9 billion (bn) for the September 2022 quarter. This compared with a profit of Rs 2.9 bn in the year ago period.
The bottomline was impacted due to adverse forex movement adjustment. Here's what the company said in a regulatory filing...
The Q2 number is not comparable on account of adverse forex movement (MTM) of Rs 138 crore (mark-to-market adjustment on foreign currency loans) vs Rs 6 crore gain in the corresponding quarter of the previous fiscal in the AEML (Adani Electricity Mumbai Ltd) business.
Adani Transmission's revenues rose 28% for the said quarter on the back of new transmission lines coming into operation and higher energy demand.
Note that Adani Transmission has been reporting weak earnings for the past couple of quarters if we compare the numbers on a YoY basis.
In the June 2022 quarter, Adani Transmission's net profit declined by 57% while revenues showed a muted growth of 11%.
#2 Weak sentiment surrounding power stocks
In the first half of 2022, there was no stopping power stocks as electricity demand surged strongly in India, driven both by economic growth and a heatwave in the north-western parts of the country.
Most states relaxed Covid related restrictions and businesses started operating at full capacity. As summer season kicked in, many parts of the country experienced heatwaves, drawing up domestic power consumption.
As a result, JSW Energy, Adani Power, Tata Power, among other big companies, reported stellar results.
In April 2022, the BSE Power index reached an all-time high as it surged over 20% in a month.
Even the technical indicators were in favour of the sector. The underperformance of 14 years for the power index ended in 2022 when the ratio chart (below right) ended its lower high - lower low structure.
Power Index Charts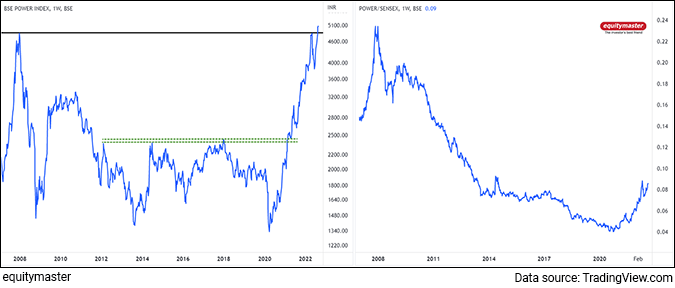 Starting August 2022, power generation and distribution companies started to underperform as investors choose to book profits.
Power Stocks Performance Between August 2022 - Nov 2022
Source: Equitymaster
Apart from this, FIIs have also been selling stakes in leading power companies. Latest shareholding pattern of Adani Transmission shows FIIs sold stake in 4 consecutive quarters.
In case of Tata Power, the selling spans 6 consecutive quarters, with the exception of recent September 2022 quarter.
JSW Energy also saw selling by FIIs but its stock performance remained good.
Other reasons why Adani Transmission is falling
Between May 2022 and June 2022, Adani Transmission shares were showing similar movement and fell over 25%.
Back then, the reasons were different and we covered a detailed editorial explaining those. You can check them out here: why Adani Transmission is falling.
How Adani Transmission shares have performed
In the past one year, shares of Adani Transmission have gained 47%. Even if we take 2022's performance, the stock shows gains of 65%.
But in the past five days, Adani Transmission is down 10%. If we take performance of past two months, Adani Transmission is down 30%.
Adani Transmission has a 52-week high of Rs 4,239 touched on 16 September 2022 and a 52-week low of Rs 1,652 touched on 31 December 2021.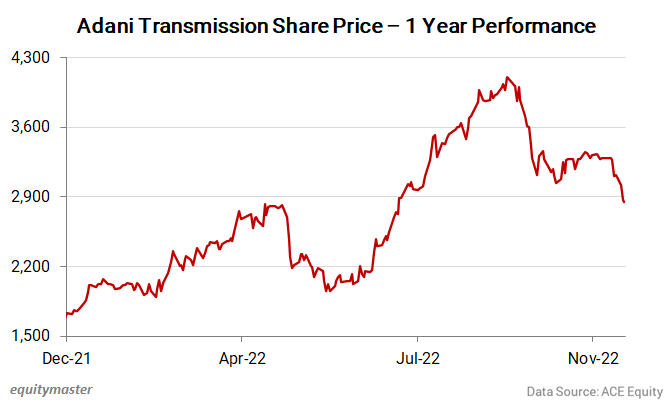 Take a look at the table below which compares Adani Transmission with peers on important metrics.
Comparative Analysis
Company
Adani Transmission
Adani Power
Tata Power
JSW Energy
NTPC
ROE (%)
19.1
30.9
3.2
10.9
12.4
ROCE (%)
12.2
16.1
7.3
12.2
9.0
Latest EPS (Rs)
8.1
26.8
8.0
13.5
16.3
TTM PE (x)
354.5
12.2
27.7
22.4
10.3
TTM Price to book (x)
29.9
5.2
2.8
2.8
1.2
Dividend yield (%)
0.0
0.0
0.8
0.7
4.2
Industry PE (x)
24.7
Industry PB (x)
3.1
Data Source: Equitymaster, Ace Equity
To know more, check out the below video where Chartist Brijesh Bhatia talks about Adani group stocks and whether the rally has run out of steam.
About Adani Transmission
Adani Transmission is the transmission and distribution business arm of the Adani group, one of India's largest business conglomerates.
It's the country's largest private transmission company with a cumulative transmission network of 17,200 ckt km, out of which 12,350 ckt km is operational and 4,850 ckt km is at various stages of construction.
The company also operates a distribution business serving about 3 m plus customers in Mumbai.
With India's energy requirement set to quadruple in coming years, the company is fully geared to create a strong and reliable power transmission network and work actively towards serving retail customers and achieving 'Power for All' by 2022.
For more, check out Adani Transmission financial factsheet and its latest quarterly results.
Also check out our detailed power sector report to find the best power stocks in India.
Investment in securities market are subject to market risks. Read all the related documents carefully before investing
Want to Grow Your Wealth With Safe Stocks?
If you want a simple, safe, and hassle-free approach to long term wealth building...
Without having to worry about negative news or every little downswing in the market...
And without having to worry whether your investments will actually "deliver"...
You must read our note on Blue Chip Stocks now.
Details of our SEBI Research Analyst registration are mentioned on our website - www.equitymaster.com
Disclaimer: This article is for information purposes only. It is not a stock recommendation and should not be treated as such. Learn more about our recommendation services here...
Yash Vora is a financial writer with the Microcap Millionaires team at Equitymaster. He has followed the stock markets right from his early college days. So, Yash has a keen eye for the big market movers. His clear and crisp writeups offer sharp insights on market moving stocks, fund flows, economic data and IPOs. When not looking at stocks, Yash loves a game of table tennis or chess.