5 Green Hydrogen Stocks to Watch Out for Multi-bagger Returns
Nov 25, 2022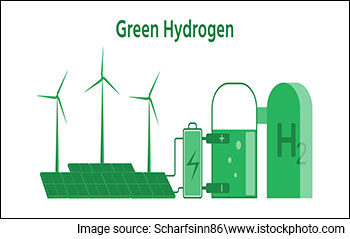 A recent report by Bank of America estimates that US$ 69 tn of negative economic impact is related to global warming. This makes tackling climate change one of the most significant challenges of the century.
While the Indian government is making the switch to other clean sources of fuel, its key focus is green hydrogen. This puts green hydrogen on the fast track to become one of the top sector for 2023.
It is planning a massive expansion in the green hydrogen space. The country aims to eventually become a large exporter and is already in talks with the governments of other countries to export green hydrogen.
The aim is to curb its dependence on energy imports and to wean the economy off fossil fuels to meet the pressing climate targets. But before we discuss green hydrogen stocks let us understand what is green hydrogen.
What is green hydrogen?
Green hydrogen is hydrogen produced by splitting water (electrolysis) using electricity from solar plants or wind turbines.
Blue hydrogen, on the other hand, is hydrogen produced from natural gas with a process of steam methane reforming.
There are some controversies over blue hydrogen because natural gas production inevitably results in methane emissions from the drilling, extraction, and transportation process which is not good for the environment.
While this transition is still in the nascent stages, the shift to green hydrogen is permanent.
So, if investors want to benefit from this opportunity then they should be looking for the best green hydrogen stocks in the country.
Given the potential, a growing number of companies are entering the sector. A handful of them are already starting to emerge as early leaders and could deliver handsome returns to investors.
Here are five green hydrogen stocks to watch out for multi-bagger returns.
#1 Adani Enterprises
First on our list is Adani Enterprises.
One of the latest entrants on the green hydrogen front, Adani Enterprises is making strong headway in this sector.
The conglomerate plans to invest the money across the entire green energy value chain. From electrolyser manufacturing to AI-based utility and industrial cloud platforms, the company is leaving no stone unturned in the green hydrogen segment.
The massive investment (US$ 70 bn) will pave the way for Adani to become a green hydrogen giant. And in turn, it will benefit the country, putting it on the map as the cheapest producer of hydrogen.
The company has tied up with France's TotalEnergies SE. Together, they plan to invest US$ 50 bn over the next ten years to build the world's largest green hydrogen ecosystem in India.
The business has been expanding relentlessly, venturing into new sectors. Therefore, the company's revenues have grown at a 4-Yr CAGR of 15%.
However, since these businesses are yet to realise their full potential, the net profit has grown only at a CAGR of 5.9% over the same period.
This is also the reason behind the dismal returns and the increased borrowings. The debt-to-equity ratio is up from 0.3x in the financial year 2018 to 0.9x in 2022. The interest coverage ratio is also relatively low at 1.4x in the financial year 2022.
The leveraged balance sheet can cause problems for the company's ambitious plans. However, Adani Enterprises has outlined a plan. About a fifth of Adani's proposed US$70 bn plan is expected to be financed through internal accruals.
The rest will be through a combination of different routes including foreign direct investments, loans and bonds.
The company is already in talks with at least half a dozen sovereign and global pension funds and energy majors to raise up to US$2 bn in equity sales.
To know more about Adani Enterprises, check out its factsheet and latest quarterly results.
#2 Larsen & Toubro
Second on our list is the country's engineering major, Larsen and Toubro (L&T).
Along with Adani, the company also has ambitious plans in the lucrative green hydrogen space. But L&T is a bit ahead in the race, being one of the three players with an operational green hydrogen plant.
In August 2022, the company commissioned a green hydrogen plant at its manufacturing complex in Hazira, Gujarat.
L&T plans to make green hydrogen an integral part of its clean fuel adoption policy. The company has forged multiple partnerships for the development of technology and projects in the green hydrogen space in the past year.
Furthermore, it has approached over a dozen companies from various sectors, offering green hydrogen solutions.
Apart from green hydrogen, the company is also involved in other green sources of energy. Its portfolio of green businesses, solar, water, green hydrogen and others, is steadily growing and presently constitutes more than 30% of the total revenue.
The company has earmarked a capital outlay of US$ 2.5 bn over the next three to four years for all of its green energy initiatives.
The company's leadership status and expertise have boosted revenues and net profits, reporting a 4-Yr CAGR of 7% and 5.1%, respectively.
The company has deleveraged its balance sheet in the past five years. The debt to equity has fallen from 1.3x in the financial year 2018 to 0.8x in 2022.
However, the interest coverage ratio has been stable at 2.5 times over the same period. These healthy parameters give enough leeway for the company to invest comfortably in new projects.
To know more about Larsen and Toubro, check out its factsheet and latest quarterly results.
#3 Indian Oil
Next on our list is the state-owned oil and gas major, Indian Oil.
The company, too, has ambitious plans to tap into the green hydrogen opportunity.
Petroleum refining accounts for over 40% of the total global hydrogen demand. At present, oil refineries are the primary consumers of hydrogen, using it in the process of de-sulphuration.
The current hydrogen production process is highly carbon-intensive as it uses carbon-intensive fossil fuels.
The refinery sector is an emissions-intensive sector, accounting for 3% of the global carbon emissions. Therefore, the country's majority of oil and gas producers and explorers are venturing into green hydrogen.
IOC, one of the largest producers of hydrogen with conventional carbon-intensive methods, is targeting to convert 5% of hydrogen produced by it as green hydrogen by 2028 and 10% by 2030.
The company is building a green hydrogen plant at its Mathura and Panipat refineries. It also plans to set up a green hydrogen manufacturing unit in Kochi that will draw energy from the solar power facility of the Kochi International Airport.
Emboldened by the strong prospects in the sector, the oil major announced its partnership with ReNew Power and Larsen and Toubro to produce green hydrogen earlier this year.
This venture brings together the strong credentials of L&T in designing, executing and delivering EPC projects, Indian Oil's established expertise in petroleum refining along with its presence across the energy spectrum, and the expertise of ReNew in offering and developing utility-scale renewable energy solutions.
IOC is a leader in its field which is well-reflected in its incredible performance. The sales and net profits have grown at a 4-Yr CAGR of 7.8% and 3.1%m respectively. The returns have been strong, averaging over 15% consistently.
This has strengthened the balance sheet. It is well-poised to fund the expansion plans with a healthy debt-to-equity of 0.4x and interest coverage of 7.1x.
To know more about Indian Oil, check out its factsheet and latest quarterly results.
#4 Oil India
Fourth on our list is Oil India.
Oil India, a state-owned oil and gas company, is also looking to ride the green hydrogen megatrend.
Besides L&T and the Acme Group, Oil India is the only player with an operational green hydrogen plant. The company commissioned its first green hydrogen plant at its Jorhat, Assam facility earlier this year (March 2022). This plant can be scaled up to three times its existing capacity.
The company is also studying the blending of green hydrogen with natural gas and the commercial applications of the blended fuel.
Oil India has made strides in the renewable energy sector. Apart from green hydrogen, the company has a large wind and solar operational capacity. The total renewable energy portfolio contributed about Rs 1.32 bn (less than 1% of total revenues) in the financial year 2022.
The company's business has been doing well. The revenue and net profit has grown substantially at a 4-Yr CAGR of 19.5% and 36%, respectively. This stellar performance has propelled the returns, which are up three times in the last five years.
As a result, the balance sheet has also strengthened with a low debt-to-equity ratio of 0.5x. This puts the company in a sweet spot for any further expansion.
To know more about Oil India, check out its factsheet and latest quarterly results.
#5 BPCL
Last on our list is BPCL.
Much like its peers in the oil and gas industry, BPCL is also venturing into green hydrogen as a part of its 'decarbonisation' drive.
The company is building the country's largest green hydrogen plant. This endeavor will help the company to achieve net-zero emissions for its operations by 2040.
It also plans to blend green hydrogen with natural gas and use it in their city gas distribution network, accelerating the transition to cleaner modes of transportation.
BPCL has collaborated with Bhabha Atomic Research Centre (BARC) to scale up the production of the indigenous alkaline electrolyser. This can be a game changer for the industry.
The electrolyser accounts for 30% of the total cost of setting up a green hydrogen plant and can only be imported into the country.
Apart from this, the company has tied up with Odisha's government to set up green hydrogen plants.
BPCL is India's second-largest refining and marketing company by volume. Its innovative and savvy marketing techniques have expanded its sales and net profit at a 4-Yr CAGR of 7.9% and 4.5%. The company has reported strong returns averaging 19.6% in the past five years.
It boasts a strong balance sheet. With a low debt-to-equity ratio of 0.7x and a high-interest coverage ratio of 7.5x the business is well-placed to partake in the green hydrogen race.
To know more about BPCL, check out its factsheet and latest quarterly results.
In conclusion
Green hydrogen has enormous potential. It plays a prominent role in de-carbonising heavy industries by replacing natural gas and storing renewable energy.
The demand for green hydrogen for applications such as refineries, fertilizers and city gas are to extend up to 2 mn metric tonne per annum (MMTPA) by 2030, in line with the nation's green hydrogen mission. This calls for investments upward of US$ 60 bn.
However, hydrogen is still far from being a commercially viable fuel source. The industry needs to scale up and reduce costs to match up to fossil fuels and other emerging technologies like battery storage.
Therefore, investors might want to watch the sector for a while and gauge which companies have the best chances of emerging as long-term winners.
Now Before You Go, This is Something You Need to Know...
Equitymaster's co-head of research, Tanushree Banerjee, believes that one of the fastest growing sectors this decade will be defence.
In fact, within defence there are segments with 33x growth potential by 2030. Yes, it's a massive opportunity.
Tanushree has already identified 3 next-generation defence stocks to ride this mega opportunity.
Now, these are not ordinary defence stocks.
Very few people know about the real potential of these companies.
Because these companies are working silently on developing next-generation warfare technologies.
Our research says that these 3 defence stocks could potentially provide you some of the biggest gains of your lifetime.
* 2 out of these 3 stocks have already run up. Act fast or you might completely miss out on this big opportunity.
Disclaimer: This article is for information purposes only. It is not a stock recommendation and should not be treated as such. Learn more about our recommendation services here...