Will the Revival Plan of JSW Energy's Renewable Business Boost its Presence in India?
Nov 26, 2021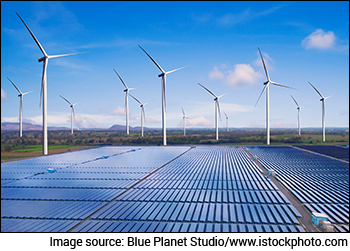 Following the footsteps of Reliance Industries and Vedanta group, JSW Energy became the third company to announce a restructuring of its business in November 2021.
Billionaire industrialist, Sajjan Jindal, is all set to separate the renewable power business from the publicly listed JSW Energy.
The board of directors of JSW Energy has approved the re-organisation of the company's green (renewable) and grey (thermal) businesses.
As a result of this re-organisation, all present and future renewable energy operations will be housed under JSW Energy Neo, a wholly owned subsidiary of the firm.
This is in line with the announcement made by the company on 30 July that the board had approved the evaluation of re-organisation of these businesses.
Strong portfolio of renewable energy projects under way...
Currently, about 2,458 megawatt (MW) of renewable projects are under-construction, including the 2,218 MW of wind and solar projects, for which power purchase agreement (PPA) has been signed and are expected be commissioned in the next 18-24 months.
Also, the 240 MW Kutehr hydro project is expected to be commissioned in the next 36-40 months.
With the commissioning of these projects, JSW Energy Neo's total generation capacity will increase to 7 gigawatt (GW), with the share of renewable energy increasing from 30% to about 55%.
--- Advertisement ---
The Hidden Opportunity in EV Stocks No One Knows About

With today's fast-changing technology and concern about the environment, the popularity of electric vehicles (EVs) has been on the rise.

Most investors go the usual route of investing in large companies and waiting to rake in profits.

We believe that's not the best approach.

In fact, our research has uncovered a hidden way to make potentially windfall gains from this EV opportunity.

Interested to know more? You can get all details by clicking the link below:

Equitymaster's Latest Research Project - Details
------------------------------
The new company will drive growth plans in renewable energy across generation, energy storage and green hydrogen.
The move will aid the firm in building and streamlining its renewable portfolio, as well as establishing an effective holding structure for raising funds and generating value for shareholders.
A bit about JSW Hydro Energy's green bonds
In May, JSW Hydro Energy had issued green bonds of US$707 m, which was the largest hydro green bond issuance in Asia.
The proceeds from the sale were utilised to repay the company's existing green project-related loans.
JSW's green project will help at reducing greenhouse gas emissions and will supporting the use of clean energy.
JSW Energy's ambitious plan
Prashant Jain, Joint Managing Director and CEO, JSW Energy, said the company has laid out a growth plan to reach 20 GW of power generation capacity by 2030, with about 85% of this capacity via renewable energy.
He added,
We have strategically re-organised the company to more effectively support our growth strategy and help unlock value for shareholders.
At present, JSW Energy has 4,559 MW of installed capacity across thermal (3,158 MW) and green power (1,401 MW).
JSW Energy has set an ambitious target for 50% reduction in carbon footprint by 2030 and achieving carbon neutrality by 2050 by transitioning towards renewable energy.
Alert: Discover Richa's Top 3 Stock Picks for 2022...
Fierce competition between Indian players in renewable energy space
India's renewable energy sector is set to become a battleground for the country's top billionaires.
The aftereffects of Reliance Industries chairman Mukesh Ambani's Rs 750 bn push into green energy, which promised to shake up the industry, were felt across other power companies like Adani Green Energy and Tata Power, who are also striving to be a major player in the renewable energy business.
In an effort to increase its presence in clean energy space, recently, Gautam Adani, chairperson of Adani Group, sealed the largest deal in India's renewable sector with acquisition of SB Energy for US$3.5 bn.
While, Tata Power Solar, subsidiary of Tata Power is consistently expanding its horizons in solar power play.
As the world comes to terms with the enormity of the threat posed by climate change, India's emergence as home to one of the world's largest clean-energy expansion programs is like a whiff of fresh air for the above-mentioned companies.
India's target of 500 GW renewable energy by 2030
Earlier this month, foreign secretary Harsh Vardhan Shringla said that India's new target of 500 GW of renewable energy by 2030, announced at the 26th session of the conference of parties (COP26) in Glasgow, is a 'very significant' contribution to meeting the goals of the climate summit.
He also informed that PM Modi at COP 26 announced that by 2030, 50% of India's energy needs would be met from renewable energy sources.
The Prime Minister also stated that India will reduce its carbon emissions by 1 bn tonnes from now until 2030.
During COP26 address, Mr. Modi announced five 'amrit tatva' including the target to attain net-zero emissions by 2070.
He stated that India is the only major economy that has worked and delivered on the Paris commitments both in letter and spirit.
--- Advertisement ---
Ride Extreme Market Swings Successfully...

This is what happened at 20:02 minutes...




Watch Full Replay of Lazy Millionaire
------------------------------
How the stock markets reacted to JSW Energy
Shares of JSW Energy opened the day at Rs 315 on the BSE and the NSE.
Its share price closed at Rs 303 (down 5%) on the BSE and Rs 302 (down 4.8%) on the NSE.
At its current price, it is trading at a P/E of 64.4.
The share touched its 52-week high of Rs 408.7 and 52-week low of Rs 60.4 on 13 October 2021 and 24 November 2020, respectively.
Over the last 30 days, the share price is down 19%. Over the last one year, the company's share price is up 395%.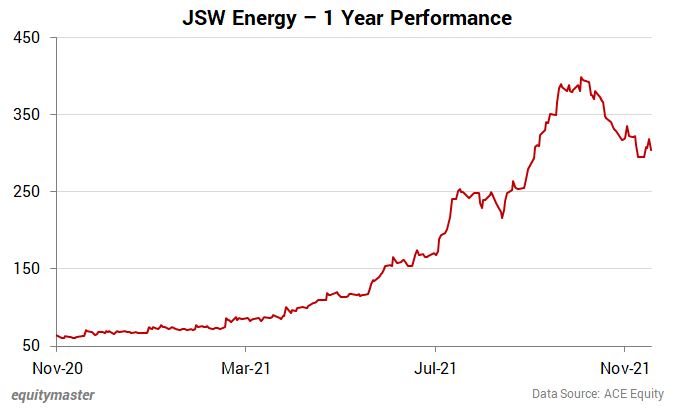 About JSW Energy
JSW Energy is one of the leading power generation companies in India.
It operates 4,559 MW of power generation capacity. Of the 4,559 MW power generation capacity JSW Energy operates, thermal power accounts for 3,158 MW, and hydel 1,401 MW.
Besides power generation, JSW Energy is also engaged in power trading since June 2006. The company also has two 400 kilovolt (KV) operational transmission lines in joint venture with Maharashtra State Electricity Transmission Company Limited, a wholly owned corporate entity under the Maharashtra Government.
JSW Energy also has lignite mines in two contiguous blocks - Kapurdi and Jalipa - in the district of Barmer, Rajasthan, with combined capacity of 9 million tons per annum (MTPA).
The company also has stake in a coal mining company in South Africa. JSW Energy also has a joint venture with Toshiba Corp for manufacturing of supercritical steam turbine generators.
JSW Energy was incorporated on 10 March 1994 as a joint venture between JSW Steel and Tractebel S.A. Belgium with the name Jindal Tractebel Power Company.
For more details about the company, you can have a look at JSW Energy's factsheet and quarterly results on our website.
You can also compare JSW Energy with its peers.
JSW Energy vs Adani Green Energy
To know what's moving the Indian stock markets today, check out the most recent share market updates here.
Disclaimer: This article is for information purposes only. It is not a stock recommendation and should not be treated as such. Learn more about our recommendation services here...