After Ajanta Soya, Dolly Khanna Increases Stake in Yet Another Multibagger Stock
Nov 30, 2021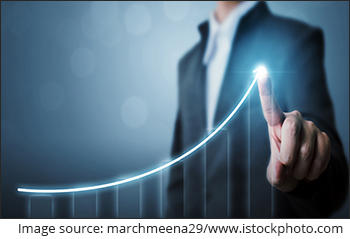 Last week, we wrote to you about how Dolly Khanna increased stake in Ajanta Soya.
This week, she is back again in the market, buying stake in a little-known packaged foods company: Simran Farms.
Since the past few days, shares of Simran Farms have been rallying. In the last one week, this smallcap stock has surged over 51%.
On the BSE today, shares of packaged food company Simran Farms touched an all-time high of Rs 182 per share.
With one correct guess you would be able to answer what sparked the rally in Simran Farms.
On Monday, distinguished investor Dolly Khanna acquired a stake in Simran Farms, a poultry and packaged product maker. According to BSE mega deals data, Khanna bought 1,642 shares at Rs 167.96 per share.
Prior to this, Dolly Khanna had bought 22,344 shares of Simran Farms through a bulk deal on the BSE on 24 November 2021. Shares of the company ended 5% higher at Rs 173.5 on the same day on the BSE.
Besides Mrs. Khanna, Viney Equity Market LLP also bought 20,180shares at an average price of Rs 172.06 apiece on 29 November 2021.
According to a media report, Dolly Khanna has a net worth of Rs 3.4 bn and has increased her stake in the various midcap & smallcap companies in the last quarter.
Dolly Khanna's stake in Ajanta Soya
Last week, Dolly Khanna bought 140,000 equity shares in Ajanta Soya at the weighted average price of Rs 147.72 per share on the BSE, the bulk deals data showed.
After Dolly Khanna showed interest in the firm on the open market today, investors lined up to buy the stock.
A day after her stake purchase, Ajanta Soya shares hit an upper circuit of 20% and traded on new 52-week high value of Rs 183.8 per share on 23 November 2021.
Currently, the shares of Ajanta Soya are trading up by 5% on the BSE.
Lazy Millionaire: Stocks to BUY During the Coming Market Correction...
Who is Dolly Khanna and why did she pick up a stake in Simran Farms?
Dolly Khanna is a Chennai based large investor, who is known for picking lesser-known midcaps and smallcaps. She has been investing in stocks since 1996.
Dolly Khanna's portfolio, which is managed by her husband Rajiv Khanna, is usually inclined towards more conventional stocks in manufacturing, textile, chemical, and sugar stocks.
Coming back to Simran Farms, while we don't know the exact reason behind her investment in this company, we can interpret her move by considering some facts about it.
The competitive strengths are the company's increasing net cash flow and cash from operating activity. Also, the company has delivered good profit growth of 79.2% compound annual growth rate (CAGR) over last 5 years.
In the recently concluded September quarter of the financial year 2022, the company's income from operations surged quarter on quarter (QoQ) to Rs 1.1 bn, while net profit declined to Rs 30.7 m against Rs 56.9 m in the June ended quarter.
Moreover, the company's long-term debt has narrowed down to Rs 2 m in the fiscal 2021 against Rs 19 m reported in the financial year 2020.
Also, the company's pledged promoter percentage is zero. In last 6 months, promoter holding in the company has almost stayed constant.
To know more, check out Simran Farms' latest shareholding pattern.
--- Advertisement ---
2022's BIGGEST Investment Idea

We're proud to introduce you to our BIGGEST investment idea for 2022.

This investment idea is the result of countless hours of combined research by our team members.

You could learn how to tap into this 15x opportunity by watching the video of our special event.

Watch the #1 Investment Idea for 2022 by clicking the link below.

Watch Video Now
------------------------------
Market peers
Some of the company's listed peers include Venky's, Uniroyal Marine and Ovobel Foods among others.
Data Source: Equitymaster
Which other companies did Dolly Khanna increase stake in?
During the September quarter, Dolly Khanna bought fresh stake of 1.1% in New Delhi Television (NDTV).
Apart from this, the investor raised holdings in six companies. These were Nitin Spinners, Rama Phosphates, Asahi Songwon Colours, RSWM, NCL Industries, and Rain Industries. Meanwhile, she kept her holding in Polyplex Corporation unchanged.
Data Source: Ace Equity
How the stock of Simran Farms has performed
Shares of Simran Farms opened the day at Rs 182.1 on the BSE
Its share price closed at Rs 182.1 (up 5%) on the BSE.
At its current price, it is trading at a P/E of 5.9.
The share touched its 52-week high of Rs 182.1 and 52-week low of Rs 46 on 30 November 2021 and 9 December 2020, respectively.
Over the last 30 days, the Simran Farms share price is up 68%. Over the last one year, the company's share price is up 187%.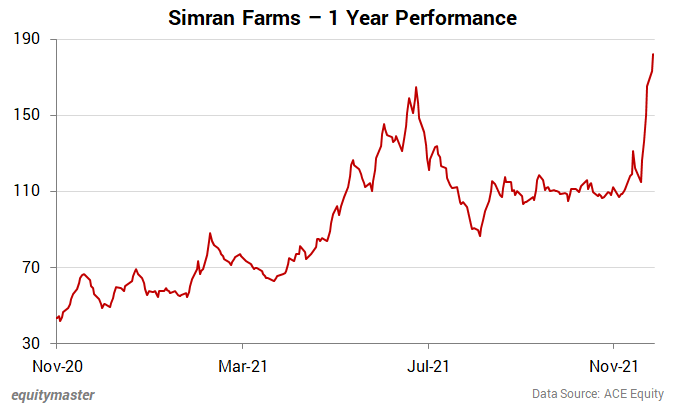 About Simran Farms
The Simran Group was established in 1980 and Simran Farms (SFL) was incorporated in 1984 and was converted into a public limited company in 1993.
Under the broad spectrum of poultry industry, the company is engaged in the business of integrated poultry and poultry products. Its most modernised parent poultry breeding farms are located near Indore in Madhya Pradesh.
The company's hatcheries and contract rearing farms are located in Madhya Pradesh, Chhattisgarh, Gujarat, Rajasthan, Punjab, Jammu, and Maharashtra.
It's mainly focused on integration and consolidation of poultry activities and has arranged large manufacturing set-up for production of poultry feed. The breeding farms have state-of-the-art automation systems, cages for scientific rearing and artificial insemination and balanced nutrition management for each bird.
The company has also proposed to expand its parent farm capacity and will also be increasing the contract farms in near future.
For more details about the company, you can have a look at Simran Farms' factsheet and quarterly results on our website.
You can also compare Simran Farms with its peers.
Simran Farms vs Agri Tech India
To know what's moving the Indian stock markets today, check out the most recent share market updates here.
Disclaimer: This article is for information purposes only. It is not a stock recommendation and should not be treated as such. Learn more about our recommendation services here...