Top Indian Drone Companies to Watch Out for in 2023
Feb 16, 2023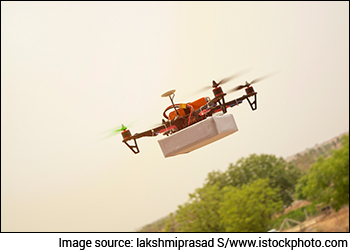 As you may know, the use of drones has grown exponentially in the past few years. Referred to as unmanned aerial vehicles (UAVs), these types of aerial vehicles are used in a lot of different applications, ranging from industrial surveillance to delivering packages.
The technology has caught the attention of Indian companies as well. After the government of India liberalised its drone policy in July 2021, many companies have forayed into the drone space.
As per the policy, the use of drones is now not restricted to the defence sector. It can be used in other industries such as agriculture, healthcare, tourism, and media.
Then in September 2021, the government announced the PLI (production linked incentive) scheme for drones. This also encouraged companies to invest in the sector.
With so many positive triggers, it's no surprise that drone stocks are all the rage now. Investors believe that they have the potential to deliver multibagger returns.
To make the most of this opportunity, we wrote to you about the top Indian drone companies to watch out for in 2022 .
Here are the companies you should keep an eye on.
#1 Bharat Forge
First on our list is Bharat Forge, the largest forging company in India.
The company manufactures forged and machine components for the automotive, aerospace, mining, oil and gas, marine, and power industries.
It is the second-largest forging company in terms of volumes and revenue globally.
To reduce its exposure to the cyclical automotive industry, it has acquired several businesses to diversify into defence, locomotive, power, and aerospace industries.
One of the companies it has fully acquired is Kalyani Strategic Systems (KSSL). KSSL is engaged in the field of developing and deploying defence electronics, and system integration for defence products, and components.
KSSL recently unveiled its drone Bharat 150, a multi-payload, variable mission drone indigenously developed by the group.
The water and dustproof Bharat 150 can be used in the temperature range of -30? to 65? with an average speed of 50 kilometres per hour. It can operate at 1,000 m above the ground.
The X-8 configuration drone is already under testing by the Indian Army in high altitude areas in Ladakh. The company's management is optimistic about its performance and hopes for a speedy induction.
Apart from this, Bharat Forge has healthy financials. The company's debt to equity ratio stands at 1x. Return ratios also have also been steady with return on equity (RoE) at 15.4% and return on capital employed at 11.5%.
To know more about the company, check out the company factsheet and latest quarterly results.
#2 L&T
Second, on our list is L&T.
The company is a multinational conglomerate primarily engaged in providing engineering, procurement and construction (EPC) solutions in key sectors such as infrastructure, power, information technology and defence.
Larsen and Toubro (L&T) has entered into an agreement with ideaForge, a drone manufacturer to offer drones and allied systems for defence use.
Both the companies will combine their strengths to offer hi-tech, integrated drone solutions to enhance security and surveillance. They will also offer anti-drone solutions to counter the threat of malicious or unintended usage of drones.
Besides this, the company has signed a memorandum of understanding with NewSpace Research & Technologies (NRT) to develop a new range of submarine launched drones to meet Indian Navy requirements.
Submarine launched Unmanned Aerial Vehicles (UAVs) are a relatively new concept with few nations around the world having the capability to operate such systems. They are also a complex design and development project given that the drone needs to navigate through water before taking to the air.
L&T brings in its significant capability in underwater systems to the project, having worked extensively on Indian submarines.
L&T has guided for a 12-15% growth in order inflows in the coming decade. With a favourable government tender conversion ratio, the company is expected to grow considerably in the next decade.
The company's financials also hold it in good stead. Despite operating in a capex heavy industry, the company's debt to equity ratio stands at 1.6x. Its return ratios are also steady with RoE at 10.2% and RoCE at 11%.
To know more about L&T, check out the company factsheet and latest quarterly results.
#3 Bharat Electronics
Third on our list is Bharat Electronics.
The company is an Indian state-owned aerospace and defence company that meets the specialised electronic equipment requirements of the Indian Defence Services.
Bharat Electronics is also eyeing the drone space. In November 2021, the company signed an agreement with American drone delivery firm Dronedek to manufacture smart drone delivery mailboxes for the latter.
The company has recently announced it's developing a tethered drone suited for applications that require high endurance.
It could prevent attacks like the one that took place at Pathankot Air Force Station in 2016. The UAV system can be used for aerial reconnaissance and intelligence gathering as well.
It's also developing a frontline drone called the Hexacopter-20. The Hexacopter-20 is a twenty kg UAV with a two-stroke internal combustion engine. It can fly for 3.5 hours with a payload of two kgs.
Bharat Electronics has grown at a steady pace without taking any debt. The company has return ratios above 20%.
To know more about Bharat Electronics, check out the company factsheet and latest quarterly results.
#4 Paras Defence
Fourth on the list is Paras Defence.
The company is primarily engaged in the design and development of defence and space engineering products and solutions.
Through its subsidiary Paras Aerospace, Paras Defence has tied up with a few unmanned aerial vehicle (UAV) manufacturers in Israel, Latvia, and Italy. This is expected to help the company access state of the art solutions.
The company currently has a large number of drones in many different varieties on offer for the next financial year.
Besides drones, the defence and space engineering company is also offering drone cameras. Recently, the company got an order for 65 drone parachutes from New Space, a Bengaluru-based company.
Paras Defence is a beneficiary of the PLI scheme and has been shortlisted by MoCA in the category of drone component manufacturers among others.
The company's debt to equity ratio is low at 0.07x. While RoE and RoCE stand at 9.2% and 12.4%, respectively, the company has healthy operating profit margins of above 25%.
To know more about the company, check out the company factsheet and latest quarterly results.
#5 Zen Technologies
Last on our list is Zen Technologies.
The company designs, develops, and manufactures combat training solutions for the training of defence and security forces.
The group is the sole manufacturer in India for the simulation training equipment and anti-drone systems.
The company has secured a Rs 1.6 bn order from the Indian Air Force (IAF) for the supply of counter unmanned aircraft systems (CUAS).
This is the company's first major order in the anti-drone space. The company's management remains confident of bagging additional orders in the future.
Along with other orders, the total order book stand strong at around Rs 4.5 bn as on date.
Although the company has had a few up and down years on profitability and sales, its debt has reduced to almost nil.
To know more about Zen Technologies, check out the company factsheet and latest quarterly results.
#6 Droneacharya Aerial Innovations
Next on this list is Droneacharya Aerial Innovations.
The company provides a high-end ecosystem of drone solutions for multi-sensor drone surveys, data processing of drone data using robust high-configuration workstations, drone pilot training, and specialised GIS training.
The company's offerings can be classified into four broad categories namely,
1. Training (DGCA Certified Drone Pilot, Drone Building, Aerial Cinematography & Aerial Making and Drone data processing).
2. Services (Consultancy services to Govt. & private organizations, reality capture data processing software, anti-drone solution for rogue UAV and UTM air traffic management solution).
3. Surveillance (land surveying and underwater services).
4. Others (Partnering up with SPH Engineering from Latvia, Droneacharya is also able to provide integrated drone solutions for Bathymetry, drone shows, Hydrography, industrial and archaeological surveys, along with Environmental Monitoring).
The company was listed on the BSE in December 2022. It received all the hype back then as the company was the first pure play drone company to get listed.
DroneAcharya Aerial Innovations listed on the BSE SME platform at a massive 90% premium to its issue price. The company made its debut at Rs 102, as compared to the issue price of Rs 54.
To know more, check out Droneacharya Innovation's financial factsheet.
#7 ideaForge Technology
Last on this list is ideaForge Technology.
We know what you're thinking...why have we mentioned a company that is not yet listed on the stock market?
It's because in February 2023, ideaForge Technology filed draft papers with the market regulator and could come out with its initial public offer (IPO) as soon as 2023.
Founded in 2007 by IIT Bombay alumni Ankit Mehta, Rahul Singh, Ashish Bhat, and Vipul Joshi, IdeaForge Technology is engaged in the security operations segment as the first India-based organisation to develop and manufacture vertical take-off and landing (VTOL) drones.
In addition to the US, IdeaForge has also expanded beyond India to Oman, Nigeria, and Bhutan.
The Mumbai-based company makes drones for India's armed forces, police and homeland security as well as industrial applications.
IdeaForge has a license from the Ministry of Defence to manufacture unmanned aerial vehicles (UAVs).
One of the best IT companies in India, Infosys has a sizeable stake in ideaForge since years. Infosys could make a killing if ideaForge makes a bumper listing like Droneacharya.
In its draft papers, ideaForge has not listed out Droneacharya as its competitor or listed peer.
In the first half of 2023, ideaForge has posted a profit after tax of Rs 452 million as against a loss of Rs 207.3 million in the same period last year.
The company turned profitable as its revenue surged multifold to Rs 1.4 billion as compared to Rs 96 million.
It remains to be seen when ideaForge decides to opt for its upcoming IPO.
Conclusion
According to an EY-FICCI report, the drone industry is expected to significantly boost India's manufacturing potential to about US$23 bn (Rs 1.87 tn) by 2030.
Although at a nascent stage, the industry has a wide scope and looks quite promising. Imagine the use cases of drones for transportation, agriculture, law enforcement, surveillance, and defence.
However, before you dive into the world of drone investing, make sure you know what you're getting yourself into.
All investments come with their own set of risks and rewards, so pay attention to the markets, read the fine print, and know exactly what you're getting yourself into before pulling the trigger.
To know what's moving the Indian stock markets today, check out the most recent share market updates here.
Investment in securities market are subject to market risks. Read all the related documents carefully before investing
Want to Grow Your Wealth With Safe Stocks?
If you want a simple, safe, and hassle-free approach to long term wealth building...
Without having to worry about negative news or every little downswing in the market...
And without having to worry whether your investments will actually "deliver"...
You must read our note on Blue Chip Stocks now.
Details of our SEBI Research Analyst registration are mentioned on our website - www.equitymaster.com
Disclaimer: This article is for information purposes only. It is not a stock recommendation and should not be treated as such. Learn more about our recommendation services here...
Ayesha Shetty is a financial writer with the StockSelect team at Equitymaster. An engineer by qualification, she uses her analytical skills to decode the latest developments in financial markets. This reflects in her well-researched and insightful articles. When she is not busy separating financial fact from fiction, she can be found reading about new trends in technology and international politics.