Why Schaeffler India Share Price is Falling
Dec 1, 2022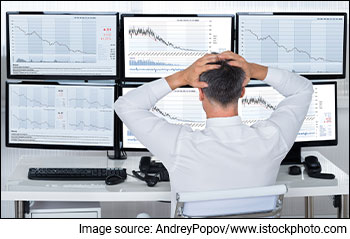 With the Indian auto industry picking up steam, auto stocks have witnessed a surge. Riding this rally has been Schaeffler India.
The stock has delivered returns of 40.9% since the beginning of the financial year 2023. It is one of the best performing auto stocks this year.
But lately, the sentiment for the stock changed, showing a sharp decline.
So, what led to the sudden fall in the stock?
Sky-high valuations lead to profit booking
The company shares have been trading at a high valuation since the beginning of the financial year 2023. Therefore, the recent correction could be due to the absurd valuation of the company.
At present, the company's shares are trading at a PE (price to earning) multiple of 50.5x and a PBV (price to book value) ratio of 10.3x. The PE multiple is higher than the industry PE multiple of 29.5x.
Taking into account these valuations, it is possible that investors have booked profits. A rally was seen in the stock post the September quarter results.
The company reported a 26.1% YoY increase in net profit at Rs 2.2 bn for the September 2022 quarter. This was on the back of an increase in revenue. Revenue of the company rose 18.1% YoY to Rs 17.6 bn against Rs 14.8 bn in the year ago period.
For the financial year 2023, Schaeffler India is further ramping up capex under the Production Linked Scheme (PLI) scheme at its new plant, which will enable it to localize several of these new products for both export and EV segments.
The adoption of locally produced goods would help the business thrive, given the strong emphasis on product innovation.
Additionally, the recent investment made by the Schaeffler Group in India to create software and electronics solutions for electric vehicles will benefit the e-mobility segment of the business.
How Schaeffler India shares have performed recently
Over the last week, the company's shares are trading lower by 8.7%.
So far, in 2022, the stock is trading higher by 49.9%. Over the last year, shares of the company have soared by 80.5%.
The company touched its 52-week high of Rs 2,786.1 on 15 September 2022 and its 52-week low of Rs 2,677.6 on 29 November 2021.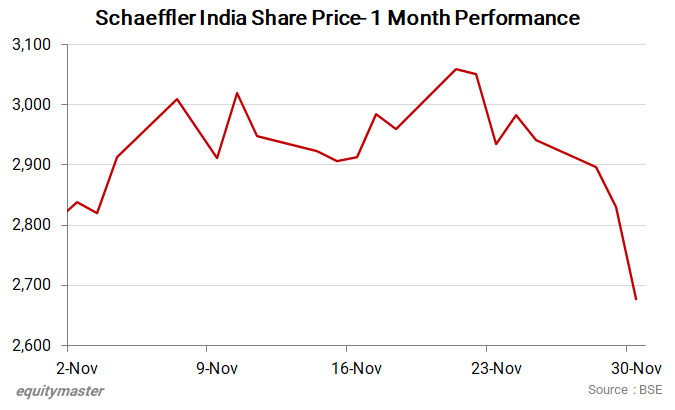 About Schaeffler India
Schaeffler India Limited, previously known as FAG Bearings India, is one of India's major ball and rolling bearing manufacturers servicing the automotive and multiple core industrial segments.
The Schaeffler Group is a top provider of innovative solutions to the industrial and automotive sectors.
The business develops, produces, and distributes high-precision roller and ball bearings, engine systems, transmission components, chassis applications, clutch systems, and other machine-building production activities.
The company's three business segments -automotive, industrial, and aftermarket offer a wide variety of goods and services.
Additionally, it conducts fleet workshops for the automotive aftermarket and industrial distribution markets providing training to significant garage influencer groups.
To know more about the company, check out Schaeffler India company fact sheet and quarterly results.
You can also compare Schaeffler India with its peers.
Schaeffler India vs Timken India
Schaeffler India vs Rolex Rings
Now Before You Go, This is Something You Need to Know...
Equitymaster's co-head of research, Tanushree Banerjee, believes that one of the fastest growing sectors this decade will be defence.
In fact, within defence there are segments with 33x growth potential by 2030. Yes, it's a massive opportunity.
Tanushree has already identified 3 next-generation defence stocks to ride this mega opportunity.
Now, these are not ordinary defence stocks.
Very few people know about the real potential of these companies.
Because these companies are working silently on developing next-generation warfare technologies.
Our research says that these 3 defence stocks could potentially provide you some of the biggest gains of your lifetime.
* 2 out of these 3 stocks have already run up. Act fast or you might completely miss out on this big opportunity.
Disclaimer: This article is for information purposes only. It is not a stock recommendation and should not be treated as such. Learn more about our recommendation services here...