Charlie Munger: This is "Even Crazier" than the Dotcom Era
Dec 3, 2021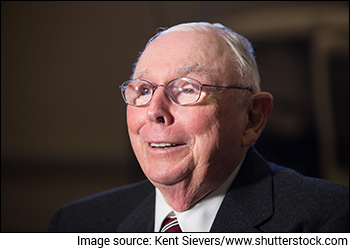 As you would be aware by now, the new Covid variant Omicron has become the talk of the town. It has affected every financial market.
Markets across the globe have become more volatile than ever.
Take the example of the BSE Sensex. Its down a thousand points one day and up a few hundred points another. This seems to have become the new normal.
Amid this volatility, Berkshire Hathaway's vice chairman Charlie Munger made his appearance at the Sohn conference in Australia today and discussed several topics.
American billionaire Charlie Munger is an investor, businessman, former real estate attorney, architectural designer, and philanthropist.
He is the vice chairman of Berkshire Hathaway, the conglomerate controlled by Warren Buffett.
Munger was speaking at the conference after Berkshire Hathaway's cash pile hit new heights at US$149.2 bn of funds in the third quarter.
Munger spoke about a lot of topics. Cryptos, renewable energy, and China's global relations, he covered it all. But the most important point which raised many eyebrows was his take on the current market valuations.
He said, stock markets are wildly overvalued in places and the current environment is even crazier than the dotcom boom of the late 1990s which subsequently led to a bust.
Pointing out that valuations were out of touch with fundamentals, he said that some of the valuations we saw in dot-com era were higher. But overall, Munger considers the current scenario even "crazier than the dot.com era".
Remember the dotcom era? When companies got billion-dollar valuations by attaching the suffix 'dotcom' to their name even after raking in losses year after year.
No one is likely to forget the dotcom bubble of the late 1990s, where any IT company with the dotcom tag was trading at astronomical valuations. The bubble burst at the turn of the century and caused losses to millions of investors.
As a value investor, Munger follows an approach based on buying stocks with strong long-term prospects that the market appears to have undervalued. However, Munger said the high level of share prices has made this approach much harder.
It's still possible but you have to pay a lot more for the good companies now.
Note that Munger's comment comes at a time when the new virus variant is starting to create panic. Though it's still too early to know how bad this variant could be.
Coming back to the topics which Munger spoke about, he briefly discussed cryptos and said he wished cryptocurrencies didn't exist.
In a wide-ranging discussion with Dr Mark Nelson of hedge fund Caledonia, Munger said he would not participate in an "insane" cryptocurrency boom and was scathing of promoters of crypto assets.
Here's Munger in his own words:
I'm never going to buy a cryptocurrency. I wish they'd never been invented.
Munger went on to praise China as they have banned cryptos.
Note that Munger has not shied away on giving negative views on the crypto asset class. He hates bitcoin's success and doesn't welcome a currency that's so useful to kidnappers and extortionists.
Honestly, even we don't get cryptos at Equitymaster. It's something that has caught our imagination but we just can't figure out a way to value it. Fundamentally speaking.
Our 'fundamental' take on cryptos is simple...Invest only what you can afford to lose. Nothing more.
The investing legend also weighed in on China's global relations, urging Australia to play a role in bridging differences between the Asian nation and the US.
Munger also said his optimism on Chinese opportunities had moderated, but he still considers it an essential trading partner.
Almost every capitalist is less enthusiastic about China than they were a year ago but I am not despairing about China at all.
There's one more interesting them he spoke about: Renewable Energy.
Munger is bullish on renewable energy and he loves the fact that countries are rapidly reducing the burning of coal and the burning of gasoline and diesel.
Here's Munger in his own words:
I would be in favour of using a lot more renewable energy from wind and solar, even if there were no global warming problem.

I think saving the hydrocarbons for future generations instead of blowing them all in one big blast, would be a very smart thing to do even if there were no global warming.
Munger's bullishness is justified as renewable energy is the future.
India's investments in renewable energy have accelerated in recent years. Traditional energy sources like hydrocarbon-based energy are being replaced by green energy like solar, wind, and green hydrogen.
In fact, given the massive scope, we even covered an article on how you can benefit from this opportunity.
To conclude...
The last few days must have given you a glimpse of the correction that everyone was waiting for. However, as they always do, markets have bounced back.
Amid all this volatility, it's always better to stick to the second order thinking. This means that taking into consideration all the worst possible outcomes that could happen.
Munger's pessimistic view on the stock markets is justified. Ask yourself if the valuations are still attractive after the run up in the stock market?
Co-head of Research at Equitymaster, Rahul Shah, thinks so. In fact, he recorded a video last week explaining the key reasons behind his pessimistic outlook on the stock market.
To know what's moving the Indian stock markets today, check out the most recent share market updates here.
Disclaimer: This article is for information purposes only. It is not a stock recommendation and should not be treated as such. Learn more about our recommendation services here...