Equitymaster's Top 10 on YouTube. Watch Now
Dec 4, 2021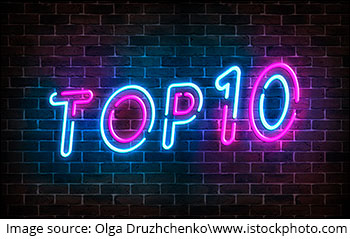 Videos have become one of the most important means of communication. They have changed how we work, share information, and record our memories.
You can't ignore the fact that many people prefer watching videos rather than reading articles.
That is why, our editors at Equitymaster, post regular videos on important topics on our YouTube channel.
Here we look back and share our top 10 videos...
#1 20 Stocks To Own Forever
The top position is dominated by a video which to begin with raised many eyebrows. But in no time became a favourite of our viewers.
The video has received more than 485k views and is still going strong. Fingers crossed as it touches the 500k mark!
This video shares details on Tanushree Banerjee's premium recommendation service - Forever Stocks.
--- Advertisement ---
Rahul Shah's Lazy Millionaire Summit Is Now LIVE...

Discover the Master Key to Turning Every Market Crash to Your Advantage

Hurry up! Join in now...

Click Here to Join the Lazy Millionaire Summit
------------------------------
In the video, Tanushree talks about the 20 stocks that can be bought and held for a very long period of time.
She covered points such as the criteria to identify a Forever Stock, the common mistakes to avoid in selection process, the five greatest enemies of an investor in Forever Stocks, and much more.
If you've not yet watched the video, we highly recommend you do so...who knows, it might be the start of your journey of creating generational wealth.
#2 Stock Market Crash?
Back in March 2021, when markets were quite volatile, many were predicting a market crash. Investors and traders, both were worried about the volatility.
To shares his views on whether the markets will crash and if yes, what will be the scale and duration, India's #1 trader Vijay Bhambwani recorded a video to clear all doubts. This video has more than 1 lakh views.
Vijay is a trader with 35 years of experience, 28 of which he has served as a founder, promoter and CEO of a limited company that trades for a living.
In the video, the first thing Vijay discussed was the inflows into the market. Back then, participatory notes hit over Rs 930 bn in February of 2021. This was a major event.
Money coming in from the FII route through the P-note route has historically seen, whenever there have been huge spikes and the markets have either stabilised or have been bullish in nature.
Equitymaster's Stock Screener: Identifying High-Potential Stocks Has Never Been this Easy
The second thing Vijay discussed was the support levels of Nifty and Bank Nifty index. He had mentioned unless the Bank Nifty index violates the 29,000-30,000-mark and stays below this level, the markets won't collapse. For Nifty, the support levels were 13,500 or 14,000.
Vijay's call on the support level was bang on. Neither the Nifty Bank or Nifty index went below the mentioned levels and continued their upward trend in the months to come.
Vijay further talked about how March is a very unique month as the mutual fund industry is very interested in boosting the markets higher for NAV management.
If you haven't already watched the video, you can do so here.
#3 Gold 60,000 & Silver 75,000 in 2021
This video was recorded by Vijay to address a question which was on top of most investors' minds. What is the outlook for bullion gold and silver in the calendar year 2021?
As you would have guessed from the title, Vijay remains positive on bullion.
In the video, he has answered the question by replying in one simple word: Up. Up, Up, Up.
Vijay also shared his rationale on why he is staying positive on these assets.
At present, the video has more than 1 lakh views.
#4 3 Smallcap Revival Stocks
This video revolves around the 3 dark horse stocks from the smallcap space which our smallcap guru, Richa Agarwal, has picked out.
As per Richa, despite the smallcap index rallying massively from the March-2020 lows, there is still a lot of juice left in the rally.
And if you pick the right smallcaps, they will work wonders for you.
In the video, she reveals the details of her report - 3 Smallcap Revival Stocks: The Dark Horses of the Stock Market. These 3 little-known stocks could potentially hand you solid multi-digit gains over the long term.
The video has more than 75,000 views and the views keep on increasing every day. Don't wait...watch the video now:
Also, if growth investing interests you, Richa recently discussed how to pick the best growth stocks in fiscal 2022.
Here the link to the video: How to Pick the Best Growth Stocks in FY22.
--- Advertisement ---
There is a new paradigm shift currently unfolding across the global economic landscape...

And at the heart of this massive SHIFT is...

INDIA!

India is on the verge of a multi-trillion-dollar rebirth that could potentially mint countless new millionaires...

If you are on the right side of this mega shift, then it could be your biggest opportunity to build potentially massive wealth over the long term.

Click here to find all the details...
------------------------------
#5 RBI Opens a New Market for Investors
Trust us when we say this is an interesting video. If you haven't watched it yet, please do it immediately.
In this video, Vijay Bhambwani talks about a basic tenet of wealth building, i.e. investing in fixed income securities, specifically about the RBI's Retail Direct Gilt account.
With this account, you can now invest directly in government securities. That's right. The government of India is now letting you buy its bonds, which come with a sovereign guarantee.
Vijay believes this is an exciting new opportunity for savvy investors to build wealth. It will also be a great tool in your overall asset allocation strategy.
The video already has around 70k views with more than 2k likes.
In fact, we found this so exciting that we went ahead and wrote an insightful article around it. You can read it here: A New Investment Opportunity Emerges for Wealth Preservation.
If you are an astute investor who wants to invest in G-secs directly and can manage the portfolio well by yourself, then the RBI Retail Direct Gilt Account is for you.
#6 Get Ready for a Boom
This is a relatively recent video recorded by Vijay Bhambwani back in October 2021. It revolves around a deal between India and the UAE and how it will trigger an economic boom.
The Indian government is beginning the process of signing a comprehensive economic partnership agreement (CEPA) with the United Arab Emirates.
How big is the trade you ask? India is the second largest trade partner for the United Arab Emirates, and India is 9% of all total foreign trade of the United Arab Emirates.
What enthused Vijay was that before the Covid pandemic hit, the trade size between India and UAE was US$40 bn. India and the UAE both are hopeful that within five years of signing the CEPA, this trade size will jump straight away US$100 bn in less than a decade, and this is goods. US$15 bn or higher will be services. From Rs 40 bn now to Rs 115 bn in five years. That's almost 300%.
How important is the trade for India? Very simply put, the Middle East sovereign investment funds and almost every country has huge sovereign investment funds, and they invariably tend to invest in equity markets of other countries.
If you were to go to market regulator's website or NSE's website and see the number of companies whose shares are being held by the Qatar Sovereign Investment Fund, by the UAE fund, etc, you will see that they are investing thousands of crores in Indian stock market.
Middle East countries, starting from Qatar, have invested a lot of money in the Indian infrastructure projects.
Who wouldn't be excited as Indian corporates start shaking hands with foreign investors and money start to flow in?
Watch the full video now.
#7 The 3 Electric Vehicle Stocks to Own in India
It has just been a little over a month and this video is already trending with more than 58,000 views.
No prizes for guessing the theme of this video: Electric Vehicles (EVs).
After years of research, we have found some shocking truths about the massive EV opportunity.
Despite an estimated 15-times growth in just 10 years, the ordinary approach of tapping into the EV opportunity may turn out to be a disaster.
So before you invest a single rupee in any EV stock, we recommend you watch this video to study the results of our latest research project.
We're confident you will change your stance and the way you look at EV stocks after watching this video.
#8 3 Stocks to Ride India's Great REVIVAL
In this video, Equitymaster's Co-head of Research Tanushree Banerjee reveals an investment opportunity that could impact every Indian from Kashmir to Kanyakumari.
As per Tanushree, several megatrends are converging to unleash a once-in-a-generation wealth boom for Indian investors.
In the video, she shares the three megatrends behind 1,000% gains. Investing in these megatrend stocks could result in wealth compounding on a massive scale.
Don't miss this opportunity. Watch the video now.
#9 Gold 65,000 and Silver 84,000 in 2022
No surprise here. Another gold video is in the top 10 list.
In this video, Vijay Bhambwani talks about the stock market and his new targets for gold and silver.
Apart from this, Vijay also shared his view on what he believes to be the best long-term investing opportunity in the market.
Listen in to this interesting podcast.
#10 How Long Before a Big Stock Market Crash
This video by Co-head of Research at Equitymaster Rahul Shah is more relevant in the current stock market scenario.
It was recorded back in February this year and has more than 23,000 views.
In the video, Rahul Shah talks about how one should invest when a big market crash is looming.
One of the biggest uncertainties is of course a huge stock market crash. So, should one try to predict it or is there any other blueprint that an investor needs to follow?
Rahul discusses these points in the video. Do take a look if you haven't already.
So there you go...these were the top 10 videos of Equitymaster.
Insightful, aren't they?
As an avid reader of Equitymaster, you would be aware of all the content that we put up on the website.
But that isn't the only way to keep track of all that's going on in Equitymaster.
To get the most out of your Equitymaster experience, join our YouTube channel.
Happy Investing!