Mar 28, 2023 - 6 Penny Stocks that Rallied 1,000%+ in One Year
6 Penny Stocks that Rallied 1,000%+ in One Year
Mar 28, 2023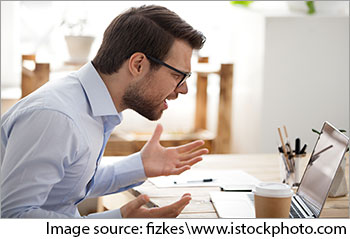 There are growth stocks. There are dividend stocks. And there are penny stocks. Investors often find the last variety irresistible because of their potential for significant gains.
While investing in penny stocks can be risky, some investors are willing to take the chance for the possibility of substantial returns.
Penny stocks are known for NOT having a reliable track record and sufficient information dissemination. On top of that, liquidity concerns continue to stay on the back of an investor's mind.
However, there are certain penny stocks that not only have a decent track record but also have a rock solid balance sheet and visionary management. If investors get all these traits in a company, what else can they ask for?
Such fundamentally strong penny stocks have the ability to surge multifold, delivering up to 1,000% gains.
In this article, we'll explore six penny stocks that have surged 1,000% or more in just one year (performance between March 2022 and March 2023).
While we don't know how the markets will react in the future, this article aims to provide valuable insights on the best performing penny stocks of the past year.
#1 Ray Rayon Industries (3,599%)
Trading at less than two rupees a year ago, shares of Raj Rayon Industries have seen a meteoric rise over the year gone by.
How big gains are we talking about? How about a whopping 3,599%?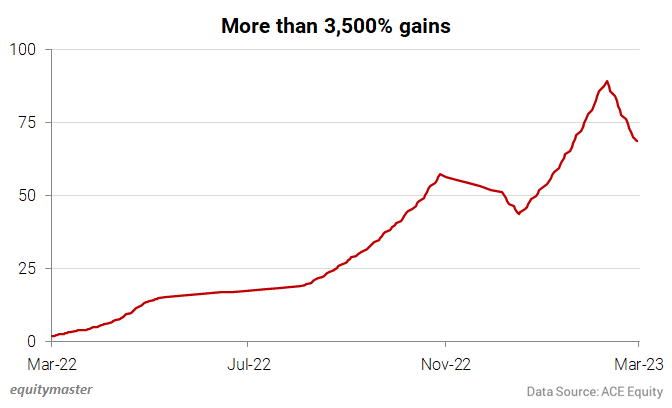 Raj Rayon Industries is engaged in the business of manufacturing and trading of polyester chips, polyester yarn and processed yarn.
The company's December 2021 quarter results were out of the box where it reported a massive rise in profits. It has a record of reporting losses for more than seven quarters, but the company turned profitable in December 2021.
However, the party now seems to be over as the stock has started to see some selling owing to weak Q2 results in 2022. It's all set to report a loss for FY23 as trailing twelve months losses stand at Rs 240 million (m).
Adding to the injury, data from BSE shows there are only sellers waiting on the sidelines to sell the script, with no buyers willing to buy shares (at least for now).
To know more, check out Raj Rayon's financial factsheet and its latest quarterly results.
#2 Jhaveri Credits & Capital (1,646%)
In the past one year, share price of Jhaveri Credits has surged over 1,600% making itself among the best performing penny stocks of 2023.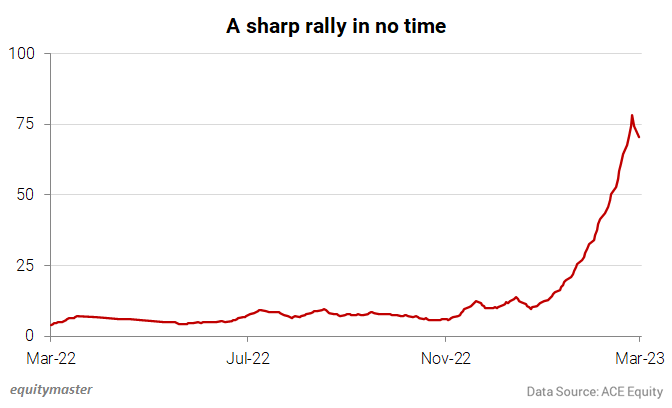 Jhaveri Credits & Capital provides broking platform on various exchanges to clients for dealing in various commodities traded on those exchanges in present, spot and future dealings.
The sharp rally in the stock price can be attributed to a significant improvement in financial performance for consecutive years.
Financial Snapshot of Jhaveri Credit (2018-2022)
| Rs m, standalone | FY18 | FY19 | FY20 | FY21 | FY22 |
| --- | --- | --- | --- | --- | --- |
| Revenue | 11.4 | 12.0 | 5.4 | 35.0 | 90.6 |
| Growth (%) | -0.1 | 0.1 | -0.6 | 5.5 | 1.6 |
| Operating Profit | 2.6 | -4.1 | -2.4 | 0.0 | 5.4 |
| OPM (%) | 0.2 | -0.3 | -0.4 | 0.0 | 0.1 |
| Net Profit | 1.6 | -4.7 | -2.6 | -3.9 | 2.7 |
| NPM (%) | 0.1 | -0.4 | -0.5 | -0.1 | 0.0 |
| Debt to Equity (x) | 0.0 | 0.0 | 0.0 | 0.0 | 0.4 |
| ROE (%) | 1.9 | -5.8 | -3.3 | -5.3 | 3.7 |
| ROCE (%) | 2.9 | -5.2 | -3.2 | -0.1 | 6.0 |
Data Source: Ace Equity
The company's sales for the nine months of FY23 have already surpassed last year's figures.
For a detailed breakup of revenue and profit, check out Jhaveri Credit's latest quarterly results.
#3 S&T Corporation (1,355%)
Incorporated in 1984, S&T Corporation is engaged in the business of construction and textiles. It offers services such as building and development, self-redevelopment, Land Liaisioning, etc.
In the past one year, shares of the company have zoomed over 1,300%.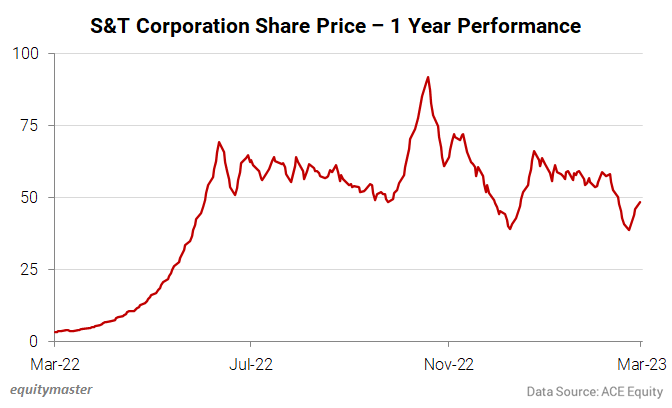 In December 2022, the company's board decided to conduct a stock split where Rs 10 face value would come down to Rs 2.
Despite the gains, there still hangs a concern about promoters reducing their stake in the company. In the past one year, promoter holding is down to 64.6% from 72.5%.
For more, check out the latest shareholding pattern of S&T Corporation.
#4 Quest Softech (1,206%)
Incorporated in 2000, Quest Softech provides Software and Hardware consultancy and allied services.
Investors in the company are laughing all the way to the bank as shares have surged 12x in the past one year.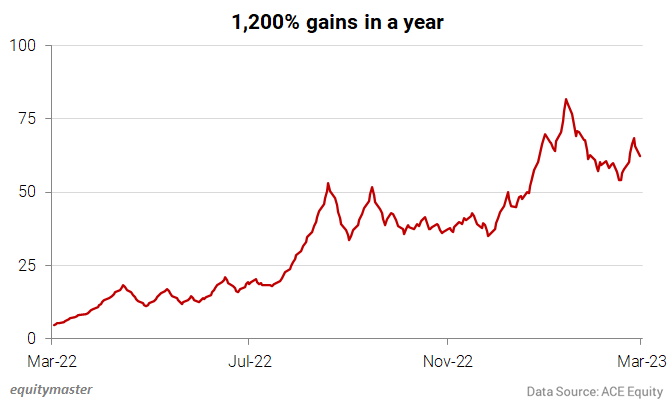 Part of the reason behind this spectacular rally could be attributed to investors mistakenly pumping the stock because of similarities in name. (remember how Bombay Oxygen Investments, an NBFC firm which had nothing to do with Oxygen, was pumped unnecessarily just because it had Oxygen in its name)
In July 2022, one of the largest IT companies in India HCL Technologies acquired 100% stake in Quest Informatics.
HCL Tech had notified that Sankalp Semiconductors, a wholly owned step-down subsidiary of HCL Tech, was acquiring the stake and given how semiconductors is a big theme these days, the frenzy is justified.
The company is all set to report a marginal loss in FY23.
To know more, check out Quest Softech's financial factsheet and its latest quarterly results.
#5 Ashnisha Industries (1,010%)
Ashnisha Industries is engaged in trading of various steel products and trading of goods.
In the year gone by, shares of the company have zoomed a little over 1,000%.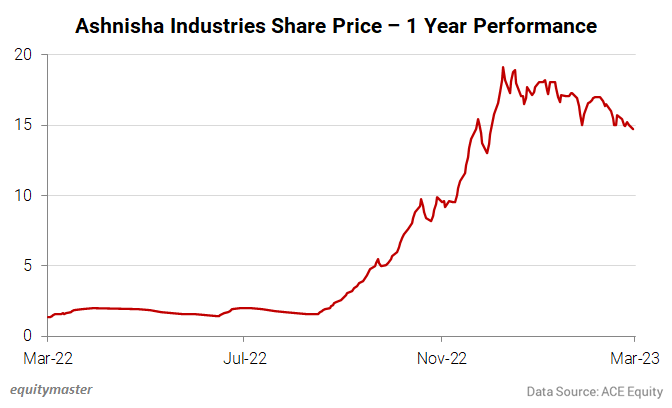 The primary reason behind this spectacular rally is attributed to the fact that the company started reporting revenue in the past two quarters.
In 2022, the metal company's board approved and conducted a stock split exercise where face value changed from Rs 10 to Rs 1.
The company is all set to report a profit in FY23 as its performance for the nine months ended December 2022 ticks the boxes.
To know more, check out Ashnisha Industries financial factsheet.
#6 Deep Diamond
Jewellery company Deep Diamond is next on this list. Shares of the company have gained over 800% in the year gone by.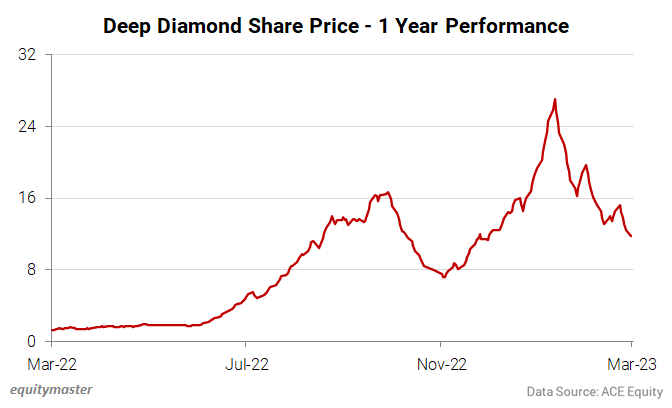 In January 2023, Deep Diamond undertook a stock split exercise. The company had proposed to split the face value of its shares from Rs 10 to Rs 1.
Deep Diamond recently announced its quarterly results and reported a net profit of Rs 6.1 m, nearly double from the year ago period. This was mainly on the back of lower expenses.
Apart from good set of earnings, the rally in the stock can be attributed to the company's decision to invest in hot themes like electric vehicles and green energy.
In a filing back in January 2023, the company said that its board approved to invest the surplus amount to purchase or subscribe for shares and securities of any other company which inter alia includes new age businesses such as EV and green energy.
It remains to be seen how these developments pan out.
So there you go...a list of penny stocks that have gained the most in the past one year.
Before you dip your toes in the world of penny stock investing, check out the below video where Co-head of Research at Equitymaster Rahul Shah discusses 3 low-risk penny stocks for 2023.
Happy Investing!
Also check out the below list of top performing penny stocks, which we highlighted in early 2022.
Top Performing Penny Stocks of 2022
When it comes to investing in penny stocks, investors are all ears. Well-chosen fundamentally strong penny stocks have the potential to deliver profits greater than 1,000% within 1-3 years. This is almost impossible in the case of largecaps.
Latching on to a multibagger penny stock is what most people dream of. One good pick and that will do wonders.
A lot of investors who joined the bandwagon post the March 2020 crash saw their investment multiply as most stocks rallied. Even those with questionable fundamentals and no track record.
Now, remember that history has a tendency to repeat itself. There will always be a bull market followed by a bear market every few years now and then. Stocks can't just go all the way up, up, and above.
This is exactly what happened. While we aren't technically in a bear market at present, 2022 has seen a major correction and sent shivers for first time investors.
As things stand now, the interest in penny stocks has dipped. Penny stocks, being the most volatile category of the lot, are not the ideal pick these days.
Looking at the current market scenario for penny stocks, I'm mesmerized by a common saying and can't think of a better analogy than this.
Liquidity is the friend of an investor/trader and a lack of it is the enemy.
In December last year, when the markets were in their best phase, we wrote to you about the penny stocks that rallied over 1,000%.
Skip forward to present, all these penny stocks have come down sharply from their recent highs.Read on to know more about these penny stocks and where they stand now...
6 Penny Stocks that Rallied 1,000%+ in One Year
The Indian equity market bounced back strongly after a big crash in March 2020. Since then, it has been a one way upward journey. Indian markets have continued to surge and have emerged as one of the best performing equity markets in the world.
A majority of stocks, largecap, midcap, smallcap, or microcap, have delivered excellent returns. In fact, some stocks went on to deliver mind boggling returns of 1,000% or more.
While there were 10 baggers in the midcap space too, several stocks from the penny stock category raced up so much that they are a penny no more.
Here's a list of six penny stocks that delivered returns of 1,000% or more in the last one year.
#1 Equippp Social Impact (28,127%)
Equippp Social operates a collaborative platform which brings together entities like NGOs, corporates, and individuals so that they could collaborate on a socially relevant project.
The shares of the company were relisted in February 2021. Before relisting, the company's shares were trading by the name of Proseed India.
As Proseed India, it was engaged in the business of seed processing and commodity trading. In the seed business, the company failed to generate any revenue. It consistently posted losses which exacerbated every passing year. The weak financial performance led to its insolvency.
Since its insolvency, the company has changed its name and business model. The company claims to be profitable though the claims can't be confirmed due to vague financial reporting by the company.
So, nothing seems to be different as far as the business is concerned yet the stock price is up over 28,000%.
A year ago, shares of the company were trading at meagre Rs 0.35 per share and today the shares are trading at Rs 93.15 per share!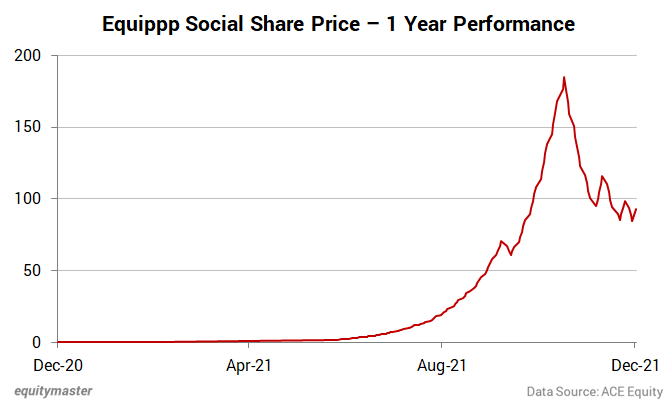 What can explain such a rally?
While we don't know the factors which attributed for such a rally, a key takeaway lesson from such incidents is that absurdity is more common in the stock market than you may think.
#2 Radhe Developers (3,298%)
Radhe Developers is a real estate developer with a presence in Ahmedabad and Gujarat. It develops residential, commercial, weekend homes, and plotted projects.
One year ago, on 2nd December 2020 the stock was trading at Rs 9.1 per share. Since then, the stock has surged 3,298% and is currently trading at Rs 309.6 per share.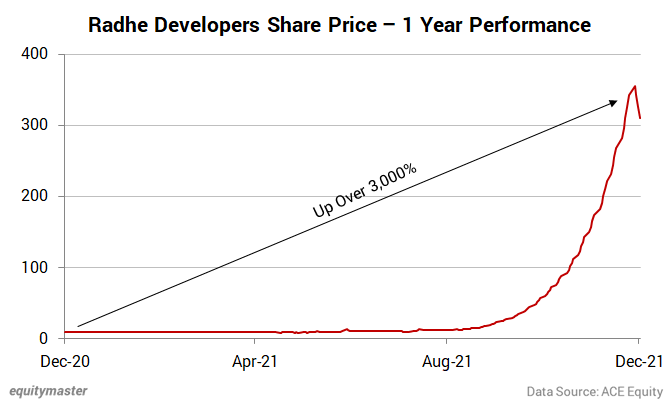 The steep stock price movement is in contrast to the financials of the company. For the financial year 2021, the company's revenues fell by 76.9% whereas the loss widened by 52.3%.
So what has fueled a massive rally in this stock?
Government's focus on affordable housing, low interest rates on home loans offered by banks, and glut of residential flats. All these factors favour the growth of the real estate industry. It's expected that the industry will grow at an annual rate of 75% for the next three years.
Could this be the reason behind the sharp rally witnessed in the stock? Maybe.
To know more about the company, check out Radhe Developers' financial factsheet and quarterly results.
#3 Jindal Poly Investment & Finance (2,469%)
Jindal Poly Investment & Finance is registered as a core investment company which means that it invests in other companies and doesn't have any other operations. The company earns revenue from dividends that it receives from its equity investments.
As per the prevailing rules, a core investment company is bound to invest its 90% of capital in its group companies either through equity or loans.
The company holds a significant stake in its subsidiary Jindal India Powertech. Jindal India Powertech operates in the power sector.
Shortage of energy supply against the rising demand brought the power companies in focus and power stocks surged a lot. Since, Jindal Poly is heavily invested in the power sector, its income increased as the price of power stocks appreciated.
Also, association of Jindal with the company could have misled investors to believe that the company is owned and managed by the Jindal group which is not true.
A year ago, the company share price was Rs 14.75 per share and now the share price stands at Rs 360 per share, an astounding gain of 2,469%.
To know more, check out the latest shareholding pattern of Jindal Poly Investment & Finance.
#4 Cosmo Ferrites (1,979%)
Cosmo ferrites is engaged in the business of manufacturing soft ferrites. Soft ferrites find applications in electronic products like inverter, transformers, energy meters, mobile chargers, etc.
The company announced it would augment its production capacity from 2,400 MT to 3,600 MT at a cost of Rs 0.3 bn. The company has also been shortlisted as a beneficiary of the PLI scheme for the white goods category.
In the financial year 2021, the company turned profitable and registered its first ever profit in the last five years of operation. These developments were received well by the market and the share price zoomed multifold.
On 2 December 2020, the shares were available at dirt cheap price of Rs 9.9 per share. Today, shares are being quoted at Rs 196.1 per share, a whopping return of 1,979%.
Though it became profitable, the cash flow doesn't reflect the same. The company couldn't generate cash from its operations. Also, current liabilities exceed current assets which means that the company could face some problems honoring its short-term obligations.
To know more about the company's financials, check out Cosmo Ferrites company factsheet on our website.
#5 Tata Teleservices (1,651%)
Tata Teleservices is an Indian telecommunication and broadband service provider based in Mumbai. It provides services through its two subsidiaries - tata tele business services and tata tele broadband.
The company claims to have the widest reach in the enterprise segment with 1,500+ partners offering its solutions. The company has an operational presence in 60 cities in India.
Until 2017, Tata Teleservices offered mobile network services through Tata Indicom - one of its subsidiaries - under the brand 'Tata Docomo'.
In 2017, after the telecom industry was disrupted by Jio, the company sold its mobile network business to Bharti Airtel citing huge losses and mounting debt as reasons. It was a lucrative deal for Bharti Airtel as it was asked to pay only a part of Tata's dues pertaining to the spectrum.
As far as the financials of the company are concerned, it has been burning cash since its inception and has never registered a profit in 22 years of operation. Though the company is loss making, the losses have narrowed over the years.
Trading at Rs 6.9 per share back in 2020, the shares are now trading at Rs 130 per share, implying a return of 1,651%.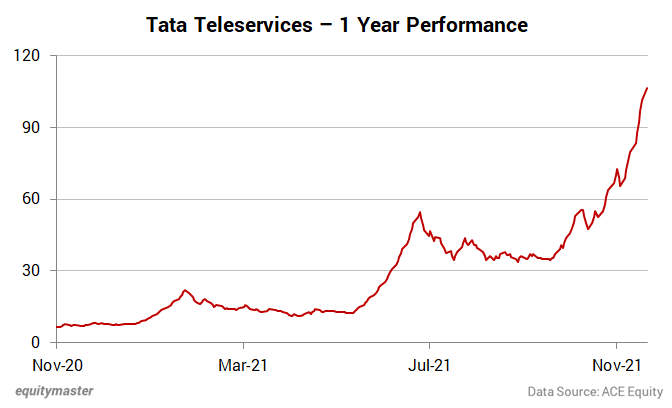 It seems that the investors rewarded the company's strategic shift towards the enterprise segment. The other reason investors' interest in the company could be their perception that they're getting a 'Tata' company at a cheaper valuation.
Massive AGR dues of Rs 167.9 bn and declining revenue are red flags that an investor should not overlook before investing in this rising stock.
For more details about the company, you can have a look at Tata Teleservices' factsheet and quarterly results on our website.
Update: Tata Teleservices has massive debt on its books. This is one reason why the telecom equipment company's stock has come down in 2022.
In a higher interest rate regimen, you should check out the stocks with solid growth and zero debt. These companies tend to do well.
The stock of TTML rallied big time last year as investors believed the Tata group was giving a big thrust to their ecommerce platform and Tata Teleservices will be a major beneficiary.
#6 Raghuvir Synthetics (1,797%)
Raghuvir Synthetics is in the business of textile processing. It processes cotton, polyester, blended fabrics. It has sophisticated machines which can deliver 25,000 bed sheets a month.
A year ago, shares of Raghuvir Synthetics were available at Rs 26.1 per share. Today, the company's stock price has surged to its lifetime high of Rs 470 per share. A gain of 1,797% in the last one year.
The steep rise in the share price of can be justified by its financials. For the financial year ending March 2021, company's revenue and profit grew by 88.1% and 136%, respectively.
The company's board recently approved a stock split from Rs 10 to Rs 1. This could be another reason why the stock is rallying. A stock split is generally undertaken to make the stock more affordable to small retail investors and increase liquidity. It refers to splitting the face value of shares, in which the number of shares of the company increases but the marketcap stays the same.
The company could benefit from various initiatives taken by the government to strengthen the textile sector.
As of September 2021, company promoters held 74.9% stake in the company, with no shares having been pledged. To know more, check out the latest shareholding pattern of RAGHUVIR SYNTHETICS.
Snapshot of multibagger penny stocks from Equitymaster's stock screener
The list doesn't end here. Here's a list of multibagger penny stocks obtained using our powerful stock screener.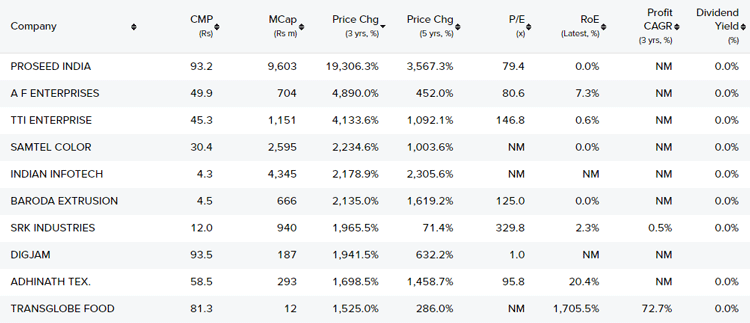 Source: Equitymaster's Stock Screener
Equitymaster's stock screener lets you change the parameters according to your selection criteria. This will help you identify and eliminate stocks not meeting your requirements and gives emphasis to those stocks meeting the metrics.
How should one go about investing in penny stocks?
If you are on the lookout for the best penny stocks in India, here's how you should go about it...
For starters, start with risk profiling to assess your risk appetite and to know whether you'd be able to bear the volatility that accompanies penny stocks.
If you consider yourself as conservative and don't like to take huge risks, then let go of penny stocks.
If you do invest in penny stocks, don't bet your entire capital on it. Invest just 5-7% of your total capital.
Also, you need to separate the 'men' from the 'boys'. Invest in businesses which could grow going forward. A good example of this could be Titan. It went from the lows of Rs 1.35 in the year 2000 to Rs 2,386.5, its current price.
To zero in on stocks like Titan, you need a very strong framework.
Penny stocks is a dangerous name to utter in this market environment. However, if you follow sensible investing principles, no time is a bad time to invest in best penny stocks.
Watch the below video where co-head of Research at Equitymaster and penny stocks guru Rahul Shah discusses his top penny stocks in this market.
Since you are interested in penny stocks, check out our ultimate penny stocks investing guide.
Happy Penny Stock Investing!
Disclaimer: This article is for information purposes only. It is not a stock recommendation and should not be treated as such. Learn more about our recommendation services here...