The Top 5 Artificial Intelligence Plays in India
Dec 6, 2021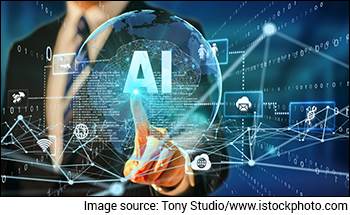 Back in September 2021, we wrote to you about 5 Indian companies that are leading the artificial intelligence (AI) race.
The article pointed out Coforge, Happiest Minds Technologies, Saksoft, Tata Elxsi, and Persistent Systems.
This time, we're back again with another set of companies. Let's take a look at the top 5 artificial intelligence plays in India.
#1 Bosch
Bosch is a leading supplier of technology and services in the areas of mobility solutions, industrial technology, consumer goods, and energy and building technology.
In 2017, the group founded Bosch Center for Artificial Intelligence (BCAI) to apply cutting-edge AI technology throughout Bosch products and services, resulting in innovative solutions.
Today, AI strategies of Bosch are implemented in more than 185 projects across India, US, Israel, Germany, and China. Bosch AI collects real-time data from different business departments and conducts AI research on safe, reliable, and explainable AI.
Bosch has said that by 2025, all of its products will either use AI or will be manufactured with AI.
It has a few products under the arm already. The Bosch Indego S+ is a robotic lawn mower that can be voice-controlled via Amazon Alexa.
Meanwhile, Bosch SoundSee, a sensor system that uses AI-enabled audio analytics, checks the operating noise of machinery on the space station.
The German group's listed arm in India had a decent run on the bourses in the past year, gaining 27%.
#2 Kellton Tech
Kellton Tech Solutions offers services in digital transformation, ERP and other IT services. It has operations across US, Europe, India, and Asia-Pacific.
The company offers a wide range of services through its in-house developed platforms to help clients for their digital transformation. A couple of its platforms which provide solutions for business problems are:
Kellton4Media: It's a specially-developed framework that covers all the diverse tasks and functions involved in a media organisation.
KLGAME: It's an IoT solution that leverages Bluetooth technology to help clients deliver rich user experiences in a number of innovative ways.
Optima: It's a digital enterprise platform that collects and aggregates data from various sources and generates rapid insights for effective management and monitoring of operation and resources.
Thrive: It's the company's human capital management solution. It's a smart and progressive platform built that provides variety of automated tools for facilitating human capital management.
Basically, what Kellton does is creates cutting-edge focused AI solutions for challenges that traditionally needed a lot of human effort.
The company serves clients ranging from startups to Fortune 500 companies across various verticals. The key startups it has been associated with include Flipkart, Snapdeal, Jabong, Yebhi, Paytm, MakeMyTrip, and PolicyBazaar.
To know more about the company, check out Kellton Tech financial factsheet and quarterly results.
#3 Oracle Financial Services
Oracle Financial Services is a subsidiary of Oracle Global (Mauritius). With a strong in-house R&D centers, Oracle has produced products used by banks in more than 150 countries around the world.
Oracle assists implementing AI in the company and IT processes. With Oracle Cloud applications and platform, as well as Oracle Autonomous Database, one can speed up automation, minimise human errors, and gain greater business insights.
Couple of months ago, a World Economic Forum survey found that 85% of financial institutions have implemented AI, but some still have concerns about its use.
To help financial entities regards to this, Oracle has added new AI governance capabilities to its Oracle Financial Services Compliance Studio application.
The Compliance Studio is an advanced analytics application for financial entities that supercharges anti-money laundering and anti-financial crime programs for more effective, efficient customer due diligence, transaction monitoring, and investigations.
Earlier this year, a study by Oracle group showed that AI-based robots will replace financial advisers. What the study showed is that finance professionals are choosing not just cloud, but AI powered software as a service (SaaS).
Speaking of SaaS, lead smallcap analyst at Equitymaster Richa Agarwal believes this niche sector is set for hypergrowth. In fact, as per Richa, you should forget loss making new age businesses and focus on the hyper-growing SaaS industry.
Watch this video to know how you can benefit from this segment: This Niche Sector is Set for Hypergrowth...Here's How to Play It
#4 Affle India
Affle India is a Singapore-based technology company with a proprietary consumer intelligence platform that delivers consumer acquisitions, engagements, and transactions through relevant mobile advertising.
The company works on PaaS (Platform as a Service).
Consumer platform and enterprise platform are the two business segments which Affle focuses on. Affle uses artificial intelligence and data analytics for targeted online advertising to help acquire users and customers, improve engagement and increase frequency of transactions.
The company's data-management and fraud-detection platforms give it a strong edge over competitors.
Last year in August, the company acquired 8% stake in indigenous social keyboard provider Bobble AI for Rs 198 m. Bobble AI owns and operates "Bobble Indic Keyboard", an indigenous social keyboard. This keyboard includes speech-to-text capabilities and is accessible in multiple Indian languages.
Since listing (in August 2019), shares of Affle India have been on a spectacular run, gaining xx%.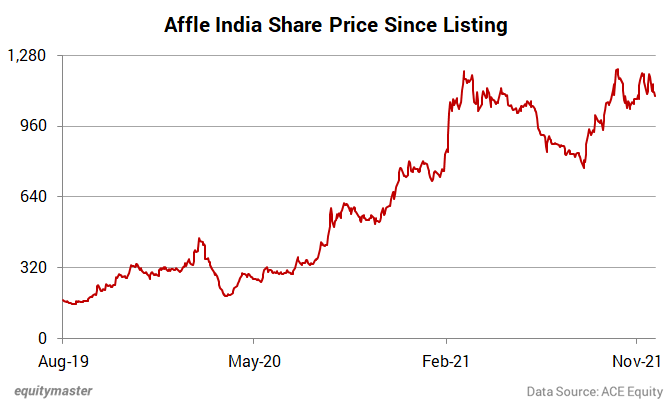 To know how the company is performing in terms of financials, check out Affle India factsheet and Affle India's latest quarterly results.
#5 Cyient
IT companies are known for infusing big bucks in new technologies including automation, machine learning, and AI.
One such company is Cyient.
Formerly Infotech Enterprises, Cyient has come a long way. From humble beginnings as a GIS data conversion vendor, this company has transformed to a formidable engineering player operating in critical sectors such as aerospace, defence, communications, and utilities - sectors which, incidentally, contribute a lion's share to the company's overall revenues.
Cyient is among the very few firms in the world to provide a complete range of software services to the aerospace industry. It collaborates with digital map developers to help them solve real-world issues in the automotive sector and make self-driven vehicles safer and smarter.
For self-driving cars, AI can detect changes in the real environment and update maps in real time. The navigation helpers which Cyient makes aid autonomous vehicles and avoid collisions.
China's largest search company Baidu believes that in the future, smart maps for autonomous vehicles will be a bigger business than web search.
In the year gone by, shares of the company have delivered multibagger returns of 105%.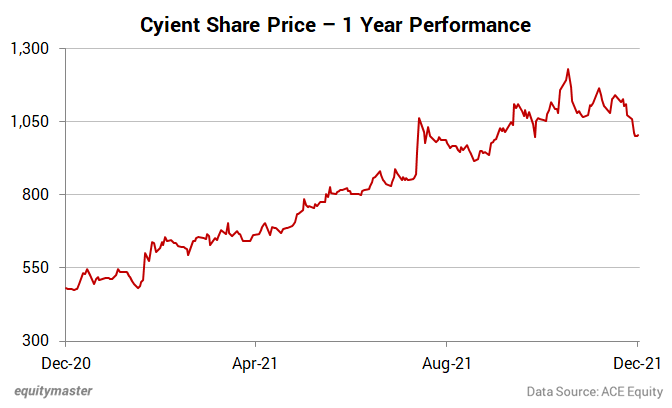 #6 Zensar Technologies
It was in August 2019 when Zensar Technologies first placed its bet on artificial intelligence.
The company launched a set of platforms for seven core areas that will help drive value creation for the customer - sales, marketing, IT, talent supply chain, HR, collaboration, projects, and programs.
At that time, Zensar AIRLabs, the company's R&D facility, was completely focusing on AI and had filed for 100 patents between 2017-19.
Today, the company has set up three labs (called Zenlabs) which are focusing on the disruptive technologies. Zenlabs has brought together cutting edge deep learning based solutions across areas of manufacturing, BFSI and retail.
To overcome prediction systems' inability to utilize real world information, Zenlabs has built two AI solutions which use real world data, historical sales data, and better the product demand forecasting accuracies.
With the help of computer vision and natural language processing, Zenlabs is also creating various point solutions such as noisy image detection, computer vision based social distance management, closed domain question answering, and many more.
This year in May, the company signed a definitive agreement to acquire US-based M3bi for an upfront payment of US$21.6 m. This acquisition will add clients to Zensar's portfolio in BFSI and other verticals which require advanced skills to develop new platforms which are based on AI.
For the quarter ended September 2021, the company reported a whopping 4,065% year-on-year growth in net profit.
To know more, check out Zensar Technology's latest quarterly results.
Why AI is taking over whether you like it or not
Just like green hydrogen and electric vehicles (EVs), artificial intelligence is one the 'hottest trend' in the market right now.
Companies across industries are trying to leverage the power of AI to make themselves more agile, flexible and responsive.
We recently wrote to you about how the healthcare sector is making leaps in AI adoption. Companies are building AI-powered low-cost ventilators and various AI solutions that analyze x-rays.
While India is still not as developed as other nations on the AI front, the industry is expected to boom in the next few years.
As per research firm IDC, the Indian artificial intelligence market is expected to touch US$7.8 bn by 2025, growing at a compound annual growth rate of 20.2%. With government taking a keen interest in the technology, this seems possible.
In July this year, on the occasion of the first anniversary of National Education Policy, Prime Minister Narendra Modi launched the 'AI For All' initiative with the purpose of making AI easy to understand for every citizen in the country.
So whether you like it or not, AI is taking over. And it will only integrate more with our daily lives.
Back in May 2020, Co-head of Research at Equitymaster, Tanushree Banerjee recorded a video explaining how companies using technologies like digital payments, robotics, and AI are positioned for the next bull market.
For investors looking to tap into this opportunity, keep an eye on technology companies which are leveraging the power of AI are making things possible.
Disclaimer: This article is for information purposes only. It is not a stock recommendation and should not be treated as such. Learn more about our recommendation services here...